A quick guide into smart factories and how they work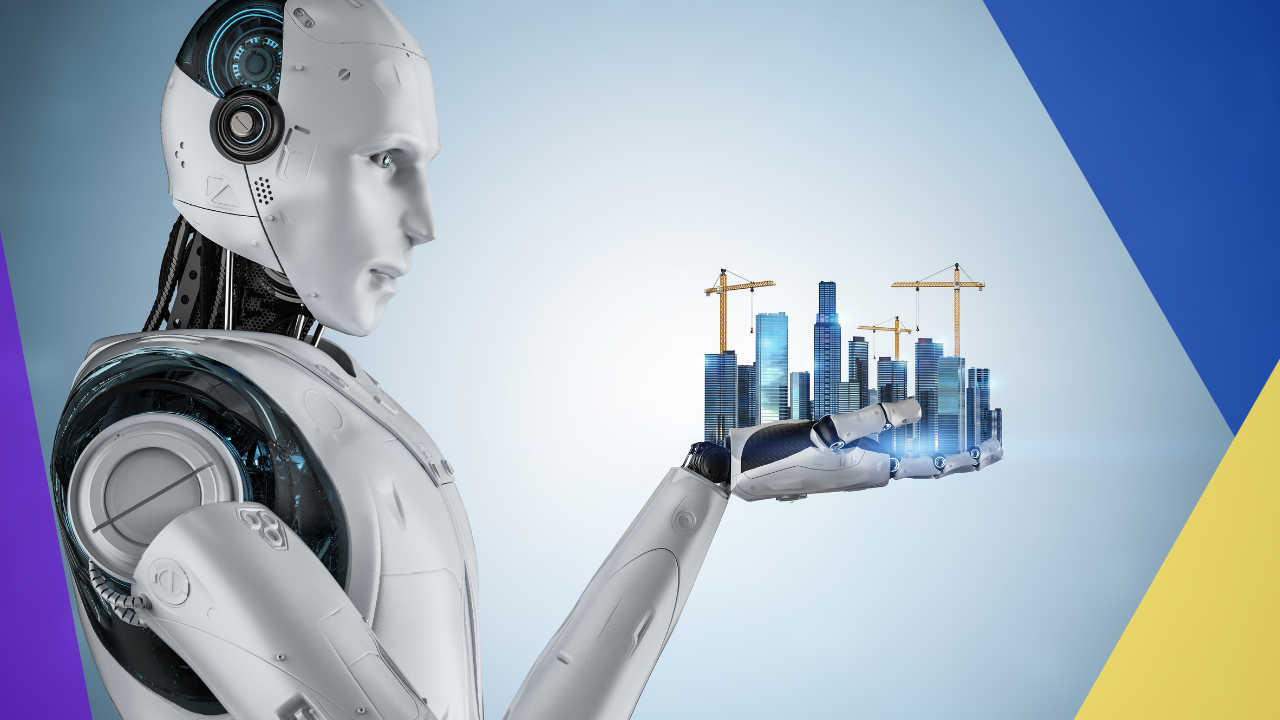 Smart factories represent a revolutionary leap forward in manufacturing, integrating cutting-edge technologies and advanced automation systems.
These state-of-the-art facilities have transformed traditional factories into interconnected ecosystems. Machines, devices, and humans collaborate seamlessly to deliver superior products with reduced costs and shorter lead times.
Being a part of Industry 4.0, smart factories can change how businesses deliver their products.
This quick guide aims to shed light on the fascinating world of smart factories and their transformative impact on the manufacturing landscape.
What is a smart factory?
A smart factory is a highly automated manufacturing facility that utilizes advanced technologies such as artificial intelligence (AI) and machine learning to optimize production processes.
It aims to create a fully integrated and connected system where machines, products, and people can communicate with each other in real time.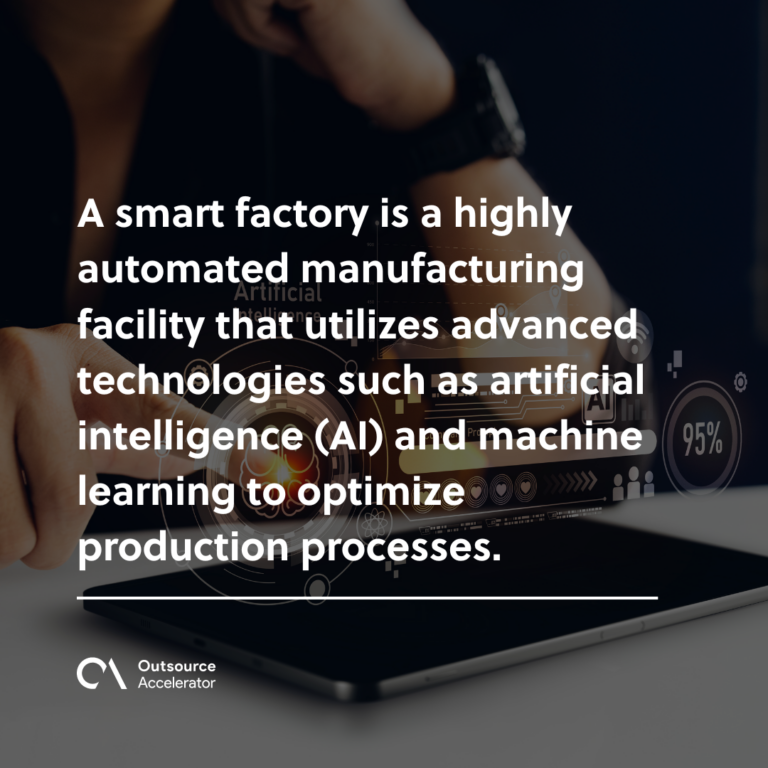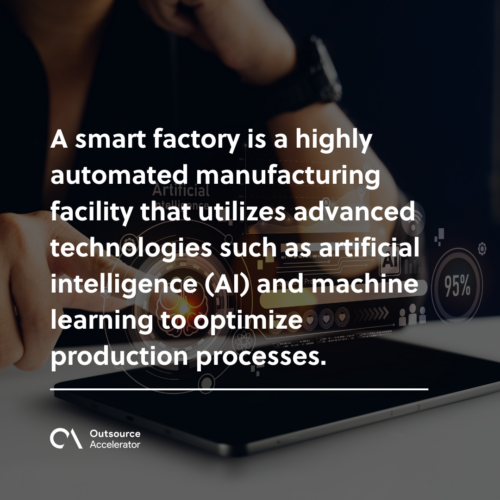 Smart factory vs. Smart manufacturing
It's important to note that smart factories are a part of the larger concept of smart manufacturing.
Smart manufacturing is a web of fully-integrated and collaborative manufacturing systems designed to meet its ever-changing landscape. It uses advanced technologies to optimize the entire manufacturing process, from design to production to delivery.
On the other hand, smart factories focus specifically on the production process within a factory.
Levels of a smart factory
There are four levels of a smart factory, each with increasing levels of automation and digitization:
Basic automation

. This level involves using basic automation technologies such as sensors and programmable logic controllers (PLCs) to automate simple tasks.

Machine integration

. At this level, the company's machines and systems are connected and can communicate in real-time, automating more complex tasks.

Digitization

. This level involves digitizing workflows using digital technologies such as AI and machine learning.

Networked and adaptive

. The smart factory is integrated at the highest level and connected with the system, allowing real-time data analysis and adaptive decision-making.
Benefits of a smart factory
There are several benefits to implementing a smart factory.
Automated tasks
One of the biggest benefits of a smart factory is the ability to automate tasks previously done manually.
Automation saves time and reduces labor costs by cutting unnecessary manual work and making workflows smoother.
Streamlined production processes
By integrating machines and processes, a smart factory can streamline production processes and reduce the time it takes to produce a product. This leads to faster delivery times and increased customer satisfaction.
Reduced human errors
Automation can also reduce the risk of human error, leading to costly mistakes and delays in production. Intelligent processes ensure better accuracy and preciseness in creating products up to their packaging.
Early defect detection
Smart factories can use sensors and other technologies to detect defects early in production, allowing for quick corrective action. This further reduces waste and improves product quality.
Consistent product quality
Smart factories use advanced technologies to optimize production processes. This allows them to produce products with high consistency and quality.
Challenges of a smart factory
While there are many advantages to a smart factory, several challenges can still arise, especially regarding its implementation and the workers' reaction to the change.
Skills gap and retraining needs
A smart factory requires a highly-skilled workforce trained in advanced technologies and knowledge processes. Many factories may not have the necessary in-house skills, which can lead to a gap in manufacturing skills.
Along with retraining, companies can delegate their knowledge processes to offshore talents as a solution.
Employee resistance to technology adoption
Some employees may resist adopting new technologies, which leads to a lack of buy-in and decreased productivity.
It's crucial to involve employees in the change. At the same time, companies must provide training and support to ensure a smooth transition.
Change management and cultural shift
Implementing a smart factory requires a significant cultural shift. This is because its implementation involves changing the way people work and interact with each other.
To solve this, companies should have a change management plan to ensure a smooth transition.
Vulnerabilities in connected systems
Smart factories are highly connected and digitized, making them vulnerable to cyber-attacks and other security threats.
It's important to have robust security measures to protect against these threats.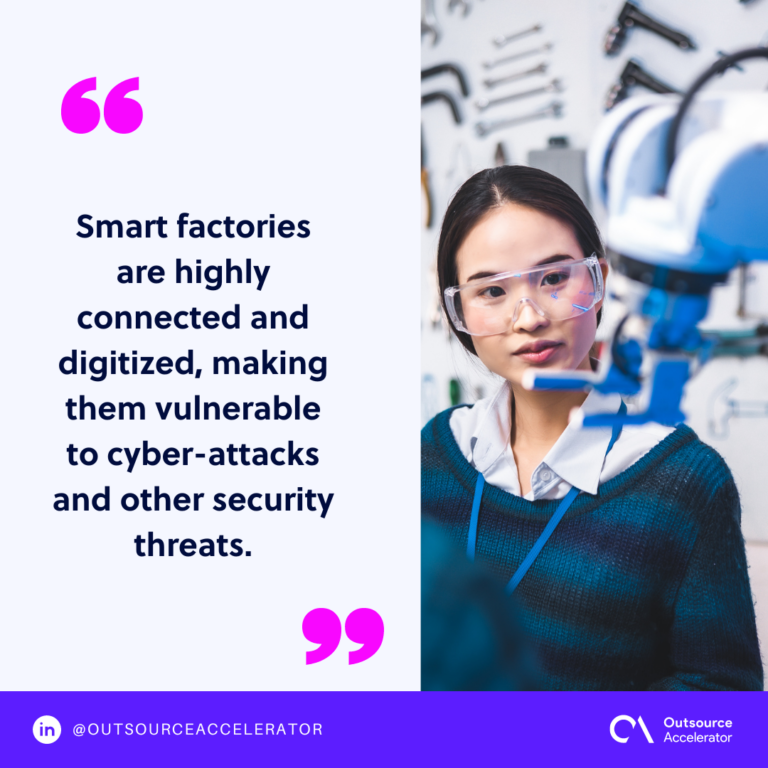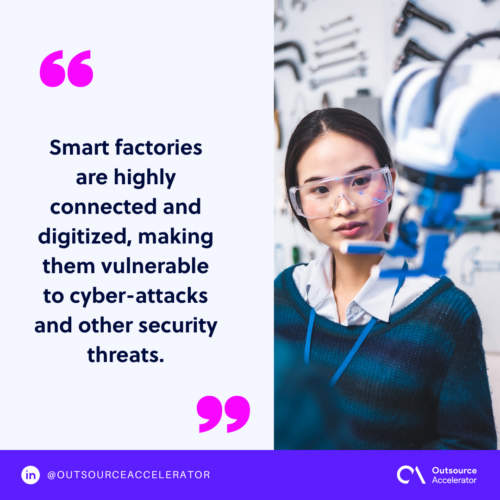 Cost of smart factory technologies
Implementing a smart factory can be expensive, requiring significant investment in new technologies and infrastructure. Firms must carefully consider the costs and benefits before making a decision to implement a smart factory.

How smart factories impact how businesses work
Smart factories can potentially revolutionize how companies work, increasing efficiency, improving product quality, and reducing costs. They also require a significant cultural shift, as they involve changing how people work and interact.
While there are many benefits to implementing a smart factory, several challenges must be addressed to make its implementation successful.
As businesses adopt smart factory technologies, we expect to see continued advancements in manufacturing and increased competitiveness in the global marketplace.