Digitizing vs digitalizing: A comparison and guide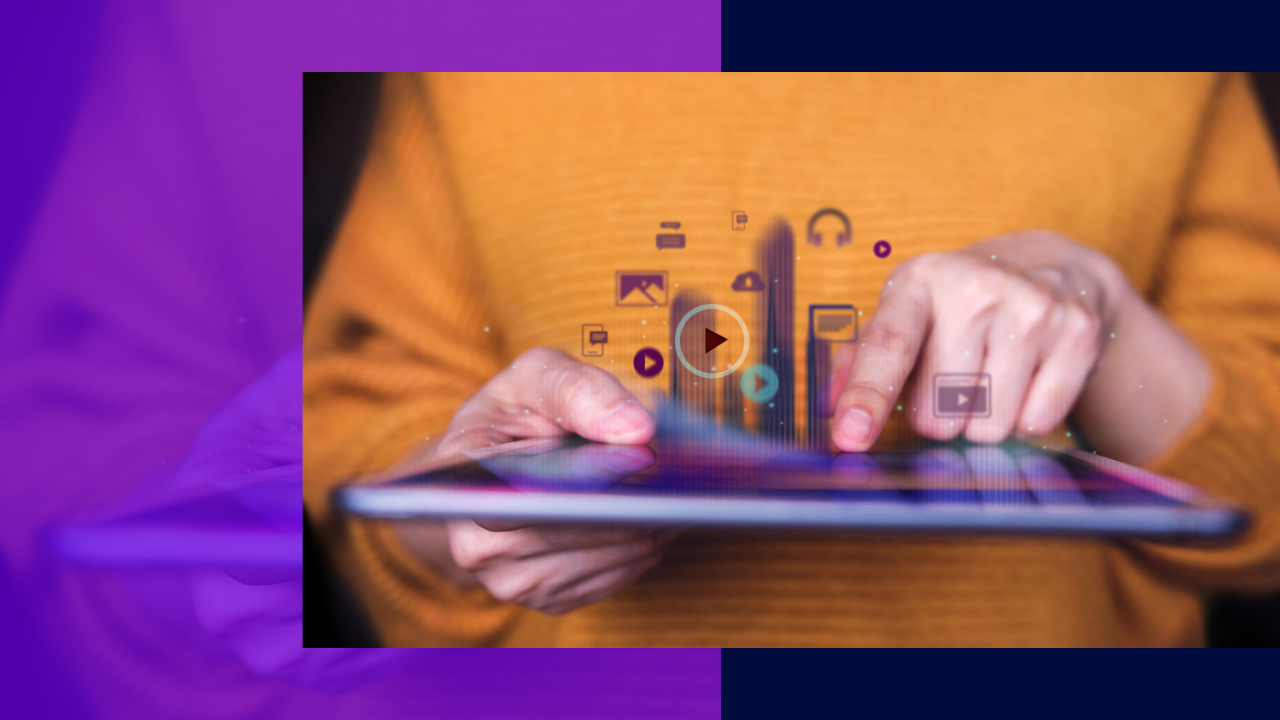 Today, talks about digital transformation continue to boom since global organizations are now experiencing it. With the increasingly digital world, companies now have to keep up with taking their businesses online to reach a bigger market.
The first step to transforming a business nowadays is to know the concepts of digitizing and digitalizing. Digitization and digitalization are the most crucial aspects of digital transformation. Yet, most people still confuse the two, especially since they are similar concepts.
Let's distinguish how digitizing vs digitalizing works and what the two strategies do through this article.
What is digitizing?
Digitization refers to the process of transferring analog data and information to digital format.  This process has taken place in different forms for decades now.
Some of its common examples include converting handwritten to typewritten, ripping CDs into digital music, and transferring "paper-based" information to a document file, like a digital flipbook.
The main purpose of digitizing documents and other files is to transfer and store information electronically. This makes a document portable, searchable, and easily transmittable in several ways.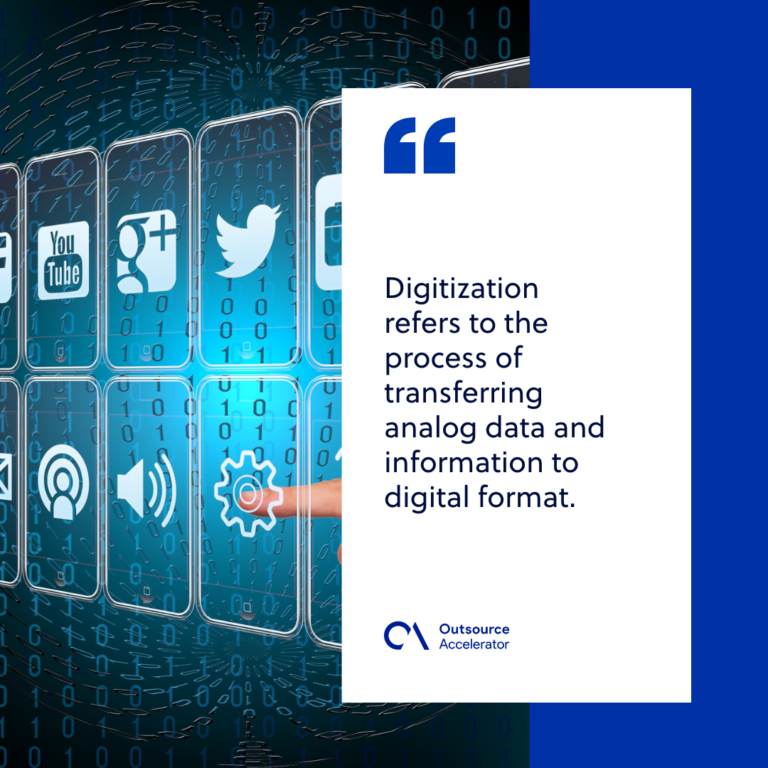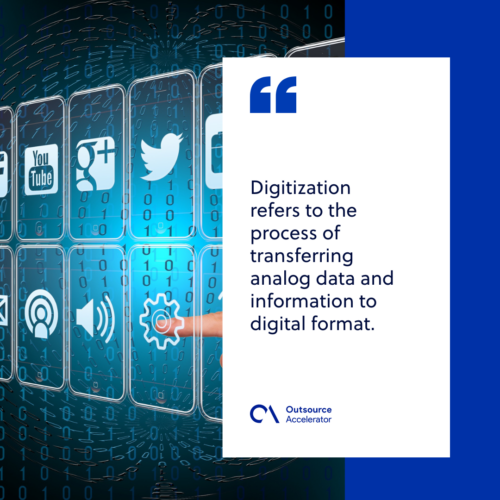 The process of digitizing a file
For physical information to be converted into bytes, a document undergoes the digitization process that follows these steps.
Preparing data. First, data should be prepared, segmented, and categorized according to their type. They can be categorized as numerals, images, text, or alphanumeric.
Identifying digitization tools. Once the data is ready, identify the tools for digitizing information. Some of the most usual ways of digitizing include encoding through a word processor and document scanning.
Capturing information. Next, the information will be captured using the appropriate tool for each category. Make sure that each tool is integrated into the computer through a software that supports it.
Transferring and storage. Lastly, the digitized file will then be transferred through both physical and electronic methods such as email, hard drives, and flash drives. Meanwhile, a copy will be kept for record and storage purposes.
What does digitalizing mean to a business?
Meanwhile, digitalization covers a broader range of meanings.
In terms of business transformation, digitalizing involves the use of tools and technology to change an organization's business model. It usually affects every aspect of a company, from its processes down to its documents.
Digitalizing also refers to the transformation of a specific function based on digitized information. Once data is already made accessible to the core team, firms can now apply and maximize them to improve their businesses.
Advantages of digitalizing
In today's digital era, global organizations have to keep up with the fast-paced changes in their operations. Digitalizing can help them run their business by increasing efficiency, saving time and effort, and boosting their performance.
Some of the advantages of digitalizing include the following.
Data-driven decision-making
Access and management of information is easier by digitalizing. Through this, the management team can have access to more insightful data about their operations and market base. This helps them form better decisions backed by actual data and insights.
Faster deployment to the market
With the boom of online businesses, companies have increasingly tight competition in developing and releasing their products on the market. Having analog processes would make it more difficult for them to keep up with this.
Digitalizing their business model would help firms deploy new technologies and products to the market more quickly.
Streamlined processes
Manual workflows are prone to having longer and unnecessary tasks at hand, making them inefficient. With a digitalization strategy, teams can have the chance to make their processes more streamlined by trimming these unnecessary aspects and automating as much as possible.
Better accuracy
Humans can make mistakes at times, especially when handling data. Human error can affect the quality and performance of a certain process, which further leads to decreased customer satisfaction.
Digitalizing a process decreases the possibility of errors. In return, companies can process data better and have more accuracy.
Increased employee satisfaction
Satisfied employees can take care of their customers better. Digitalizing a business helps firms make their businesses processes more efficient, increasing their employee's productivity and satisfaction at work.
At the same time, digitalization also helps employees prevent burnout since this saves them tons of workload to do compared to an analog process.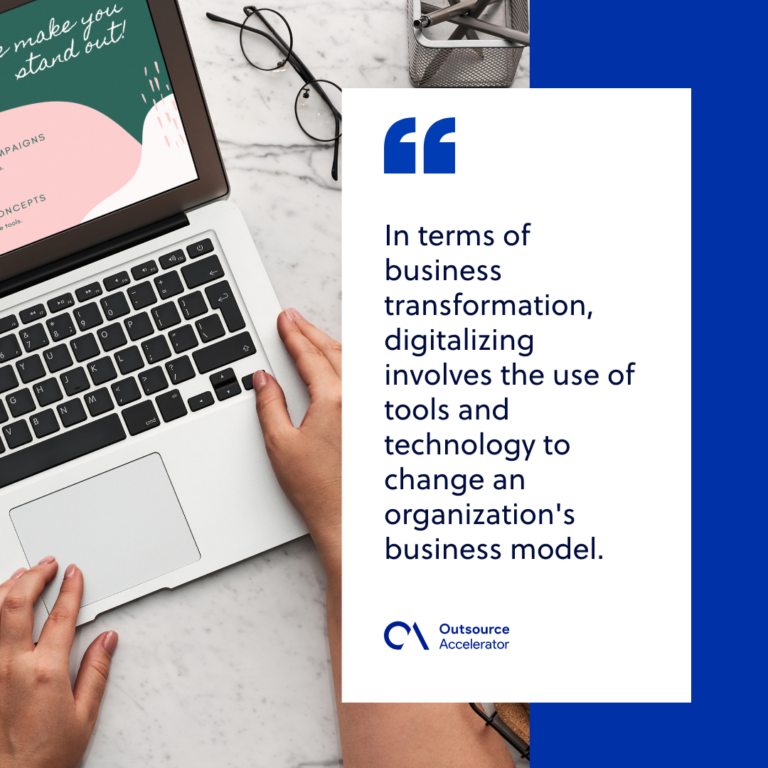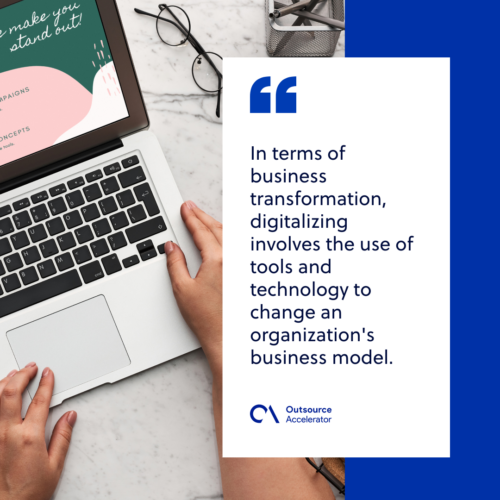 Comparing digitizing vs digitalizing
Digitizing vs digitalizing are often used interchangeably, but they have different meanings.
Simply put, digitizing pertains to the conversion of data and processes into digital format. Digitalizing a business, meanwhile, refers to its digital transformation with the help of technology and data.
Digitization is usually the first step in the digital transformation of an organization. Once every document and process is converted into digital formats, it will then be optimized and updated constantly as time passes.
Digitalization then enters as a way to maximize the information available to them. It becomes necessary for an organization to digitalize its business over time since firms have to keep up with the increasing demands in the market.
Digital transformation for businesses
Digital transformation is reached through constant digitizing and digitalizing. It is a continuous process that can be affected by the trends and advancements that rise over time.
The impact of digital technologies on business has been profound. It has changed the way people work or communicate with each other. These changes have led to new business models that are fundamentally changing industries.
However, the digital transformation won't be possible without total business transformation. Organizations should make sure that they have the capacity to adapt to these changes.
For startups, transforming their organizations won't always be easy with small in-house teams and limited tools. This is why they constantly find ways to make it possible – including outsourcing services.
Whatever the case, digital transformation is about transition to an advanced model of how businesses work in order to improve customer experience, increase agility and drive growth.