SEO developer: Why you need one for your business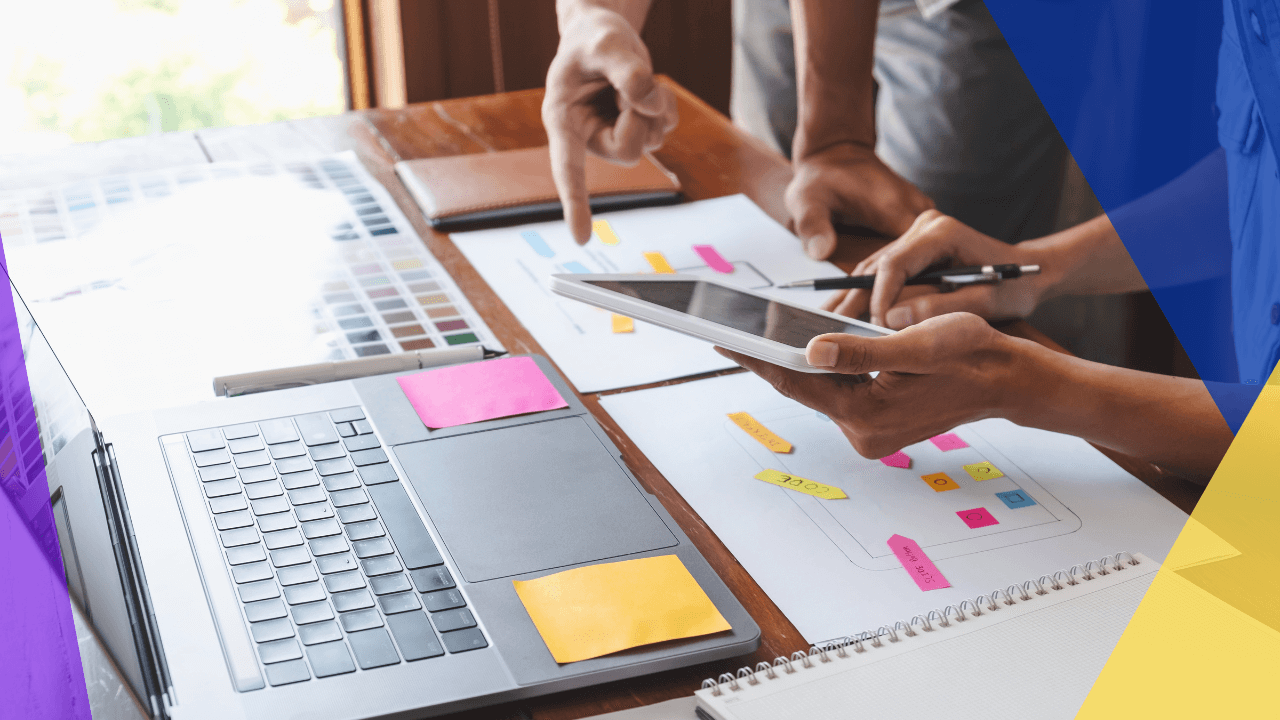 In the ever-expanding digital landscape, online visibility is the key to success. 
Businesses constantly strive to attain the top ranks in search results, making the role of an SEO developer increasingly vital. 
An SEO developer emerges as an unsung hero behind the scenes, armed with technical prowess and a strategic mindset in optimizing websites. 
This article examines SEO developers' different roles and responsibilities and their impact on driving online success. 
What is an SEO developer?
An SEO developer, short for Search Engine Optimization developer, is a specialized professional in the field of digital marketing and web development. 
SEO developers' primary responsibility is to optimize various online content to enhance their visibility and ranking on search engines. 
They are crucial in helping businesses attract organic traffic to their websites. This ultimately drives growth and success by putting a greater spotlight on what the company offers.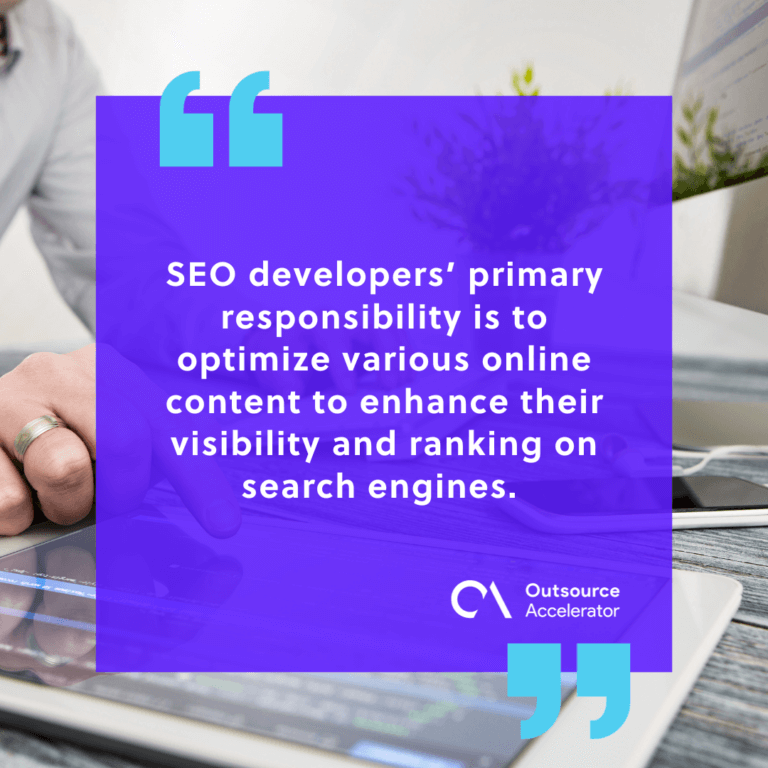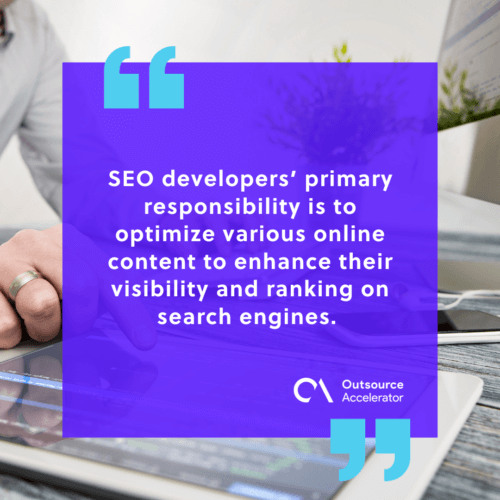 Duties of an SEO developer 
An SEO developer handles several responsibilities related to improving visibility in search engine results. 
Here are some specific tasks that an SEO developer may perform: 
Content strategy 
SEO developers develop content strategies that align with target keywords and user intent. 
They also provide recommendations on content topics, keyword usage, and content optimization to improve search engine visibility. 
Keyword research
An SEO developer conducts keyword research to identify relevant search terms and phrases users seek. SEO developers analyze search volume, competition, and user intent to determine the most effective keywords to target for optimization. 
Technical website optimization
An SEO developer works on the technical aspects of a website to improve its search engine crawlability and indexability. 
This includes issues like:

Website speed and performance optimization

Mobile-friendliness and responsive design 

Fixing crawl errors and broken links

XML sitemaps and

robots.txt

optimization 

Structured data markup 
On-page optimization
Part of an SEO developer's job is to optimize various on-page elements of a website to improve its relevance and visibility. 
SEO developers work on elements like:

Meta tags and descriptions 

Header tags 

URL structure 

Image alt text 

Internal linking 

Content optimization



Off-page optimization
An SEO developer also engages in off-page SEO activities to build the website's authority and reputation in the eyes of search engines. 
This includes activities like:

Building high-quality backlinks from reputable websites 

Managing online reviews and reputation 

Social media

engagement and promotion

Influencer outreach
Monitoring and reporting
SEO developers perform regular monitoring of website performance, including analytics and rankings. They create reports to track key performance indicators like organic traffic, click-through, and conversion rates. 
Importance of an SEO developer in the digital landscape
The online environment is highly competitive, with businesses vying for the attention of users and customers. SEO developers play a pivotal role in shaping digital success. 
Here are several reasons why their role is crucial: 
Enhanced website visibility
SEO developers are experts in optimizing websites to rank higher on search engine results pages (SERPs). Heightened visibility leads to increased organic traffic, often the most valuable and sustainable source of website visitors.  
Improved user experience
A well-optimized website provides easy navigation and access to relevant information. SEO developers aim to make websites more user-friendly, increasing the likelihood of visitors staying on the site longer. 
Competitive edge 
In highly competitive industries, an effective SEO strategy can provide a significant competitive edge. An SEO developer can implement improvements to help their clients outperform rivals in search rankings.

Adaptation
Monitoring, analyzing, and optimizing must be done constantly as part of the ongoing process of SEO. An SEO developer plays a crucial role in maintaining and improving website rankings over time, adapting to industry changes and new strategies. 
Skills and qualifications to look for in an SEO developer
When hiring an SEO developer, there are a number of skills, qualifications, and personal attributes that you should look out for. 
Here are the main qualities to consider: 
SEO expertise
Seek candidates with a strong understanding of SEO principles, techniques, and best practices. A genuine interest and enthusiasm for the field of SEO is also good, as it can lead to ongoing learning and dedication to achieving results. 
Remember to also look for candidates who are committed to ethical SEO practices and avoid black-hat techniques. 
Technical proficiency
An SEO developer should have a solid understanding of HTML, CSS, JavaScript, and website architecture. SEO developers should be able to identify and resolve technical SEO issues, optimize website performance, and implement structured data markup. 
Familiarity with website development tools and platforms is very advantageous.
Content optimization 
Excellent SEO developers have experience in optimizing website content for search engines. These experts should have strong writing and editing skills to create high-quality, engaging, and SEO-friendly content. 
Analytical skills 
SEO involves continuous analysis and monitoring of website performance and search engine rankings. SEO developers must have strong analytical skills to interpret data, identify trends, and make data-driven decisions to improve SEO strategies.  
Communication and collaboration 
SEO developers should be able to effectively communicate SEO strategies, recommendations, and findings to both technical and non-technical stakeholders. 
The role also requires collaboration with other teams, such as digital marketers, content creators, and web designers. Good teamwork with these entities is essential to align SEO efforts with overall business goals. 
Adaptability
SEO is an ever-evolving field, and hiring someone committed to staying updated is important. An SEO developer must keep up with the latest SEO trends, algorithm changes, and industry best practices. 
Certifications
While not mandatory, certifications can demonstrate a candidate's commitment to learning and expertise in the SEO field. 
A degree in digital marketing or other relevant courses can also be beneficial.
Future of SEO development
The future of SEO development promises to be both exciting and challenging. Evolving technologies, changing user behaviors, and dynamic search engine algorithms are set to shape this development. 
To stay ahead in this field, SEO developers and digital marketers need to anticipate and adapt to the following trends: 
Core web vitals 
Core web vitals focus on metrics like page speed, interactivity, and visual stability. SEO developers should prioritize meeting these criteria as they advance further technologically. 
Search medium optimization
SEO developers are increasingly optimizing websites for emerging search mediums, such as voice search. As the popularity of other mediums grows, the strategies to optimize content accordingly will also undergo evolution. 
User experience and intent 
Search engines are getting better at understanding the quality and relevance of content. SEO developers should prioritize producing content that meets user needs and preferences. 
SEO developers will also need to collaborate even more closely with UX designers to ensure a more user-friendly and seamless experience.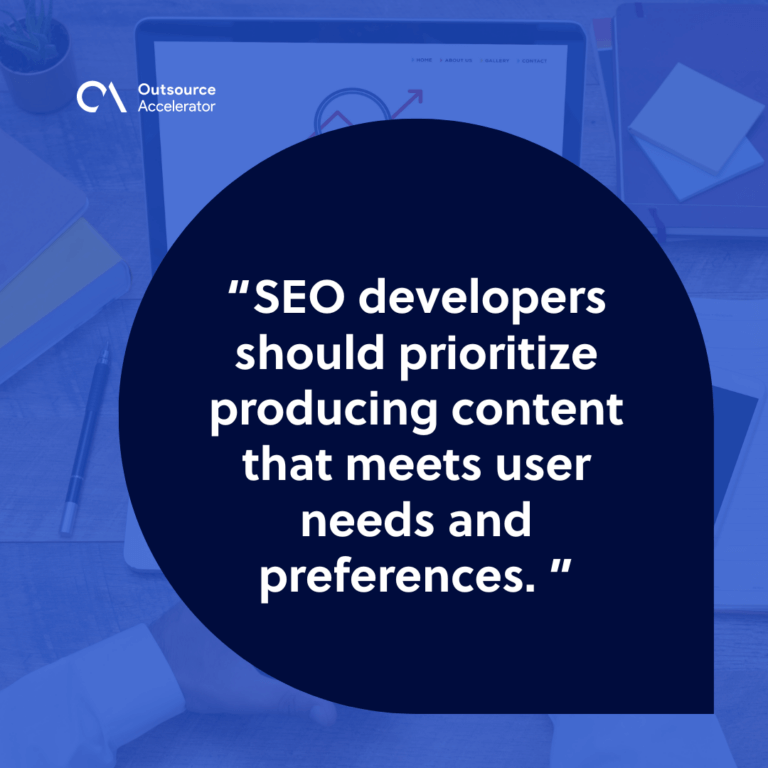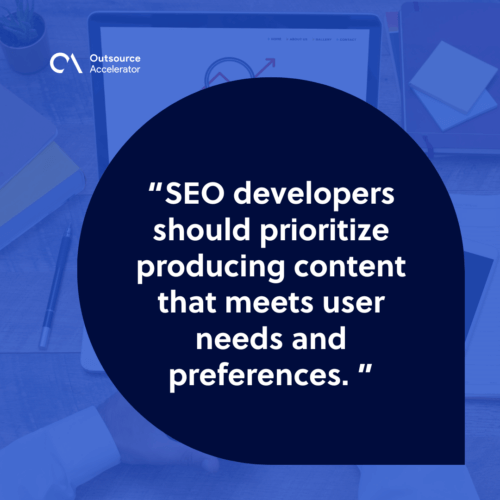 Artificial intelligence integration 
The use of generative AI and machine learning technologies in SEO is expected to rise. SEO developers should leverage these technologies for content recommendation, personalization, and predictive analytics. 
In the future, the role of SEO developers will extend beyond technical SEO to encompass digital marketing strategies, user experience, and holistic efforts. 
SEO developers can continue to drive success in the evolving digital landscape by staying informed, adaptable, and innovative.