The basics of screen pop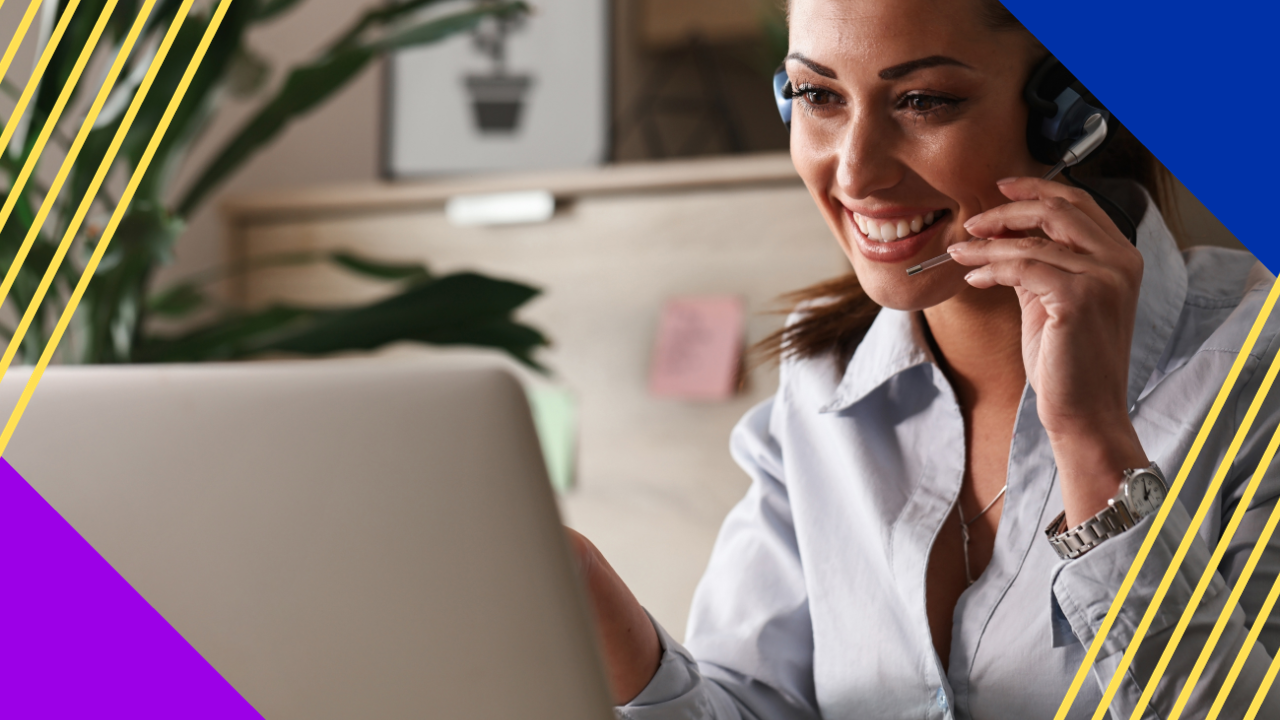 Having well-informed agents is a cornerstone for a successful contact center.
Talkdesk highlighted that when customers reach out to a contact center, their main priorities are swift issue resolution and receiving personalized service.
Screen pop is the secret weapon that empowers contact centers to excel in both these crucial areas.
In this article, we explore the basics of screen pop, how it works, key terms to know, and its benefits.
What is screen pop?
Screen pop is a computer telephony integration (CTI) feature that automatically "pops up" relevant customer information on a computer screen when a call comes in.
Screen popping is most commonly done in call centers and customer service departments. These are where agents need quick access to customer information to provide better service.
Instead of asking the customer for their information every time they call, agents can see it on their screen and personalize their interactions accordingly.
Essentially, screen pop is a technological handshake between the customer relationship management (CRM) system and the call center software.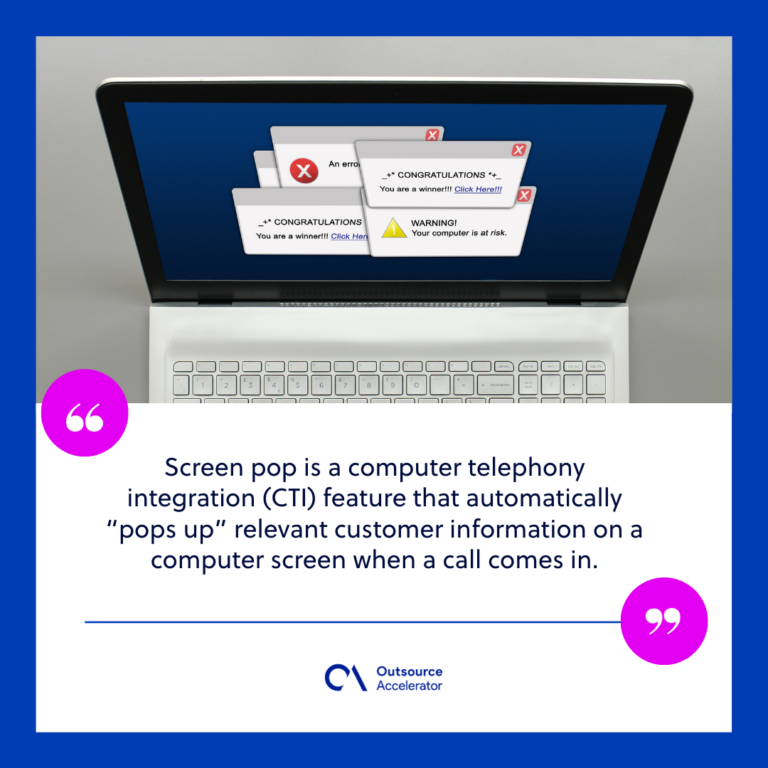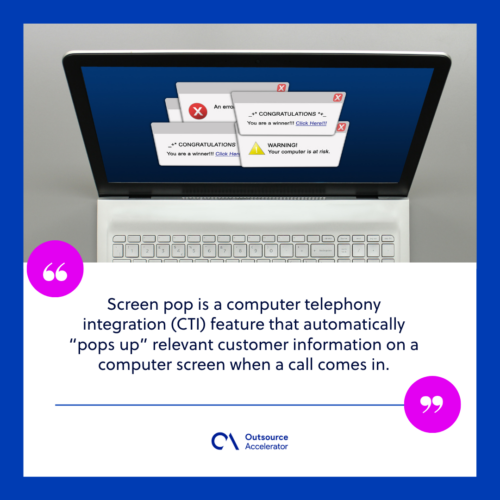 How does screen pop work?
The key to screen pop is integration with a CRM system. When a customer calls, it accesses the CRM system and pulls up the relevant information to display on the agent's screen.
This data, spanning from previous interactions to preferences, is instantly showcased to the agent.
Screen pop ensures that agents have a thorough guide when they answer a call. This results in a more personalized and efficient customer interaction.
Screen pops can be triggered in different ways, including:
Automatic call distribution (ACD)

. When a call is routed to an agent using

ACD

, screen pop is activated to display relevant customer information.

Interactive voice response (IVR)

. Based on the caller's selections, an

IVR system

routes the call to the most appropriate agent and activates screen pop.

Computer telephony integration (CTI)

. When a call comes in, the CTI software triggers the feature to display relevant customer data on the agent's screen.
Screen pop terms to know
To understand this feature fully, there are some key terms you should know:
CRM

. A customer relationship management system is software that manages customer interactions and data. It includes contact information, lead status, and purchase history.

ACD

. Automatic call distribution is software that routes incoming calls to the most appropriate agent based on factors like agent availability, skills, and caller priority.

IVR

. Interactive voice response technology uses pre-recorded voice prompts to guide callers through a set of options, such as pressing buttons or speaking certain phrases.

CTI

. Computer telephony integration facilitates the collaboration between telephony and computer systems.

ANI

. Automatic number identification

supplies information about a caller, including the phone number. It allows a

private branch exchange (PBX)

or cloud phone system to display it.

Caller ID

. This refers to the telephone number presented by a caller. Unlike ANI, it may additionally display the caller's name or company name.

Data mapping

. This refers to the process of associating fields between different databases or systems. In screen pop, it's about linking the caller's phone number with their details in the CRM.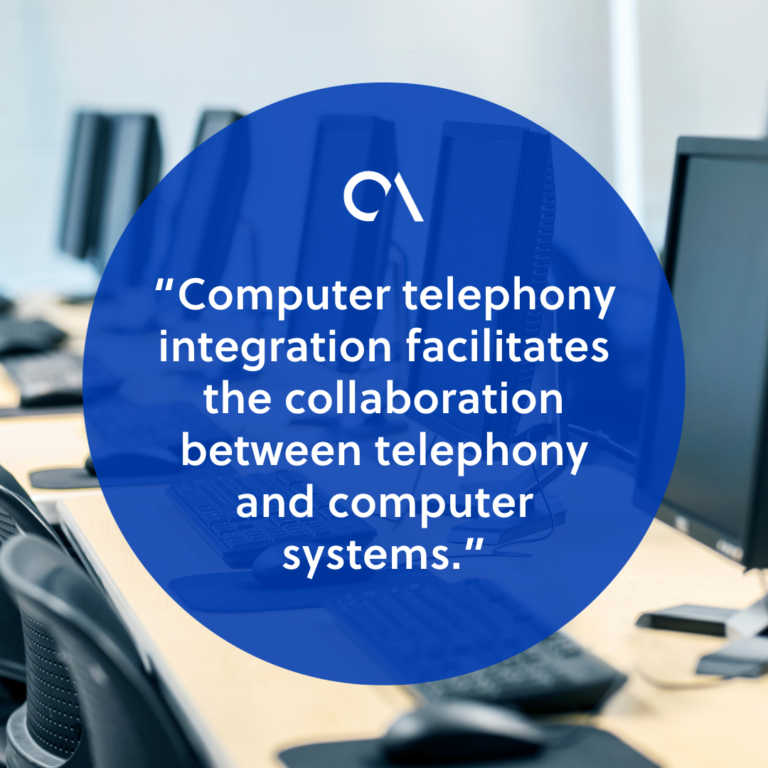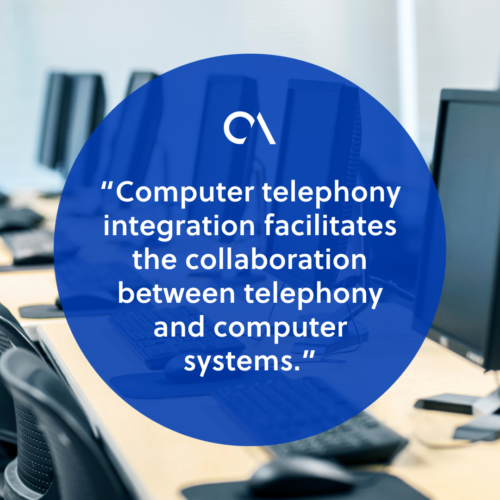 Benefits of screen pop
So, why use screen pop? Here are some of its key business benefits:
Enhanced customer experience
Screen popping equips agents to deliver a personalized experience.
Picture a customer calling in; the agent is already aware of their recent purchases, past issues, and even their preferred communication channel. This streamlined service fosters a positive customer experience.
Efficiency gains
By automating the retrieval of customer information, screen pop eliminates the need for agents to search databases during a call manually.
This both saves time and lessens the opportunity for errors.
Higher call resolution rates
With more information at their fingertips, agents can resolve customer issues effectively. This reduces the need for follow-up calls or calls that need to be escalated or transferred.
Adaptability
The CTI feature can be customized to display specific information relevant to different types of calls. 
For sales inquiries, the agent might see the purchase history. On the other hand, a service call might trigger details on recent interactions.
Streamlined workflows
This solution can be integrated with other software systems, such as call recording or lead generation. It can reduce the number of applications agents need to use, streamlining workflows and improving productivity.
Why does screen pop matter?
According to a Salesforce survey, 65% of customers expect businesses to adapt to their evolving needs and preferences. It also found that 73% expect better personalization as technology improves.\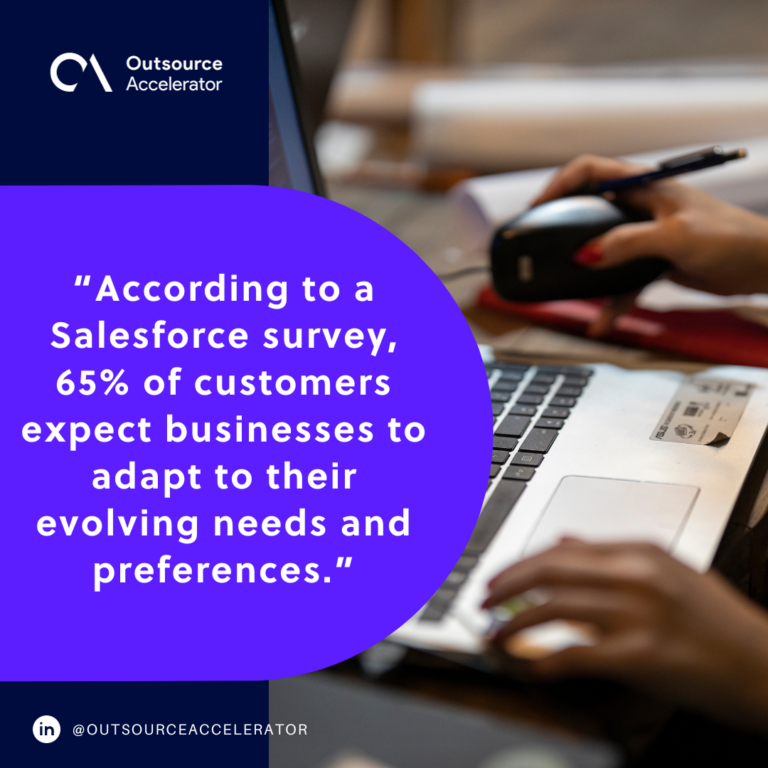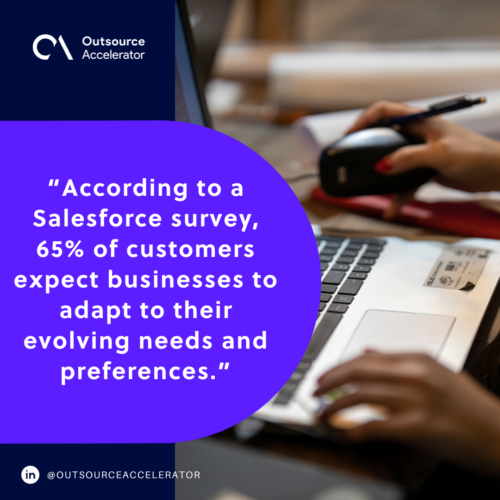 With that in mind, businesses must find ways to enhance customer service. Screen popping can aid in achieving this by equipping agents with the information necessary to personalize interactions and swiftly address customer issues.
Screen pop is also a key element of an integrated omnichannel strategy. Businesses can track customer interactions across channels by integrating it with other software systems. This provides a seamless experience for their customers.
In closing, screen pop stands out as a strategic tool for companies aiming to provide exceptional customer service.
Implementing it seamlessly into existing workflows empowers agents, pleases customers, and contributes to the overall success of a customer-centric approach.
Embracing screen pop is not just about convenient technology — it's about staying ahead in a customer-driven market.