Screen monitoring: Is it ethical?
With the continued flourishing of remote work, employers are, in a way, kept in the dark regarding their employees' activities during their shift as they work from home. Some businesses felt the need to conduct screen monitoring, while others are concerned about its ethicality. 
Screen monitoring tools have been very effective for business leaders in managing remote employees. More so, in tracking remote staff who are working from the comforts of their home. 
However, there have been concerns raised about monitoring, with regards to employees' privacy and security. Further, is the use of monitoring tools to scrutinize remote workers ethical? 
How do screen monitoring tools work?
Let's give you a brief on how screen monitoring works. Screen monitoring tools allow employers to monitor their remote workers' activities on their respective computers. 
It has features that lets you and your managers track the overall time spent by each employee on a certain task or project. These screen monitoring tools can record which websites a remote staff usually visit, including other activities they do.
They also have a feature that allows you to take real-time screenshots of what your employees are currently working on. 
There are different types of screen monitoring software with various features available today. Others have specialized features like multi-screen monitoring, email, file and document tracking, including network monitoring.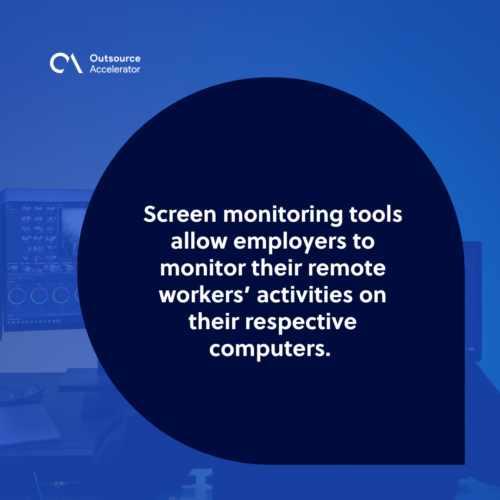 Why is it necessary to monitor remote employees?
A screen monitoring software has become a necessary tool given this present time's remote work setup. It gives you insights to your remote workers' daily work activities and productivity, especially on the following:
Exact time each employee clocked-in for work.

What each staff member is currently working on.

Total time it takes for each task or project to be completed.

Specific apps or websites employees utilize while working on tasks or projects.
It is also essential for employers like you to monitor your employees to keep the company's sensitive information safe. It allows you to detect malicious activities like workers viewing or sharing private documents to third parties. 
Disadvantages of screen monitoring
Despite its uses, screen monitoring tools also have disadvantages, especially for remote workers. Among its drawbacks are the following: 
Monitoring can signify mistrust, which can also impact employees' morale and result in employee turnover.

Employees may feel like their privacy and security are being violated and compromised. 

More information and data can be misused against employees if it lands on the wrong people.
As a business leader, you also have to be aware that if these tools are not used correctly, it can be detrimental to the company's culture. 
What to consider when using a screen monitoring tool
Technically, it is legal for employers to monitor and track their employees' computers. In the US, it is not a legal requirement for employers to advise workers that they are being monitored. 
In the Philippines, under the Data Privacy Act, employers are also allowed to monitor employees that are working remotely. However, employers should remain transparent and are required to notify employees. 
As an employer, take these into consideration when monitoring your remote workers: 
Be transparent and clear with your intent
Your employees should know and understand why they are being monitored. Otherwise, it can be pretty uncomfortable for them if they find out later on.
Take note: Transparency is vital in using these monitoring tools effectively.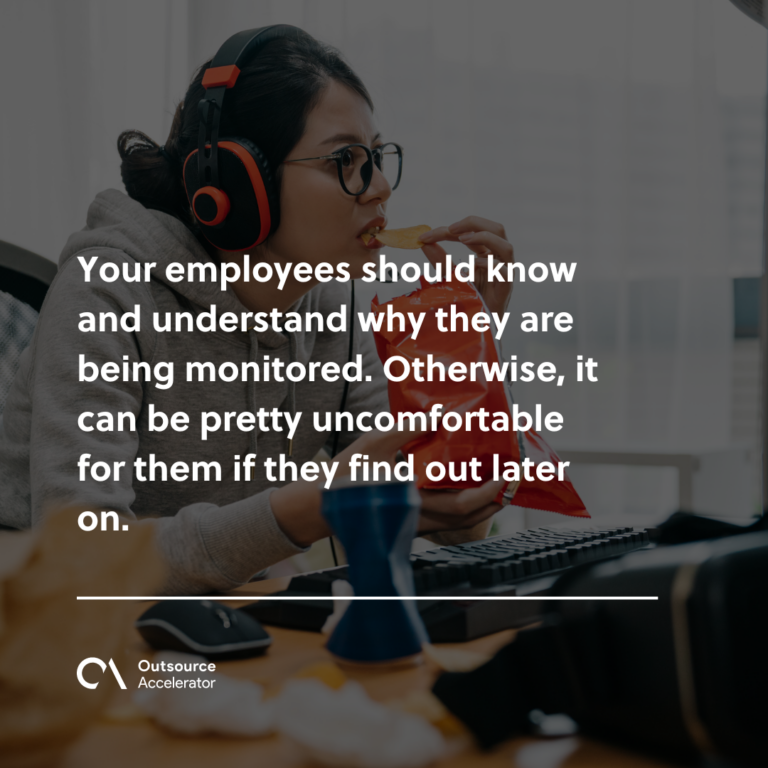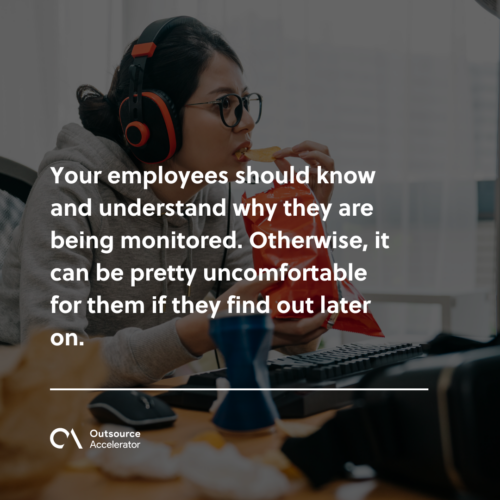 Relay how screen monitoring can benefit the team 
This is in connection with transparency. As an employer, you have to communicate how monitoring can benefit the entire organization. 
Apart from tracking employees productivity and performance, it can also help you track certain problems, including technical issues like poor connectivity, bandwidth, or hardware troubles. 
Know what you will be measuring 
Lastly, your objectives for monitoring need to be justified. Be clear about what you will be gauging in utilizing a screen monitoring tool.
Is using screen monitoring tools ethical?
To conclude, utilizing a screen monitoring tool is ethical. In fact, it is necessary for employers to monitor remote workers' daily performance as it affects the organization's productivity. 
However, as an employer, it is your responsibility to inform your employees upfront and be transparent about it. To help you avoid certain repercussions, create a policy regarding employee monitoring.