Demystifying SASE architecture: How it works and why it matters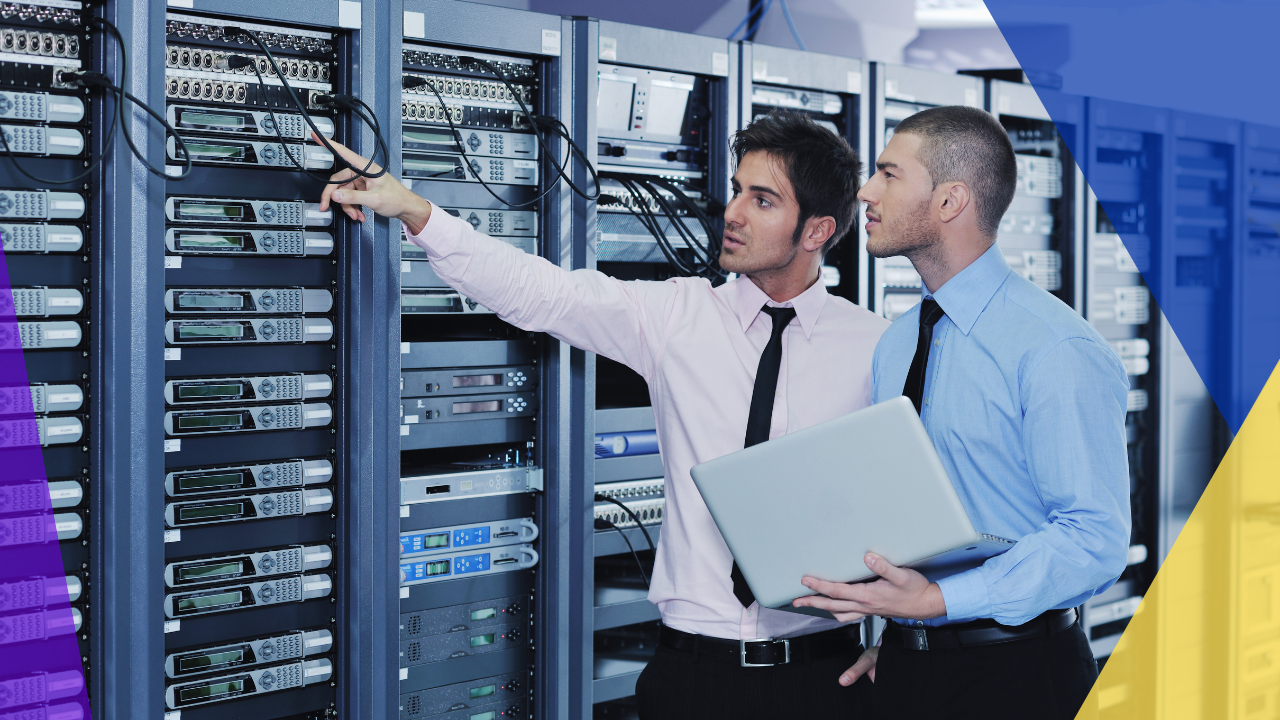 Secure access service edge (SASE) is an emerging architectural framework addressing enhanced network and security needs. Introduced by Gartner in 2019, it provides a transformational way to handle security within enterprises today.
SASE architecture enables organizations to leverage cloud technologies and deliver secure networks that meet the demands of the modern digital landscape.
Think of a network that can adapt and scale effortlessly without compromising security. This is the promise of SASE architecture, a cutting-edge framework that redefines how networks are built and secured.
This article will demystify SASE architecture, exploring how it works and why it matters in today's business world.
What is SASE architecture?
SASE architecture represents a paradigm shift in network and security infrastructure. It combines network security and wide area networking (WAN) capabilities into a unified cloud-native service.
The framework redefines the traditional approach of backhauling network traffic to centralized data centers by providing secure access directly from the cloud.
At its core, SASE architecture revolves around network and security convergence. Instead of relying on disparate solutions and complex integrations, SASE integrates all the essential components into a single platform.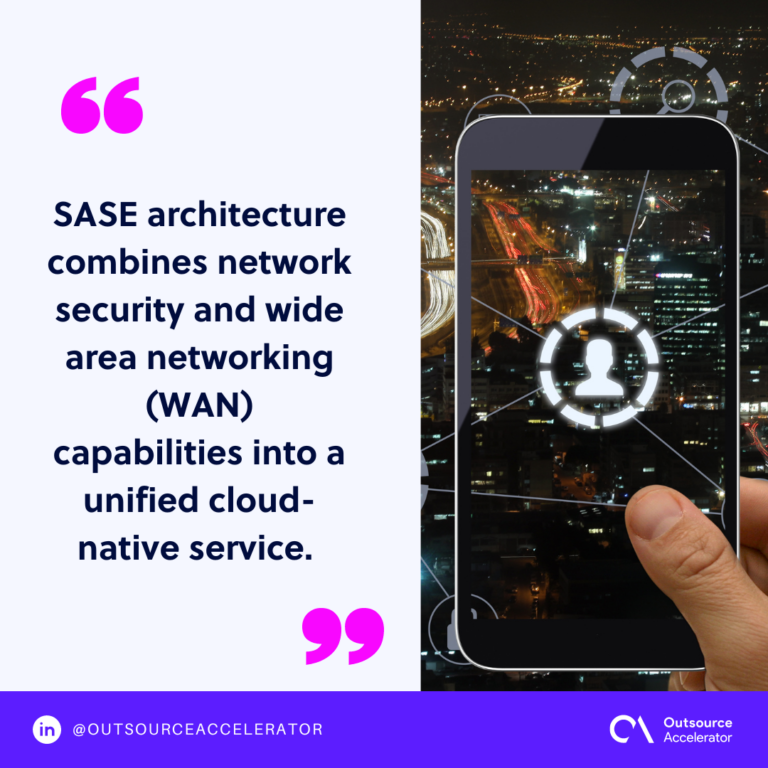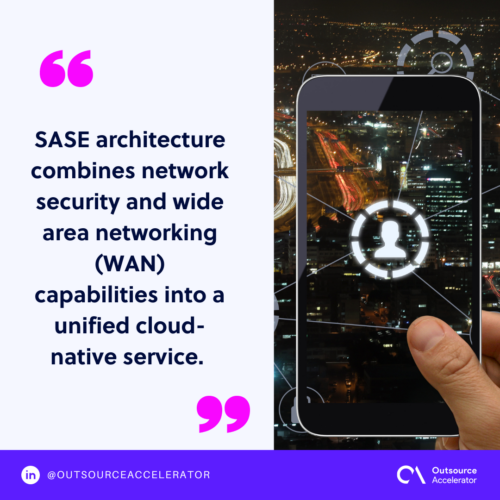 How does SASE architecture work?
The fundamental principle behind SASE is simplifying network management while improving performance and security. It has four characteristics: identity-based, cloud-native, wide support, and globally distributed.
Further, SASE architecture employs five separate capabilities. Here's how each capability works.
Identity-based security

. SASE enforces policies based on user identity with the help of granular access controls. With comprehensive authentication, only authorized users can access specific resources.

Secure web gateway (SWG)

. SASE incorporates SWG capabilities to protect users from malicious websites, malware, and phishing attacks. It filters and inspects web traffic, blocking content against company measures.

Firewall-as-a-Service (FWaaS)

. SASE integrates firewall functionality into the architecture similar to an on-premise firewall. This protects against cyber threats by only allowing traffic authorized by the organization's network.

Cloud access security broker (CASB)

. CASB helps monitor and control data interactions between cloud services and users. It helps teams enforce data protection policies and prevent data leakage within the network.

Software-defined wide area networking (SD-WAN)

. SD-WAN optimizes network performance and helps cut circuit costs with a software-defined approach. It routes traffic over multiple paths to prioritize critical applications and enhance network reliability.
Elements of a SASE architecture
The following elements constitute a comprehensive SASE framework:
Secure access
Secure access is a critical component of SASE architecture. It ensures that users can safely access required resources from any device, anywhere in the world.
Secure access often includes zero trust network access (ZTNA) and multi-factor authentication (MFA) features. Companies can guarantee that only authorized users can connect to the network and access sensitive resources through this element.
Network security
Network security is the next layer of defense that ensures the security of data and network traffic. This is implemented through firewalls, intrusion detection and prevention systems (IDS/IPS), encrypted tunnels, and other measures.
Network security aims to identify and mitigate potential attacks or security breaches inside and outside the network.
WAN optimization
WAN optimization improves network performance within a SASE architecture. By implementing techniques like data compression, caching, and traffic prioritization, organizations can enhance the responsiveness of their network connections.
WAN optimization makes remote access and cloud application performance faster and more efficient. It can also reduce costs by decreasing the need for network infrastructure.
Cloud-native architecture
SASE architecture leverages cloud-native principles to deliver its services. Cloud-native refers to designing and deploying applications in cloud environments using containerization and microservices.
By embracing cloud-native architecture, SASE enables organizations to scale their network and security services seamlessly, adapting to evolving demands while maintaining agility.
Edge computing
Edge computing enables organizations to process data closer to its source. 
Through this element, data processing happens in real-time. This is essential for applications like IoT and autonomous vehicles, where a delay in processing can have severe consequences.
Edge computing is also a more efficient way of reducing cloud processing costs and improving security by reducing ingress and egress traffic.
Why is SASE architecture necessary for organizations?
SASE architecture has become an increasing necessity, especially for hybrid teams, for the following reasons:
Enhanced security
SASE architecture provides organizations with a comprehensive and integrated security solution. Consolidating multiple security functions into a centralized platform minimizes security gaps and simplifies management.
With SASE, businesses can enforce consistent security policies across their entire network infrastructure, reducing the risk of data breaches and cyberattacks.

Improved performance
Traditional network architectures often suffer from bottlenecks and latency issues due to backhauling traffic to centralized data centers.
With its distributed approach, SASE architecture enables teams to optimize network performance by leveraging local internet breakout. This results in faster and more efficient data transmission, enhancing user experience and productivity.
Intelligent edge
SASE architecture offers intelligent edge capabilities, making managing and maintaining data security easier. This edge offers users unlimited access to their firm's resources, while IT teams can maintain visibility and control through a single pane of glass.
Moreover, SASE deployments automatically detect network or security anomalies. It comes with real-time recommendations and actions to quickly improve the company's security posture.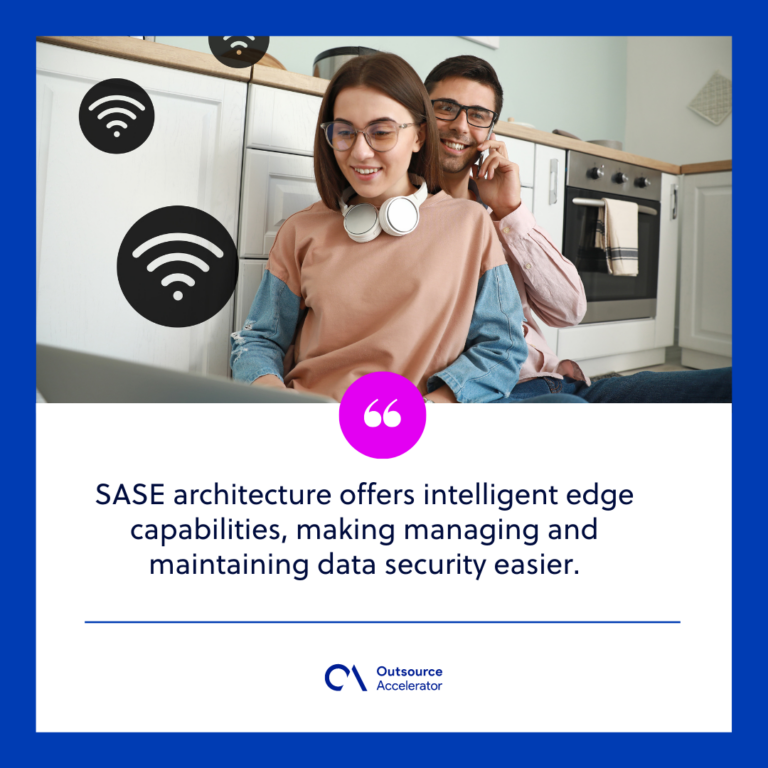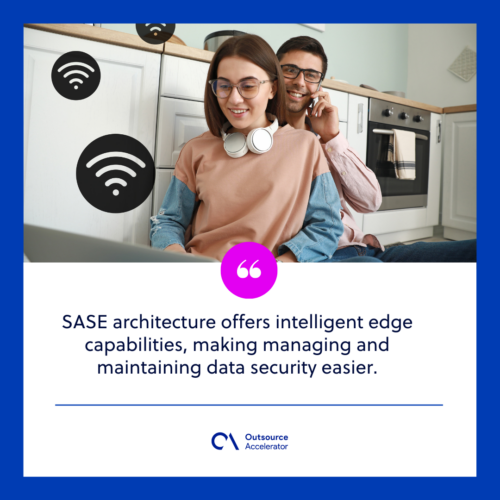 Improved user experience
With the rise of remote work, organizations must balance security and user experience while leveraging cloud-native solutions. Employing a SASE architecture-based solution allows secure access to cloud applications and enterprise data while ensuring an optimized experience.
With the help of SASE, workers are granted secure remote access to corporate data more flexibly while adhering to security policies.