Exploring edge computing: Comparisons, benefits, and challenges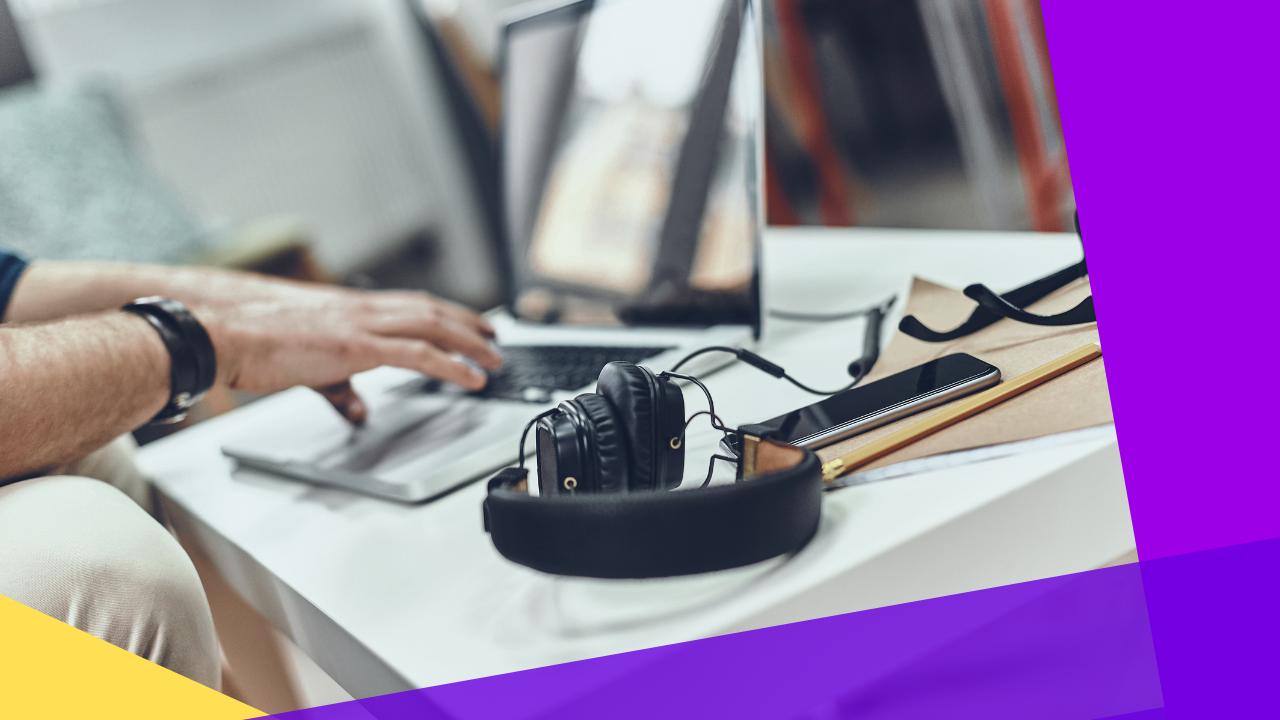 Data processing is one of the biggest challenges in the industry. There's a huge amount of data generated by sensors, devices, and machines growing exponentially. 
With it comes the need for a new approach to computing. 
Edge computing is a new solution that companies are looking into. It uses small clusters of processors close to where data is captured or generated to ensure it doesn't get lost through multiple servers. 
What is edge computing? 
Edge computing aims to solve problems like latency and bandwidth limitations by proposing a new way of approaching data processing and storage. 
The "edge" refers to the area between the cloud and end devices where data can be processed, stored, and transmitted before delivery. End devices may include industrial equipment like sensors, cameras, and other network appliances that generate data for analysis. 
Edge computing has been around since at least the late 1990s when tech company Akamai developed architecture to decongest early Internet traffic. 
Today, edge computing is gaining traction as more companies realize its benefits, especially in industries with high-volume IoT applications.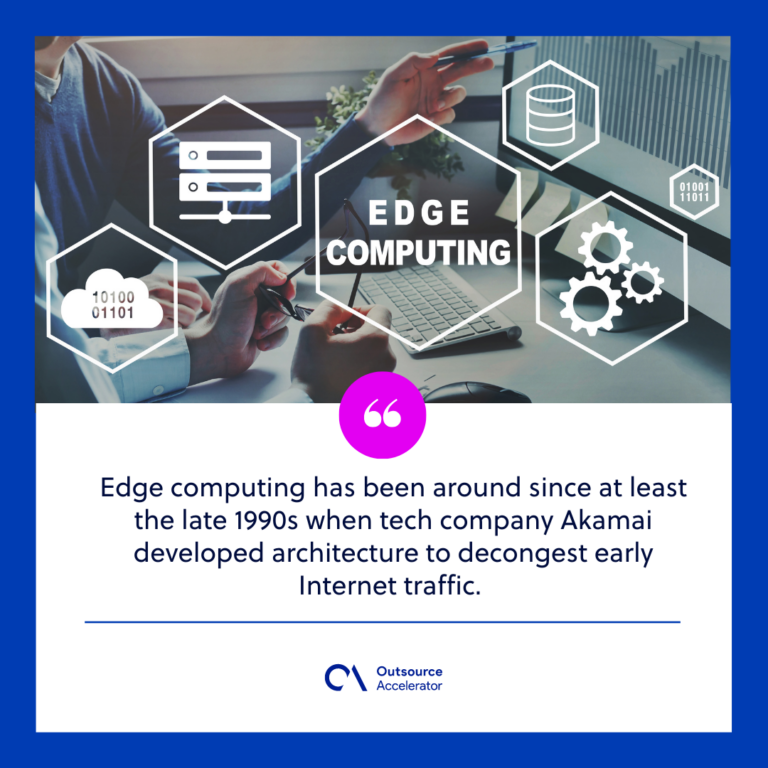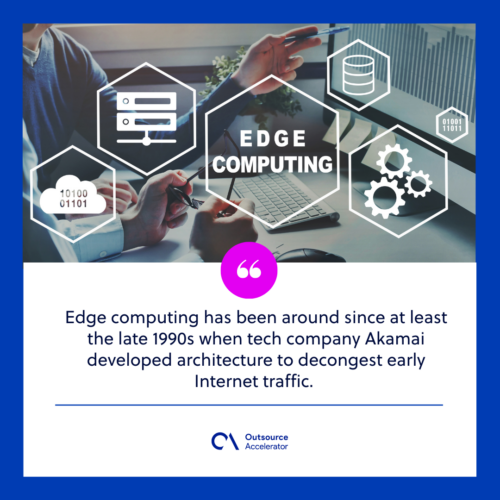 How does edge computing work? 
The idea behind edge computing is simple. Instead of sending all data to a central processing cloud, you bring it closer to the source. This reduces both:

Latency (or lag)

– by keeping data as "on-site" as possible.

Bandwidth costs

– by only sending what's needed.
As soon as data is collected, it can be analyzed immediately. This method also results in businesses making decisions faster due to having better access to real-time data. 
Cloud vs. Fog vs. Edge computing
Cloud, fog, and edge computing are three different models for computing. Cloud computing is the most well-known, but the other two have a few advantages for certain applications. 
Cloud computing
Cloud computing provides shared resources and capabilities to devices on demand. The cloud enables access to a shared pool of computing resources without requiring too much management effort or service-provider interaction. 
Cloud computing utilizes resource sharing to create coherence and scale, much like a public utility concept.
Fog computing
Fog computing is an extension of cloud computing that treats the cloud as a virtual layer between the Internet and edge devices. The advantage is a better provision of performance, reliability, and cost-effectiveness. 
Edge computing
Compared to the other two models, edge computing processes data at the edge nodes instead of a central cloud. The advantage here is reduced latency and faster decision-making capabilities. 
Benefits of edge computing
Here are the primary advantages of utilizing edge computing: 
Data sovereignty
Data sovereignty is a delicate topic, and governments worldwide take strong stances on where their citizens' data is stored and processed. 
For example, the EU has the General Data Protection Regulation (GDPR), which mandates personal data to be stored on physical servers inside their borders. This may seem inconvenient to businesses, but it's a benefit for edge computing. 
Data within borders brings it closer to the processors, thus, localizing and accelerating business information. 
Heightened security
The cloud isn't immune to cyberattacks, but edge computing can give greater security by keeping sensitive data closer to its source. Additionally, edge devices can be further encrypted to add additional security layers. 
By moving away from the cloud, you also distance yourself from possible data breaches there. 
Reduced IT costs 
Edge computing cuts down on IT infrastructure by lessening your dependence on data centers. With fewer data centers, you spend less on power and maintenance. Lower bandwidth and storage space also reduces costs. 
More efficient performance
Data centers are frequently located far from where data is generated, even on the cloud. Sending data back and forth across long distances isn't just costly but also slows down response times. 
Processing data closer to where it's generated enables faster access to real-time information. 
Edge computing optimizes performance based on location and other factors like available bandwidth or device capabilities. By executing fewer and more local processing tasks, edge computing assures more efficient performance overall. 
Added functionalities
Edge computing allows for added functionalities, namely: 
Artificial intelligence integration

. As AI presence rises, companies continue to develop modules that include

AI functionality

built in. The growth of AI chipsets that work on edge devices will see them begin to move from the cloud. 

Sensor data processing

. Sensors and other equipment that collect data can be placed at the edge to increase reliability and efficiency.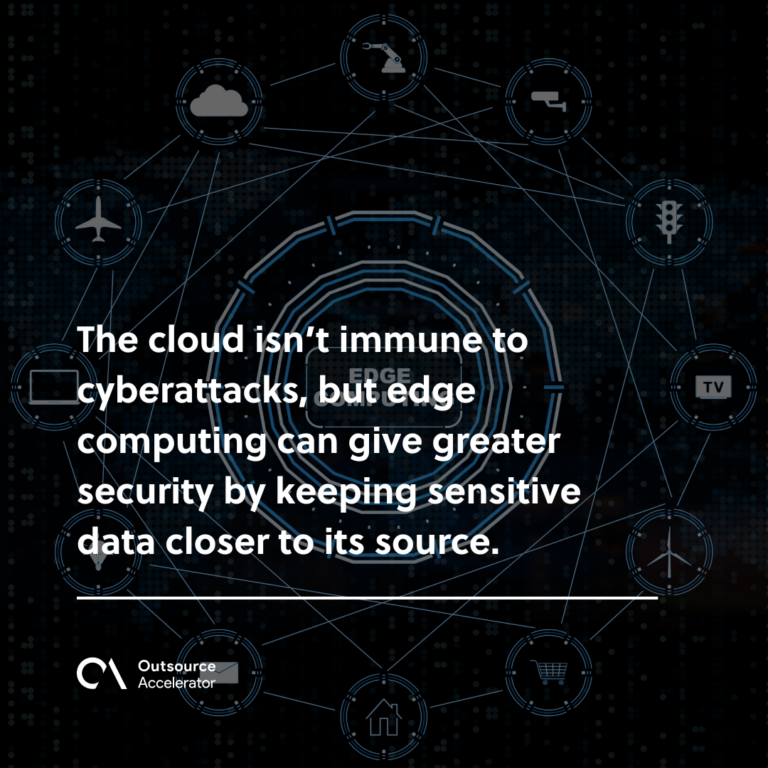 Challenges of edge computing
Edge computing is still a fairly new technology and thus vulnerable to a few challenges: 
Limited capability
The biggest challenge with edge computing is that it's less powerful than centralized cloud servers. Edge devices are typically smaller and lack the processing power or memory resources some applications require. 
The only solution to this so far is multiple edge devices, which can lead to increased costs and complexity compared to a traditional server farm or cloud environment. 
Network bandwidth
Network bandwidth is a significant challenge for edge computing. It introduces latency and makes managing and maintaining large-scale distributed systems difficult. 
The limited processing power of edge devices further aggravates this. Fiber optic cables are limited in how much data they can transmit, so the more devices are connected, the slower information is sent.  
The end result is data gets sent back to the cloud. 
Distributed computing
As has been emphasized, edge devices carry limited processing power, memory, and even battery life. They aren't designed for heavy-duty tasks. Edge computing must rely on distribution to streamline the process, sending only relevant data for processing.  
Overall, edge computing is an exciting new technology to explore and can provide a viable alternative to cloud computing in the near future.