The importance of a Salesforce administrator in the workplace
Customer relationship management is paramount to running a successful business nowadays.
With it comes a myriad of CRM tools that can make this process efficient for them. Among these tools is Salesforce, a leading all-in-one CRM platform with over 150,000 customers.
If you are one of the organizations using the platform, consider having an expert to help you manage and maximize its capabilities. A Salesforce administrator is the best fit for this job.
Learn more about the importance of having a Salesforce administrator in your wing through this article.
What is a Salesforce administrator?
A Salesforce administrator is someone responsible for managing and maintaining a company's Salesforce platform. 
Salesforce administrators act as the bridge between the technical team and business users, ensuring that the platform is configured to meet the company's unique needs.
These professionals ensure smooth day-to-day operations through the platform, enabling the company to derive maximum value from their Salesforce investment.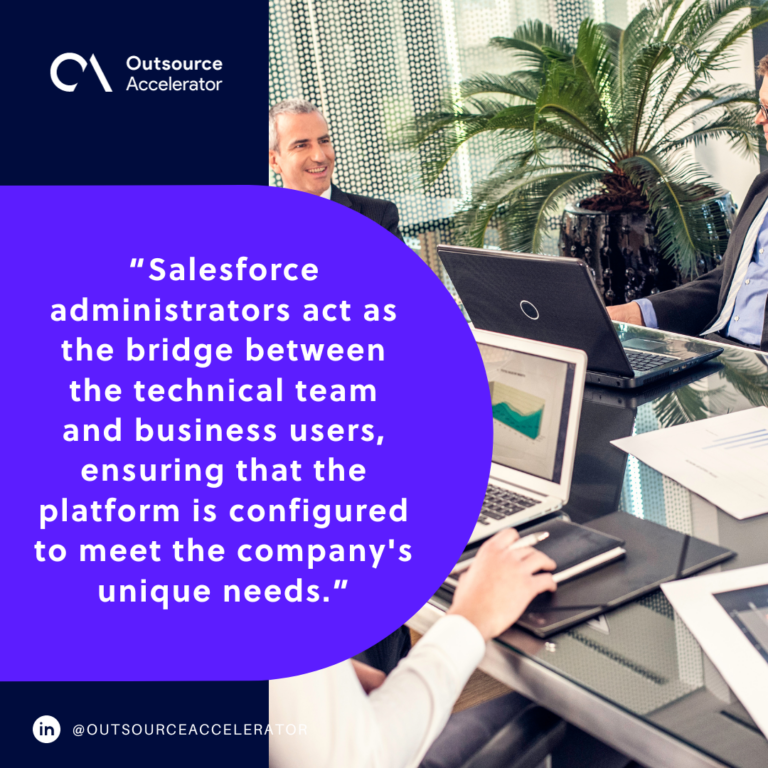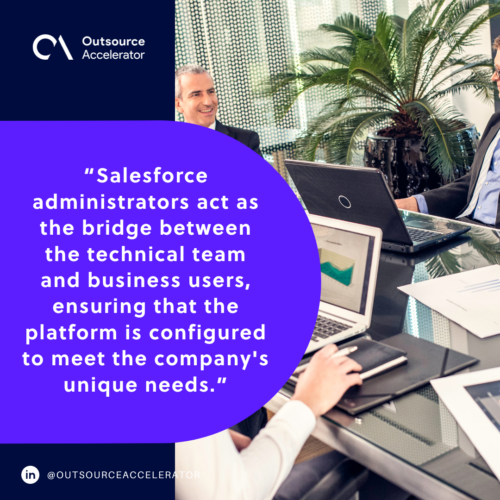 Why you need a Salesforce administrator
According to Future Market Insights, the Salesforce services market is expected to reach US$33.5 billion by 2029 with its growing demand. Along with this, the demand for Salesforce admins is also on the rise.
Having a Salesforce administrator in your organization is crucial for the following reasons:
Maximize Salesforce features
Firstly, Salesforce administrators help you maximize the platform's features and capabilities. They can customize the platform to match your workflows by analyzing the company's requirements.
Keep your system updated
Having a Salesforce administrator helps you keep up with app updates and releases. Teams won't need to worry about constantly integrating current solutions with these updates; your admin can do this instead.
Save time on maintenance
Furthermore, Salesforce administrators act as troubleshooters. They identify and resolve any issues or bottlenecks that may arise within the Salesforce platform.
They work with Salesforce developers to troubleshoot and maintain the product for your end-users to save effort and avoid delays.
Roles and responsibilities of a Salesforce administrator
Salesforce administrators can be assigned to various teams requiring Salesforce for their work, such as sales and marketing.
On the other hand, they handle similar responsibilities to maximize the platform's capability, including the following.
System configuration and customization
A Salesforce administrator configures the system settings, creates custom fields and layouts, and handles process automation using workflows and validation rules.
In sales teams, for instance, salesforce administrators can help set up personalized dashboards and automate reports to shorten their cycle and track every lead.
Data management
Salesforce administrators are responsible for ensuring data accuracy, consistency, and security. They define data models, set validation rules, and establish governance policies to maintain data integrity.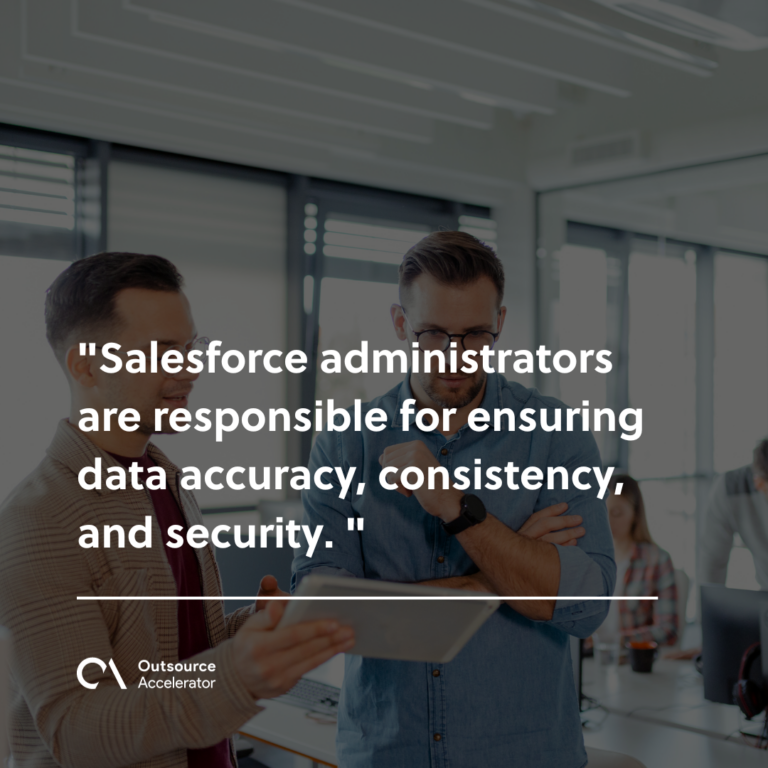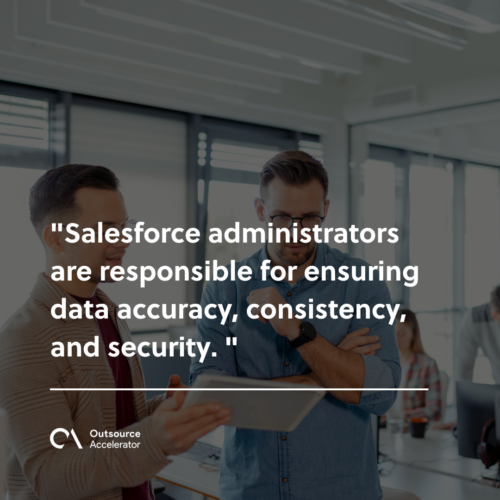 User management and training
Salesforce administrators create and manage user profiles, roles, and permissions. They provide training and support to users to ensure optimal utilization of Salesforce.
Reporting and analytics
These specialists develop custom dashboards to provide actionable insights to stakeholders. They help the organization make data-driven decisions, identify trends, and forecast sales performance.
System maintenance and optimization
Salesforce administrators monitor and proactively address the platform for performance issues.
They install updates, manage integrations with other systems, and optimize processes to improve system efficiency.
Skills and qualifications of a Salesforce administrator
A Salesforce administrator possesses various skills and qualifications necessary to manage the platform. This includes the following:
Strong understanding of Salesforce functionality and features

. This includes expertise in administration tools, security settings,

workflow automation

, and reporting capabilities.

Excellent problem-solving and analytical skills

. A Salesforce administrator is able to analyze complex business requirements and translate them into actionable solutions within Salesforce.

Training capabilities

. Salesforce administrators interact with various stakeholders, including business users and technical teams. They are capable of training these people on the platform's functionalities and best practices.

Proficiency in programming languages.

Salesforce administrators proficient in Apex and Visualforce are advantageous, allowing them to develop custom functionality and workflows.
Certifications that a Salesforce administrator can obtain
Salesforce offers a range of certifications that validate an individual's expertise in Salesforce administration. 
These certifications can be taken through their Trailhead platform for free, even without prior technical expertise.
Is it necessary to have a Salesforce administrator?
The significance of a Salesforce administrator in the workplace cannot be overstated. 
Salesforce administrators' role in managing, customizing, and optimizing Salesforce is vital to the success of businesses across industries.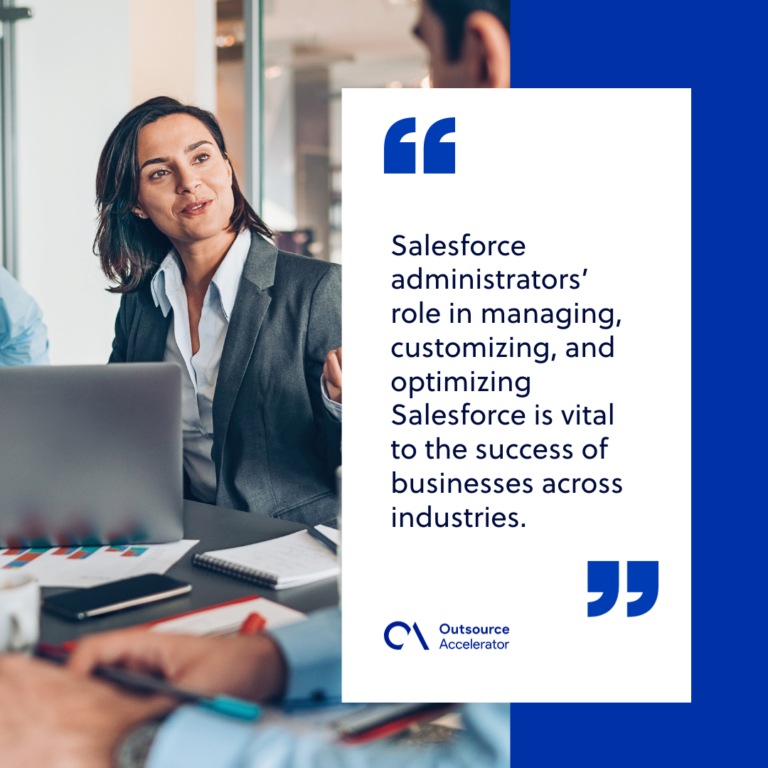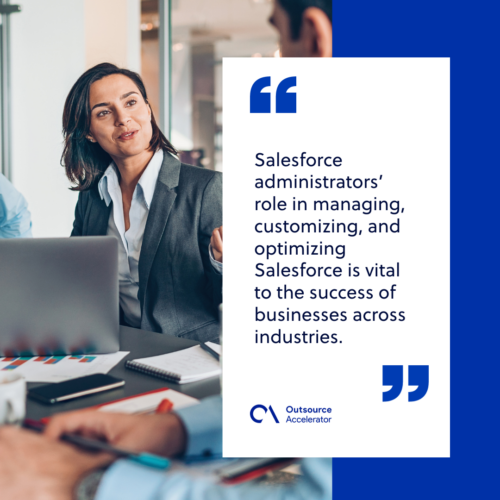 Skilled administrators can unleash the full potential of Salesforce. They enable organizations to streamline sales processes, enhance customer experiences, and drive business growth. 
Salesforce administrators are critical in ensuring that companies derive maximum value from their Salesforce investment. They possess expertise in system configuration, data management, user support, and optimization.