Robotic process automation in education
Society is innovating. Along with these changes are the fast pace of technological developments.  
In fact, in the educational sector, technology is creating waves by playing a vital role in automating tasks and making resource-intensive tasks leaner and faster. 
Hence, automation is the solution to sectors with too much paperwork and rigorous processes. Applications such as robotic process automation (RPA) are setting the new standard in the education sector. 
This eliminates paperwork and tedious manual processes that often create tons of backlogs in admissions, assignments checking, finance, and other administrative functions. 
Various universities and colleges have created their own platforms and applications where users can communicate, collaborate and connect with their colleagues through multiple platforms. 
With these cloud-based applications, students and teachers can find faster and better resolutions to many of their problems. 
But what is robotic process automation? How is it relevant to the education sector? And what are the applications of RPA in education?
RPA in education: How is robotic process automation used in the sector?
Robotic process automation (RPA) has had several applications in different industries. It has automated the development of automotive plans and other military products. 
RPA in education revolutionizes school processes by making them more efficient and cost-effective.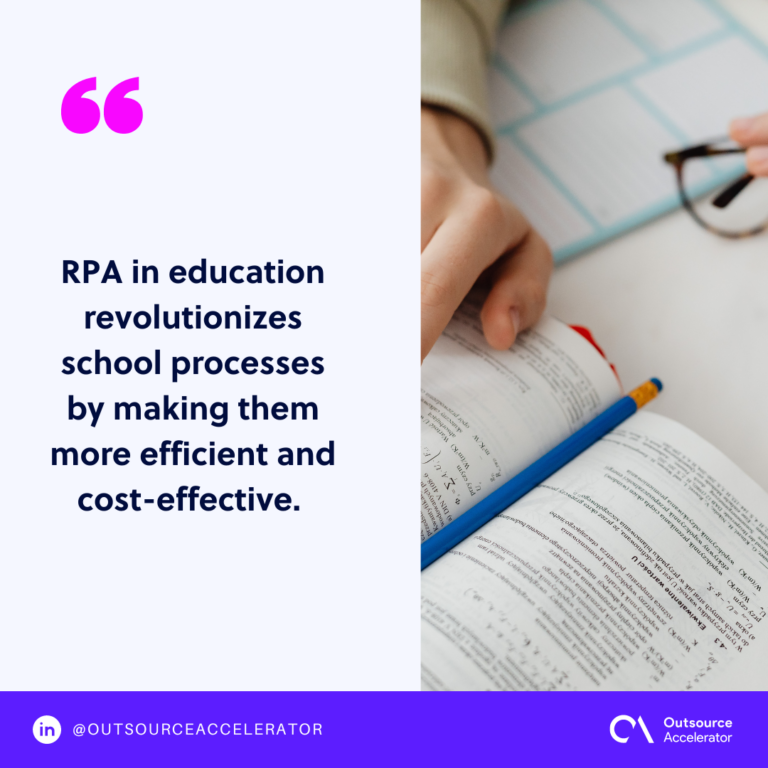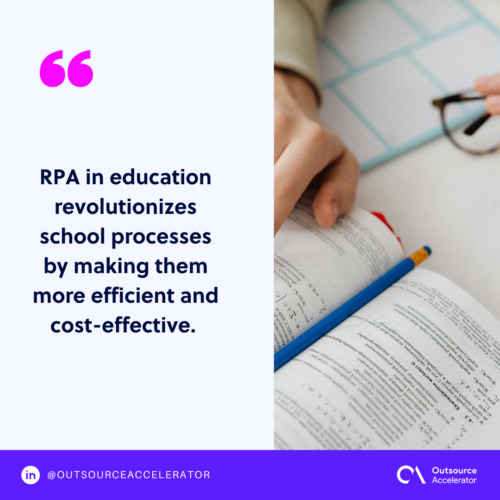 Some of its notable applications include: 
Ease during the enrollment process
The major problems during the enlistment process are the long lines and slow processing of subjects. These tire students, personnel, and professors emotionally and physically. 
Automation makes it possible to check the student's eligibility prior to the registration date. It then creates a shortlist of candidates that can take a certain subject, eliminating long lines.
Management of attendance
The good thing about a cloud-based system is that students and parents alike can access their records anywhere and anytime. Robotic process automation software sends automatic reports to parents and students to keep track of their performance. 
IT operations
One of the major problems encountered by the IT department is the flood of tickets and concerns for resolution. These issues include password reset, updates, and rebooting of systems. 
Facility scheduling and management
Universities have a lot of events and meetings that happen simultaneously. With RPA in education, it becomes easier and possible to integrate and synchronize the schedules of students and faculty. 
Even the availability of events and functions areas becomes visible. This makes it easier to identify areas that are frequently used and can be utilized for future meetings. 
Limitations of RPA in education 
Applying robotic process automation in the education sector has its own limitations: 
Cannot operate alone
Despite its brilliance and capabilities, robotic process automation cannot operate and get the job done on its own. 
Tasks such as scanning, deciphering poor penmanship, and identifying missing vital information are still dependent on human knowledge and ingenuity. Hence, it works best in collaboration with humans. 
Situation-based decision-making is impossible
One of the major gaps in robotic process automation is the capacity of the bot to decide. While it can do it to a certain extent given the right information, with complicated situations it might become difficult. 
For instance, in agreements between partners, if there are inconsistencies, the bot might not be able to recognize these easily, which can result in major losses for the organization. 
Essential benefits of RPA in education 
Despite its benefits, only a handful of universities and colleges have integrated robotic process automation into their operations.
To better understand its impact, below are the following factors to take note of: 
Improved customer experience 
Robotic process automation tools enable employees to work more and do more by relieving them of the burden of mundane tasks. Instead of investing time in emailing students, manual admissions, and report generation, the system does it for the school. 
This improves the capability of universities to deliver better and higher quality services in a timely manner.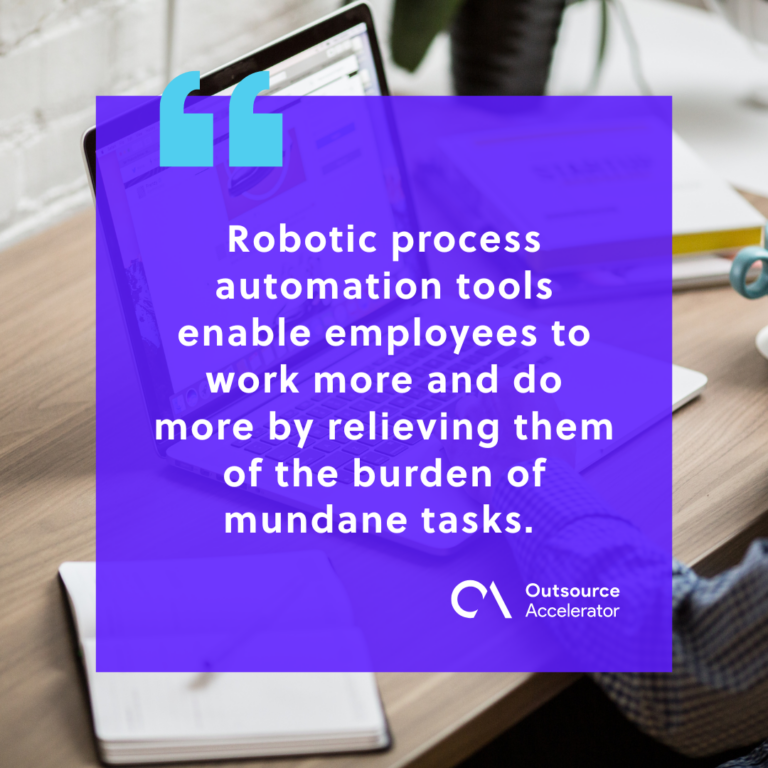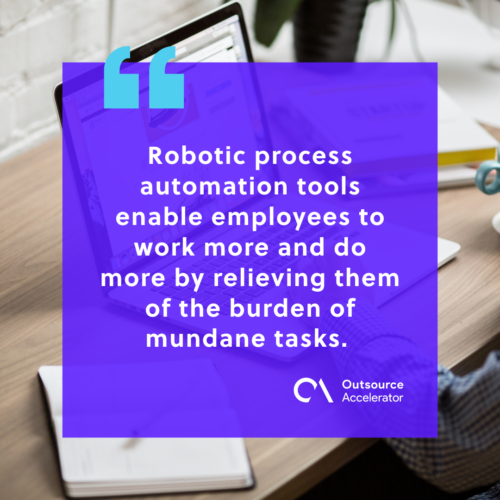 Better management capabilities 
RPA in education creates a centralized server that allows remote monitoring of the schedule and deployment actions of software bots. 
This improves better management of administrative tasks. These schedules are executed automatically by the system as determined by the management. 
Auditing and analytical reports are also generated with ease making it faster to close the academic year. It also creates insights for future enhancements of the organization. 
Cost savings
Robotic process automation promotes cost reduction. But beyond this, making efficient processes creates more value for the organization as it makes the turnover rate faster.
With the huge improvement in the output metrics, it generates satisfaction and overall better performance of the organization. 
Increased compliance
The education sector has a lot of classified and proprietary information. With this superfluity of data, it is important not just to securitize it but to ensure it is consistent and compliant with legal standards. 
RPA in education cleans up all bad data by performing enhancements in the system and proactively managing all compliance issues through systemic internal reviews. 
In fact, this function has helped various industries to meet international standards on privacy and safety of data security. 
RPA in education: Key takeaways 
Overall, the adoption of RPA in education has the potential to:
Revolutionize administrative processes

Improve communication and student services

Streamline data management

Enhance online learning experiences
By automating routine tasks, educators and administrators can focus more on providing quality education and fostering a conducive learning environment.