Definition
What is cloud-based?
Cloud-based refers to software, programs, or tools that are made accessible to users on demand through the use of the internet from a cloud provider's servers.
The cloud is helpful for businesses looking to expand capacity, improve accessibility, or add new services on demand. This is especially essential if they're not looking to add costly infrastructure costs or increasing current in-house support staff.
Cloud-based call centers are network-based infrastructure in which a provider owns and operates call center technology. As a result, it can provide remote services to companies on a subscription basis.
Cloud-based call centers have a creative solution to addressing the company's pitfalls.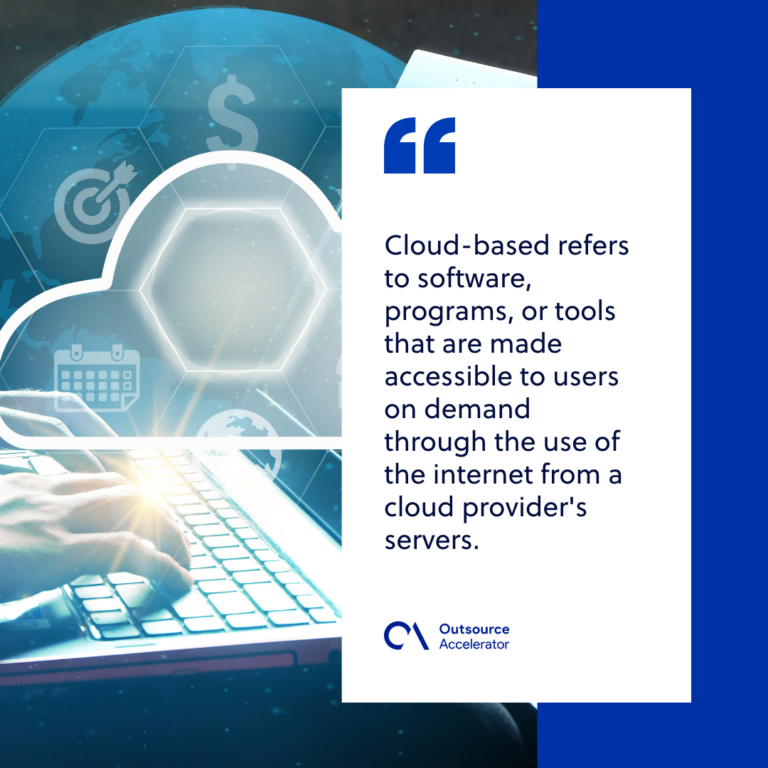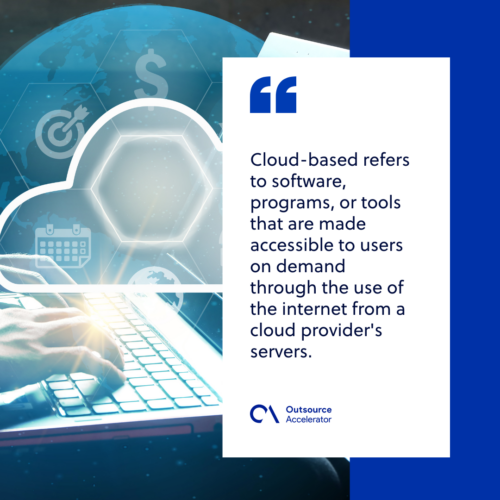 Advantages of having a cloud-based call center
A cloud-based contact center uses cutting-edge networking technologies to provide a modern alternative to on-premise contact centers. It has many advantages for companies that want to meet and surpass their customers' standards consistently.
Here are the main benefits of cloud-based in call centers:
Increased flexibility
It involves increasing and decreasing user counts, making new features more available, and adding users in new places. It also allows you to try out new software.
Enhance the customer experience
All of the advantages of a cloud-based call center eventually result in enhancing customer service.
Through cloud-based hiring, you can hire workers that anticipate your customers' needs and deliver excellent service. 
Cost control
With a cloud-based call center, you can deploy cutting-edge technology with little upfront investment. This capacity is one of the primary reasons why so many businesses have migrated to the Cloud in recent years.
Improved global presence
If your company is expanding globally, cloud-based communications offer a sizable local number pool and unrivaled reliability thanks to global carrier connectivity. It helps you to avoid having to negotiate contracts with carriers in each country where you do business.
Risks Of Cloud-based call centers
Cloud-based call centers come with their own set of risks. The most significant risk is usually security.
Most businesses retain customer data on their servers, but screen pops, data lookups, and other tasks would necessitate a connection to the cloud provider. Risk exists if your data is stored on another company's website, mainly if it contains personal information about customers.
One other potential risk in a cloud-based call center is the contract's structure. If most agents drop below a specific number, or if you need to increase the number of call center agents dramatically, some providers impose fines.