The science of data cleansing: Why does it matter?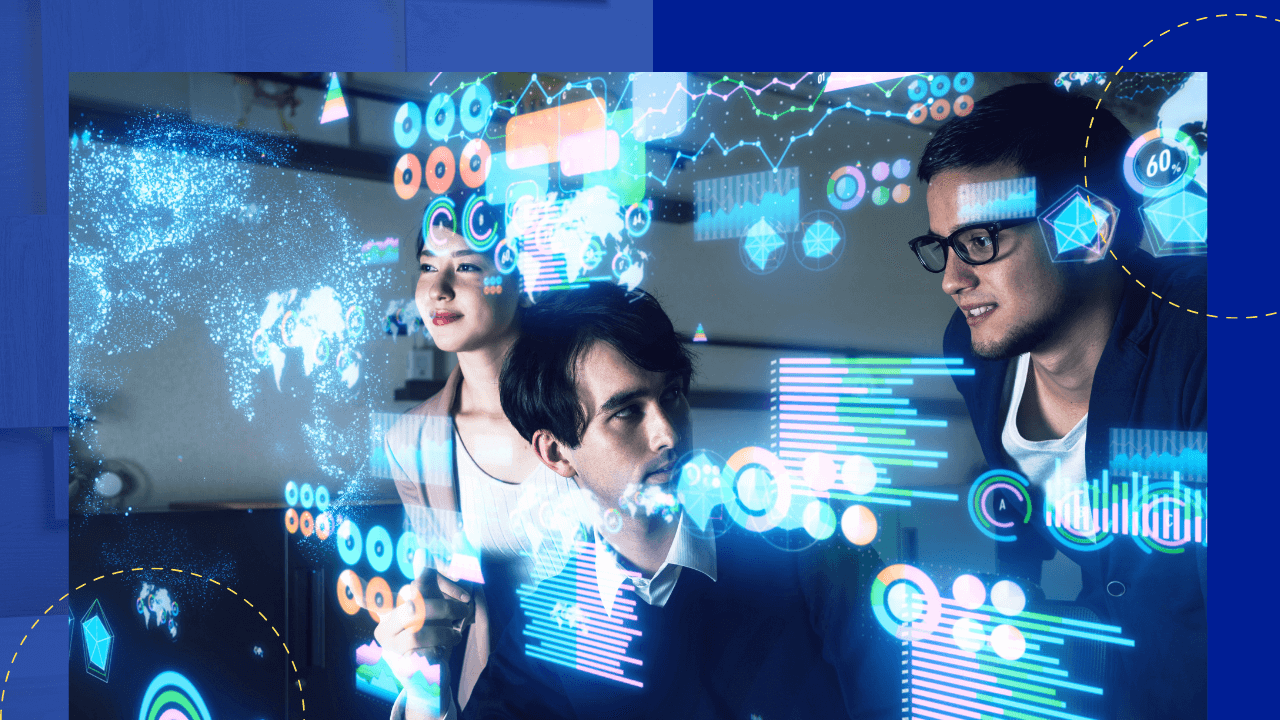 Before, we were used to storing tons of important files in safe boxes or file storage drawers for safe keeping. Our modernized era today has made information storage easier and safer through the use of technology. 
In businesses today, different sets and volumes of data are usually collected and stored as they go on with daily operations. These sets of data could be records of customer information, product listings, client information, audits, and employee details, among many others. 
Yes, it is much easier to store information on a database. However, safety and security of all data are crucial factors that should be considered in terms of data management. This is why it is highly important to perform data cleansing every once in a while. 
What is data cleansing?
Data cleansing refers to the process of analysing all information in a database. From there, removing or updating all data that are duplicated, incomplete, irrelevant, inaccurate or have incorrect formatting. 
Data cleansing is one method of data management. As time passes, businesses or individuals may collect thousands of data that may have already been outdated. 
Performing this process on a database with years of stored information can take quite a while to be completed. This is why it is vital to conduct data cleansing to keep all information concise and up-to-date.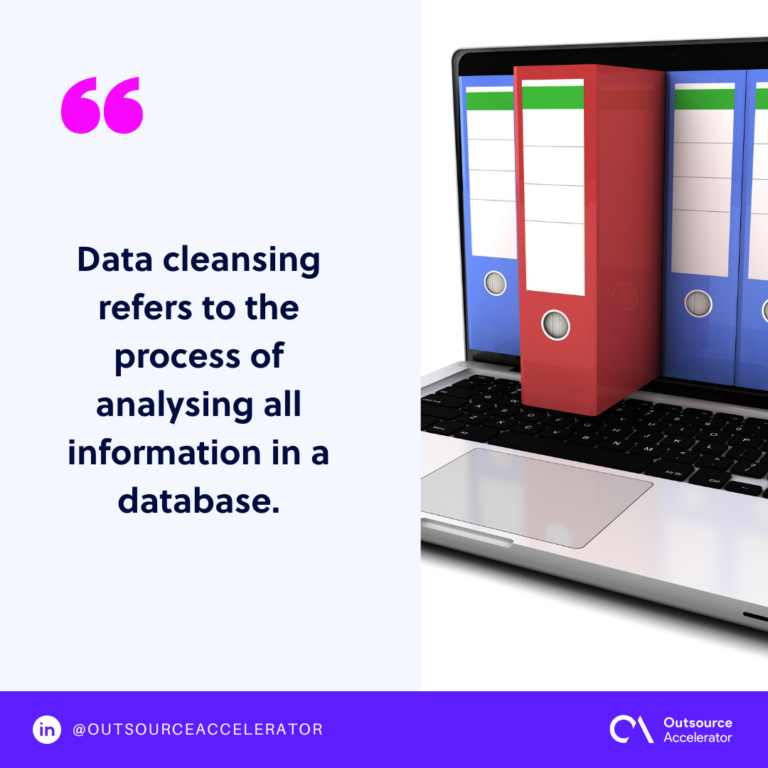 Importance of data cleansing
In general, data cleansing is used to consolidate, correct, and update volumes of information within a database. This helps make sure that the system used is free of errors and will function effectively. 
More so, data cleansing is an essential process for both individuals and businesses. 
Importance of data cleansing for individuals
It is normal for individuals, especially professionals to keep personal information on different files in their personal computers. 
Piling up different files like tax, banking, mortgage, credit card information, and legal papers for years can be overwhelming. This can also lead to disorganization, thus it can cause the device to function slowly.
Data cleansing makes it easier to look for specific paperwork. It helps individuals keep their files organized. In addition, data cleansing helps prevent document loss.   
Importance of data cleansing for businesses
Businesses, typically have volumes of personal information from clients, employees, customers and more. 
Data cleansing allows them to maintain accurate and updated records to help improve their data quality. For example, it is easier to look for customer details if their database is well organized. This in turn, allows them to enhance their productivity.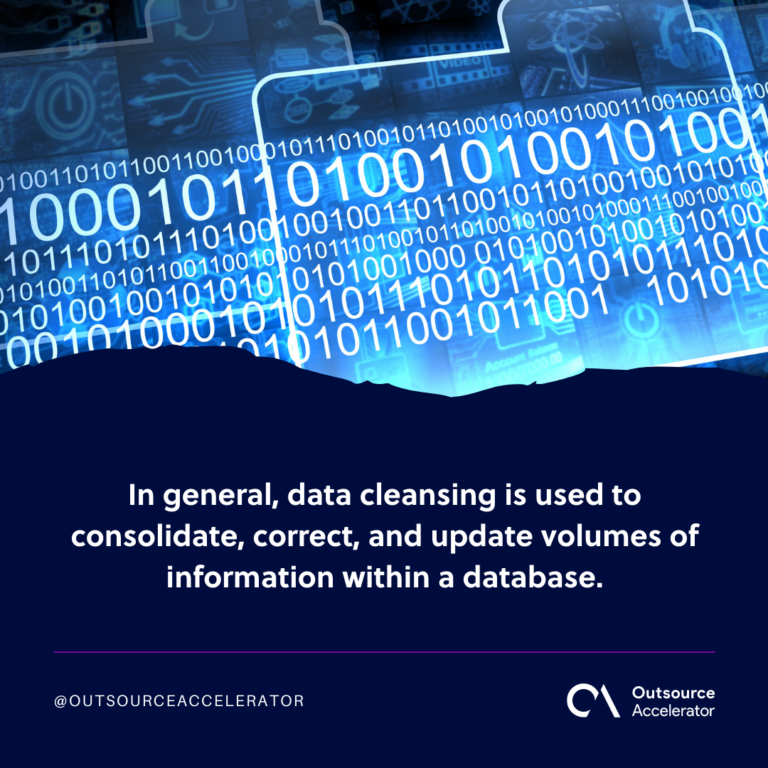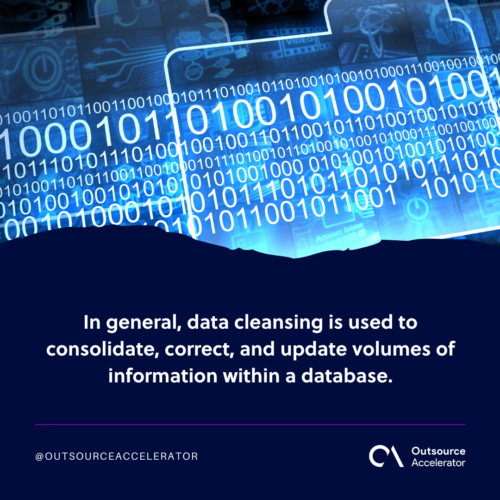 Benefits of data cleansing
As for the business side, data cleansing brings in the following benefits to organizations: 
Improved efficiency
Having clean and precise data does not just help the external needs of a company. It also helps organizations to gain valuable insights with regards to internal processes and employee performances. 
One example for this is when companies make use of data to evaluate employees or determine job satisfaction. The HR department may perform data cleansing on employee feedback, reviews, and evaluations. This is to determine which business function or department is at a high risk of attrition. 
Enhanced decision making
Having correct sets of data makes decision making for business leaders easier. Having accurate and updated information helps organizations plan out and calculate effective strategies for growth and development. 
Competitive advantage
Data cleansing allows companies to have complete and organized data, especially when it comes to customer information. It reveals insights to the latest trends and it helps businesses understand their customers better. 
Five steps to follow when data cleansing
Here are five steps to follow in performing data cleansing: 
1. Check for errors
It is important to monitor and keep track of which parts of the entire data errors usually occur. Doing this makes it quicker and easier to distinguish and correct mistakes on specific information. 
2. Standardizing your data
Data must be standardized in order for data cleansing to be effective and easily replicated. Thus, it is also vital to stick to the standardized data rules as it helps data management smoother and easier to keep control of. 
3. Data validation
Once data cleansing is done, the next step is data validation. This also determines the accuracy of stored sets of data. 
Businesses have the option to invest in different types of tools that enables them to clean-up data in real time. There are also tools that are powered by Artificial Intelligence (AI) and machine learning.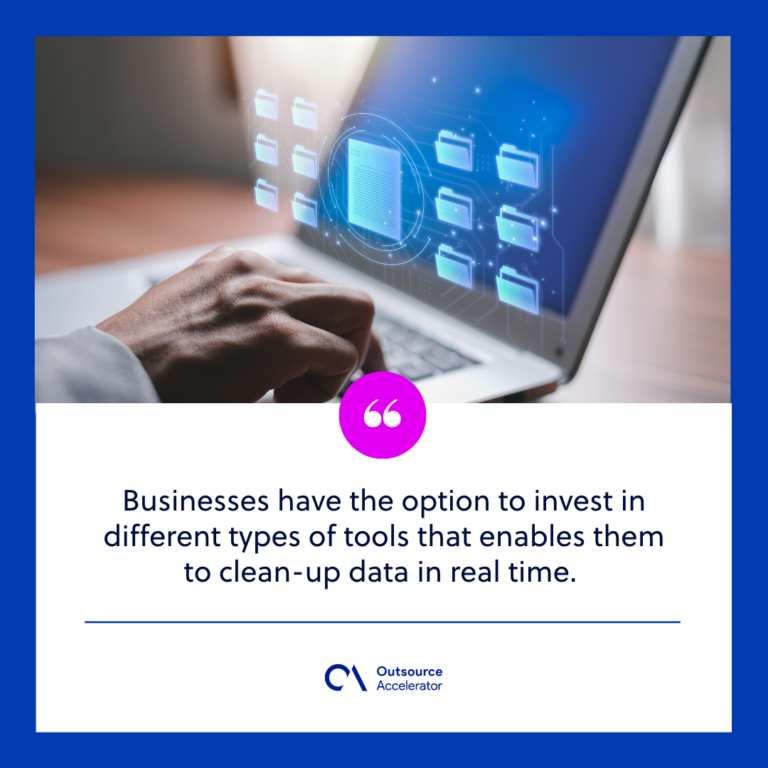 4. Data deduplication
It is also essential to scrub off duplicated data as this helps organizations save valuable time when analyzing sets of information. 
There are also data tools that can be used for this process. It goes through the raw data and automates the process. This helps eliminate manual work and it also lessens the risks of committing errors. 
5. Evaluate data quality
After standardization, validation and deduplication have been completed, the last step is to analyze the data quality. 
It is crucial to analyze the health of the data as it can also help enhance each organization's data cleansing procedures.