Definition
What is decision-making?
Decision-making is the process of selecting the best and most effective course of action among two or more alternatives to achieve the desired goal.
It is a step in problem-solving that includes selecting alternative solutions to a problem. 
As an entrepreneur or a business owner, decisions can be made intuitively, rationally, or through a combination of the two.
Intuition is the use of your gut instinct regarding possible courses of action. It is a combination of your previous experience as well as your values. 
It is essential to consider your intuition since it represents your life lessons. If you have a strong feeling against a specific course of action, you can figure out why and whether the experience is reasonable.
Intuition is a perfectly acceptable method of decision-making. However, it is typically more suitable when the decision is simple and must be made quickly.
Reasoning, on the other hand, is the process of decision-making based on the facts and figures in front of you. Reasoning has its roots in the present time and facts. 
However, it may overlook emotional aspects of the decision, particularly concerns from the past that may influence how the decision is executed. 
More complicated decisions typically need a more formal, organized approach that incorporates both intuition and reasoning. It is important to avoid impulsive reactions to any circumstances.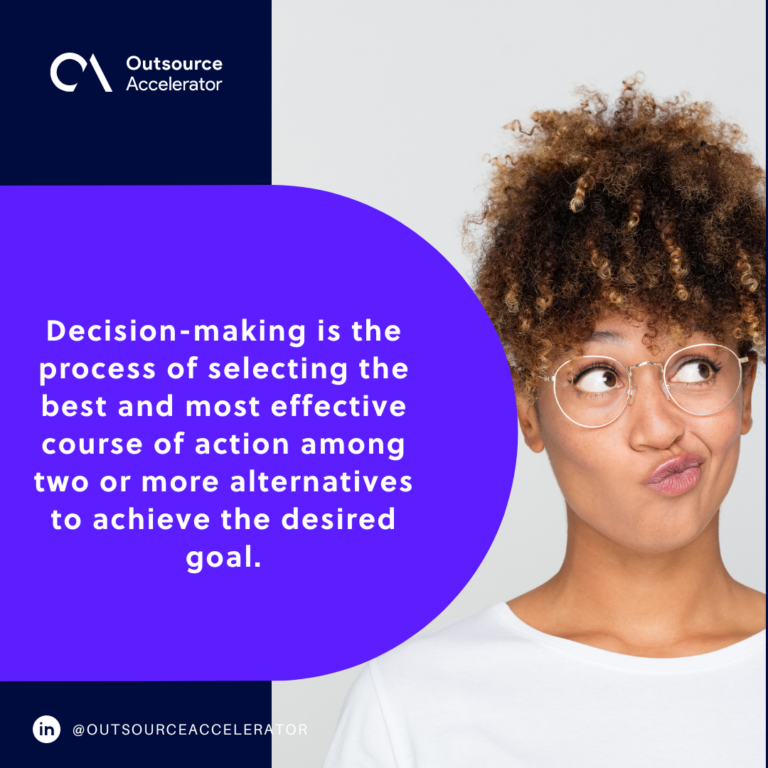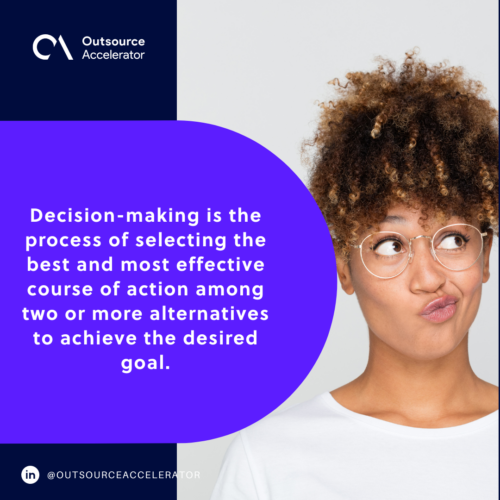 Steps to good decision making
When making a good decision, five steps need to be considered. 
The steps to good decision-making are as follows:‍
Step 1: Identify your goal
Keeping an eye on your goal is one of the most effective decision-making strategies. 
This involves identifying the objective of your decision by asking yourself what the problem is and why it has to be fixed.
Identifying your top priorities can help you in decision-making. When you understand why you made a particular decision, you will be able to stand with it more effectively.
Step 2: Gather information for weighing your decisions
It is best to gather relevant information that is directly connected to the problem before making good decisions. 
This will help you understand what needs to be done to solve the problem with a possible solution.
When gathering information, it is essential to create a list of all possible alternatives, even if they appear absurd or unrealistic. 
Seek advice from team members you trust, as well as experts and professionals, to assist you to come up with a variety of solutions. Also, consider all of your alternatives for a final decision. 
Step 3: Consider the consequences
In decision-making, this step is just as important as the previous steps. It will help you evaluate how your final decision will affect you and those involved. 
In this phase, you will ask yourself what the possible outcomes of your decision will be. What impact will it have on your future?
This is an important stage because it allows you to go over the advantages and drawbacks of the many options you mentioned in the previous step. 
It's also important since you want to be confident with all of your decisions and the possible consequences of your decisions.
Step 4: Make your decision
It is time to make a choice and execute your final decision now that you have already identified your goal, gathered all necessary information, and weighed the consequences.
Understanding that this step may cause a lot of concern for some individuals since this is where you need to follow your instincts. 
Although you may still be undecided about your final decision, you must consider how this will affect you and your team. 
Do you have a good feeling about it? And does this option serve you best now and in the future? You should feel better about the result when you answer questions back.
Step 5: Evaluate your decision
Once you've made your ultimate decision and put it into action, you must assess the decision and the measures you've taken to ensure that it's working.
This final step is likely to be as essential as step one because it will support you further in developing your decision-making skills for future problems.
This last stage of decision-making is particularly critical since it may need the gathering of new data and the implementation of some changes along the way.
Keep in mind that this stage needs some patience; the final result may take some time to appear.