Ten countries with remote work visas for digital nomads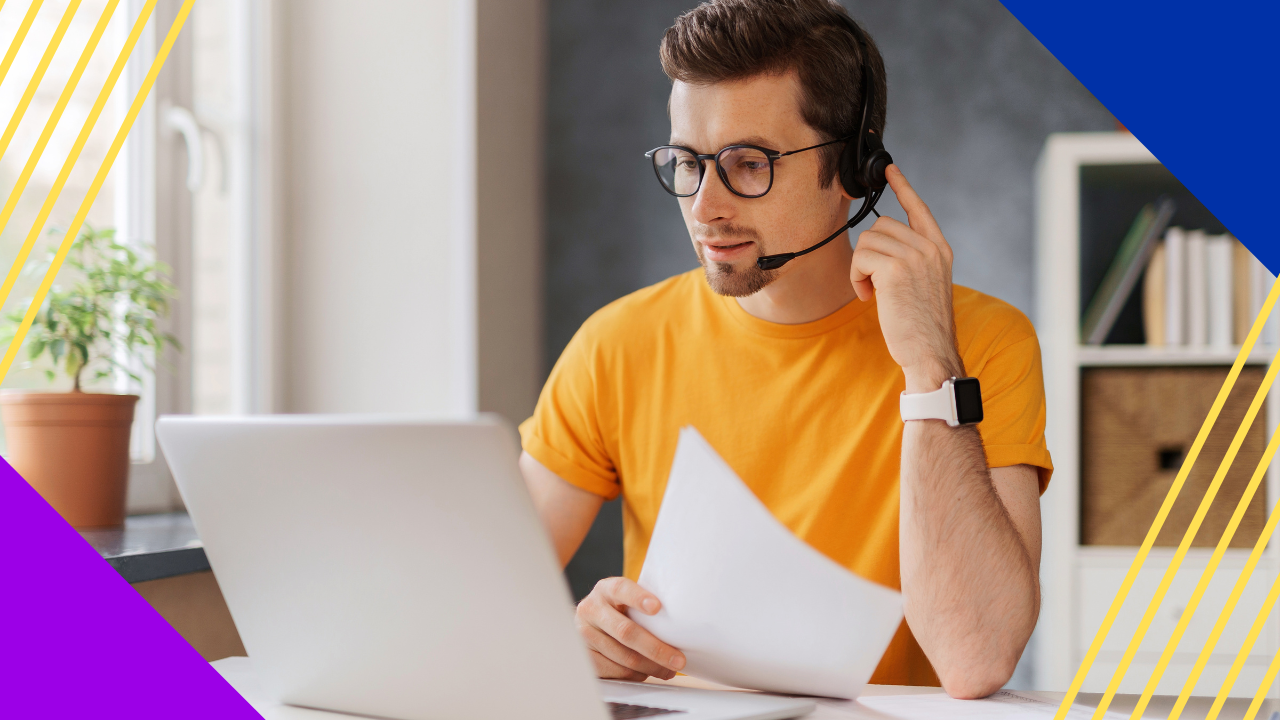 The digital nomad attitude[1] is here to stay, and it makes complete sense. 
Why work from a stuffy office cubicle in the middle of a foggy city when you could do the same work from the side of a beach or the edge of a mountain? 
Remote work visas allow companies to hire from a global workforce, and employees to choose new locations to work in. 
Some countries may be more attractive than others, but the change of scenery is still appreciated.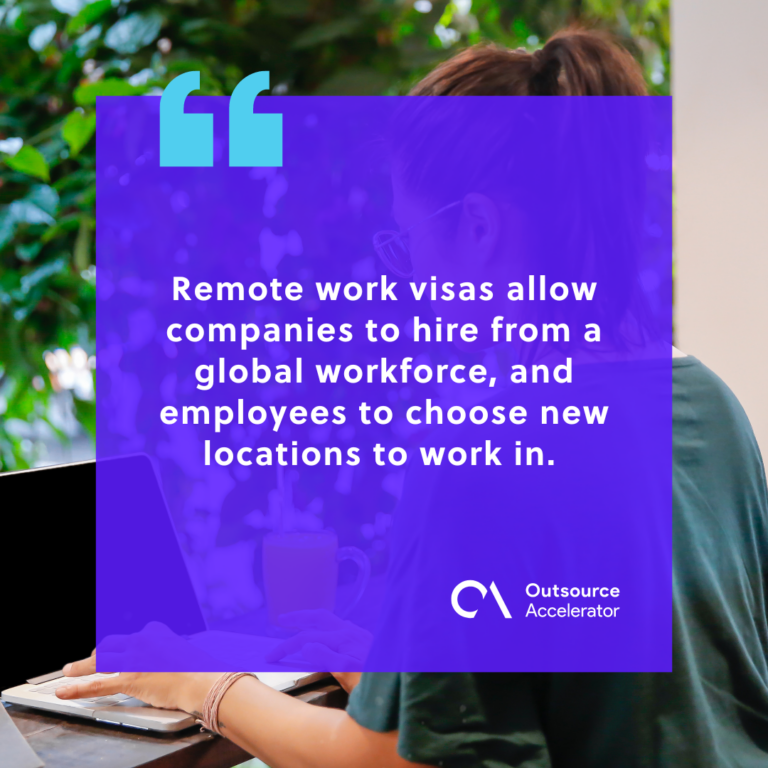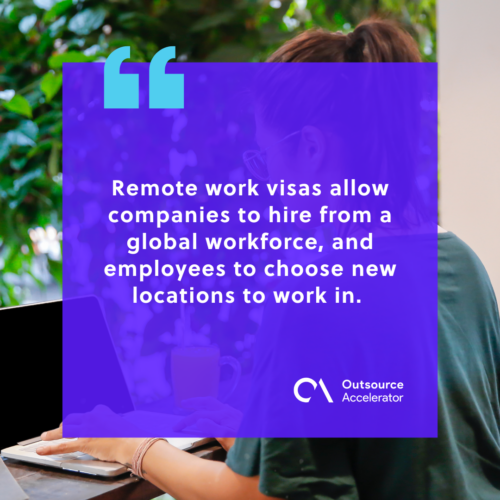 What are remote work visas? 
A remote work visa is granted to non-citizens allowing them to live and work outside their home country.
Remote work visas let companies hire foreign nationals to work in their offices. The practice has been around for some time, but it's a growing trend as more people and businesses move toward remote working.[2]
Remote work visas are now becoming increasingly popular. Many countries offer them to attract foreign talent and increase their competitiveness within various industries. 
The attractiveness lies in how easy it is to obtain one — individuals only need an internet connection and an employer willing to sponsor them!
Remote work visas are popular among developers, engineers, and other knowledge workers who want to work from anywhere in the world. 
Digital nomads are now also using them to work away from their home country. Many countries have made it easier for digital nomads to work within their borders. 
At present, there are over 50 countries with remote work visas.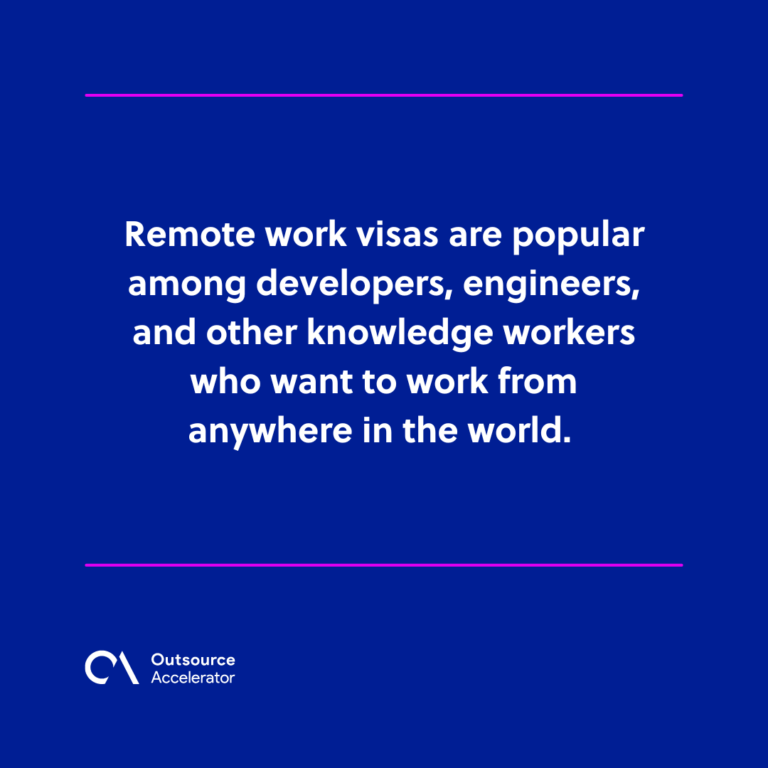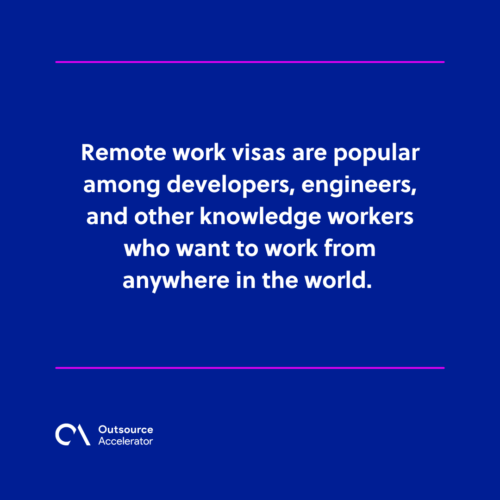 The advantage of remote work visas
Remote work visas allow you to work in a place where you would normally vacation. These are often top tourist spots with beautiful weather and different activities to do after work. 
Quite a few countries actually depend on more people coming within their borders, staying a while, and spending money. They will make working there as a digital nomad as attractive and comfortable as possible. 
A lot of these countries offer excellent internet service and safe environments to work in. Whether it's lower tax rates, certain locations, or a laidback lifestyle, every country offers its own set of benefits. 
Remote work visas are also relatively easy to apply for. They last much longer than tourist visas. Tourist visas typically last only a few months, while remote work visas can last longer than two years. 
Top countries offering remote work visas
Below, we've compiled ten of the best countries that offer remote work visas:
1. Dubai
Dubai is a city that seems impossible even to imagine until you see it yourself. 
It has become one of the top tourist destinations in the world, so there are plenty of jobs available for digital nomads looking to work remotely.
Dubai is well-known for its business-friendly environment and low tax rates. This makes it an attractive choice for entrepreneurs and freelancers to get remote work visas. 
2. Estonia
Estonia is a tiny country found in the Baltic region of Northern Europe. It's a growing international hub and is considered a very innovative country. 
Estonia has been making headlines recently thanks to its cutting-edge e-residency program. 
The program allows anyone in the world to apply for an Estonian government-issued digital ID card. It lets them open a business, register an address and bank account, and have access to public services from anywhere in the world.
3. Brazil
Brazil is one of the most sought-after countries for digital nomads. 
The country's low cost of living, beautiful beaches and vibrant culture make it a great place to live and work from with a remote work visa.
The country has no restrictions on working remotely as long as you are not employed by a Brazilian company or government agency. 
It's also possible to become an entrepreneur and start your own business in Brazil.
4. Bermuda
Bermuda has become a popular destination for digital nomads, freelancers, and entrepreneurs seeking remote work visas. A big reason is its low tax rates and lack of personal income tax.
The island country in the Atlantic Ocean has become a perfect location for digital nomads looking to escape the winter months. 
It has been promoting itself as a haven for remote workers and freelancers since 2017, when it launched the Remote Work Visa program. 
This visa allows anyone to live and work in Bermuda for up to four years with no restrictions on how much they earn or how often they travel.
5. Barbados 
Barbados is an independent nation located in the West Indies. It has a population of just around 300,000 people and is one of the most developed countries in the region.
The island nation offers many attractive incentives for foreign entrepreneurs and investors. Expats may also want to live there permanently or temporarily. This opens up a host of opportunities for those with remote work visas.
6. Croatia
Croatia is a popular choice for digital nomads and entrepreneurs. The country has an EU passport, so it's easy to set up a business there, open bank accounts, and get residency.
The country has been making efforts to attract digital nomads with a new law. Aside from offering remote work visas, this law allows digital nomads to stay in Croatia for up to 90 days without registering with local authorities.
7. Portugal 
Portugal is a great choice for digital nomads looking to take advantage of the European Union's freedom of movement policy. 
The country offers a warm climate, access to the Atlantic Ocean, a low crime rate, and a low cost of living. 
There are several remote work visa options for digital nomads in Portugal, and these include the self-employed visa (SE). This remote work visa allows you to work remotely for any company or client as long as you have a contract with them.
8. Malta 
Malta is a small Mediterranean island with a population of just over half a million people. 
The country has been attracting digital nomads for years. It wasn't until recently that Malta made remote work visas for digital nomads available. 
The program is still in its infancy, but the government has committed to this new visa program and is slowly adding new visa types to meet demand.
Malta is a country that has been making headlines in recent years. Its economy is growing at a rate of 5.3%, and its unemployment rate is less than 4%. It also has some of the best remote work visa programs in the world.
9. Panama
Panama is also among the top destinations for digital nomads, thanks to its friendly business environment and low taxes. 
The country has a fairly relaxed remote work visa process, so it's easy to move to this Central American country.
Panama has been a hotspot for expats since it opened its doors to foreigners in 2014. Its remote work visa program allows expats to temporarily live and work in Panama, allowing them to travel freely throughout Central America and South America.
10. Iceland
Iceland is one of the most remote countries in Europe that is known for its natural beauty. 
It attracts people who want to live in a place where they can enjoy nature at its finest. It's also home to some of the best remote work visas available in the world.
The country has some of the best internet speeds in the world, which makes it easy to work remotely from Iceland. 
There are also several coworking spaces in Reykjavik where you can meet other digital nomads and locals.
The world has realized in recent years that we can actually be more flexible with how we do our jobs. Remote work visas have offered a new attempt at a work-life balance, and many are taking the leap to achieve it.  
References 
1.Digital nomad attitude. Hannonen, O., 2020. In search of a digital nomad: defining the phenomenon. Information Technology & Tourism, 22(3), pp.335-353.
2. Remote working. Ozimek, A., 2020. The future of remote work. Available at SSRN 3638597.