12 premier remote work software for teleworking teams
List of essential remote work software
Why does your remote team need remote software?
The traditional work paradigms are evolving rapidly, with geographic boundaries no longer confining professional engagements. 
But this profound shift also brings unique work challenges, like lack of communication, procrastination, and isolation.
As such, the significance of leveraging the right technological tools to ensure optimal remote team functioning cannot be overstated.
These software tools serve as the conduits that enable the following:
Effective communication

Streamlined collaborative efforts

Empowered project management

Refined time allocation

Secured remote operations
Remote work tools empower remote teams to overcome challenges, improve communication, and boost productivity.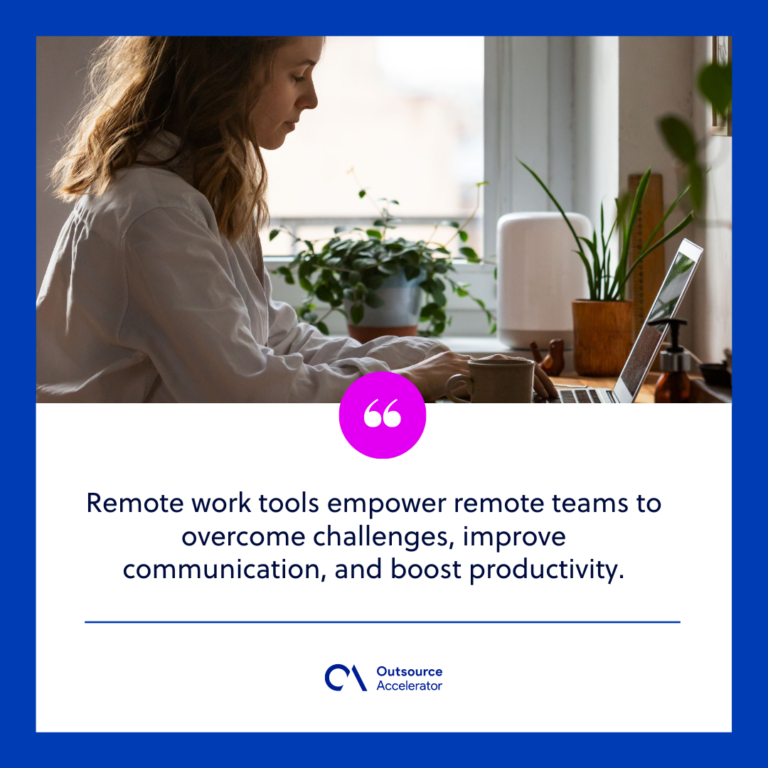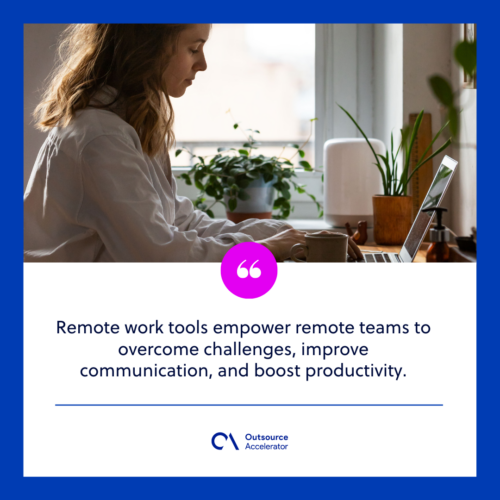 How remote work software facilitates virtual collaboration
Virtual collaboration encapsulates the dynamic process of individuals working together on tasks, projects, and initiatives despite being physically separated. Remote work software solutions make virtual collaboration feasible, efficient, and productive.
These tools offer an array of features that transcend the limitations of physical distance. It also transforms isolated individuals into cohesive units capable of driving projects forward collectively.
Here are the following ways remote work software can be helpful for your teleworking teams:
Real-time communication.

Remote work software provides a spectrum of communication channels—from text-based messaging to video conferencing—enabling team members to communicate seamlessly.

Collaborative document editing.

Offers collaborative document editing, allowing multiple team members to work simultaneously on a single document. Edits are tracked, revisions are streamlined, and the risk of version confusion is minimized.

Virtual meetings and brainstorming.

Digital collaboration tools pave the way for strategy discussions and presentations, which are crucial for the growth of remote teams.

Project tracking and transparency.

Remote work software provides platforms to create, assign, and track tasks. This ensures everyone knows their responsibilities, deadlines, and contributions to the bigger picture.

Integration of third-party tools.

Remote work tools integrate seamlessly with project management, file storage, and communication tools, consolidating workflows and centralizing information.
12 remote work software to boost remote employee productivity
We list the following telework software that can help strengthen remote work culture within your team and allow your remote workers to achieve higher efficiency and output.
For communication and collaboration
Effective communication and seamless collaboration form the backbone of remote teamwork. The following remote work software redefines how teams interact and work collectively, making distance a mere technicality:
Slack is a pioneer in real-time messaging, enabling teams to communicate effortlessly. Features like channels, direct messaging, and file sharing facilitate quick discussions and decision-making.
Integrations with third-party apps enhance its functionality, creating a centralized hub for team communication.
Its notable functionalities include:
Channels

– These channels include dedicated spaces for specific projects or teams, ensuring organized conversations.

Direct messaging

– It is designed for private conversations for quick exchanges and focused discussions.

File sharing

– This involves seamless sharing of documents, images, and files within conversations.

Notifications

– It has customizable notifications to stay updated on relevant conversations.

Search functionality

– Slack also has effortless retrieval of past conversations and shared files.

Integrations

– This tool's allows for seamless integration with a plethora of third-party apps to centralize workflows.
Microsoft Teams offers a complete package with chat, video conferencing, and file collaboration. Its integration with Microsoft 365 apps allows for fluid document editing and sharing. 
Features like virtual backgrounds and meeting recordings enhance the virtual collaboration experience.
Its notable functionalities include:
Chat

– Teams can have real-time conversations, GIFs, and emoji for informal interactions.

Video conferencing

– It enables seamless virtual meetings enhanced by features like screen sharing.

File collaboration

– Mocrosoft Teams provides cohesive editing and sharing of documents within the interface.

Virtual backgrounds

– Virtual teams have the option to use customizable virtual backgrounds to enhance professionalism.

Meeting recordings

– This tool also offers recording and archiving of meetings for future reference.
InVision focuses on design collaboration, letting remote design teams work harmoniously. It facilitates the sharing and reviewing of design prototypes, streamlining feedback loops. Annotated comments and version history simplify the revision process.
Its notable functionalities include:
Design sharing

– InVision enables seamlessly sharing design prototypes for feedback and review.

Annotation

– Virtual teams can add contextual comments directly on design elements.

Version history

– This tool efficiently tracks design iterations and changes over time.

Real-time collaboration

– It allows simultaneous design work and interactions among team members.

Feedback loops

– InVision also has streamlined feedback collection and implementation.
For project management
Effective project management forms the bedrock of organizational success, and its significance is heightened in remote work. 
Managing tasks, timelines, and team coordination across distances demand specialized tools that transcend geographical barriers.
The following digital project management solutions redefine the intricacies of remote project management, ushering in transparency, efficiency, and collaboration: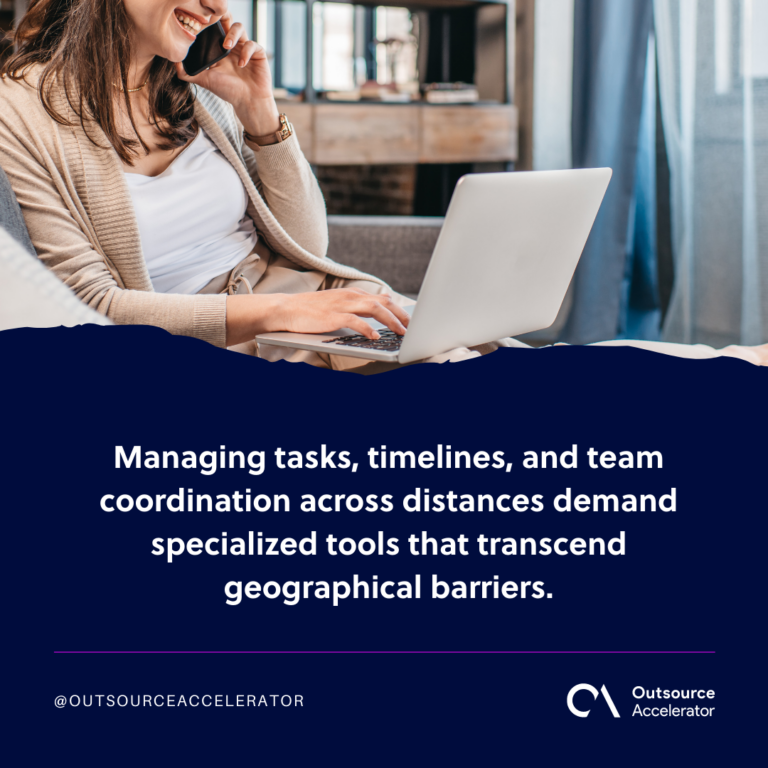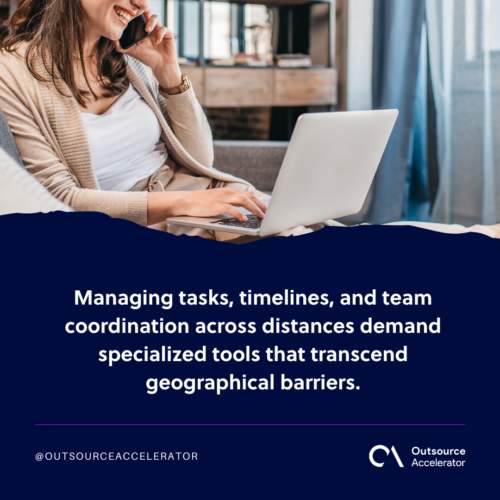 Asana emerges as a standout solution for task and project management in remote setups. Its robust features streamline project coordination and empower teams to navigate complexities even when physically dispersed. 
Its notable functionalities include:
Project creation

– Teams can create distinct projects, each with its own tasks and objectives.

Task assignment

– Workloads can be assigned to specific team members, ensuring accountability.

Deadline setting

– Clear deadlines are established for tasks, providing remote teams with efficient time management.

Timeline view

– A visual representation of project timelines aids in tracking progress and avoiding bottlenecks.

Collaborative environment

– Team members can discuss tasks, share files, and offer insights within the platform.

Intuitive interface

– Asana's user-friendly interface ensures ease of use and rapid adoption.
Trello's card-based system simplifies remote project management using a visually intuitive approach. Its simplicity is its strength, offering an uncomplicated yet effective means of managing tasks and projects.
Its notable functionalities include:
Board creation

– Boards serve as projects, where tasks are represented as cards that can be moved through various stages.

Task visualization

– The progression of tasks is visualized as they move across the stages.

Collaboration

– Team members can add comments, attachments, and card due dates.

Customizable workflows

– Trello's flexibility allows teams to mold it to their unique project management needs.
Monday.com introduces a highly visual and customizable platform that transforms remote project management into a visual and collaborative experience. Its features empower teams to create tailored workflows and monitor project statuses easily. 
Its notable functionalities include:
Visual workflows

– Teams can design and adapt workflows to match their unique processes.

Customizable dashboards

– Personalized dashboards provide remote teams with an

at-a-glance view

of project progress and key metrics.

Automation

– It allows teams to create custom automation that triggers specific actions based on predetermined conditions.

Integration capabilities

– Integration with tools like Zoom, Slack, and Jira further enhances cross-platform functionality.
For time management and productivity
Effective time management and productivity are the keys to success. These remote work software empower teleworkers to manage their time efficiently and harness their productivity potential:
Toggl is a versatile and user-friendly time-tracking tool designed to assist individuals and teams in optimizing their work routines and enhancing productivity.
It empowers remote workers with valuable insights into their time allocation, allowing them to streamline tasks and manage their schedules efficiently.
Its notable functionalities include:
Task and project tracking

– Toggl enables users to track time for individual tasks and projects, providing a clear breakdown of where time is spent.

Real-time timer

– Users can start and stop timers with a single click, accurately capturing the time spent on specific activities.

Client and project management

– Toggl allows users to categorize time entries by clients and projects, simplifying billing and reporting.

Detailed reporting

– The tool generates comprehensive reports that offer insights into time distribution, helping users identify trends and areas for improvement.

Productivity insights

– Toggl provides data on users' productive and unproductive hours, fostering self-awareness and time optimization.

Integration possibilities

– It integrates with popular project management tools like Asana, Trello, and others, enhancing its functionality within existing workflows.
RescueTime is a digital behavior tracker designed to help remote employees understand their digital habits and time allocation.
By analyzing app and website usage, RescueTime offers valuable insights that enable users to make conscious decisions about their work habits and enhance productivity.
Its notable functionalities include:
Automatic tracking

– RescueTime runs in the background, automatically logging app and website usage, creating an accurate representation of digital behavior.

Productivity scoring

– The tool assigns productivity scores to different activities, categorizing them as productive, neutral, or distracting.

Focus time

– Users can set dedicated

focus periods

during which certain websites and apps are blocked to minimize distractions.

Detailed reports

– RescueTime generates detailed reports that provide users with a clear breakdown of time spent on various activities and applications.

Weekly summary reports

– Users receive weekly summaries of their digital behavior, offering insights into trends and changes over time.

Integrations

– RescueTime integrates with tools like Trello and Slack, offering a holistic view of time management and productivity within existing workflows.
Focus@Will is a unique remote work software that leverages the power of curated music to enhance focus, concentration, and overall productivity.
By offering scientifically optimized playlists, this remote work software aims to create an environment conducive to deep work, even in distracting remote settings.
Note that this isn't a tool that caters to the company's other productivity needs, but it can greatly help remote employees remain focused on their tasks.
Its notable functionalities include:
Curated music playlists

– Focus@Will provides a range of curated playlists, each designed to enhance focus, creativity, and relaxation during work.

Scientifically backed

– The music selections are backed by scientific research on the effects of music on the brain's cognitive processes.

Personalization

– The tool adapts to users' preferences, tailoring music choices to match the employee's work style and preferences.

Variety of genres

– Focus@Will offers a variety of genres, allowing users to choose the type of music that best suits their focus needs.

Blocking distractions

– The music helps mask ambient noise and blocks external distractions, creating an optimal work environment.
For remote access and security solutions
Remote work introduces unique security concerns—from data vulnerability during remote interactions—to ensuring that authorized users can access systems without compromising security protocols.
Addressing these challenges requires robust solutions that provide efficient remote access and prioritize data privacy and protection.
The following remote work software empowers remote teams with secure access to critical systems and upholds the integrity of confidential information.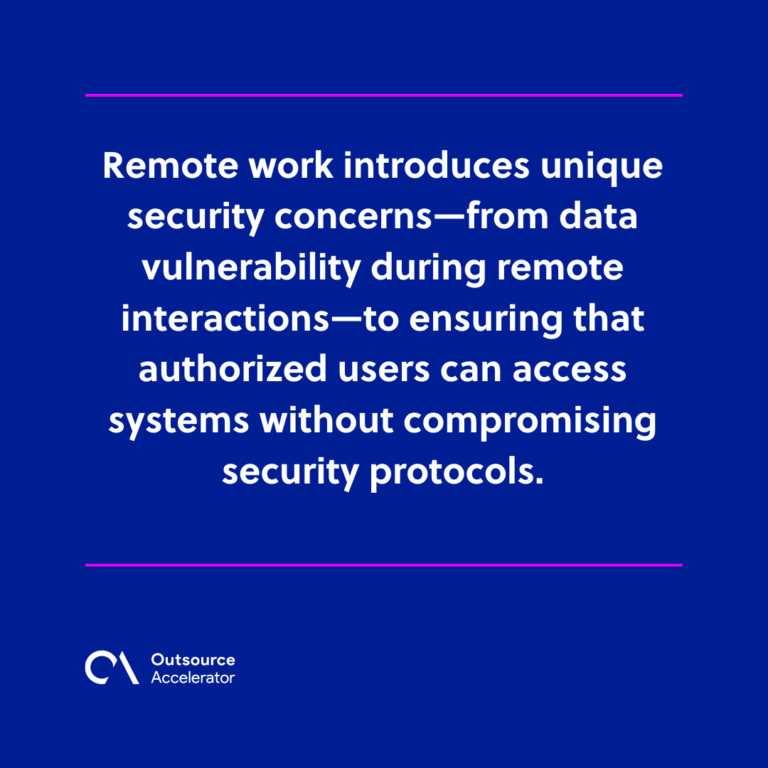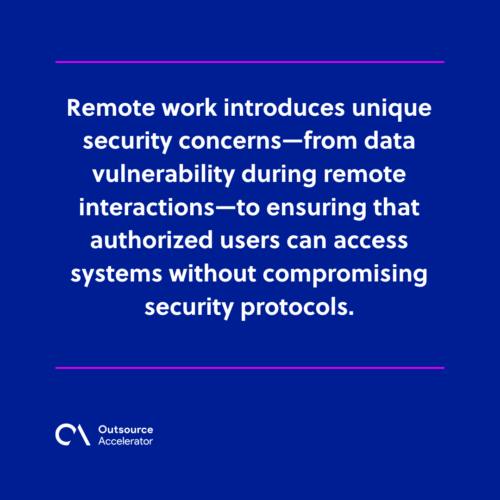 RemotePC is a comprehensive remote access and support software that facilitates secure connections and seamless collaboration among remote teams.
It empowers individuals and businesses to access and manage remote computers and servers, enhancing productivity and efficiency in remote work scenarios.
Its notable functionalities include:
Secure remote access

– RemotePC enables authorized users to access remote computers and servers securely from anywhere with an internet connection.

Data privacy

– The tool employs encryption protocols during data transfer, ensuring that sensitive information remains confidential and protected.

Two-factor authentication

– RemotePC enhances security through two-factor authentication, adding a layer of authentication to prevent unauthorized access.

File transfer

– The software facilitates easy file transfer between local and remote devices, streamlining collaborative efforts.

Cross-platform compatibility

– RemotePC works across various operating systems, ensuring versatility and compatibility with different devices.

Remote printing

– This tool offers remote printing capabilities, enabling users to print documents from remote systems to local printers.

Collaborative features

– The software enables screen sharing, allowing multiple users to collaborate on remote systems simultaneously.

Performance and speed

– It emphasizes fast and efficient remote connections, minimizing lag for seamless interactions.
TeamViewer is a versatile and widely used remote access and remote support software that caters to IT support and collaborative remote work efforts. 
It facilitates secure connections, file sharing, and real-time collaboration, making it a perfect security solution for remote teamwork.
Its notable functionalities include:
Remote control

– TeamViewer allows authorized users to access and control remote systems in real-time, enabling troubleshooting, support, and collaborative work.

File sharing

– This software simplifies file sharing between remote and local devices, enhancing collaborative efforts and document exchange.

Cross-platform compatibility

– TeamViewer seamlessly works across different operating systems, ensuring compatibility across various devices.

Meeting solutions

– It offers virtual meeting capabilities, including video conferencing, screen sharing, and collaborative whiteboarding.

Secure connections

– TeamViewer ensures secure connections through encryption, safeguarding data during remote interactions.

Integrated features

– Beyond remote access, TeamViewer integrates features like chat, session recording, and session reporting for comprehensive functionality.

IT service collaboration

– The software allows IT service providers to offer clients remote support and management solutions.
Zoho Assist caters to remote teams' need for secure and efficient troubleshooting, collaborative efforts, and remote access.
Its emphasis on security, coupled with features like file transfer, session recording, and remote printing, positions it as a reliable solution for remote support and access requirements.
Its notable functionalities include:
Remote troubleshooting

– Zoho Assist empowers remote teams to diagnose and resolve technical issues on remote systems, reducing downtimes and increasing efficiency.

Secure access

– The software employs security measures like firewalls and encryption to ensure secure and confidential remote access.

File transfer and collaboration

– Zoho Assist facilitates file transfer and collaborative work on remote systems, enabling effective teamwork.

Session recording

– It allows users to record remote support sessions, aiding in documentation, training, and auditing.

Security focus

– Zoho Assist prioritizes security features to ensure data privacy and maintain the integrity of remote interactions.