Ways to strengthen remote work culture in a virtual team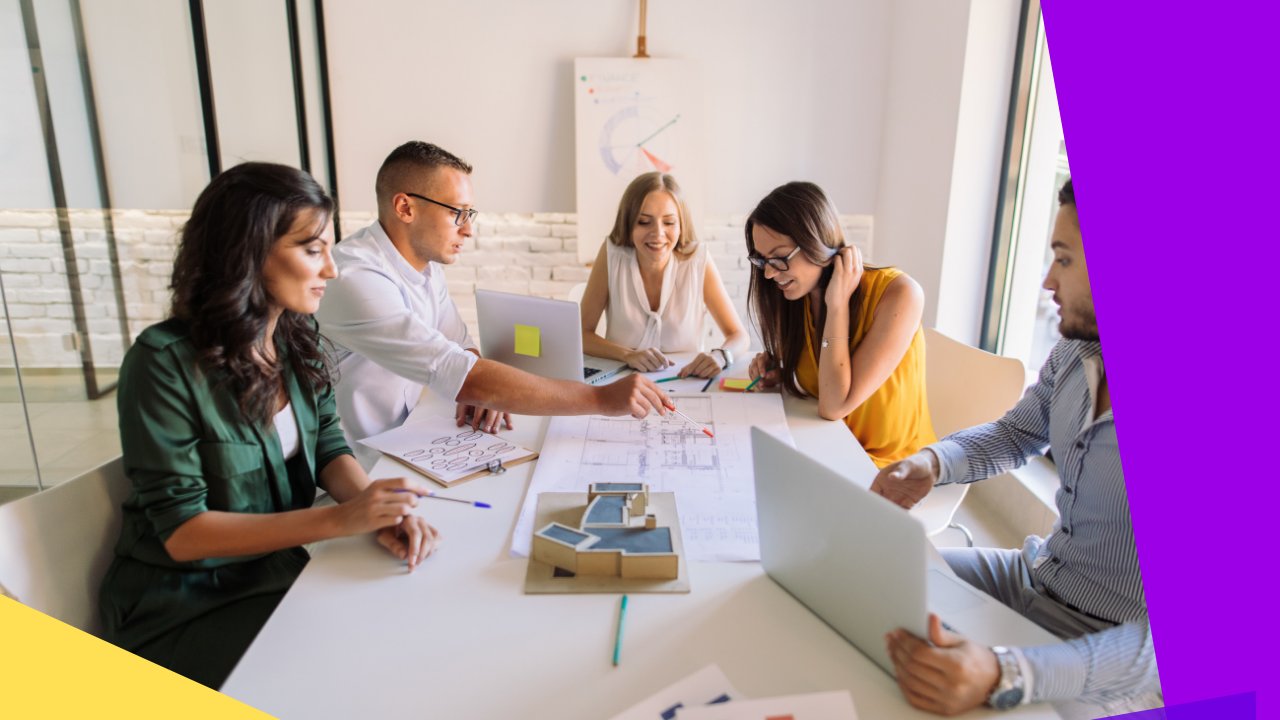 The number of people who work remotely has tripled in the last decade, and remote work culture is a growing trend in the workforce. 
Some companies have turned to virtual meetings as a way to keep remote teams connected and engaged. These meetings are also helpful for team members who can't make it to the office due to location or time constraints.
A strong remote work culture is a way to create a more flexible and productive workforce. It allows employees to work remotely without losing their connection with the company and its vision.
What is remote work?
Remote work is an arrangement where employees can do their jobs while at home, coffee shops, coworking spaces, or anywhere outside of the typical workspace as long as there is an internet connection. 
This type of company structure allows companies to hire employees who are located anywhere in the world. This makes it possible to hire people with different skillsets and backgrounds. 
The benefits of remote work include:
Freedom to choose working hours and location.

Focus better on tasks without being distracted by office noise and interruptions. 

Less pressure of socializing with coworkers or managers.  

Increased happiness compared to those who commute every day and get fewer opportunities for social interaction outside the workplace.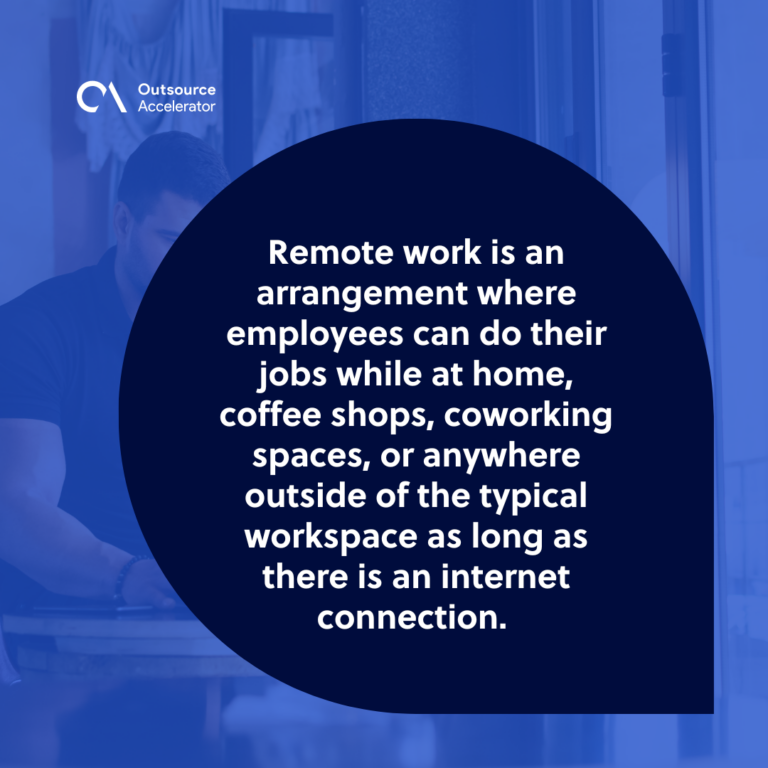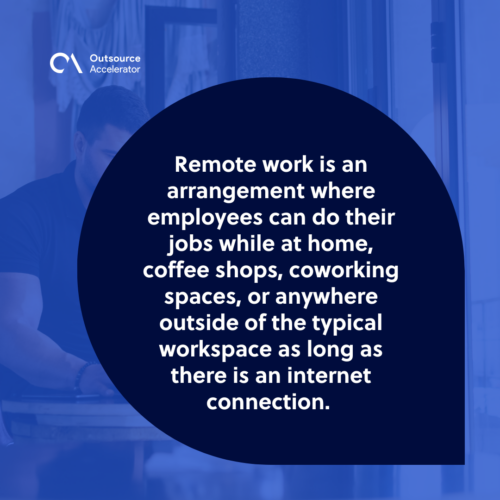 What is remote work culture?
Remote work culture is what defines the values and attitudes toward working from remote locations. It manifests in the remote work atmosphere and the relationships among remote teams sans the physical meetings. 
Main elements of remote work culture
Remote work culture is an emerging trend that has been adopted by many companies worldwide. Here are the three main elements that define a remote work culture.
Technology
Technology is a large part of the remote work culture. Innovations in the digital era have enabled people to work remotely, collaborate with coworkers, and stay connected with their virtual teams.
It is a crucial aspect not only of remote work culture but also every modern organization as technology empowers employees. In fact, 82% of workers would choose a job with well-integrated technology over others, as revealed by an EY survey.
Communication
Communication is the most important factor in determining whether a company's remote work culture will be successful or not. 
To establish a good communication system for your team, ensure that everyone has an understanding of how regular communication impacts your team's success.
Think of the best communication platform for everyone to use, and ensure that you have established clear guidelines on how to contact each other, both in-person and remotely. 
Flexibility
One way to strengthen remote work culture is by encouraging a flexible schedule. This can be done by making sure that the business hours are not set in stone. 
There also needs to be a strong balance of online and offline events, such as conference calls, video chats, and time in person. Flexible schedules allow people to be more productive, which leads to more engagement and satisfaction for both employers and employees.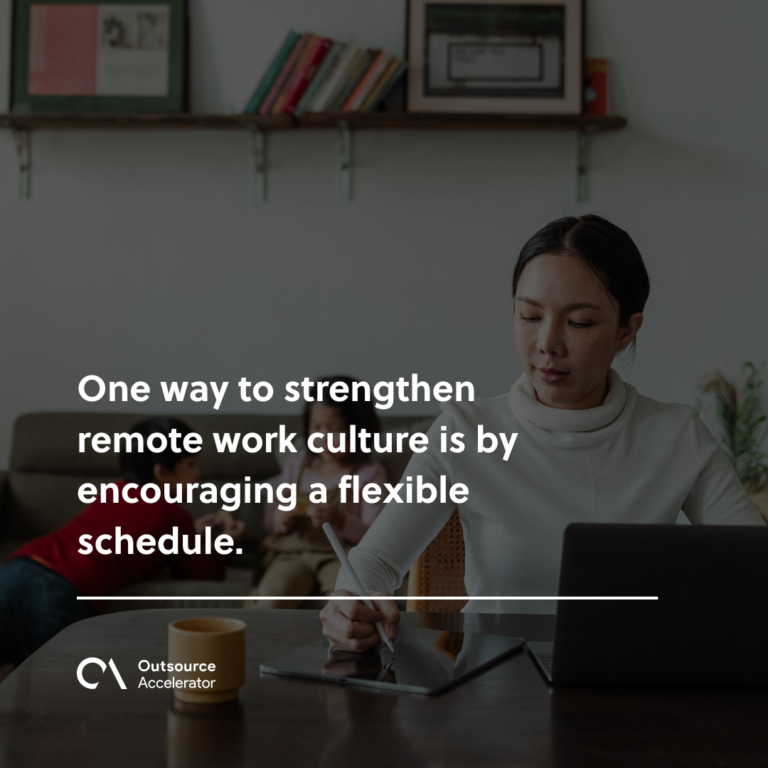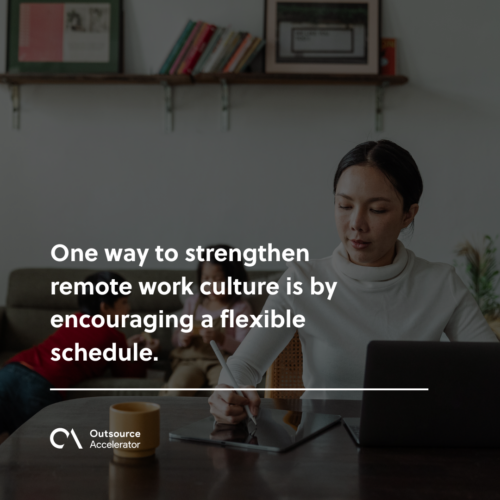 How to build a strong remote work culture virtually 
No matter how large or small your organization, studies have shown that organizations with a strong culture of remote work are more productive and innovative. 
For instance, cloud-based communications provider ConnectSolutions has shown in research that productivity increased among 77% of remote workers. Another 30% are able to complete more work in shorter periods.
To make this possible in your company, here are some tips for building a successful remote work culture within your virtual team.
Foster trust
Trust is important in any business, but it's especially critical in remote work culture. Fostering trust in a virtual team is necessary to maintain a healthy work atmosphere. 
This means that employees have to be more open and honest with one another despite not seeing each other face to face every day. Managers should also make sure that their entire team knows who everyone else is and what they do. 
Encourage your team members to jump on opportunities for collaboration. For example, if an assignment needs clarification, urge everyone to ask in the group chat instead of waiting on answers from individual members.
Further, avoid micromanaging your team's time. Let them finish their tasks on their own and focus on the output instead of everyone's total working hours.
Share your vision and mission
The most important way to shape a remote work culture is by involving everyone. Share the company's vision and mission with all the employees, no matter the time zone or distance. 
Building a strong remote work culture is easier if everyone has the right mindset aligned with the organization's plans and goals for the future. One way to do this is through virtual meetings where all employees can share their input.
Use the right tools
The success of a company's remote work culture also relies on using the right tools for each task. Your company can utilize a digital workplace platform to ensure collaboration within the virtual team.
Make sure your remote employees have everything they need to work remotely. Some essentials include a reliable internet connection, dedicated working space, phone, and computer.
Define your policies
Everyone has different working patterns — especially if they are in a remote workplace. As a result, you need to be clear about your organization's policies so that the employees always know what to expect.
Discuss the tasks for each day, including everybody's working shifts, and encourage them to ask any questions. Clarity will lead to better collaboration and smoother remote work culture.
Gather employee feedback
Remote work is not easy to implement for first-timers. If your employees are used to an on-site work model, then they would need time to adjust to the new setup and environment.
To address any issues and correct mistakes, it would be a good idea to collect feedback from your employees. Through this, you could have an idea of what works for them and what isn't. 
This fosters an atmosphere of transparency and honesty, which further strengthens the remote work culture.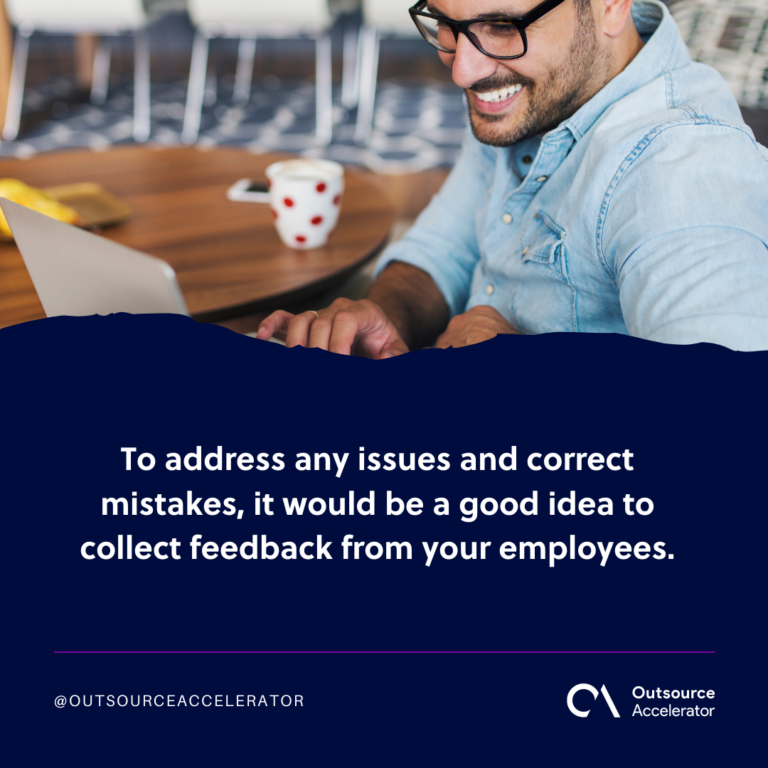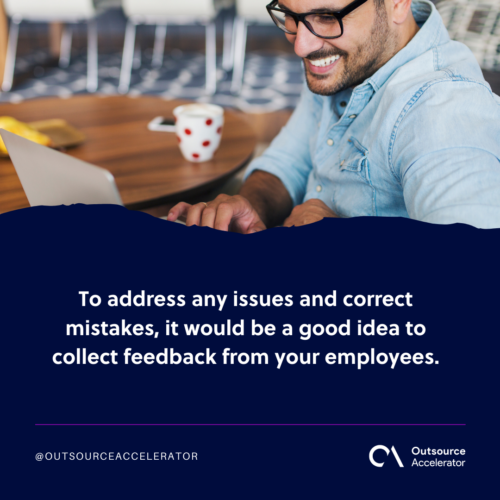 Remote work culture in a post-pandemic society
Corporate culture is evolving. Remote work culture evolved out of traditional companies that switched to the remote setup in order to adapt to the pandemic and reduce costs. 
Good thing there are remote staffing companies like Cloudstaff that provide certified remote specialists who are able to immediately acclimatize to various types of remote work cultures.
CloudStaff provides suitable remote workers for every company. The firm also utilizes state of the art facilities and technologies to ensure to deliver excellent services to their clients.
Despite the impersonal setup of remote work, it is important to continue upholding a culture that's aligned with the organization's goals and values.
No matter how hard its implementation is at first, many employees now insist on remaining at home for work. This makes it important for employers to shape a positive remote work culture to support all employees and keep their productivity and morale up, no matter where they work.