Debunking 10 popular myths about remote work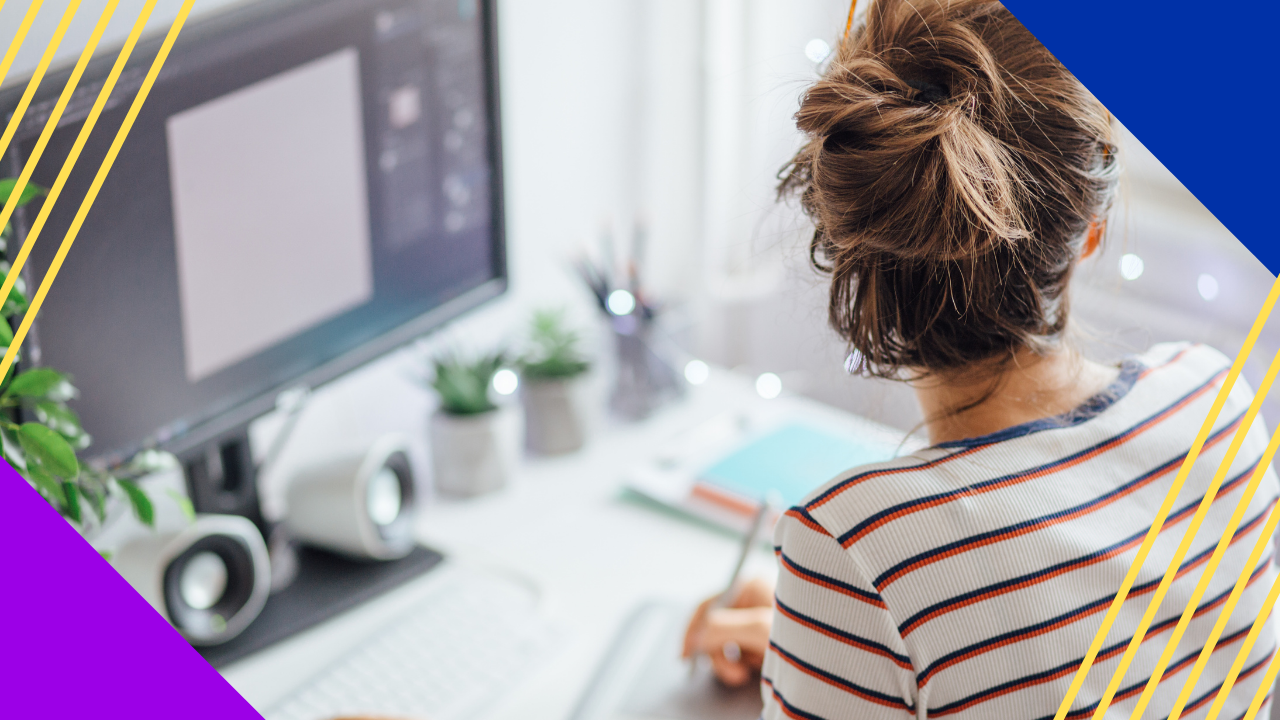 The pandemic has fueled the adaptation of remote work globally. But in reality, it is not entirely a new concept — remote work has been a common practice for some companies over the years.
Before the pandemic, 17% of workers in the US were already working remotely at least five days a week. This goes to show that the remote work trend was already building up even before the pandemic accelerated its rate.
While it is true that working from home has plenty of benefits for both employers and employees, many organizations are still not very receptive to remote work.
For one, it breaks the traditional working practice. Moreover, some companies are not technically and strategically equipped to transition to this kind of work arrangement. And there are also lingering remote work myths that people believe up until the global pandemic. 
In this article, we'll deconstruct 10 remote work myths and their truths in today's new normal.
How remote work is revolutionizing the traditional work environment 
Remote work revolutionizes the traditional work environment in a manner that was deemed impossible before it revealed a silver lining to businesses. It has kept companies around the world afloat throughout the entire ordeal of the global health crisis. 
Organizations and remote workers were able to take full advantage of work-from-home's cost-effectiveness. A two-year study conducted by Stanford has shown that not only has employees' productivity increased, but a company's profits also grew by $2,000 per remote worker.
Likewise, employees are also able to drastically reduce their daily costs as they work remotely.
Many businesses further increase their cost savings by hiring remote workers from outsourcing firms like Remote Employee.
TECLA affirms that remote staff can save $7,000 per year, which accounts for clothing, transportation, childcare, and food. 
With remote work, employees are given the liberty to perform their daily job roles everywhere as long as they get it done. Employers, at the same time, have realized that they can trust their people to accomplish their tasks without sacrificing their quality of work. 
Upwork's Future Workforce Report 2021 has found that in five years, up to 40.7 million American workers will have fully embraced remote work. There are also higher expectations now from employees, Owl Labs reveals, as a huge percentage prefer remote or hybrid working and would quit their jobs without these options.
These are just some of the trends that favor the remote work movement. We will tackle more of its advantages as we go through the remote work myths that have been holding companies back in recent years.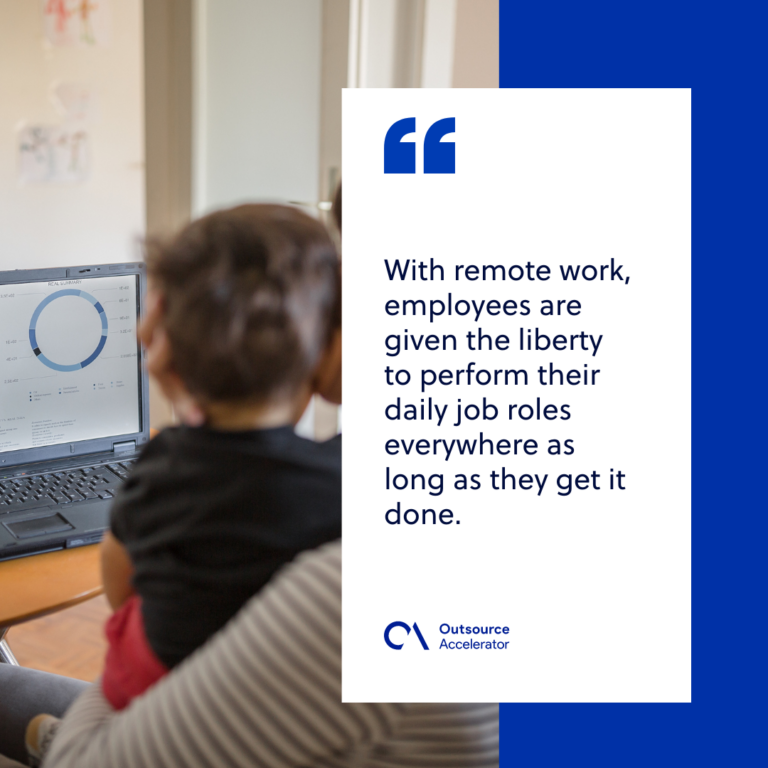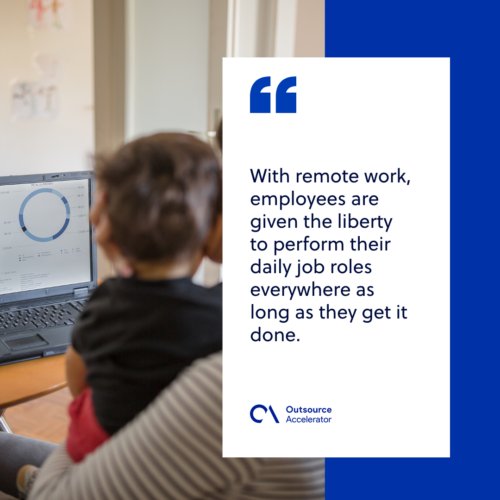 10 popular remote work myths debunked 
What's the truth behind these remote work myths? We discuss each of them below.
1. Remote workers are not productive
This is perhaps one of the most popular remote work myths, especially for those people who have not yet experienced working remotely. This is especially true for micromanagers who fear that employees will slack off during work hours if not monitored closely. 
The truth is remote employees are even more productive than their counterparts. A survey led by CoSo recorded that 77% of individuals working from home get more things done compared to office workers. 
2. Remote work limits innovation and employee creativity 
Remote work is believed to stifle creativity and limit innovation within organizations. In terms of creativity, remote employees aren't able to throw ideas and discuss their perspectives physically with their team. Not being able to work together with like minds is said to get in the way of workers' innovativeness. 
Being confined in an office can suppress creativity as employees are only able to interact with who or what is around them. 
It may also repress innovation within organizations. Especially when individual perspectives are not entertained due to certain power dynamics established by the upper management. 
Collaborative tools give remote teams a wider opportunity to showcase their creative minds. These tools let them create polls, send in images, share diagrams, or blank canvass that they can work on together. 
3. Collaborative work is impossible 
Companies did struggle coping with remote work at the start of the pandemic. Communication and collaboration were challenging as working from home was an unfamiliar practice for everyone. 
However, with the right collaboration tools, remote teams can smoothly and efficiently perform their individual and group projects. Examples of these tools include Slack, ClickUp, Asana, and Trello. 
Managers may also assign individual tasks and track each progress through these digital collaborative tools. This also lets individual staff members be accountable for their roles and ensure that they can complete work on their given deadlines.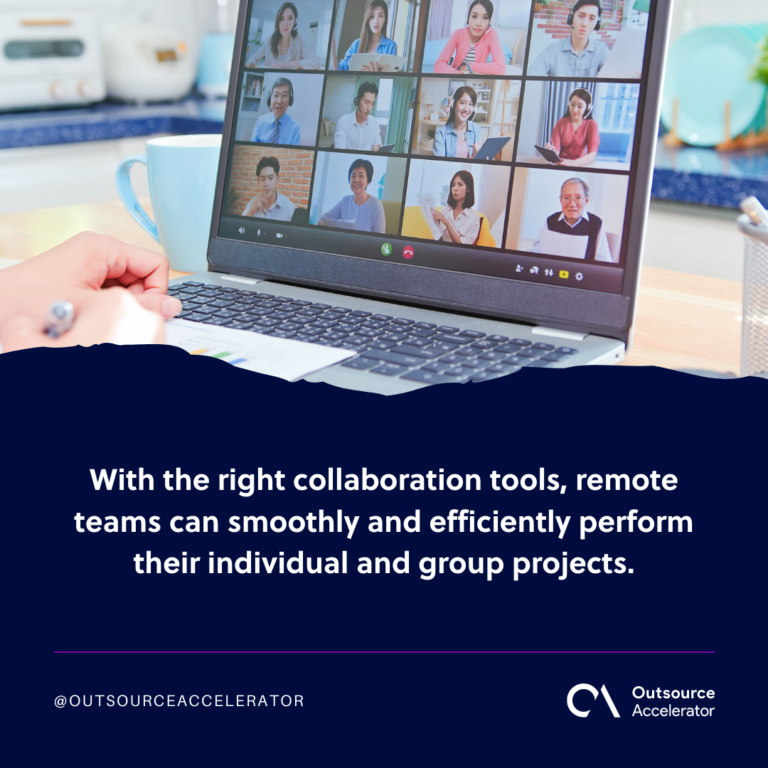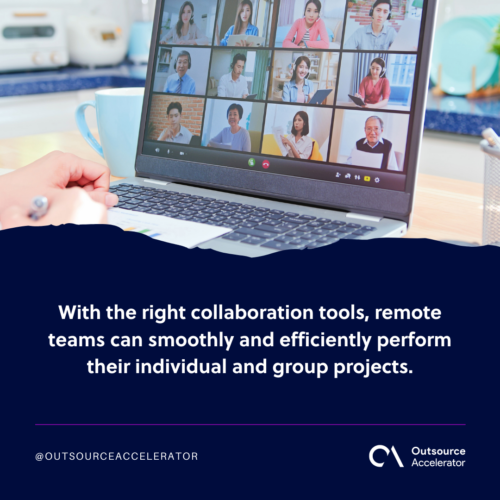 4. Remote workers aren't able to cultivate a good working relationship with one another
Yes, it is better to engage with colleagues personally, but it is not impossible to foster meaningful connections with remote teams. 
A significant number of executives have invested largely in virtual collaboration tools, and remote employees who reported higher productivity didn't have trouble collaborating virtually as well.
Communication tools allow remote employees to participate in conversations and other company activities all at the same time. This gives other employees, particularly those on the other side of the world, the chance to join in the conversation. 
5. Working from home is not a real job
The truth is there are available remote work opportunities in all industry sectors. These may range from entry-level roles to senior executive positions. 
In applying for remote work, individuals may have the option to acquire a part-time, freelance, or full-time job. Not only that, but some companies also offer the same benefits package that office workers receive. 
Remote job openings for different careers will not go out of trend. In fact, it will become more in demand in the foreseeable future as tech innovations continue to rise. 
6. Career advancement is not attainable in remote work
Among the remote work myths we have collected, this is an argument that may vary according to the type of business. Some companies do not naturally reward promotions to their employees. Rather, they usually provide incentives. 
Nevertheless, a significant portion of workers, according to a 2021 Harvard Business School study, has had better career development in the remote setup, with 29% able to pursue education and another 34% finding time to take online courses.
7. Remote work destroys company culture 
Since people are not physically present altogether in the office, some may say that remote work kills company culture. There is no denying that camaraderie is one crucial part of working effectively as a team, but it does not always equate to strong company culture. 
What matters is that employees feel valued and appreciated, and company culture can be cultivated wherever they may be. In addition to that, proper communication must always be implemented as it binds remote workers together. 
8. Remote work means a lot of free time
Some people may easily assume that a remote job means that people have more time to slack off all day. 
But remote workers have the same kind of roles as any other. They have their own responsibilities, same working hours, and time-sensitive deadlines to meet. It may be tempting to procrastinate, but just like regular office workers, remote employees are also subject to disciplinary action when they don't meet company expectations.
9. Remote work does not end
In contrast to the previous myth, there are some people who believe that remote workers end up doing more work even after office hours. This idea stems from the fact that they actually have all the time in the world while at home. 
Office workers, however, may also render overtime work and experience just as much burnout as those working from home. Disproving this myth is contingent on the nature of the employee's occupation, time management practices, and the company's support system.
10. Team building is not possible in a remote work setup
Traditionally, team-building activities are performed physically altogether. While this may seem to be a logical concern, team building is still possible virtually. 
Even as teams continue to work from different locations, virtual meetings and team building can be done through various tools. Zoom team building has become a common practice for remote teams during the pandemic. 
Others also utilize Skype, Google Meet, Messenger, and other communication tools in arranging team-building activities.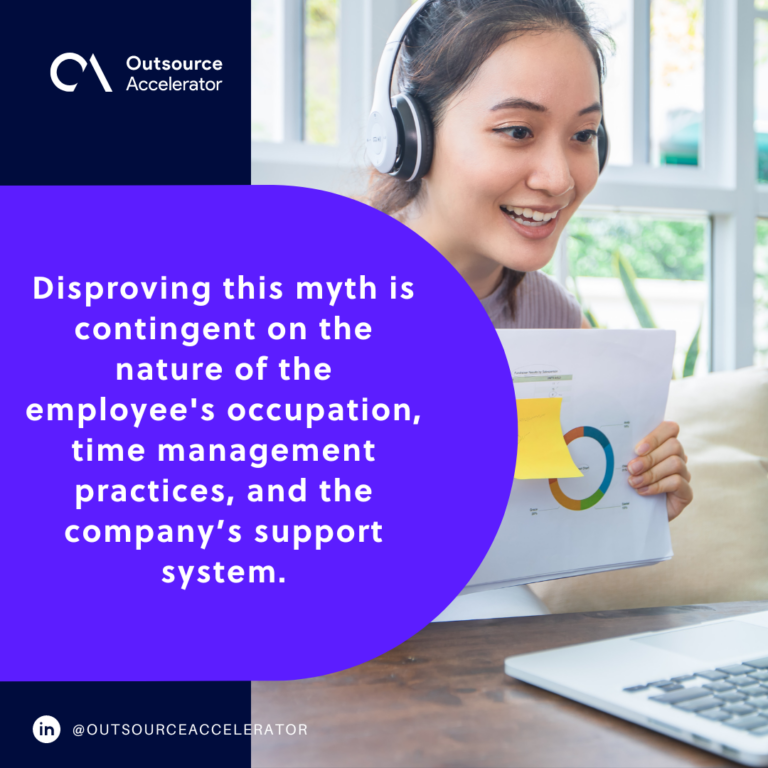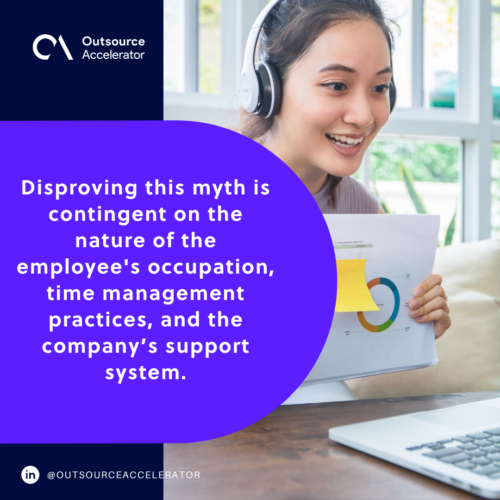 Remote work myths vs the future of remote work 
The truth about these remote work myths is that there will always be challenges no matter the work model. 
No one can deny the fact that the advantages of remote work outweigh its drawbacks. And as the world fully embraces remote work, one thing is certain: it will be here to stay even in the post-pandemic era.