How to be the best remote manager: Top skills and tips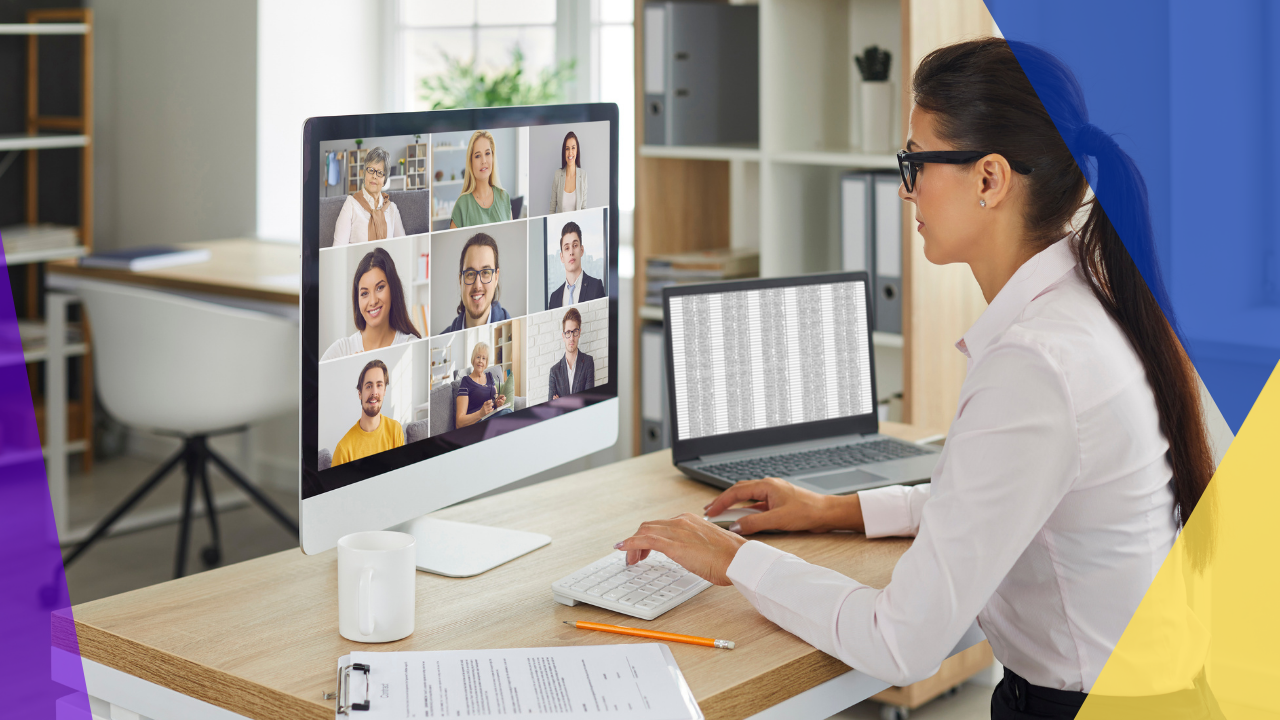 Fostering a collaborative environment while working at home can be challenging for both employers and employees. It is not the same as an office environment where everyone can just approach and talk to colleagues in person.
Having a good remote manager can help eliminate these obstacles. Their skills and management practices in leading a remote team can assist the company in transitioning to working away from the office.
This article provides an overview of a remote manager, the skills needed to be one, and the most effective ways to manage a remote team.
What is a remote manager?
A remote manager is any senior employee that is responsible for directing a team that works entirely or partly out of the office. They have all of the responsibilities of an ordinary manager except that they are unable to regularly see their team in person.
To communicate effectively with their employees, as well as track their progress and supervise their teams, remote managers usually utilize technology. Tools are also made to adapt to members who live in a different time zone.
Most of the time, remote managers are also instructed to communicate with the upper management to receive their direction and provide feedback.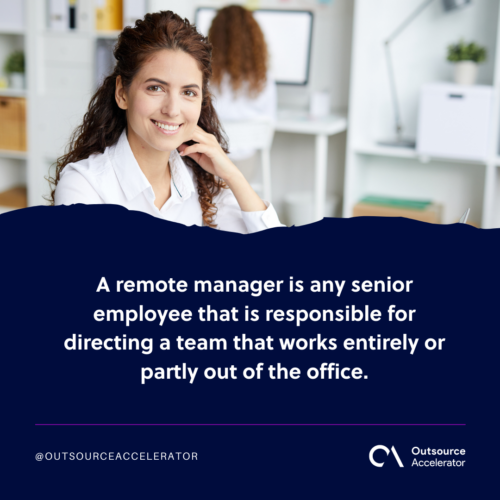 Remote management during the pandemic
The recent years have highlighted the role of a remote manager in an organization. When stay-at-home restrictions were enforced, workers had to move from their office buildings to their homes. It raised concerns about how workers could adapt to this new work model, and remote managers played a crucial role in keeping teams functional. 
Fast forward to now. As companies are starting to bring their employees back into their cubicles, there are now bigger concerns around whether or not all staff should be required to return on site.
Many remote working advocates have spoken against a full-time back-to-office setup. Due to this, remote managers have to adjust from managing partially remote teams to doing so on a larger scale and longer term.
This will require more positive habits to boost employee engagement and keep them engaged and happy within the company.
Outsourcing remote employees who are used to this setup, like those from Remote Employee, will help make the transition easier for your company.
Crucial skills needed for a remote manager
Moving to a full-time remote work model requires a lot of adjustments. Remote managers have to brush up on the following skills to be able to manage their remote teams effectively.
Leadership
Unlike regular management, remote work has additional issues to be addressed. Because teams rarely see each other face to face, remote managers have to learn how to coach their members while away from each other.
Strong leadership in a remote environment will allow the team to strengthen their abilities, as well as motivate them in their tasks. Excellent management skills could also encourage communication and collaboration between all members of the remote team.
Good communication
Remote work setup is very different from the office environment that almost everyone is used to. Teams cannot see each other personally every day. This means that they need to strengthen their communication with each other.
Remote managers need to be clear with what they want their teams to do so that there won't be misunderstanding in the organization. The broader plans of the team and the vision of the company have to be properly communicated too.
Empathy
Managing a remote team requires empathy — especially during the pandemic. Remote working makes it harder for managers to see whether their employees are having a tough time with their workloads or not. 
That is why remote managers should be more considerate to their employees. They must be more proactive in asking their employees for updates not only on work but also on how they are coping while working at home.
Adaptability
If there is anything that the pandemic has taught us, it is how to quickly adapt to the current situation. In the business world, the situations and the needs of a remote or hybrid team can change quickly.
In preparation for these unexpected events, remote managers must exhibit strong adaptability skills in their workplace. This means that they must evaluate their business model and the rules that are in place to see the areas that need any improvement.
Delegation
Remote working requires a certain level of trust in your employees to work on their assigned tasks without you needing to intercede every time. This means that you, as a manager, are not micromanaging your team's work down to the very last detail.
Learning to delegate the team's tasks effectively is crucial for a remote manager. They should be able to hand tasks over with a proper explanation of what needs to be done to finish them effectively.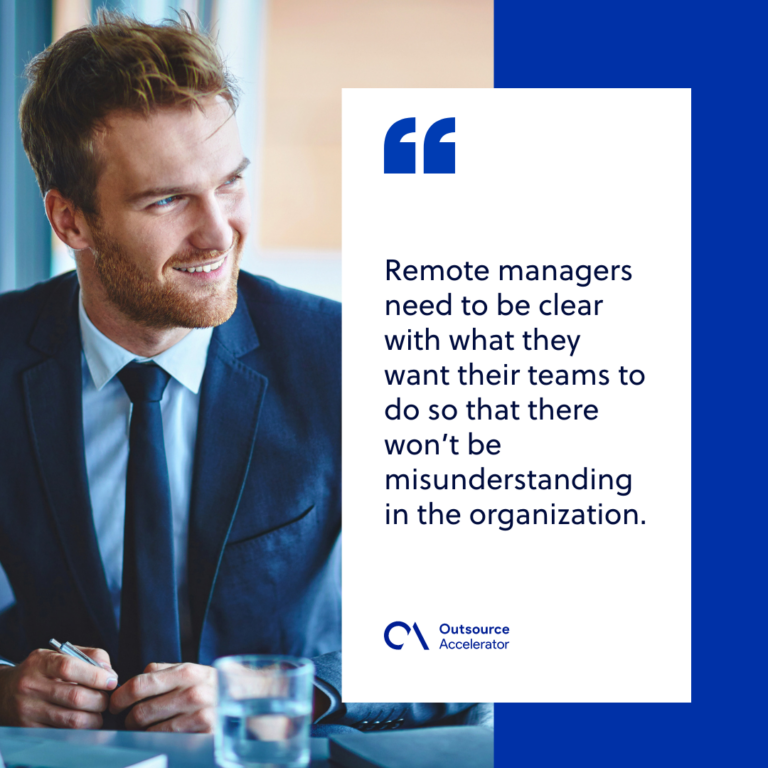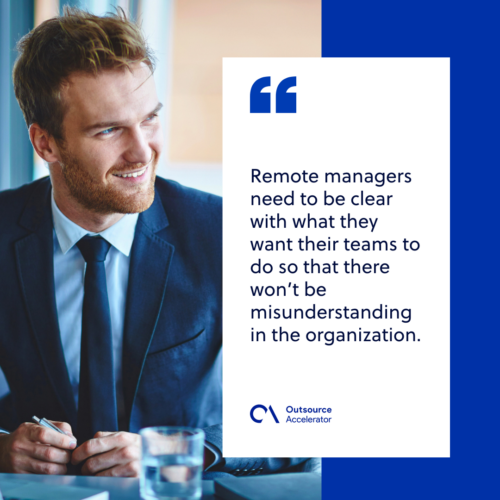 How to be the best remote manager for your team
Remote management can be riddled with new challenges every time. However, it also encourages organizations to make a positive change in how they operate.
To be the best remote manager for your team, keep these practices in mind.
Set clear expectations
When it comes to managing remote teams, being clear about expectations is important. Lay out your requirements for your employees upfront. 
Tell them what needs to be done on a daily, weekly, or monthly basis. Set deadlines and targets that each member must reach to complete their tasks.
Remote managers that express their expectations directly — whether on their teams or each employee — have a higher chance of maintaining a productive team. 
Moreover, being transparent also helps employees deliver their workloads on time while still maintaining a flexible work model.
Encourage collaboration
Collaboration is important in every team — especially in a remote work setup. An organization that lacks coordination often results in poor performance and badly organized projects.
Successful remote managers use multiple means of communication to connect with their team members. They rely on several tools and platforms to talk to their employees.
Constant communication in a remote team allows everyone to exchange ideas and information on their tasks, enabling collaboration even if they are away from each other.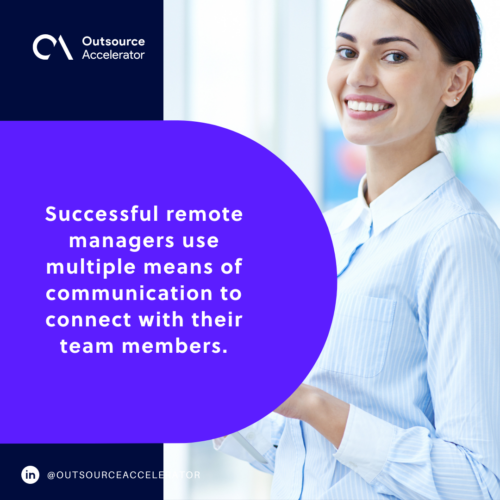 Emphasize work-life balance
An excellent remote manager not only encourages their employees to work, but also to take a break from time to time.
An excellent work-life balance, especially while working at home, keeps employees healthy, happy, and productive. Because they have a downtime away from their tasks, they also tend to be more focused while on their work shifts.
As a remote manager, avoid demanding your employees to extend their time beyond work hours. Allow them to take regular breaks and let them plan their hours without strictly monitoring them every time.
Trust your team
Remote managers must be able to trust their team. This means that they should not micromanage their member's work time.
Remember, everyone has different preferences. Some are okay with the constant communication, while others prefer to talk with their leaders for only a short period. 
An excellent remote manager must build trust with their teammates and allow them to plan how they should do their work without pressuring them to report every second of the day.
Keep your positivity
Although remote working is hard, it can also be beneficial for everyone. Because everyone is at home, there is no risk of spreading the virus in the workplace. Additionally, working from home also reduces expenses, especially now that oil prices are soaring.
Highlight these positive aspects of remote working to your employees. Steer clear of negativity and lead your employees with positivity. 
A remote manager who always has a positive disposition could affect their employees' happiness and satisfaction level in the organization.