7 ways to boost remote employee productivity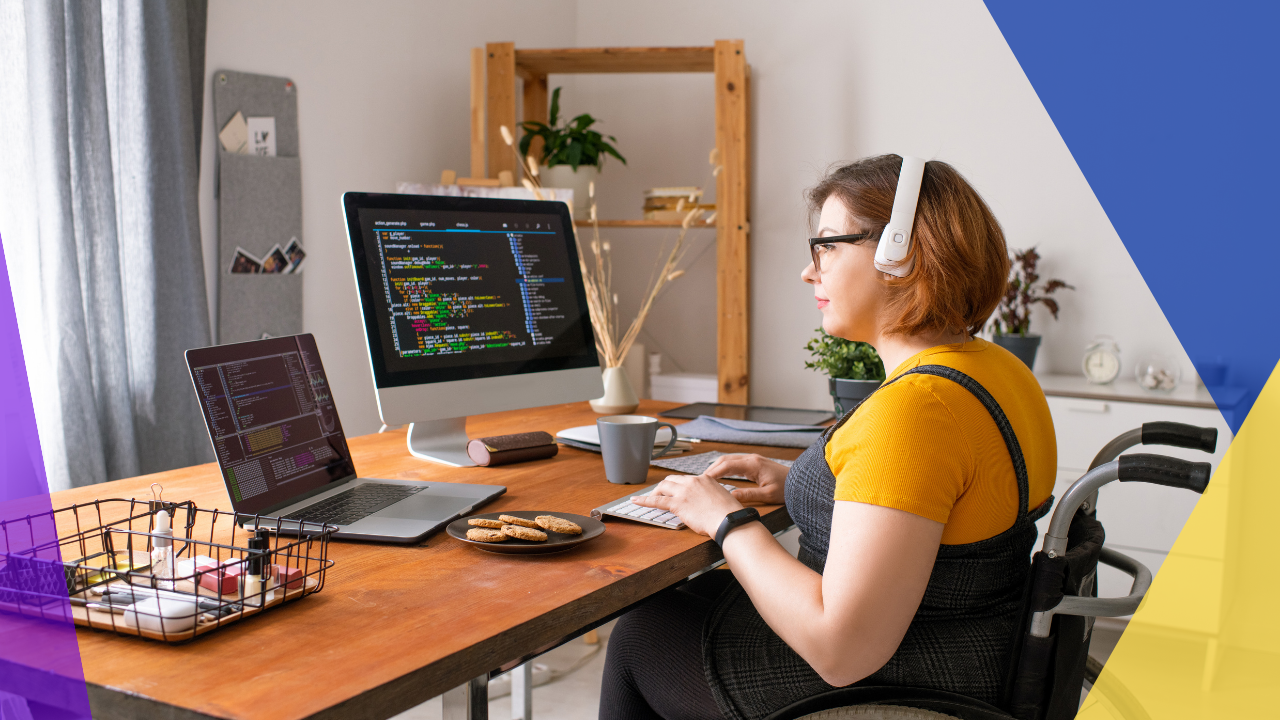 As more companies rely on remote work, maintaining high levels of remote employee productivity has become a major challenge that needs effective solutions. 
IT and recruitment agency Apollo Technical found out that those who work in a remote setting are 47% more productive. This can be attributed to factors like having fewer distractions found in an office environment, like water cooler talk and noise from co-workers.
However, it is still important to really ensure the productivity of remote workers.
In this article, we'll explore seven effective ways to boost remote employee productivity and ensure the success of your offsite workforce.
We'll also examine how partnering with a trusted firm like Remote Employee can help you form a productive remote team.
What does remote employee productivity mean?
Remote employee productivity refers to the level of output and efficiency of offsite workers in completing their assigned tasks and responsibilities.
It measures how effectively they can manage their time, stay focused, and deliver quality work.
Unlike in-office productivity, remote employee productivity relies heavily on self-discipline, time management, and the ability to work independently.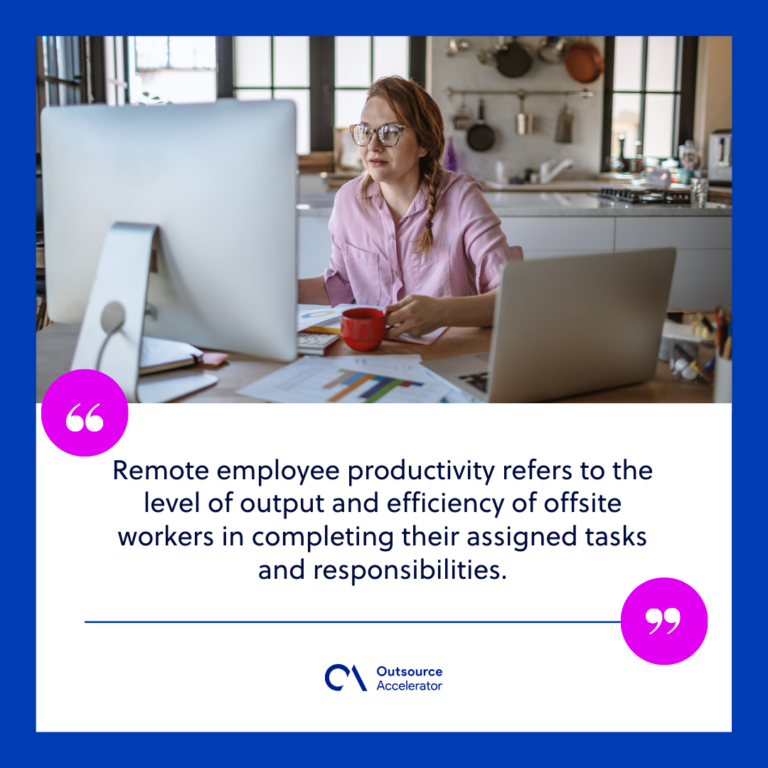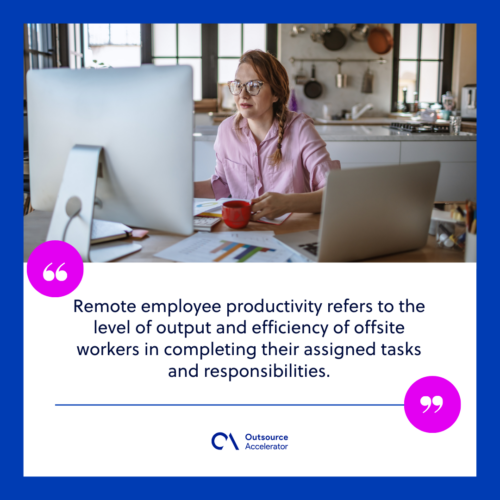 Importance of remote employee productivity
The importance of remote employee productivity directly impacts various aspects of a business, including:
Cost savings
Efficient remote work arrangements can reduce overhead costs for maintaining physical office spaces. 
Research by TheStreet revealed firms can save up to $11,000 per employee for overhead costs if they adopt a remote work arrangement.
Talent retention
High remote productivity can enhance employee satisfaction, reducing turnover rates and the need for frequent recruitment.
A Tracking Happiness study found workers' happiness boosted by as much as 20% when they were offered the ability to work remotely.
Global talent pool
Remote work enables companies to harness a worldwide talent pool. Businesses are granted access to a wide range of skills and perspectives.
7 tips to increase remote employee productivity
Boosting remote employee productivity is essential to any organization that relies on a distributed workforce. 
Here are seven fail-safe tips to keep in mind:
Set clear expectations and goals
Clearly define expectations and set achievable goals for remote workers. This gives them a clear understanding of what is expected and allows them to align their work accordingly.
Foster effective communication
Establish regular communication channels to keep remote staff connected and informed.
Utilize video conferencing tools, team chat platforms, and project management software to facilitate seamless communication and collaboration.
Remote Employee-recommended tools for communication include Slack and Microsoft Teams.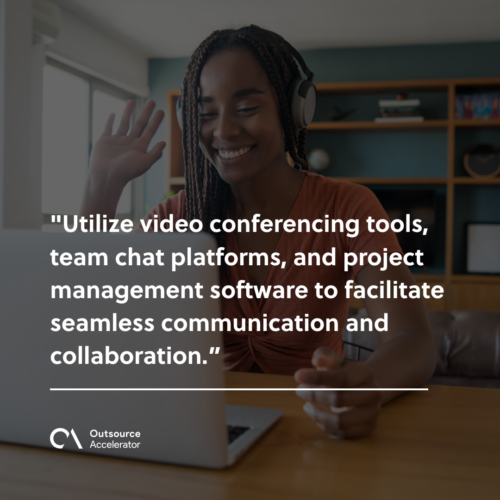 Provide the right tools and technology
Equip your remote employees with the necessary tools and technology to perform their tasks efficiently. This includes reliable internet connections, project management software, and communication tools.
Remote Employee suggests software like Toggl and Basecamp are effective for time tracking and project management.
Encourage breaks and time management
Encourage offsite employees to take regular breaks and manage their time effectively by implementing strategies such as the Pomodoro Technique.
Taking short breaks helps to rejuvenate focus and boost productivity.
Encourage regular physical activity
Encourage remote staff to incorporate physical activity into their daily routines, as it has been proven to enhance productivity and performance.
This can include taking short exercise breaks, going for a walk, or participating in virtual fitness classes.
Recognize and reward achievements
Acknowledge and reward remote employees for their achievements and contributions. This can be as simple as sending a thank-you email or publicly recognizing their accomplishments during team meetings. 
Doing this can motivate your employees and lead to better performance.
Invest in professional development
Foster continuous learning and growth among your remote workers by providing access to online training courses and resources.
This not only enhances their skill set but also encourages them to excel in their roles.
How to monitor remote employee productivity
Monitoring remote employee productivity requires a balanced approach that respects privacy and builds trust. 
You can track your remote worker's efficiency by employing these strategies:
Use time-tracking or monitoring tools

. Using remote employee

productivity monitoring software

helps track hours worked and tasks completed.

Regular check-ins

. Schedule regular one-on-one check-ins to discuss progress, challenges, and goals.

Performance reviews

. Conduct periodic performance reviews to assess productivity and provide feedback.

Employee surveys

. Collect feedback from remote workers to understand their needs and challenges.

Measure output and results

. Focus on measuring the output and results of remote staff rather than solely tracking hours worked.

Trust and empower remote employees

. Trust is key when managing remote employees. Give them autonomy and responsibility, allowing them to manage their work while meeting established goals and expectations.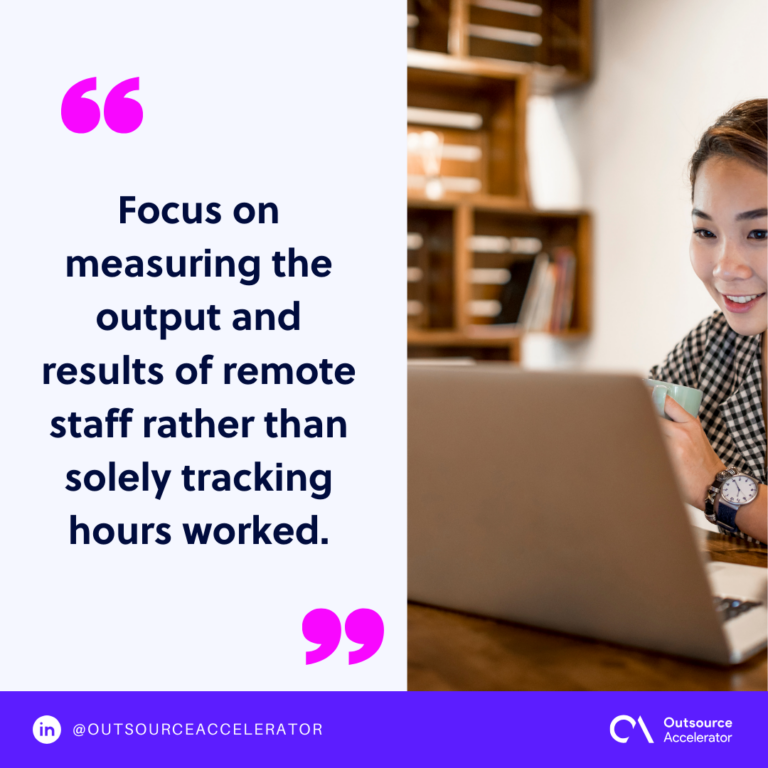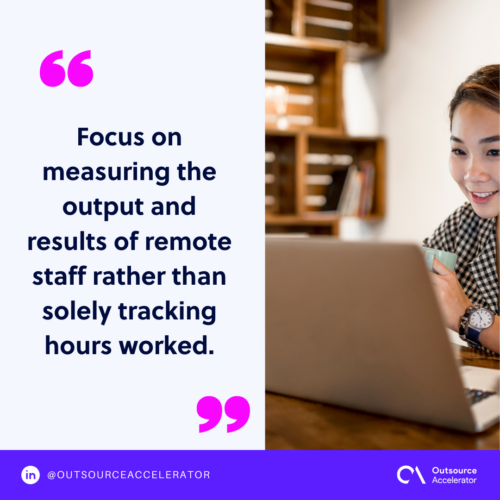 Ensure the productivity of your workers with Remote Employee
Boosting remote employee productivity is crucial for the success of any organization that relies on outsourced workers. By following our tips, companies can ensure that their offsite staff are engaged, motivated, and productive.
Another surefire way to ensure the productivity of your out-of-office workers is by dipping into business process outsourcing (BPO). This is easily done by working with a trusted and experienced BPO firm like Remote Employee.
Remote Employee unlocks, accelerates, and enables the growth of your business through outsourcing. Partnering with them to build an offshore team can allow businesses save up to 70% on costs.
The company offers cutting-edge technologies, adaptable team members, and client-focused services. This makes forming an effective and productive remote workforce with them a worry-free endeavor.
Learn more about Remote Employee and its solutions by visiting its website. You'll find more of its offered services, insights, and other resources to get you started.