Monitoring workers with remote employee tracking tools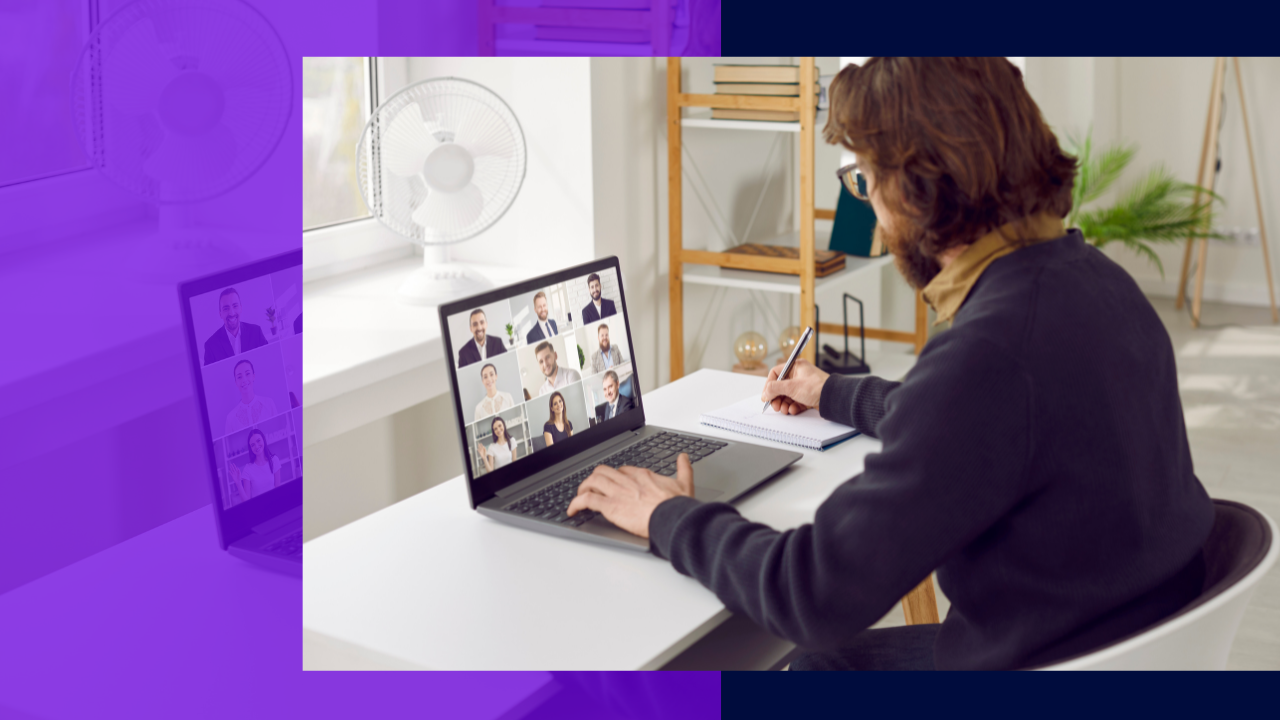 Remote employee tracking tools to monitor remote workers
The transition to remote work setups brings forth unique challenges, such as ensuring consistent productivity and evaluating performance from a distance.
While the notion of monitoring might raise questions about assurance, it's crucial to understand that the need for remote employee tracking isn't solely rooted in a lack of trust. 
Rather, it stems from creating accountability and clarity in a distanced work environment. Remote employee tracking tools are innovative solutions to bridge the gap between physical distance and effective collaboration.
Why should you do remote employee tracking?
Maintaining oversight becomes vital as organizations span the globe and teams are scattered across different time zones.
As such, remote employee tracking allows businesses to:
Enhance productivity.

Remote employee tracking promotes a sense of responsibility and helps prevent distractions that could hinder productivity.

Facilitate communication.

Effective remote employee monitoring tools enable seamless communication between remote employees and supervisors. Regular check-ins and updates become easier, fostering a collaborative environment.

Measure performance.

Tracking tools provide valuable insights into how remote employees allocate their time, complete tasks, and contribute to projects.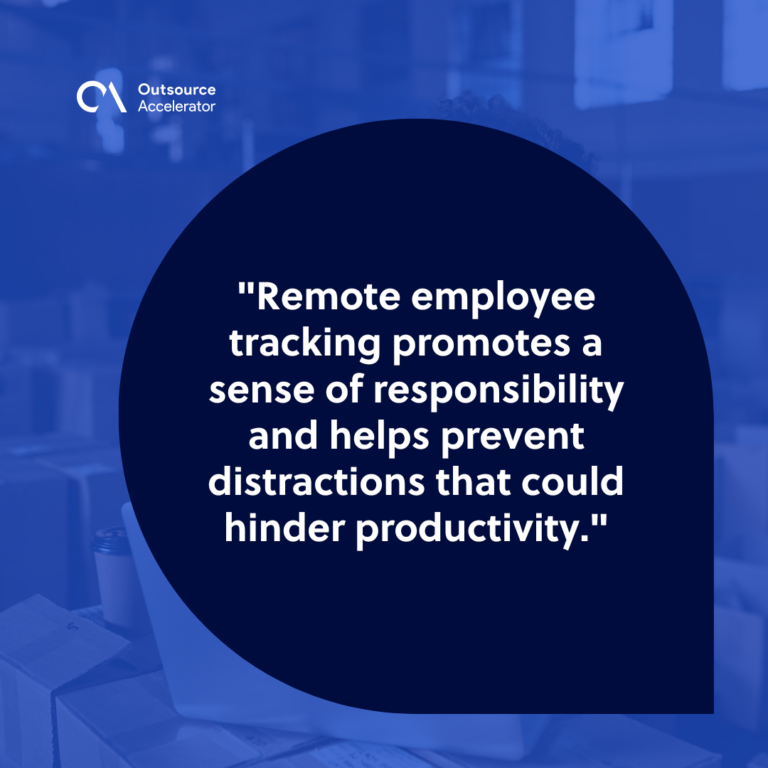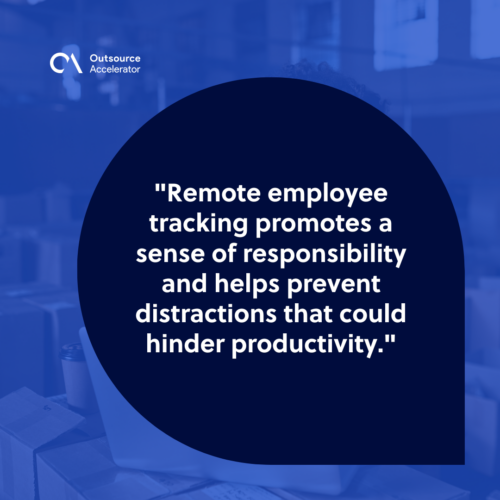 Is it good to monitor your remote workers?
It's possible that remote monitoring might raise concerns about privacy and trust.
However, it's essential to recognize that the purpose of remote employee tracking is not to invade privacy but to enhance operational efficiency. 
Capterra asked a group of Canadian employees about the advantages of remote employee tracking. Survey results show:
39% of the respondents said it offered their bosses better insight into everyday business operations.

37%, however, said it enabled problems to be identified before they escalated.
These numbers highlight that remote employees are more likely to remain accountable for their work when they know their efforts are being monitored. In turn, remote workers have improved time management and better task outcomes.
Key considerations for implementing remote employee tracking
Implementing remote employee tracking requires a thoughtful approach that respects the organization's needs and the employee's rights.
Take note of these two crucial aspects:
Remote employee transparency and consent
Transparency is vital when introducing remote employee tracking. Remote employees should be informed about the tracking tools being used, the data collected, and how it will be utilized.
Remote Employee's virtual staff always responds positively when monitored, as they are well involved in the process. This offshore staffing solutions provider ensures it addresses its remote workers' concerns proactively. 
Data privacy and security
According to 80% of business and security leaders surveyed by SONTIQ, remote work increases the cyber threats to their firms. This is why protecting the data collected from remote employees to safeguard sensitive information is essential.
Remote Employee's compliance with data protection regulations ensures employees' personal information is handled ethically and legally.
Types of remote employee tracking tools
Various tools are available to facilitate remote employee tracking. These tools cater to different aspects of remote work management, each offering unique features and functionalities:
Time tracking tool
Time tracking tools typically offer features such as clocking in and out, creating timesheets, and categorizing tasks based on projects.
These tools provide real-time insights into how employees allocate their time, helping employees and employers understand work patterns and identify areas for improvement. 
Some prominent options include:
Toggl

– This user-friendly remote employee tracking tool helps remote workers monitor their work hours accurately.

TimeDoctor

– This remote employee tracking tool goes beyond simple time tracking, offering website and application monitoring features. It provides comprehensive data on how time is spent during work hours.

Clockify

– Clockify is a versatile time-tracking tool suitable for businesses of all sizes. It enables remote employees to track time on different projects and generate detailed reports.
Project management platforms
Project management platforms allow remote employees to visualize project timelines, allocate tasks, set deadlines, and monitor project milestones in real-time.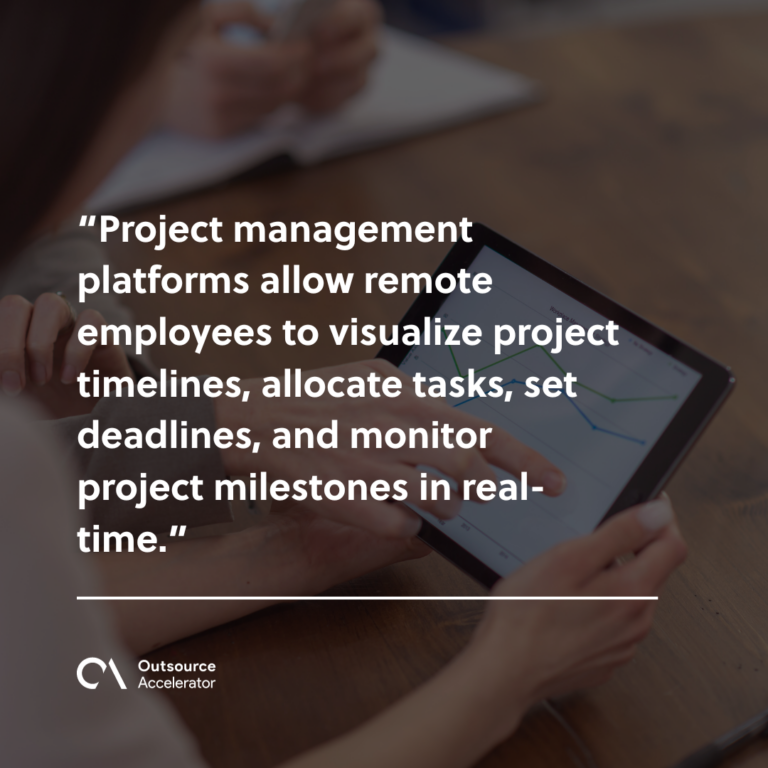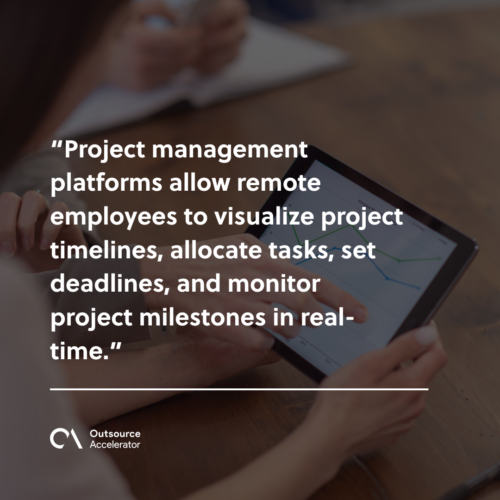 These platforms enhance transparency by providing a centralized location for project-related information. They enable team members to stay aligned and updated despite physical distance. 
Some prominent options include:
Asana

– This facilitates project planning, task assignment, and progress tracking. It's an excellent choice for remote teams collaborating on complex projects.

Trello

– Known for its visual approach, Trello allows remote employees to organize tasks on digital boards. It's particularly useful for teams that prefer a more intuitive task management approach.

Basecamp

– Basecamp offers a comprehensive suite of tools for task tracking, document sharing, and communication features. It's designed to streamline remote collaboration.
Communication and collaboration tools
34% of remote employees were most likely to report feeling disconnected while working from home, according to Forbes Advisor research. 
Meanwhile, Agility PR Solutions reports that 96% of company executives feel that good communication is critical for their team to produce the expected business results.
This underscores the significance of communication tools that establish remote employee tracking, ultimately contributing to achieving optimal work outcomes.
Some prominent remote employee communication tools include:
Slack

– Slack offers real-time messaging, file sharing, and integration with other tools, making it a hub for remote team communication.

Microsoft Teams

– Integrated within the Microsoft 365 suite, Teams provides video conferencing, chat, and document collaboration, making it an all-in-one solution for remote teams.
Remote employee tracking: Focus on outcomes, not micromanagement
Amidst this era of remarkable transformation, Remote Employee stands out as a  collaborative workspace. 
The company utilizes top-tier remote employee tracking tools to ensure efficient monitoring and management of a geographically dispersed workforce. 
Remote employee monitoring doesn't mean micromanaging, but it enables employees to achieve their best while fostering accountability and transparency.
Book a consultation with Remote Employee today to get started.