What is a remote call center representative?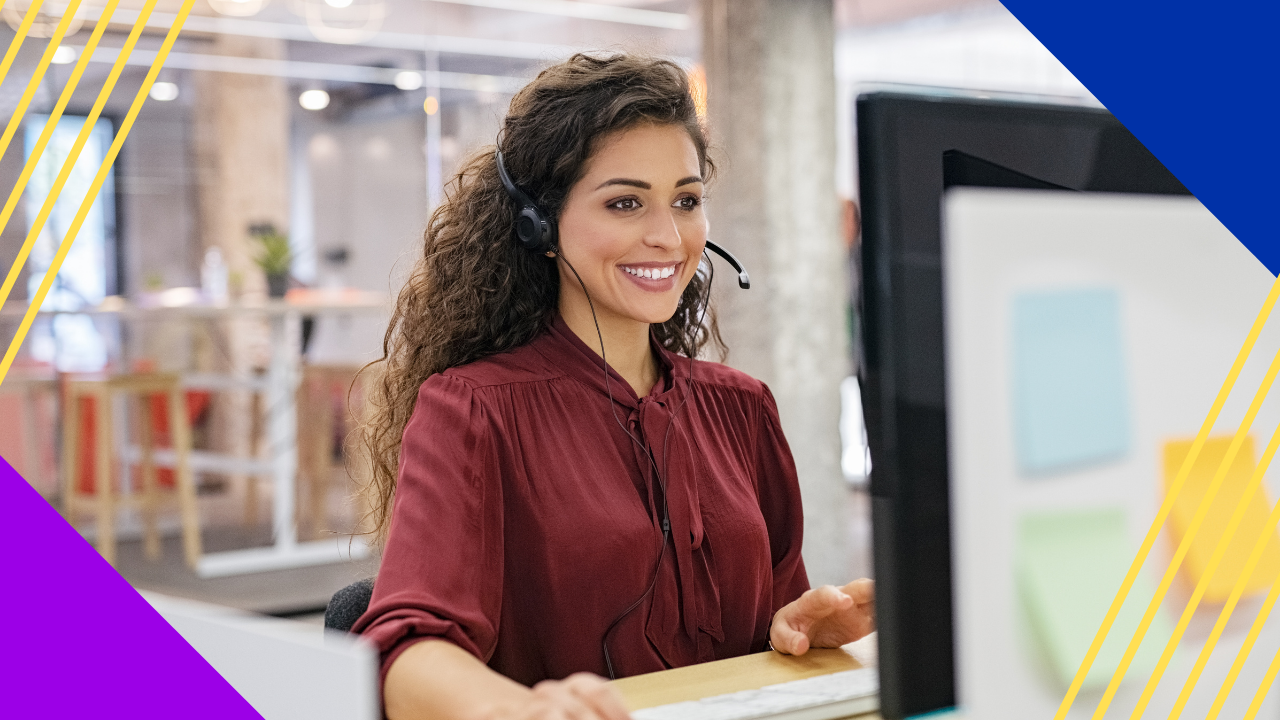 A remote call center representative is an agent responsible for customer calls, both inbound and outbound. They have the ability to relay calls between departments from within the company's network of devices on which they operate.
The only difference between a remote call center representative and a traditional one is that the former operates out of the office. 
Skills a remote call center representative should have
Narrowing down things to look for an employee can cut down the hiring process significantly. The following skills are what a remote call center representative should have in order to be one of the best. 
Most employees that possess these skills are most likely to succeed in the remote work environment.
Skill #1: Customer-centric approach
A customer-centric approach puts the needs of the consumers first. The policies, rules, and call center operating standards revolve around the betterment of customer-facing services.
Customer-centric skills include being able to practice active listening and rapport building. As a mindset, customer-centricity allows a remote call center representative to assist their customers in a more efficient manner.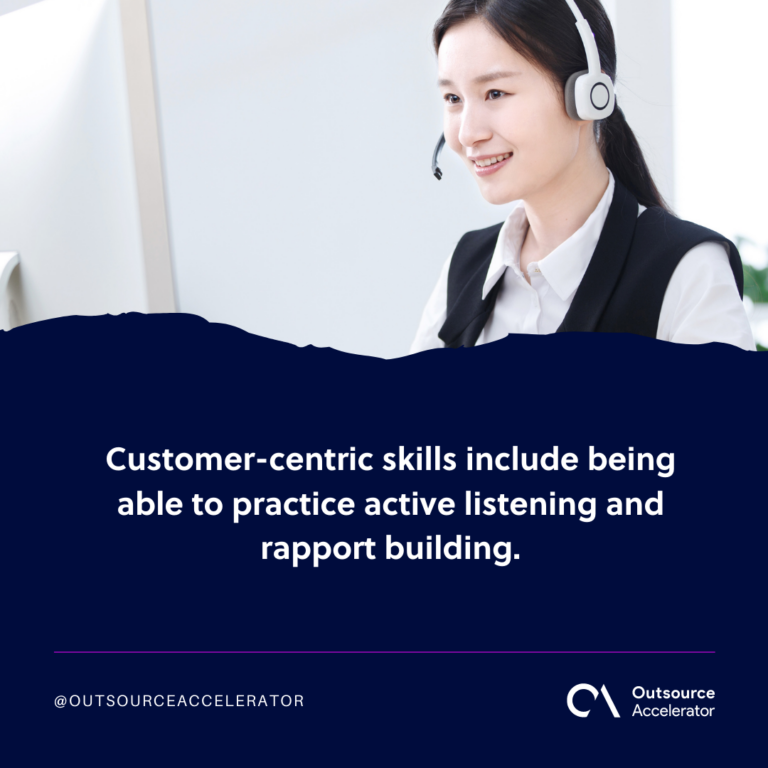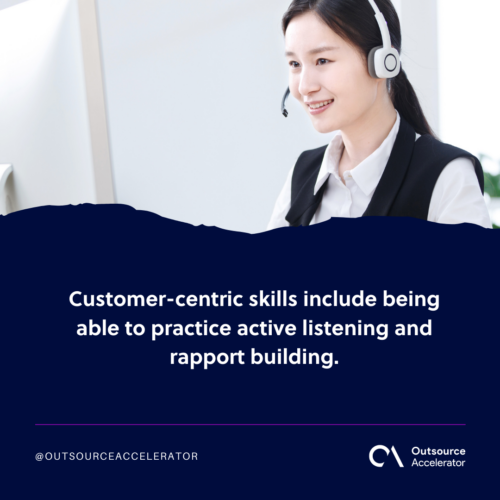 Skill #2: Empathy
In relation to having customer-centric skills, empathy is also an essential skill to have especially for call center agents who deal with customers on a daily basis, remote or not.
Being able to put themselves in the shoes of the customers will allow agents to serve the customers better, resolve issues quickly, and represent the company positively.
Skill #3: Attention to detail
Remote call center representatives should be able to identify mistakes or problems right off the bat, especially when on a call. Otherwise, issues may not get resolved right away.
There are also situations where calls might take longer because an individual has misread something. Typing the wrong words or forgetting details—anything could happen during a call.
Skill #4: Efficiency
Being efficient in the workplace is the equivalent of working smart. This skill is especially crucial for remote call center agents who are prone to distractions when working from home.  
In a high-pressure environment like call centers, it's important to waste no second. From automating tracking sheets to implementing an interactive voice response (IVR) system, being efficient means working with software and apps that will make an agent's life easier.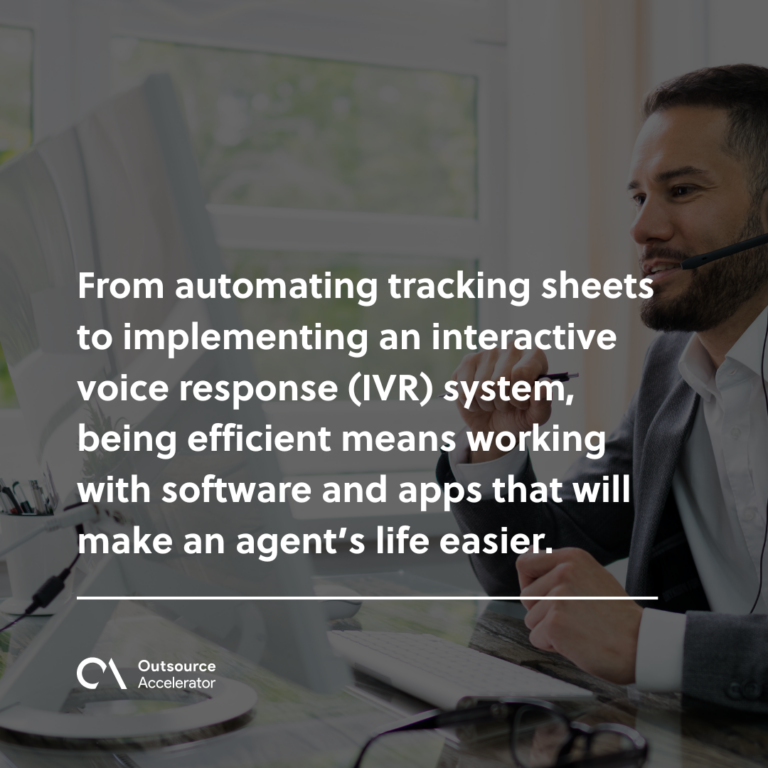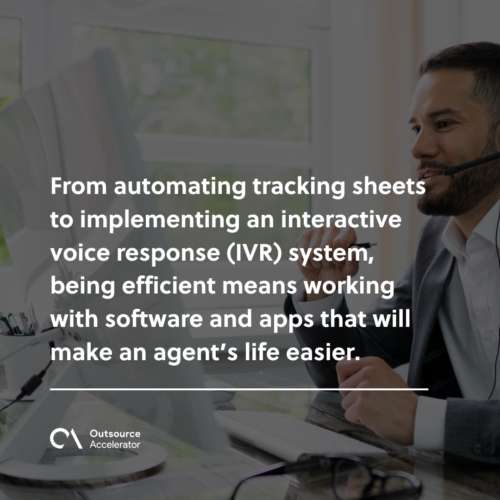 Skill #5: Problem-solving
Customers seek help when contacting a call center, so naturally representatives have to possess the ability to offer quick and creative solutions. 
Problem-solving skills can be developed and put into practice in every facet of any customer-facing role.
Skill #6: Resourcefulness
Call center agents should be resourceful and creative, especially when they work remotely. There will be times when solutions aren't explicitly written in any knowledge bases or product handbooks, thus pushing the agent to think outside the box. 
Skill #7: Communication skills
Agents are expected to communicate clearly with customers, teammates, superiors, and colleagues. Most importantly, they are expected to be able to relay information as clearly and as concisely as possible. 
Misunderstandings and conflicts in the workplace can be prevented by the ability to communicate effectively. 
Skill #8: Perseverance
There will be moments in an agent's day where it feels like their tasks are collapsing on top of them. There will also be days when customers are more irate, impatient, and rude. 
Persevering through these hurdles should be an agent's second nature. Without perseverance, they wouldn't have the energy to take on more calls and help more customers.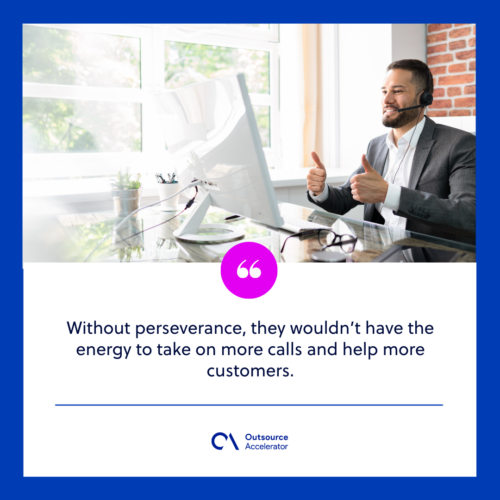 Why remote call centers are trending in 2023
Remote call centers are seeing an upward trend since companies are starting to outsource their business activities to remote-only providers. 
Remote-only companies are often cheaper than those with physical locations due to the fact that they have fewer overhead expenses.
BPO providers like EB Call Center make staffing easier for businesses, providing excellent remote candidates or teams. So if you're still on the look for remote call center representatives, consider outsourcing.