4 key advantages of employing remote bookkeepers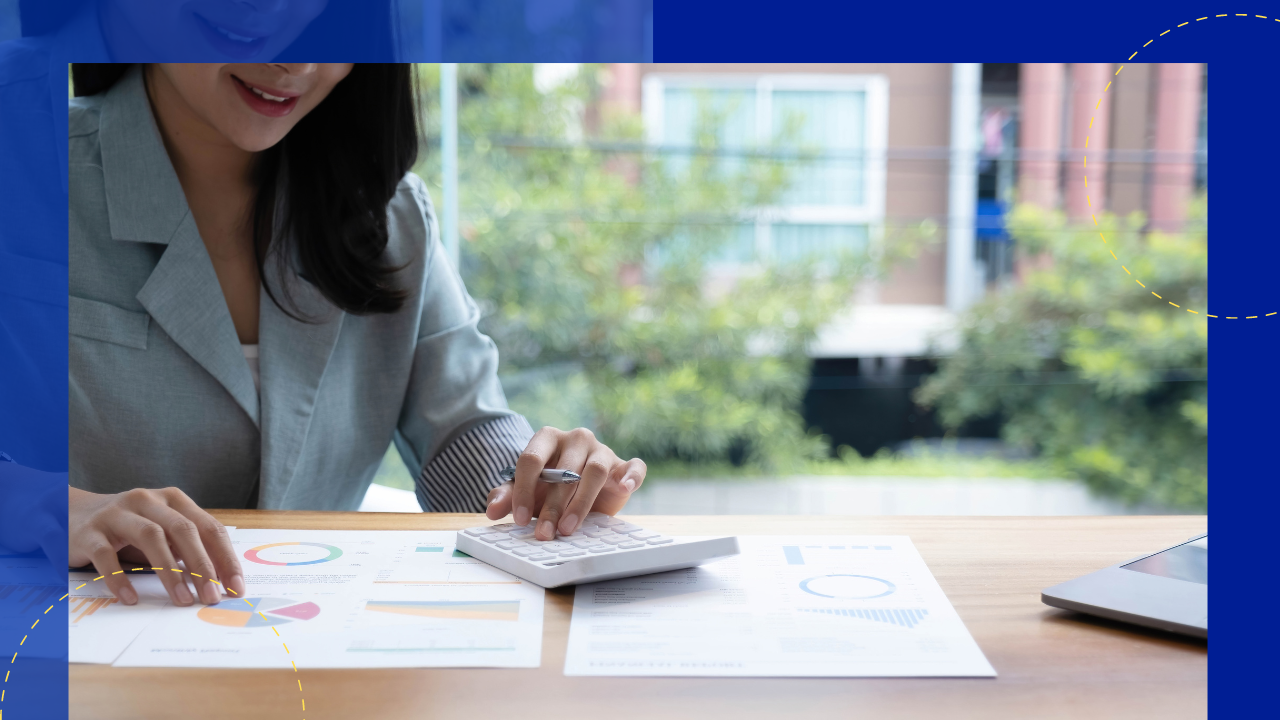 In this digital age, businesses are more welcoming to outsourcing various tasks remotely, including bookkeeping. This has resulted in the increasing prominence of businesses hiring remote bookkeepers.
Remote bookkeepers are more in demand because they can effectively do their jobs at home or anywhere besides the office. This type of remote work also has several added advantages to the business and the bookkeeper themselves.
Before discussing the benefits of hiring remote bookkeepers, let's determine what remote bookkeeping is and how it works:
How remote bookkeeping works
Bookkeeping is the task of recording and organizing an individual or company's financial transactions on a daily basis. With that in mind, remote bookkeeping is outsourcing bookkeeping services to a remote bookkeeper, also known as an off-site bookkeeper.
Remote bookkeepers are not physically present and work in a company's office. They are accessible via phone, email, video conferencing, or other digital and online communication platforms. 
Like a regular in-house bookkeeper, remote bookkeepers can perform various bookkeeping and accounting-related tasks such as:
Accounts payable and receivable

Bank reconciliations

Financial statement preparation

Tax compliance
Factors to consider when choosing a remote bookkeeper
There are several things to consider when choosing a remote bookkeeper to fit a business's needs and objectives. 
Below are some of the most significant factors:
Qualifications and experience

– ensuring the remote bookkeeper is qualified, certified, and has experience in whichever industry a company is in is important.

Communication

– an excellent remote bookkeeper communicates effectively and promptly and is easily contacted through different communication channels.

Security

– appropriate security measures that protect a firm's

financial data

and maintain its confidentiality are necessary for remote bookkeepers to perform their job effectively.

Pricing

– a business should be aware if they are able to afford a remote bookkeeper and if their service still lives up to the business's expectations.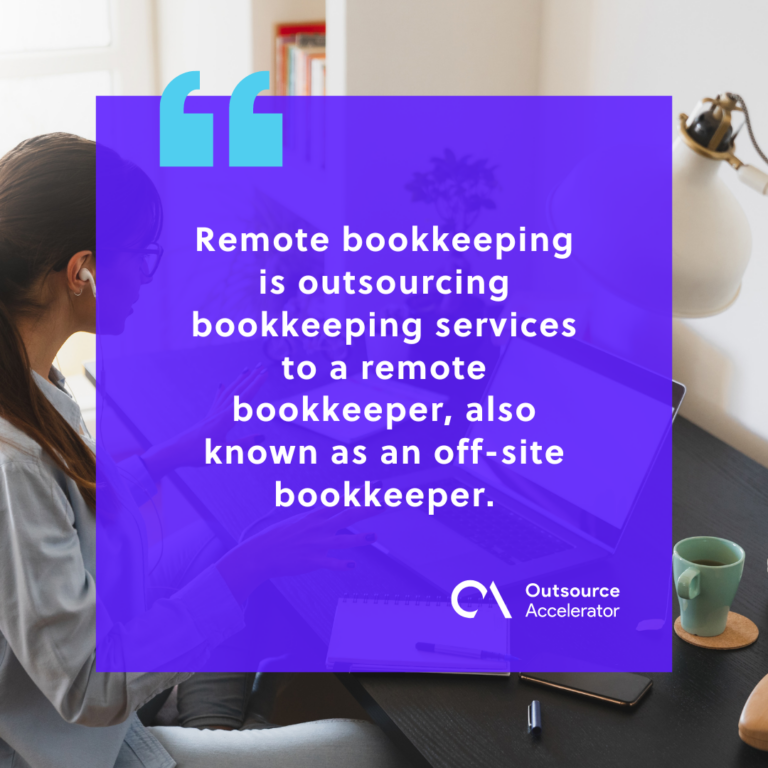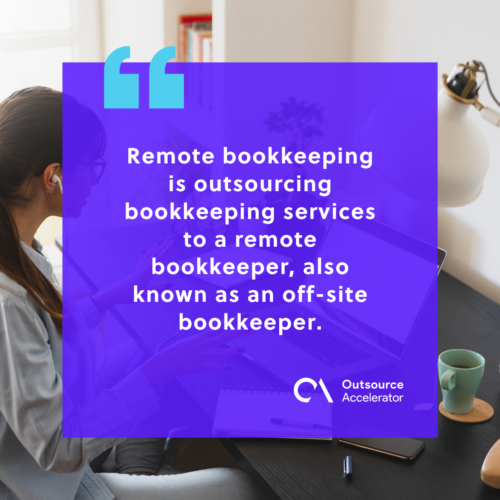 4 benefits of hiring remote bookkeepers
Why should businesses consider employing remote bookkeepers? The top reasons are because of:
1. Cost-effectiveness
One of the most important benefits companies can get when hiring remote bookkeepers is cutting down overhead expenses like office space, equipment, and transportation allowances.
Remote bookkeepers are more affordable compared to in-house bookkeepers, as they usually charge lower fees for their services. They can also be outsourced from places that provide more affordable labor.
2. Wider talent pool
Considering employing a remote bookkeeper will provide access to a wider pool of talent as there are no limitations on the location where applicants can come from. 
There is also the broader capability of finding a remote bookkeeper with specific expertise and experience that aligns with the company's requirements.
3. Flexibility and convenience
Businesses aren't the only ones that benefit from hiring an offsite worker. Remote bookkeepers gain the flexibility and convenience of working from home within less rigid parameters.
Additionally, remote bookkeeping is convenient because organizations can access their financial information anywhere at any time.
4. Enhanced security and confidentiality
Remote bookkeepers use cloud-based accounting software that handles and processes financial data securely, ensuring reports are safe and secure. This type of software also keeps financial records accurate and timely.
Moreover, remote bookkeepers are not exempt from following strict protocols that come with a regular in-house bookkeeper's job. 
A major protocol among all bookkeepers is maintaining confidentiality agreements that keep a firm's data protected and confidential.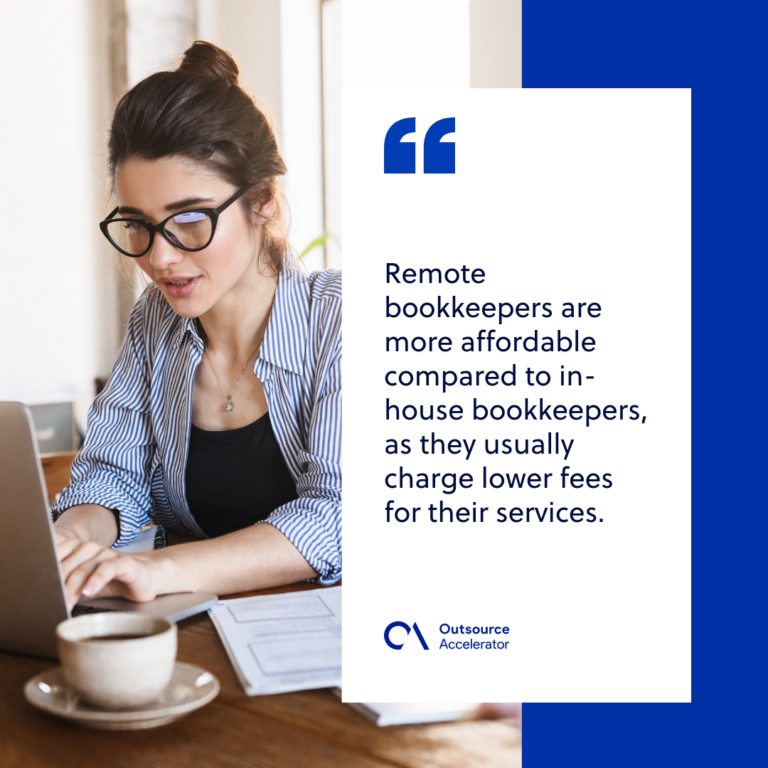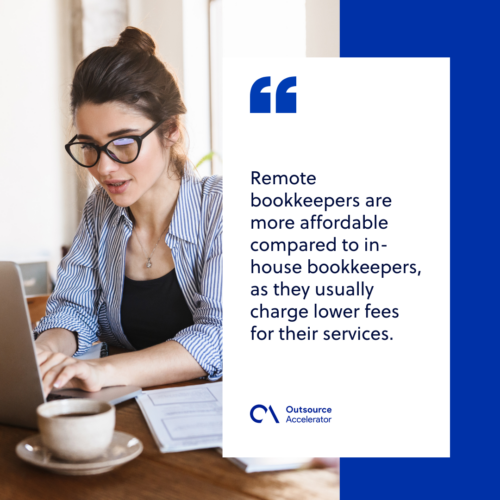 Tips for working with remote bookkeepers
Once businesses have decided to work with remote bookkeepers, there are multiple ways to make operations more seamless. 
Take note of these tips to work effectively with remote bookkeepers:
1. When a remote bookkeeper has been hired, companies should set clear boundaries and expectations so everyone involved is on the same page. 
This includes agreeing on a work schedule, establishing deadlines, knowing what communication channels to use, and indicating the scope of work.
2. Communication is key when working with a remote bookkeeper, so it's recommended to set up a system to stay connected regularly. 
Constant communication will help a company stay on top of its finances and verifies if the remote bookkeeper is meeting expectations.
3. Businesses should issue access to all the necessary information a remote bookkeeper will need, such as financial data and documents. This is so they can productively perform their tasks.
4. An organization can utilize project management tools to keep track of a remote bookkeeper's progress and be more organized about assigning and checking tasks.
5. A secure payment method will protect the company and the remote bookkeeper when making salary payments and other related transactions between the two parties.
Overall, working with remote bookkeepers can be an excellent way to save money while still getting the specialized service a business needs. 
If you're seeking a remote bookkeeper, you can partner with Clark Staff, a trusted outsourcing partner based in Clark, Philippines.
Remote bookkeeping is something that any entity with financing and accounting needs should consider. This is especially true when modern technology allows for more adaptability and convenience for almost all jobs and workers.