Manage your finances better with outsourced bookkeeping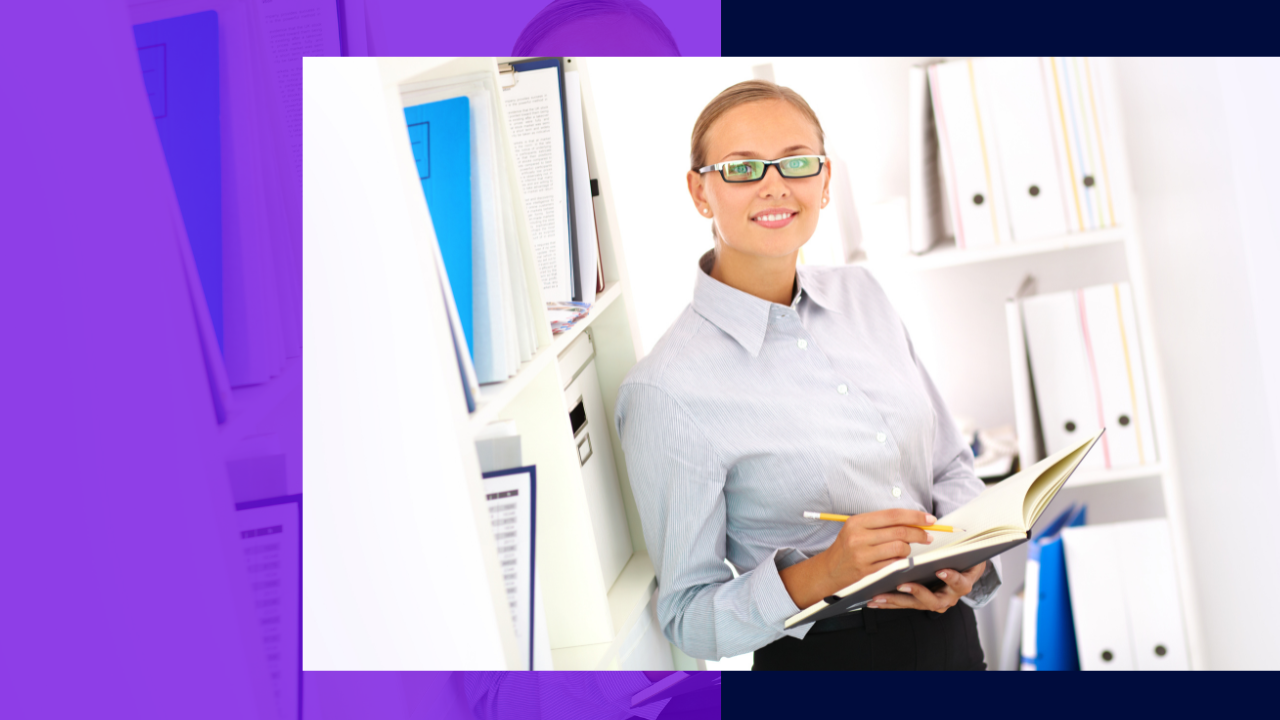 Manage your finances better with outsourced bookkeeping
Business process outsourcing makes it possible for companies to hire high-quality remote teams at a fraction of the cost. Since before the pandemic, companies have been benefiting from outsourcing, and successful ones have even expanded through this method.
Finance and accounting have been some of the most popular areas outsourced since 2019, according to the US Small Business Administration. The demand for bookkeeping and accounting services even spiked with the pandemic and the economic crisis that loomed around the globe.
Despite this, many still have doubts about outsourcing bookkeeping to popular destinations such as India and the Philippines. This article discusses why outsourced bookkeeping works, the services that can be outsourced, and its rates.
Why outsourced bookkeeping works
Finding a suitable bookkeeper can be difficult, especially for startups and small businesses. Usually, when their business is starting, they tend to do bookkeeping on their own. But this won't be sustainable as time passes.
Hiring an in-house bookkeeper can somehow help them keep up with account monitoring and cash flow. Though, entrepreneurs hire outsourced bookkeeping for different reasons:
Flexibility

. Companies can scale down their workforce depending on the volume of their work.

Privacy and compliance

. Companies can assure that their data are safe and the operations are compliant with their laws.

Tax- and audit-ready data.

Companies won't have to be scrambling on preparing their income reports since their bookkeepers will prepare it for them.

Tax savings.

Also, they can easily avoid paying penalties and additional fees in errors and delays in tax filing, giving them huge savings.
Outsourcing is most useful nowadays since many have turned to remote work as a way to continue running their business. Outsourced bookkeeping has benefited companies most when it comes to:
Maintaining cash flows
Small businesses were able to keep their finances on track, even remotely. Bookkeeping teams were most helpful in making sure that the company stays on a budget to avoid losing more money.
Keeping the business afloat
They can still continue running their operations despite the lockdowns. This also applies to businesses under industries that were affected by the pandemic, particularly in travel and tourism.
Cutting costs
Most importantly, hiring a bookkeeping team helped them in saving on costs and resources during the lockdowns. In return, they can reallocate these savings to invest in expansion and market growth in the future.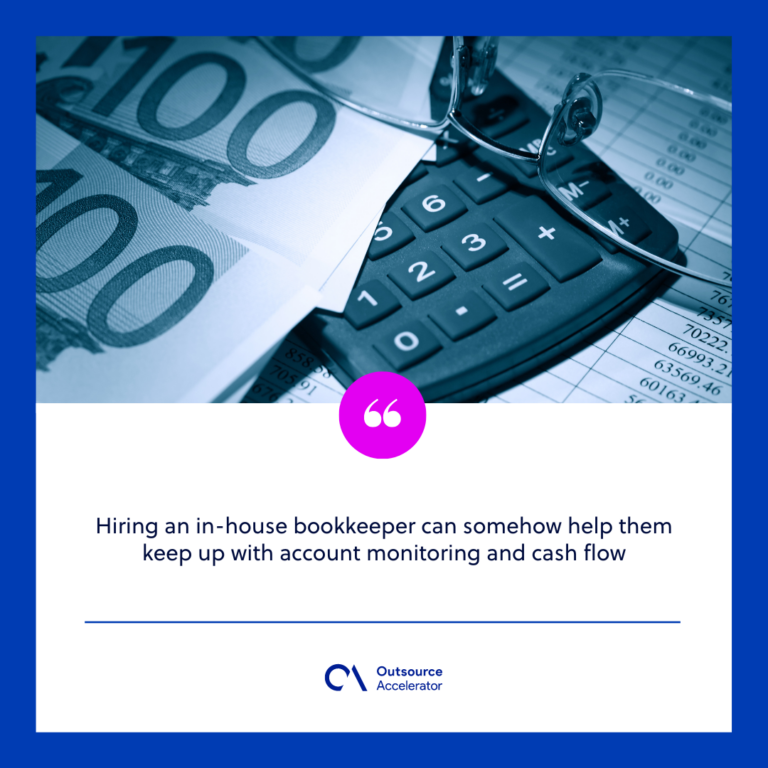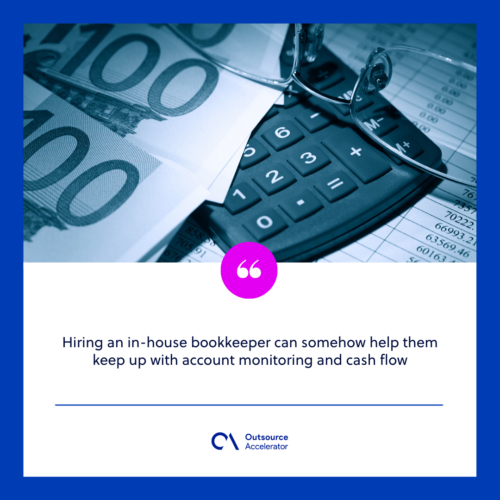 Outsourced bookkeeping services to avail
With the presence of online bookkeeping, project management, and communication tools, companies can now easily collaborate with their bookkeeping team in managing their finances. This makes it possible for businesses to delegate tasks such as the following:
Financial statement preparation
Financial statements are crucial requirements for an operating company. These keep track of a company's cash flow and earnings in a specific period as required by the country they're in.
Primarily, outsourced bookkeepers and accountants are responsible for preparing corporate financial statements, balance sheets, and income statements. They can constantly update and monitor books of accounts while maintaining high financial data security at work.
In this way, their clients won't have to scramble to compile their expenses when tax deadlines approach and worry about data breaches. 
Account payables and receivables
They can also handle updating the accounts payables and receivables from customers and other businesses. Bookkeepers take care of the following:
Sending and receiving online payments

Invoice preparation and sending

Check approvals

Vendor inquiry handling

Order management

Billings and payments

Collections management, and

Debt management
Payroll processing
Additionally, payroll processing can be one of the bookkeeping team's responsibilities. They can team up with human resources in encoding, processing, sending out salaries, and paying benefits to avoid discrepancies and errors in them.
Aside from this, bookkeeping teams manage employee expenses for reimbursements and liquidations used for business travels, training, and seminars.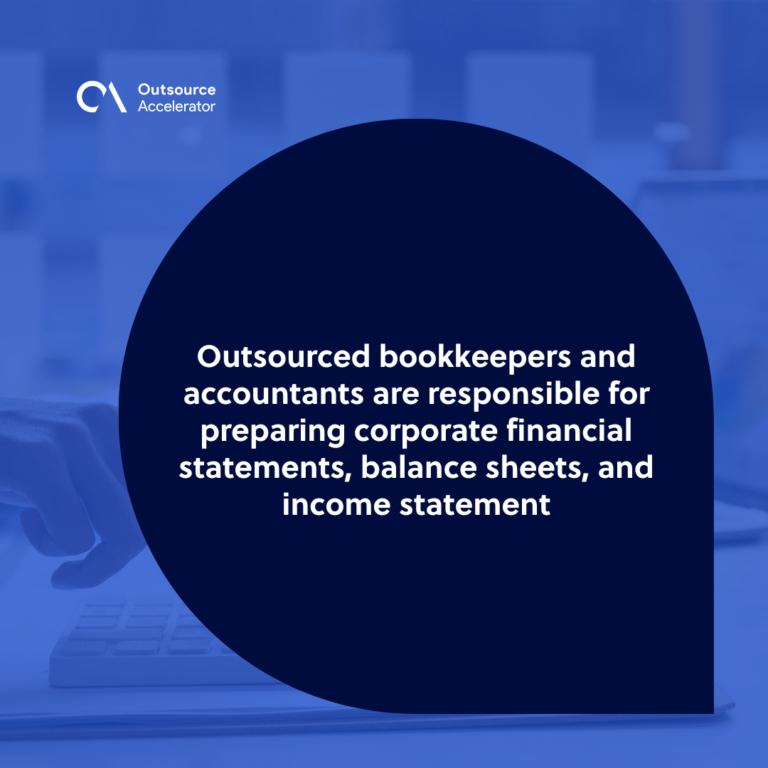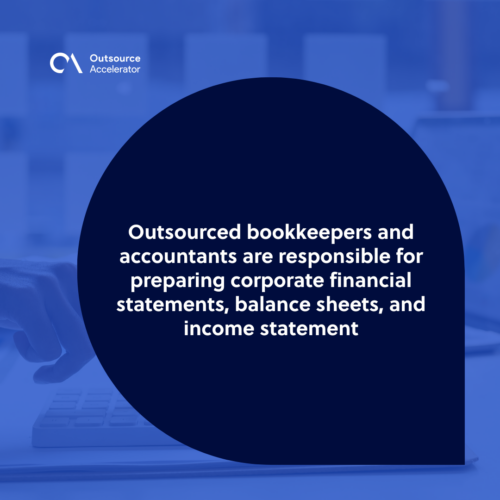 Compliance and inventory management
Lastly, companies won't have to worry about missed tax deadlines and compliance requirements anymore. Instead, they can hire a bookkeeper to manage compliances and make sure deadlines are never missed out.
Aside from this, a bookkeeping VA can help them keep up with their inventories, whether for products or office supplies, to ensure that their in-house needs and products are always updated.
Outsourced bookkeeping rates
Hiring a bookkeeper usually costs up to $4,500.00 per month. The company will also have to provide the tools, space, and equipment they need at work, such as desktops, accounting software, and office supplies. 
Since they'll be working on the company as a regular employee, companies are also obliged to take care of them and help them be employed longer. This scenario won't be practical for small businesses and startups especially during economic crises and calamities when they have to save up most for emergencies and future expansions.
Hiring an outsourced bookkeeping service, meanwhile, may vary depending on the way they outsource it and the services they need. However, it slashes hiring and operational costs to at least 50-70%, which can be more viable for businesses that need it the most.
Basic bookkeeping or full accounting?
First, companies should determine whether they need basic bookkeeping or full accounting services.
Basic bookkeeping covers the basic services in managing accounts, tracking cash flows and inventories, and preparing financial statements. They can do the following:
Encoding expenses and income

Paying bills

Approving online payments

Reconciling accounts

Maintaining vendors and clients, and

Providing support for CFOs by preparing necessary documents
Basic bookkeeping can be done by either outsourced teams or freelancers and may cost up to $2,000.00. This may also increase or decrease depending on if they are hired per project, on a short period, or with a fixed monthly fee.
Full accounting services, meanwhile, involve the need to hire accountants that help with the bookkeeping team to file and follow compliances, analyze financial reports, and provide financial advice to help them manage their budget better. 
Hiring offshore bookkeepers
An in-house part-time bookkeeper usually costs around $20/hour depending on the location and their job description. At a minimum, they do basic accounting and usually require supervision. A full-time bookkeeper, meanwhile, requires a higher rate since they will be working fully with the company for a long time.
Hiring an offshore bookkeeper is the best option for small businesses. At a minimum of $12/hour, they can hire an equally experienced and dedicated bookkeeper to provide great service that can level with local talent.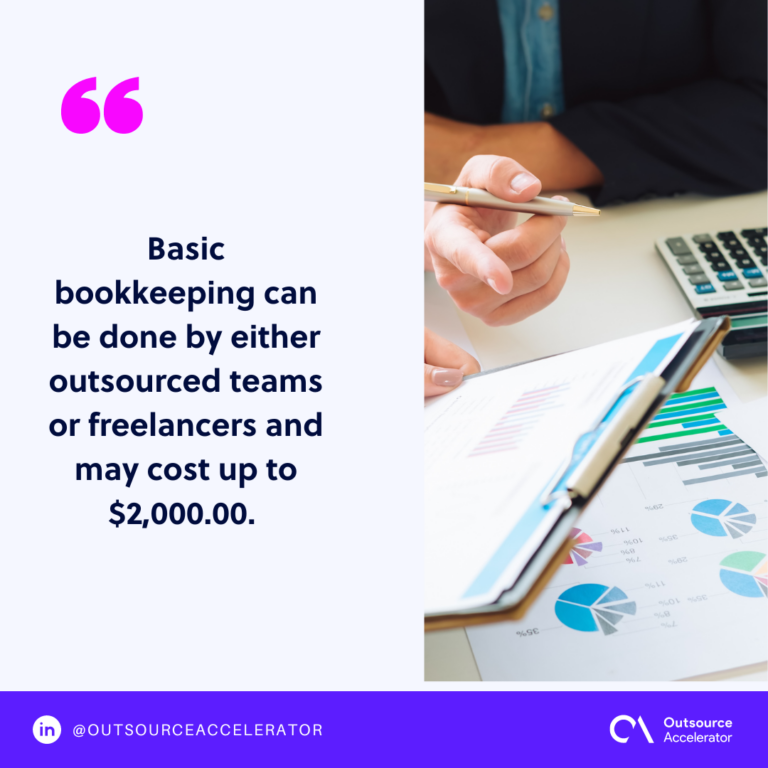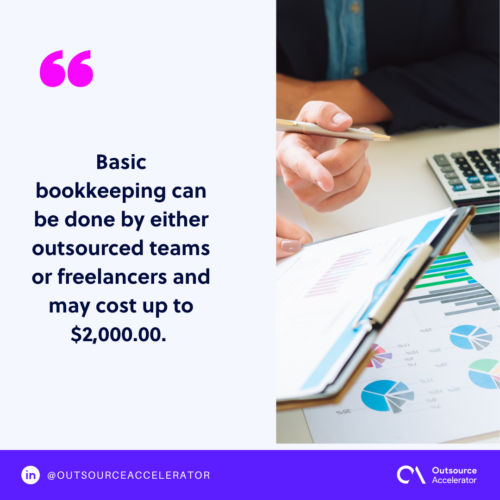 Top companies that offer outsourced bookkeeping
Several rising and established outsourcing destinations provide the utmost financial and accounting services to the West. Through them, clients can get access to a vast abundance of a dedicated, talented, and licensed workforce that can serve them fully.
In the Philippines for instance, there are around 45 million Filipinos in the workforce for the past year. Thousands have also joined the workforce as certified public accountants and bookkeepers per year since 2018.
Top BPO companies in several countries offer a vast majority of services to several industries. Companies like Remote CoWorker hire professional CPAs to ensure the consistent delivery of outstanding service to clients who are looking for bookkeepers in their businesses.
Accounting firms from these locations are also the most reliable when it comes to related tasks. With this, businesses won't have to worry about outsourcing their bookkeeping tasks. Their service providers are ready to guide them in making their operations successful.