8 ways to reduce inefficiencies in accounting processes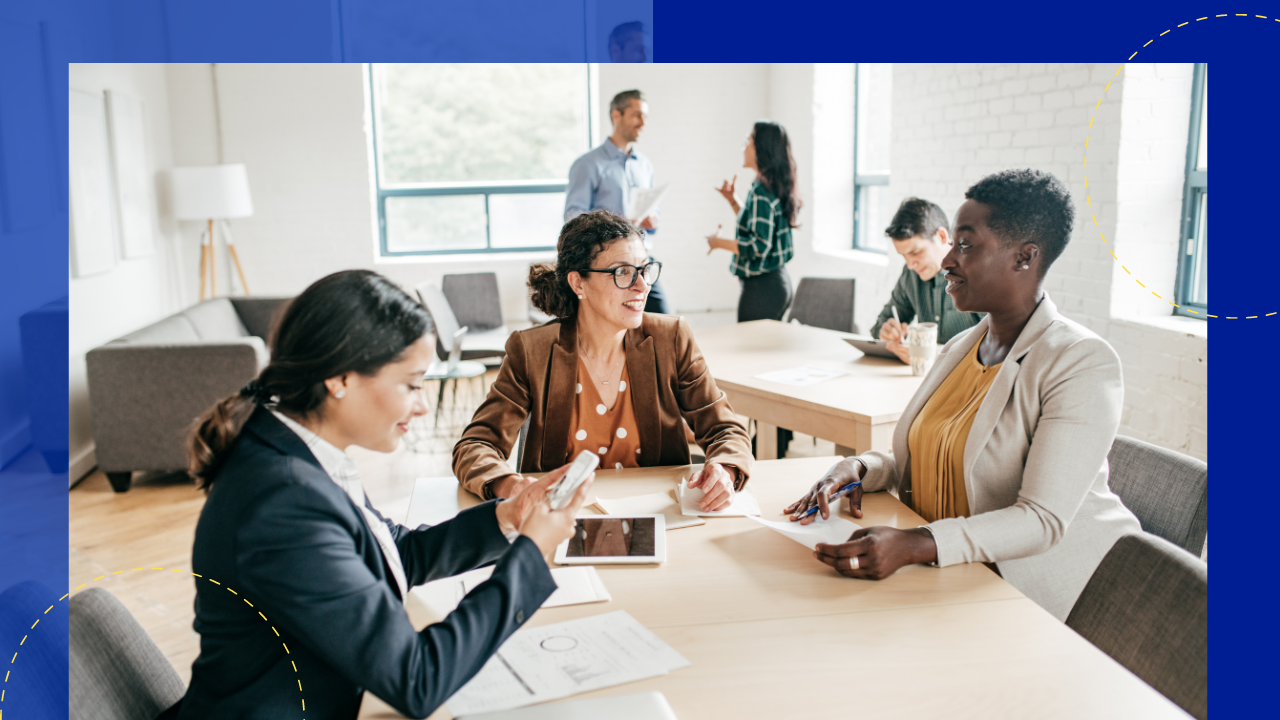 This article is a submission by D&V Philippines. D&V Philippines has years of experience in the accounting and finance industry. This third-party services company can provide you with the back-office support you need. 
Your accounting processes are important and require a lot of attention. Inefficiencies in this aspect of your business may lead to delays in updating financial data, mistakes in your accounting books, and erroneous entries that might incur penalties and fees.
Other than the two additional costs, inefficiencies result in a ripple effect that has a negative impact on your financial decisions, cash flow, and resource allocation.
Making your accounting processes efficient eliminates or reduces the problems mentioned. 
What are the causes of inefficiency in accounting processes?
The first thing you should do before trying to reduce inefficiencies is to identify their causes.  
Below are four common causes of accounting inefficiencies:
Misaligned responsibilities
One of the causes of accounting process inefficiencies is an ambiguous delineation of tasks.
Seeking out the wrong person for a certain accounting and bookkeeping task or giving them work beyond their expertise and experience level results in inefficiencies. This delays solutions and may cause more problems. 
Lack of feedback
A lack of feedback is a possible cause of inefficiencies in your accounting processes. Your team might be unaware of the poor output they produce and the best practices they don't implement.
It's important to provide feedback to your accounting and bookkeeping time to improve processes and boost efficiency.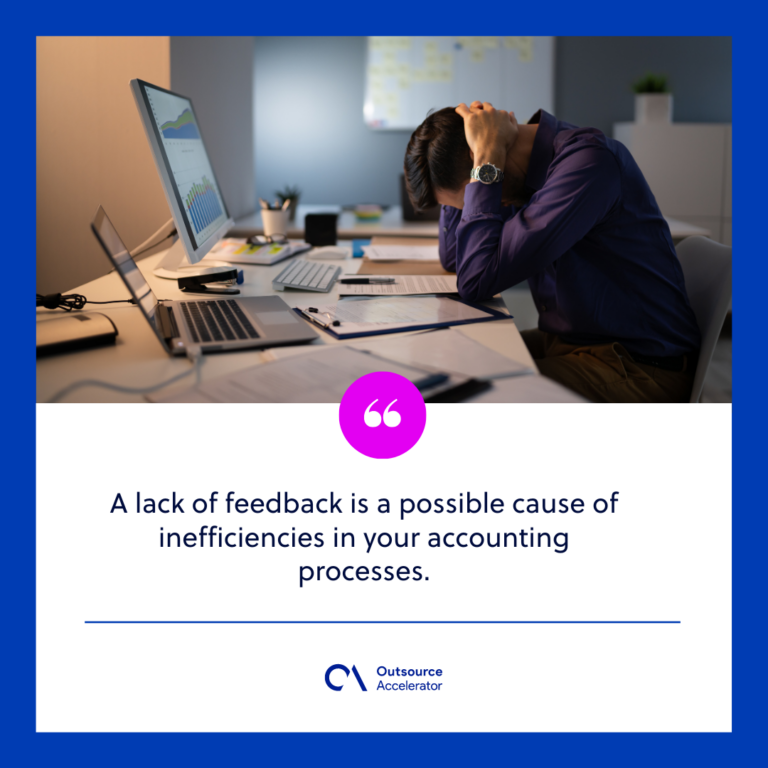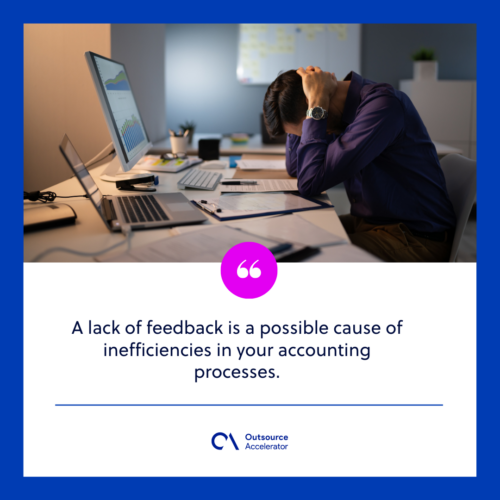 Outdated tools and software
Your team might still be using outdated tools and software to do their accounting and bookkeeping tasks. Technology that worked before might not deliver the same output quality.
Update or replace the software and tools you use to keep your accounting and bookkeeping team productive and efficient.

Repetitive and manual tasks
Repetitive and manual tasks are inefficient and consume time your team could use to do other productive work. The possibility of mistakes in your accounting is higher with manual entries.  
These factors reduce the efficiency of your accounting and bookkeeping processes. Once you identify these causes, you'll be able to determine and implement practices that boost efficiency. 
8 ways to improve accounting processes
Improving the efficiency of your accounting and bookkeeping processes reduces mistakes in your books, enables you to pay your dues on time, and eliminates delays.
Here are some of the practices you can implement to improve your accounting processes:
1. Employee training
One of the ways to improve the efficiency of your accounting processes is to train your employees.
Update their skills and certifications; doing so makes sure they know and can implement the best accounting and bookkeeping practices.
This enables them to complete their tasks on time and deliver quality output. 
2. Utilize the latest tools and technology
As your business grows, the more customers you'll have and the more transactions you'll need to process. Manual data entry and bookkeeping are prone to mistakes.

Upgrade the software and tools you use. The latest technology allows you to automate repetitive tasks and enables your employees to focus on more analytical and profitable work.
Automation reduces the delivery time of the output you need and eliminates minor mistakes in your accounting books. 
3. Cloud accounting and data analytics
Cloud accounting and data analytics provide you with a precise approach to identifying and resolving inefficiencies in your processes.
Analytics enables you to determine which steps in your workflow cause the inefficiencies in your accounting and bookkeeping. You can then improve or remove steps in your processes that make tasks more efficient. 
4. Gather employee feedback
Your team has direct experience with the accounting processes you implement. Get their feedback to determine which steps of your accounting and bookkeeping process need improvement or replacement.
They'll be able to tell you which tools and tasks work and which ones don't. Your brainstorming sessions with them allow you to identify cost-effective solutions that improve your processes and their productivity. 
5. Use a project management software
Other than using accounting software, you should also consider using project management software.
The latter enables you to monitor the tasks you assigned to each team member, set schedules for deliverables, track progress, and close completed tasks or resolved problems.
Project management software improves the efficiency of your account and bookkeeping processes. 
6. Standardize accounting and bookkeeping processes
Allowing your accounting team to do their tasks in whatever way they like may yield results. However, it complicates monitoring work, and it makes it difficult for you to replace a staff member if they leave.
Standardize your accounting and bookkeeping processes so that your team has a set of guidelines to follow whenever you delineate tasks and start projects.
Standardization also enables you to monitor progress and onboard new employees easily. Designate a leader so that you'll have someone who implements the standards and procedures you established. 
7. Outsource non-core tasks
Multitasking may allow your team to accomplish several tasks simultaneously. However, as the hours and work accumulate, your employees might feel fatigued.
This reduces their productivity and effectiveness at the jobs they do.
Consider outsourcing non-core tasks to a reliable and experienced service provider. Doing so enables your employees to focus on core tasks that fit their skills, certifications, and experience level.
An outsourced team provides seamless business continuity because you hired them based on the needs of your company. They can take on the extra work your staff does.
This partnership improves the efficiency of your accounting and bookkeeping processes. 
8. Assess and update accounting processes regularly
Assess your accounting and bookkeeping processes regularly. New ways of accomplishing tasks and the latest technology always appear.
Update your processes whenever it's necessary. An assessment also allows you to identify areas of improvement despite the changes you have already implemented.
You can test tools and techniques to determine if their suitability for your business works long-term. You might also need to hire new employees to handle the increase in transactions your business gets. 
These improvements boost the efficiency of your accounting and bookkeeping processes. Doing so reduces the time needed to deliver output without sacrificing quality and eliminates mistakes in your books.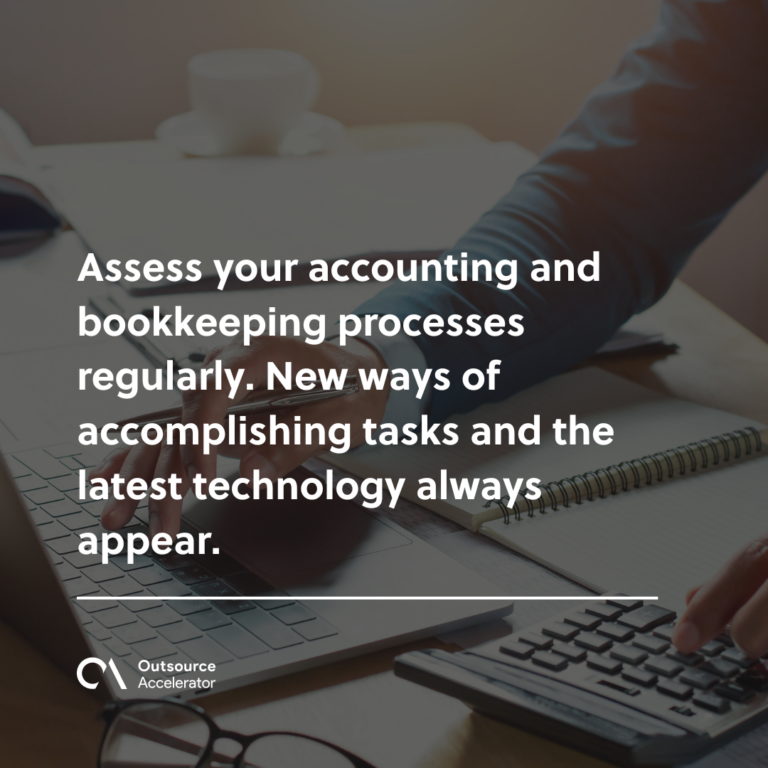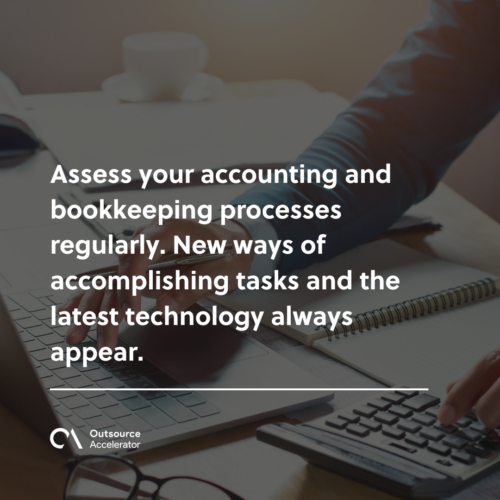 Some of the tasks you might want to consider focusing on to improve efficiency are:
Accounts payable and receivable

Bank reconciliation

Manual and repetitive work

Payroll

Bookkeeping

Tax compliance and reporting
Outsourcing accounting processes
Consider outsourcing accounting to simplify your efforts and shorten your timeline. Outsourced service providers like D&V Philippines can address your needs and follow your specifications.
Its back-office support team of experienced and qualified accountants can provide you with scalable services as your business grows and your requirements change.