8 ways real estate SEO can drive more traffic and sales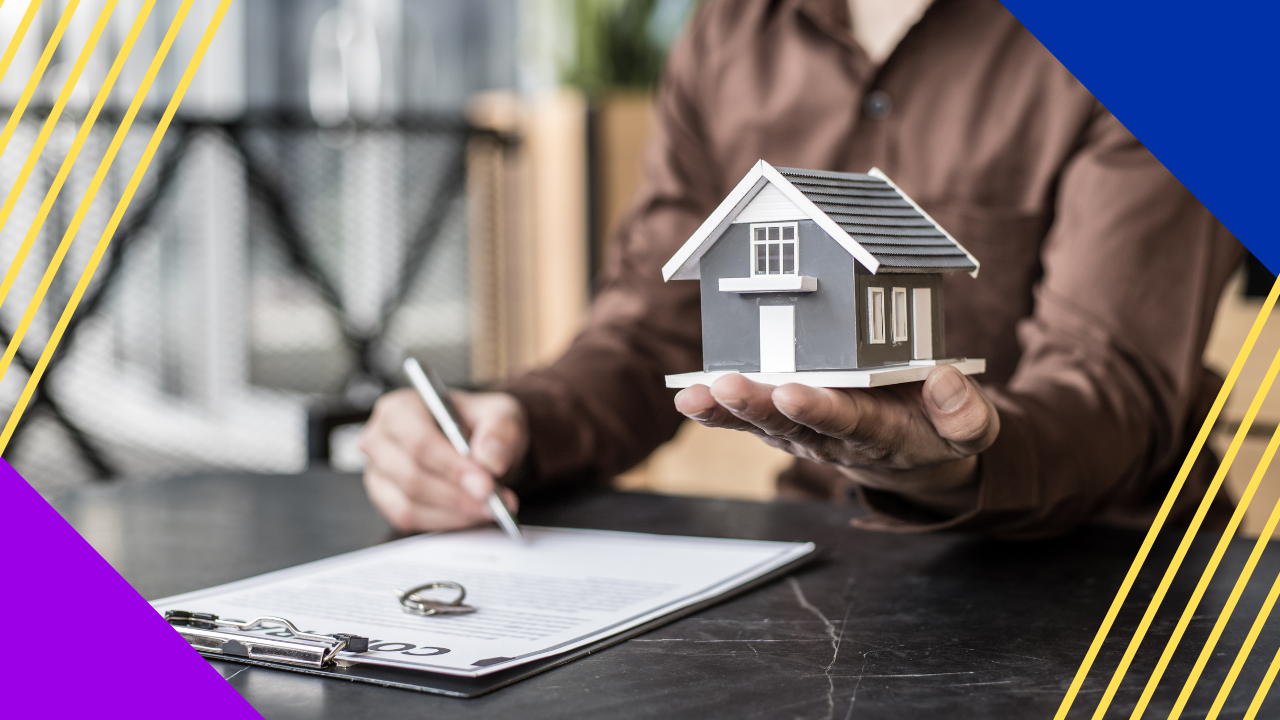 Gone are the days of handing out pamphlets introducing a land, house, and lot for sale. People are still doing the traditional way, but many home buyers are now searching the internet for their dream house. 
As the world gets more digital, the real estate sector is no exception to adapting to the rising trends. To remain competitive, real estate firms must build a strong online presence, and real estate SEO is one of the most efficient property introduction methods. 
This article discusses real estate SEO and examines eight efficient ways a real estate business can achieve its marketing goals.
We'll cover everything you need to know about real estate SEO, from keyword research — to optimizing website structure for quality real estate content.
What is real estate SEO?
Real estate SEO refers to optimizing a real estate website to appear higher in search engine results pages (SERPs).
By implementing numerous SEO methods, real estate experts can:
Increase the website's organic real estate search ranks

Raise the possibility of converting leads into clients 
A well-executed real estate SEO strategy can help your real estate company become a magnet for internet traffic — attracting new buyers and investors. It can also greatly support you in promoting your listings, expertise, and services as a real estate agent.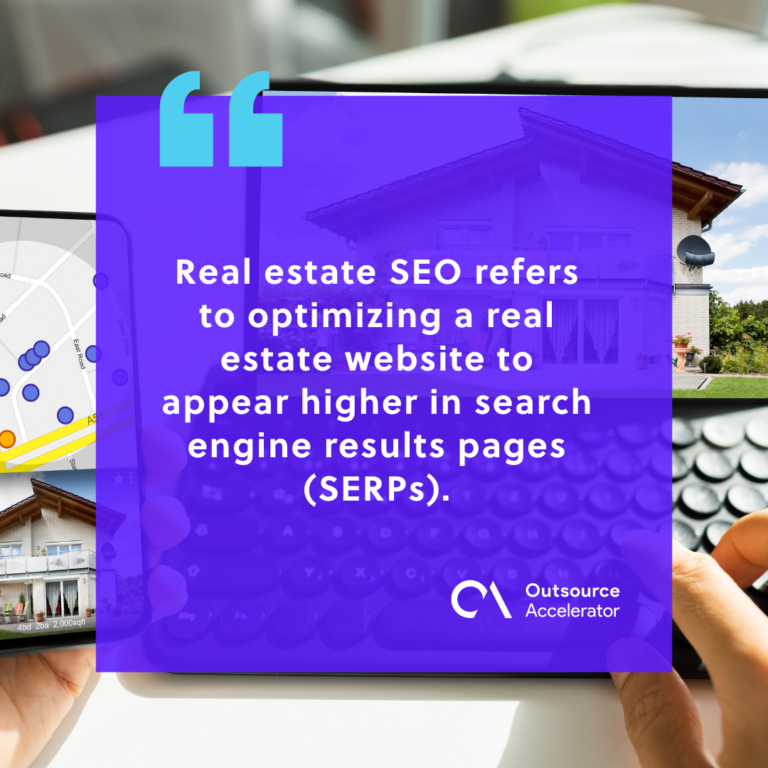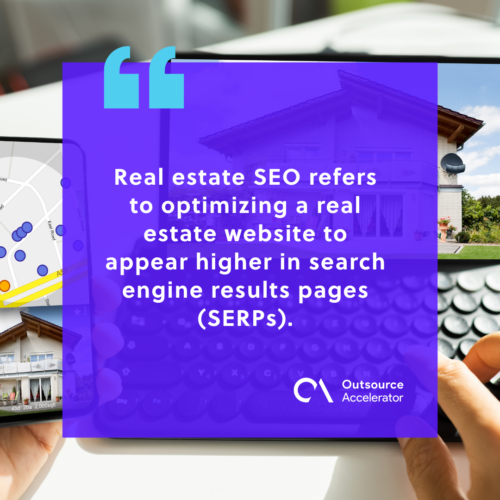 Key components of real estate SEO
To effectively utilize real estate SEO, it is essential to understand its two key components: 
On-page optimization
On-page optimization is critical for real estate SEO since it entails tweaking numerous sections of your website to boost search engine rankings.
A search engine-optimized website in the real estate market will help you attract more potential home buyers and sellers. On-page optimization also establishes a brand as a credible and trustworthy source of information.
This SEO component may boost your website's search engine results and attract more visitors by:
Developing engaging meta tags and descriptions

Doing rigorous keyword research

Providing high-quality content that entices the target audience
On-page optimization has the following sub-components:
Meta tags and descriptions
Meta tags and descriptions are HTML tags that provide search engines with information about the content of a web page. Writing appealing meta tags and descriptions is especially crucial in real estate. 
As for real estate SEO, this component may help a homebuyer easily search for information about your property.
For example, you can use the following meta tags on your real estate website when you write a blog post about the real property you are selling:
House for sale

Housing investment

House for rent

Property leasing

Land leasing
Keyword optimization
Keyword optimization or keyword research involves studying, evaluating, and choosing the best keywords. This targets and attracts qualified visitors to your website from search engines.
Keyword optimization is essential for real estate SEO since it assists search engines in determining the relevance and context of your web pages.
Quality content
Quality content creation is needed for real estate SEO to be effective, high-quality, useful, and interesting. Crafting compelling content can also help you build your reputation as a reliable source of information in the real estate market.
Off-page optimization
Off-page optimization is critical for real estate SEO since it focuses on actions outside your website. This type of SEO optimization can increase your exposure and authority in search engines.
Here are the two sub-components of off-page optimization:
Link building
This is a good real estate SEO optimization since establishing your website as a local authority through link development can boost your website's exposure to other link builders.
Link builders from other real estate companies may reach out and offer to link your content to their page, and vice versa. It's a win-win situation because you might draw a competitor audience to visit your site.
Social media engagement
This is a component of off-page optimization. Active participation on social media platforms is essential for real estate SEO since it may help you gather followers on your page.
Social media engagements can also enhance conversion rates and encourage others to promote your real estate business.
8 ways real estate SEO drives more traffic and sales
Now that we have covered the key components of SEO, let's explore eight effective ways real estate SEO can drive more traffic and sales to your business.
1. Enhanced search engine rankings
Improved search engine results are essential for real estate agents since they raise exposure and organic traffic.
Enhanced search engine rankings put you at the top of search engine results pages. This can positively influence your ability to attract customers in the competitive real estate market.
2. Mobile optimization
Mobile optimization is critical for real estate business owners because many consumers access the internet via smartphones.
Real estate SEO helps create the best user experience by improving the website's page loading speed. Mobile users are likelier to stay on a website that is simple to use and delivers a consistent user experience.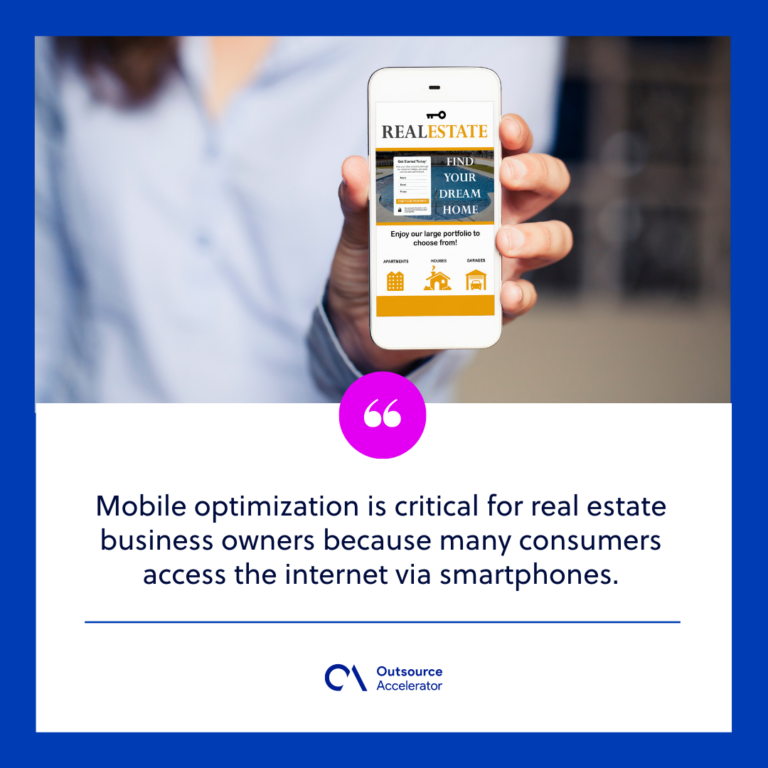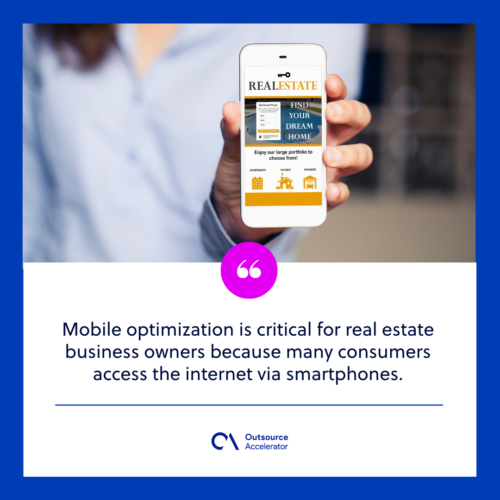 3. Link building
Real estate agents should prioritize link building since it may greatly increase the authority and relevance of their website.
As noted earlier, having backlinks from reputable sources helps boost your website's position in search engine results, increasing its exposure to prospective buyers.
While backlinks are helpful, not all of them are of high quality. Poor quality links to your site might hurt its visibility in search results. This can also make your content questionable. 
That's why in real estate SEO, gathering high-quality backlinks from authoritative websites in the real estate industry is essential. 
Here are some of the reputable real estate sites that produces quality content, according to Investopedia:
Zillow

Realtor.com

Trulia

Foreclosire.com

Apartments.com

FSBO.com

Homes for Heroes
4. High-quality content creation
A good real estate SEO approach offers excellent material that caters to the requirements and interests of the target audience.
Remember that search engines like Google prefer websites that provide important, consistent, plagiarized-free, and interesting material.

5. Targeted keyword research
Real estate professionals must do targeted keyword research to determine the search words and phrases potential clients use to find real estate services. You may carefully include those keywords in your website's text, meta tags, and descriptions. 
However, while this is helpful, employing too many keywords to trick search engine ranks, known as keyword stuffing, can also affect your content. This lowers your website's search engine results.
Concentrating on adding keywords in a natural and purposeful method that benefits your potential clients is crucial.
Being mindful of this real estate SEO consideration may increase the exposure of your website and draw in highly targeted visitors, ultimately resulting in more conversions and sales.
6. Local SEO
Real estate professionals need local SEO since it allows them to target potential clients in their neighborhoods. This also increases your website's exposure in search results and entices potential buyers to click for more information.
Real estate SEO can be more effective if a content creator specializing in real estate uses location-based keywords. 
For instance, you can use a keyword with your selling location: real estate property in (Australia, Singapore, or Philippines). This way, home buyers searching for land or a house in a specific area can easily see results on your blog page. 
7. Virtual assistant support
Virtual Assistants (VAs) can be useful in real estate SEO as they have the ability to help real estate agents optimize their online presence.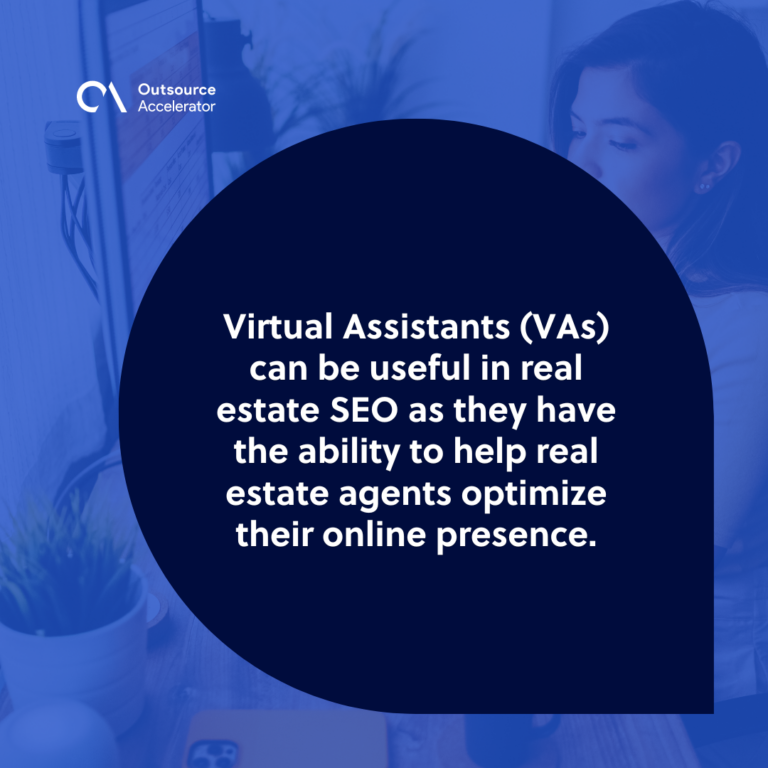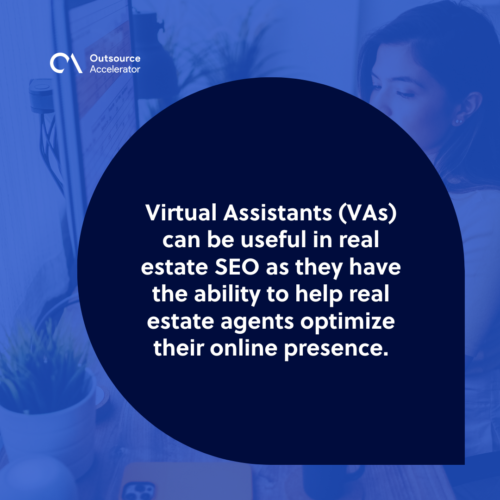 Here are some ways that VA may help:
Content creation
Virtual assistants may assist real estate agents in creating high-quality material. Skilled VAs can be hired as content writers to produce articles or listicles for the real estate market.
Real estate VAs can also do:
Keyword research on behalf of the agent

Develop interesting, educational, and SEO-friendly blog entries

Write property descriptions

Manage social media updates
Social media management 
Virtual assistants may create and schedule postings on sites like Facebook, Instagram, Twitter, and LinkedIn about the property on sale. They may also interact with followers, answer comments and messages, and promote listings and information from the agency.
Analytics and reporting
Virtual assistants may monitor website analytics with web analytics systems like Google Analytics to help real estate agents make data-driven decisions.
VAs can also aid a real estate business in finding areas for improvement and fine-tuning their SEO tactics by examining these reports.
8. Leverage online directories and google my business
Real estate SEO specialists leverage directories like Google My Business (GMB) to manage and improve business profiles.
GMB is a useful tool for real estate brokers since it allows them to do the following:
Improve local internet presence

Give correct company information

Use customer feedback

Integrate real estate business branches with Google Maps

Obtain insights into user interactions
Mastering real estate SEO boosts your online visibility
Buyers typically start with a general search before narrowing their search to a specific location. As such, real estate agents need to produce more content to get the attention of potential clients.
Learning how to optimize your real estate website for search engines can help you reach a wider audience online.
When done right, real estate SEO will help establish your brand as an expert in the real estate business.