4 challenges of real estate offshoring and ways to overcome them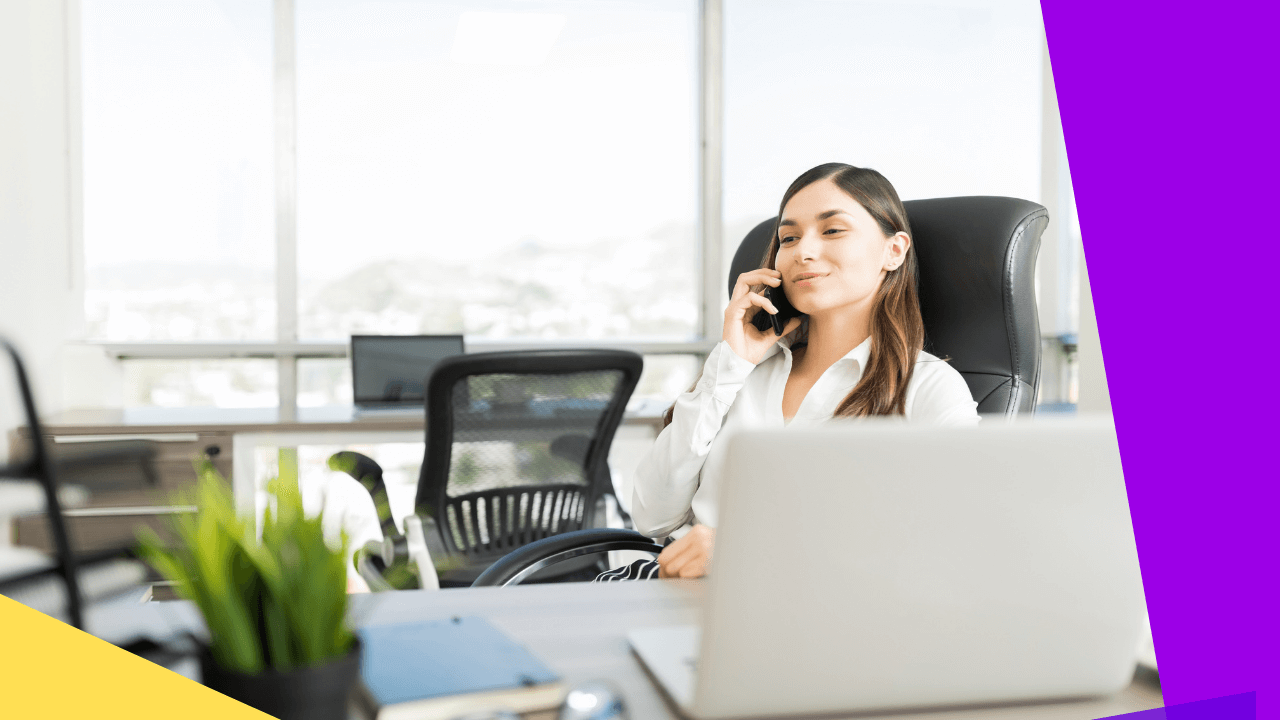 Over the recent years, the pandemic has fueled the demand for outsourcing services as organizations fully embrace this business model. For one, the real estate sector has been greatly benefiting from today's era of remote workers, virtual assistants, and offshore teams. 
As reported by Global Newswire, the industry is expected to grow to $3741.06 billion in 2022 from $3386.11 billion the previous year. The real estate industry was able to navigate through the impacts of the COVID-19 by adapting to new work models and offshoring. 
Despite real estate offshoring being a valuable strategic practice, it can introduce a few challenges. So, how do you get around them? 
What is real estate offshoring? 
Real estate offshoring refers to the practice of hiring a remote team or an overseas team member to handle specific tasks that support daily operations. This allows real estate professionals more time to focus on their core business.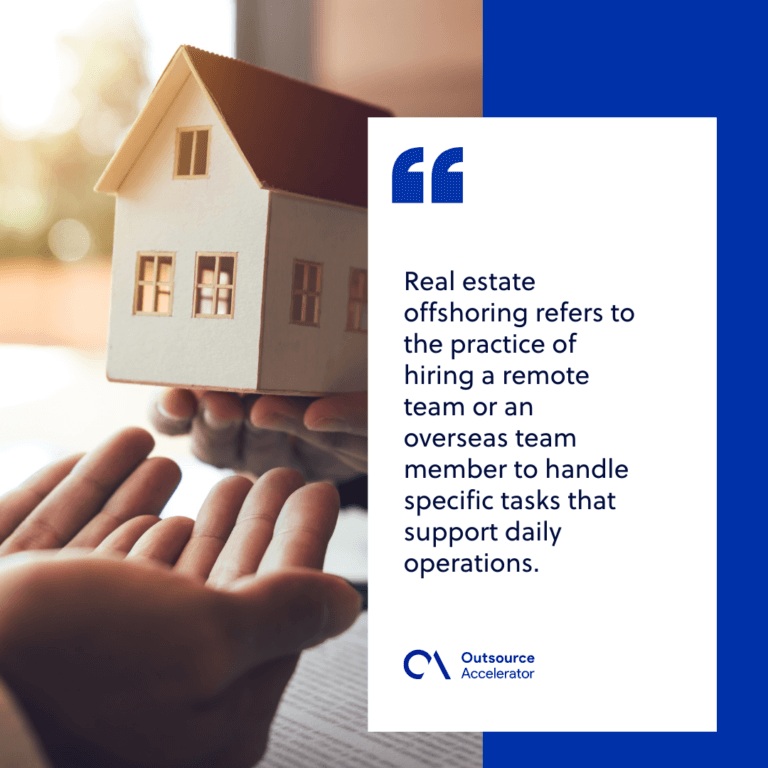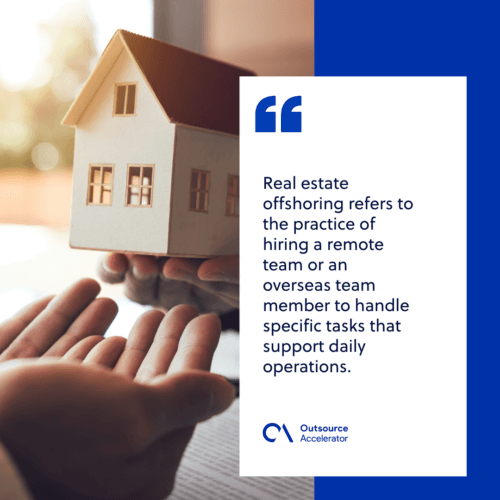 Real estate offshoring: What tasks can you offshore?
Offshoring providers connect businesses with skilled and well-trained overseas personnel who can handle a series of tasks provided by the clients. Examples of real estate services that can be offshored are marketing, sales support, accounts, and property management.  
Moreover, an excellent offshoring company like MVP Asia Pacific has all the right resources to serve their clients more efficiently. Besides employing quality talents, MVP Asia Pacific also invests in high-end infrastructure and the latest technologies. 
Here are the three of the most commonly offshored services, which are also offered by MVP Asia Pacific: 
Paperwork management 
Paperwork management is a kind of repetitive and time-consuming task. Instead of hiring in-house staff, real-estate professionals can effectively record, process, and track important documents with the help of an offshore team. All these tasks can be conducted at a much cheaper cost whilst saving your in-house team valuable time. 
Listing updates 
Real estate listing is another laborious but essential task that should be done by the right experts. Offshoring the task of listing updates to dedicated remote staff enables real estate professionals to better allocate their time to more important work. At the same time, it helps improve the entire organization's productivity. 
Market research
Trusty real estate offshoring companies have robust market research plans that can help clients take a step further from their competition. 
MVP Asia Pacific, for example, offers market research strategies that are tailored according to their clients' needs. Its teams of real estate offshoring experts ensure valuable results that will help enhance the clients' profitability and market share.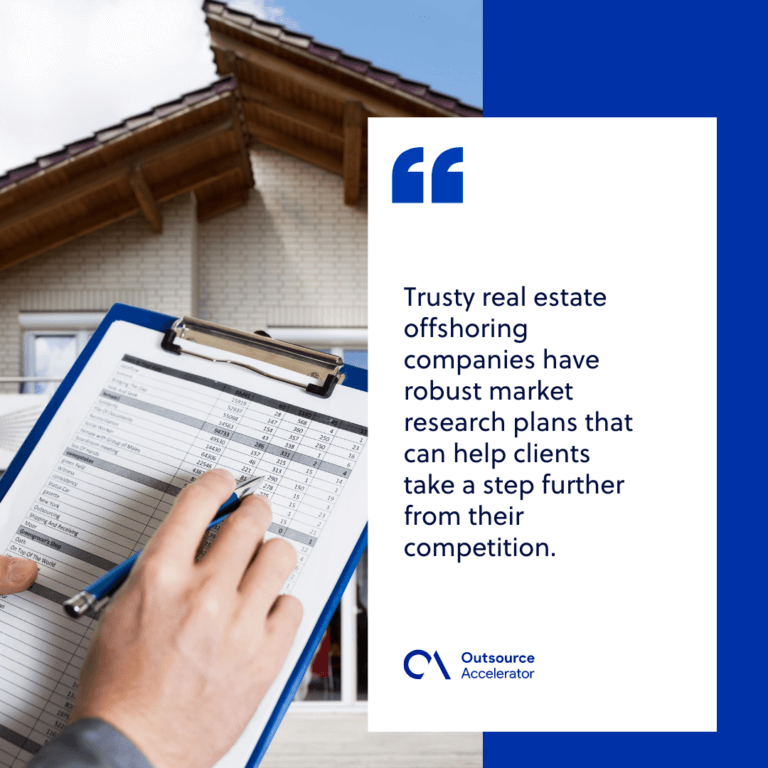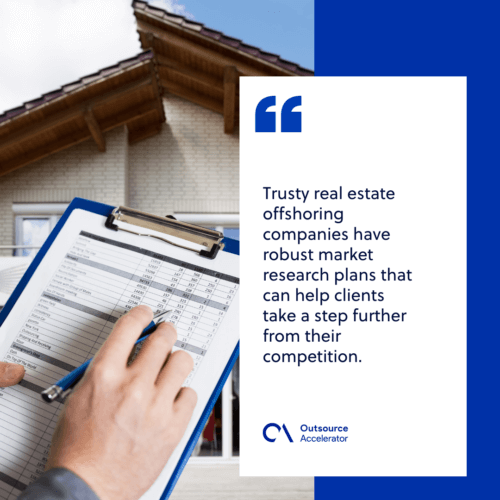 4 challenges of real estate offshoring and how to overcome them 
Whilst offshoring has many benefits, such as increased productivity and reduced costs, there are some potential challenges. Businesses interested in offshoring should be aware of these challenges to identify ways to avoid and manage them.
Poor project management 
Miscommunication can lead to confusion and mistakes. Especially when dealing with specific projects, in some cases, it can be unclear who has the authority to make decisions. 
Proper and constant communication is a must. For this reason, it's essential to have a reliable communication program and structure with your offshore teams. On top of that, before starting a project, it should be clear to the offshore staff who they should go to for approvals and decision-making. 
Vague project directions 
Unclear information about tasks, projects, and processes can result in misguided offshore teams. This can hinder the performance of offshore members, which in turn can result in a poorly executed project. 
As we have mentioned, proper communication is always the key to a successful offshoring venture. Clients should provide transparency and clear guidelines on all tasks and projects.  
Unrealistic expectations
Unrealistic expectations often result in disappointments. For example, when a client sets an unworkable timeline for completing tasks, offshore staff and in-house may end up missing deadlines. 
Real estate organizations should also consider the amount of time offshore teams would need to accomplish their tasks. For instance, market research is an activity involving an in-depth study and should therefore be given ample time for completion.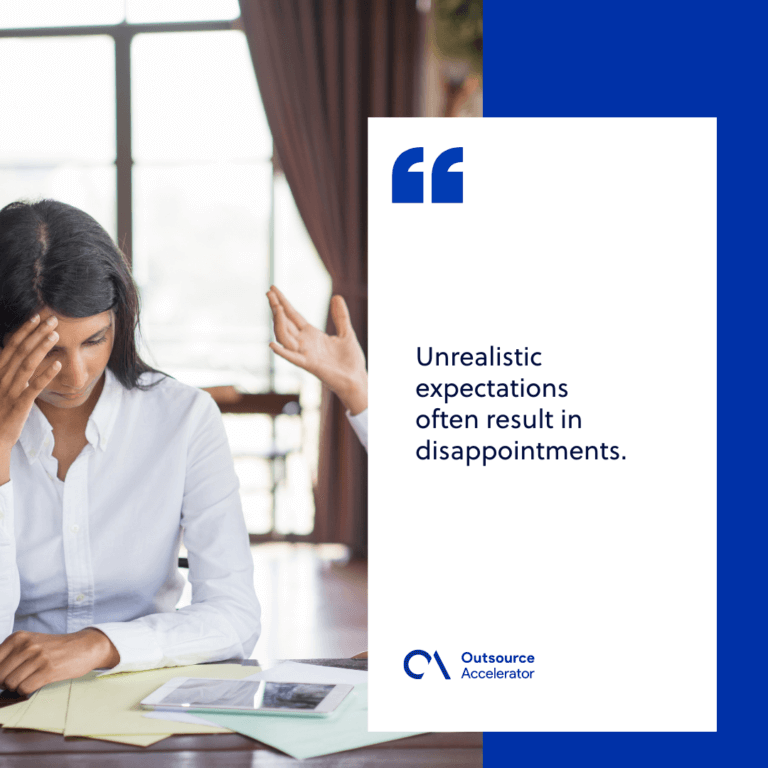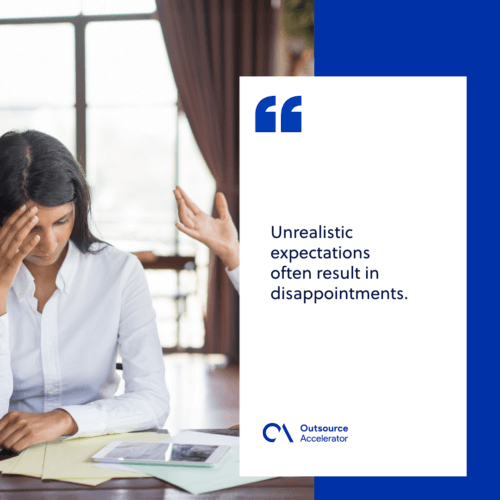 Cultural differences
Cultural differences come about with almost all offshoring as remote teams come from different countries. For real estate firms looking to offshore, cultural differences should always be considered in terms of communication, legalities, and regulations . 
It is always best for real estate firms to look for an offshoring provider that shares the same work ethic, vision, and goals. 
MVP Asia Pacific's real estate offshoring services to the rescue! 
MVP Asia Pacific provides real estate offshoring experts who can cater to firms of all sizes, from startups to small and medium-scale enterprises and large corporations. Hire seasoned remote workers to help you scale your business faster! 
Contact MVP Asia Pacific today to know more about this amazing opportunity!