How a real estate consultant drives success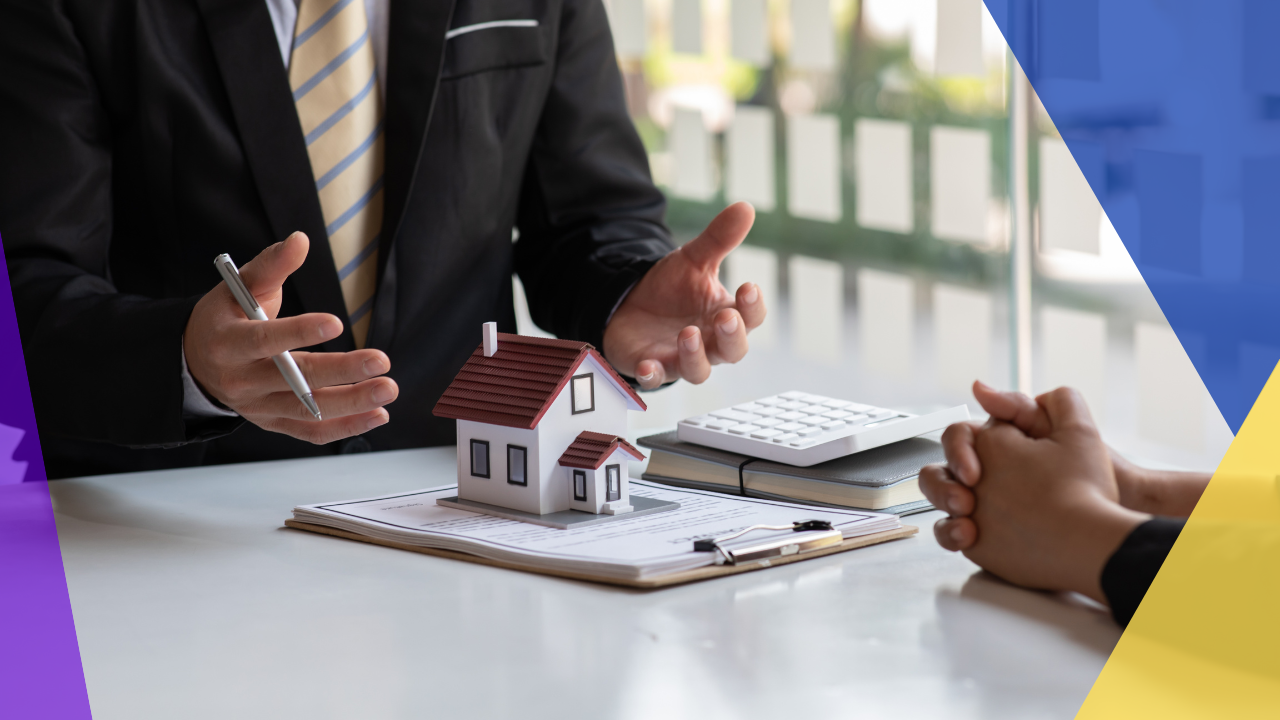 Every decision in the real estate industry carries the weight of substantial financial implications. 
This is why the guidance of a real estate consultant emerges as an invaluable asset. 
Beyond the roles of buying and selling, these professionals bring a wealth of expert knowledge and strategic insight to the table. They navigate the complexities of market trends, investment strategies, and property analysis. 
Outsourcing a real estate consultant empowers your organization to explore the property landscape with confidence and intelligence. 
What is a real estate consultant? 
A real estate consultant provides expert advice and recommendations to clients in the real estate industry. 
Real estate consultants offer specialized knowledge and insights to help people make informed decisions about real estate transactions. They present to clients solutions that align with their property goals. 
They do this using their deep understanding of the following:

Market trends

Economic factors

Property valuation methods

Industry dynamics
Real estate consultants do not typically participate directly in the buying or selling process, which is the domain of agents.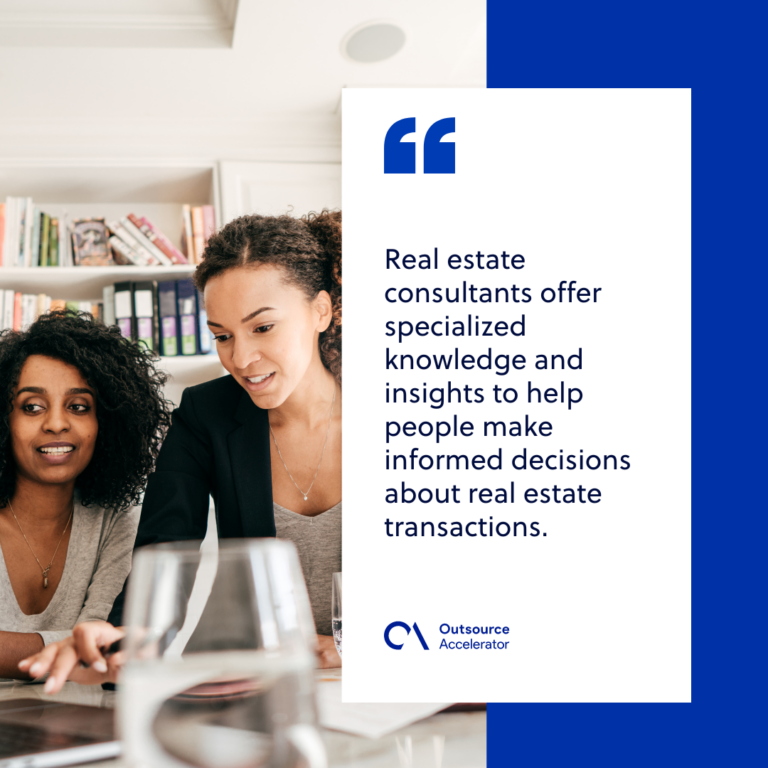 What does a real estate consultant do?
A real estate agent performs various tasks and services to clients in the real estate industry. Here are some common activities that a real estate consultant may engage in: 
Market research 
A real estate consultant conducts extensive market research to gather data and analyze market trends. They assess factors like:
Property prices 

Demand and supply dynamics

Rental rates 

Overall economic conditions
Property analysis
A real estate consultant evaluates properties and provides insights on their value, appreciation potential, and associated risks. 
They analyze various aspects like:

Location

Amenities

Property condition

Comparable sales in the area
Investment analysis
Consultants assess the financial feasibility of clients looking to invest in real estate. They analyze the following to help clients make sound investment decisions: 
Investment returns

Cash flow projections 

Financing options

Potential risks 
Development consulting
Real estate consultants assist clients with property development. They can provide advice on the following aspects for specific types of developments: 
Land acquisition

Project planning

Design considerations

Zoning regulations

Market demand
Market forecasting
A real estate consultant can predict future market conditions by analyzing market trends and indicators. They provide insights into factors that may impact property values, rental rates, or demand for specific property types. 
Negotiation support
While real estate consultants typically don't participate directly in negotiations, they may provide guidance and support. 
They can help evaluate offers, analyze contract terms, and provide recommendations to help clients secure favorable deals. 
Due diligence
Real estate consultants conduct thorough due diligence on behalf of their clients. They ensure that all necessary checks and investigations are done before a real estate transaction is completed. 
This may include legal, financial, and technical assessments of properties. 
Real estate consultant vs. Real estate agent
The roles of a real estate consultant and a real estate agent complement each other in their industry. 
In general, the key differences lie in their role and focus. Real estate consultants offer high-level insights, while real estate agents cater to the clients' transactional needs. 
Here is a summary of how they differ: 
Real estate consultant
Real estate agent

Role and focus

Provides specialized advice and expertise about various aspects of real estate

Primarily facilitates property transactions between buyers and sellers

Expertise

Have a broad and deep knowledge of the real estate industry, often with advanced qualifications

Knowledgeable about local property markets, pricing trends, and the specifics of property transactions

Scope and services

Offers the following:

Market research

Feasibility studies 

Investment planning 

Property valuation

Portfolio management 

Strategic planning

Assist clients with the following tasks:

Property searches

Property showings

Negotiations

Paperwork

Closing processes

Client type

Work with those looking for strategic advice to optimize their real estate assets and investments

Work with those seeking to acquire or dispose of properties
Types of real estate consulting
Real estate consulting encompasses a range of services aimed at assisting clients in making informed decisions related to property investment, development, and management. 
Here are some common types of real estate consulting:
Property development
Real estate consultants guide clients through the entire development process, from concept to completion. 
Consultants that specialize in property development may have the following duties:

Identify and assess development opportunities

Determine feasibility 

Develop project plans and budgets 

Secure financing 

Manage the construction process 
Residential clients
Residential consulting is a specialized branch of real estate consulting. It focuses on assisting individuals or families with their residential real estate needs. 
Whether buying, selling, or investing in residential properties, these consultants provide expert guidance and support throughout the entire process. 
Residential real estate consultants may advise on property valuation, investment strategies, mortgage options, and legal considerations. 
Investors 
This type of real estate consulting provides advice to investors. Consultants give valuable insights and expertise to help investors evaluate opportunities and maximize returns on their real estate investments. 
Firm consulting
Firm consulting focuses on offering comprehensive advisory services to real estate firms and businesses. The role of a real estate consultant here is to assist these organizations in:
Optimizing operations

Enhancing profitability

Making strategic decisions
Firm consultants work closely with real estate companies to identify areas for improvement, develop tailored strategies, and implement effective solutions. 
Benefits of a real estate consultant
Hiring a real estate consultant can provide several benefits for individuals involved in real estate transactions. 
Here are some advantages of working with a real estate consultant:
Expertise and market knowledge 
Real estate consultants bring specialized knowledge of the real estate market and trends. Their expertise and market knowledge can help clients make well-informed property purchases and sales decisions.  
Objective advice 
A real estate consultant provides unbiased and objective advice to clients. While real estate agents may be vested in closing a deal, consultants are focused on giving impartial guidance. 
They prioritize their client's interests and offer recommendations that align with their needs and goals.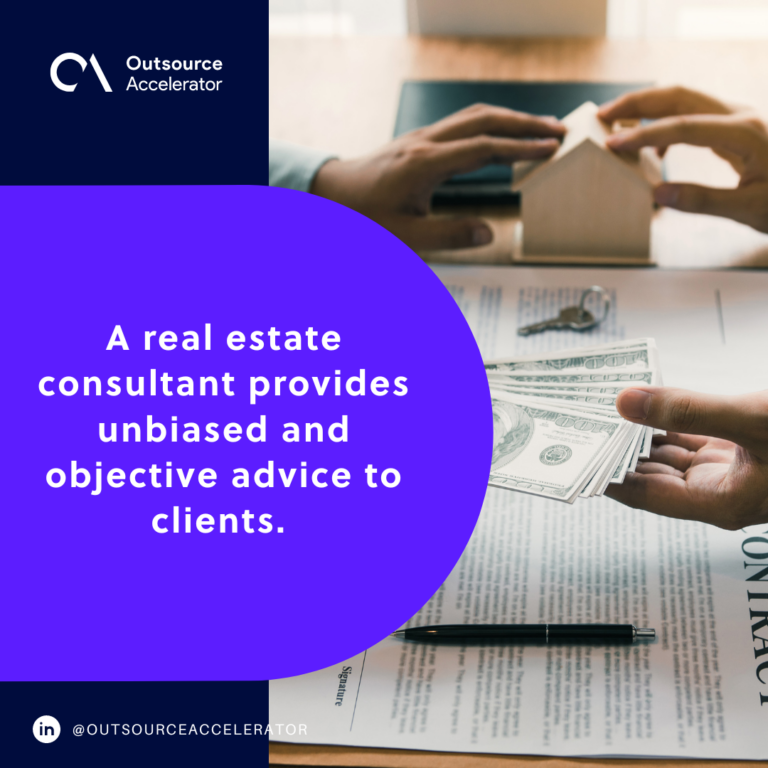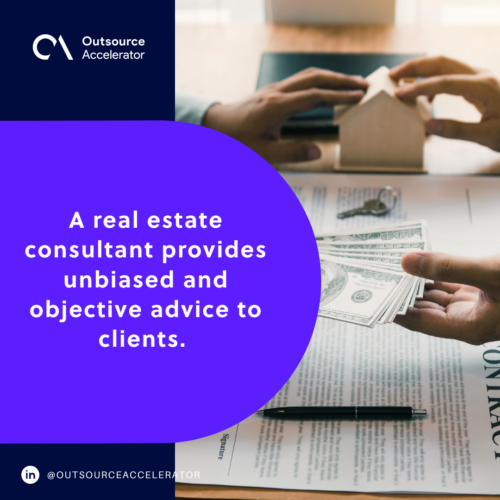 Risk mitigation
Real estate consultants help clients identify potential risks and challenges associated with a property or investment opportunity. They assess legal and financial aspects to minimize the risk of unexpected issues arising in the future. 
Strategic planning 
Real estate consultants support clients in developing strategic plans for their real estate portfolios. 
They can provide guidance on the following:

Portfolio diversification 

Investment strategies

Property management strategies
All of these are conducted to help clients optimize their investment returns.