Building a real estate business: All you need to know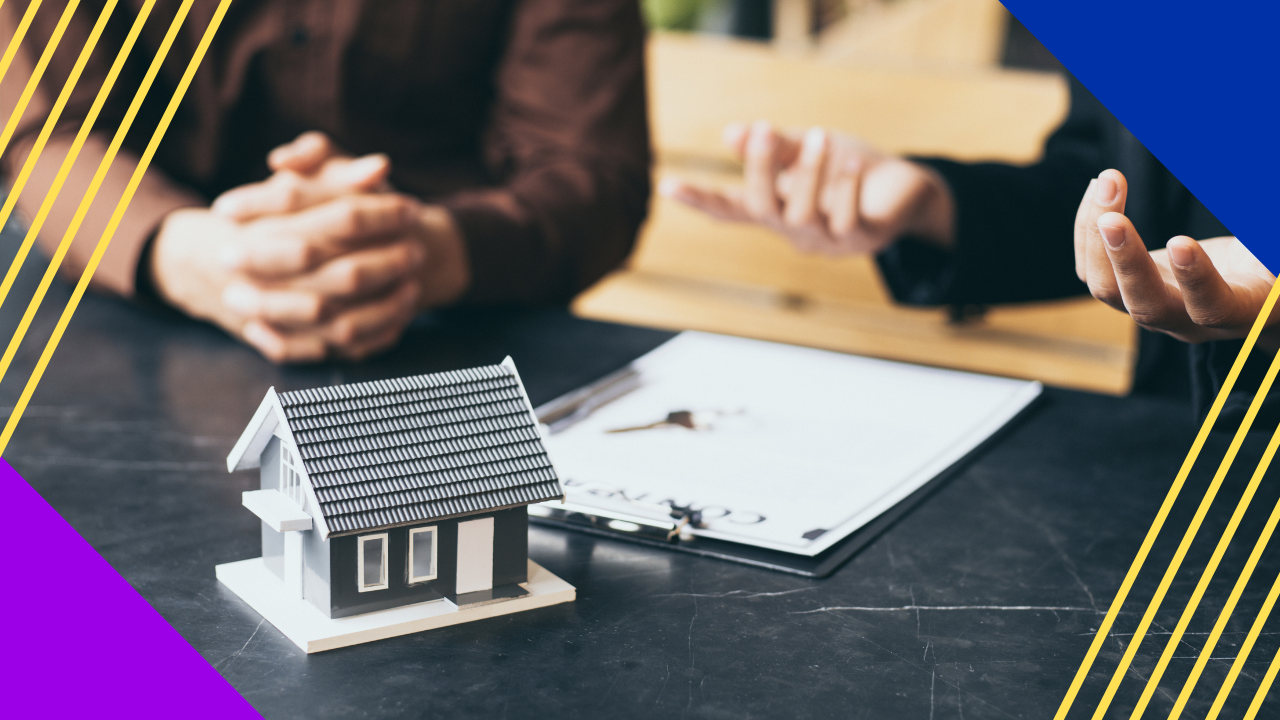 With the increasing number of tourists, expats, immigrants, and investment opportunities, the real estate industry is becoming a thriving and robust industry. 
The real estate landscape is also a critical driver of the economy. For example, the Australian real estate sector generated $50.8 billion in revenues in 2021.
It's not a steady market, and there may be challenges with increased interest rates and expensive properties. But despite this, the Australian real estate market has exhibited extraordinary resiliency.
In connection, "Australia is probably the most popular in the property management space. So [are] investment management of residential properties, shops, commercial, that type of thing," Stephen Atcheler mentioned, CEO of ShoreAgents, at the 436th episode of the Outsource Accelerator podcast. 
"We do real estate businesses, we started with me in traditional kind of offices in Australia," ShoreAgents also offers virtual real estate assistance and outsourcing services.
Further, here's everything you need to know before delving into the real estate sector. 
What is a real estate business?
A real estate business is a company that deals with purchasing, selling, managing, or investing in real estate.
Building a real estate business is challenging, but with the appropriate planning and "finding productivity tools that are going to help manage [the] team," the effort will be worth it.
It's important to use updated real estate tools that may make operations quicker and more efficient.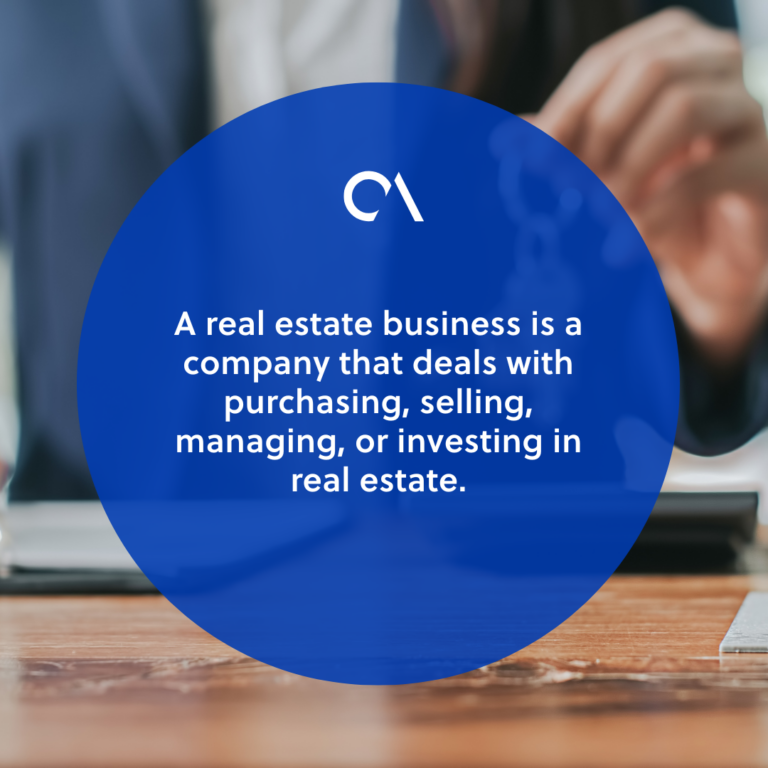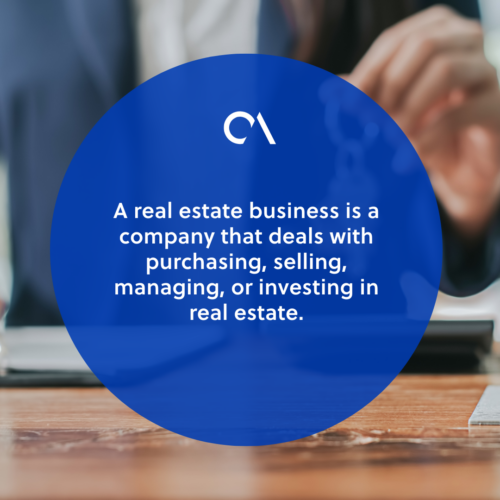 4 types of real estate
According to The Balance article, real estate refers to property, land, buildings, air rights above the land, and subsurface rights below the ground.
Real estate includes real property, which includes everything permanently linked to the land. It differs from personal properties, such as automobiles, jewelry, and agricultural equipment.
To explain further, here are the four types of real estate properties:
1. Residential real estate
Residential real estate encompasses both new and resale residences, and single-family homes are the most popular ones.
Other residential properties include the following: 
Condominiums

Co-ops

Townhouses

Triple deckers

High-value homes

Vacation

Multi-generational homes
2. Commercial real estate
This type of real estate includes offices, hotels, retail malls, shops, and medical and educational facilities. Although apartments should be considered as residential, they are sometimes seen as commercial since they are owned to generate income.
3. Industrial real estate
Industrial real estate properties can be used for various purposes, including manufacturing, distribution, and storage of commodities.
However, as mentioned, structures used to distribute commodities and generate income are regarded as commercial real estate.
4. Land real estate
This type of real estate can be divided into subcategories such as undeveloped, early development, or subdivisions.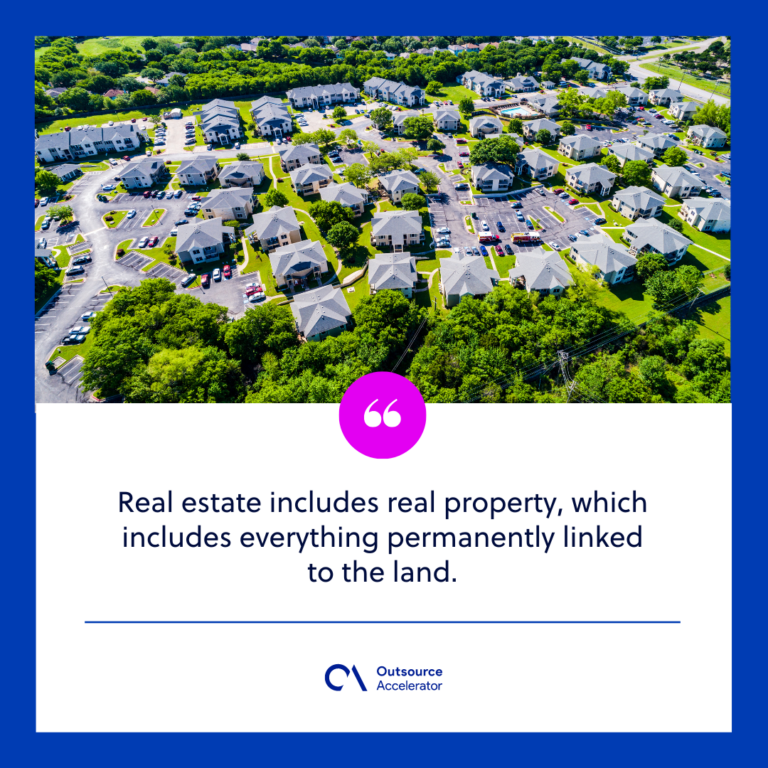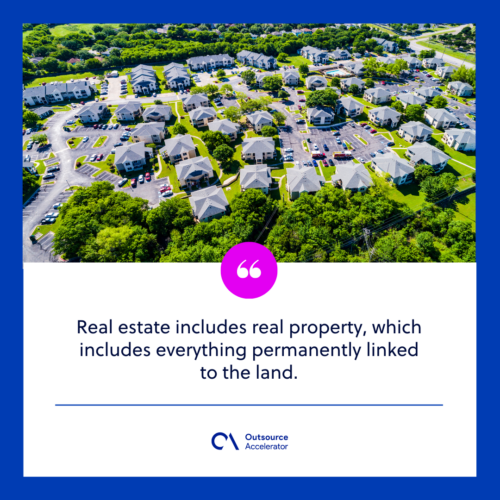 How does the real estate business work?
As mentioned earlier, starting a real estate business takes a lot of work. But "whether it be residential real estate, property management, it doesn't really matter, it's all the same, you've got to be ready," Stephen noted.
"You got to understand what your requirements are, what your responsibilities are, [and] how to manage your team," the ShoreAgents CEO added.
Moreover, the following are the six areas of real estate business in which it operates: 
Development
This type of real estate includes purchasing raw property, rezoning, building construction and refurbishment, and selling or leasing the final product to end users. 
Developers benefit by increasing the property's value by developing or improving it, rezoning, and taking the risk of financing a project.
Development companies develop a new product, referred to as the "primary market," or the production of new inventory.
Sales and marketing
Sales and marketing organizations assist developers in selling the structures and apartments they construct.
As a real estate business, the ShoreAgents CEO noted that they "generally deal with the business owners that have teams of salespeople."
In return, a real estate business is compensated for developing all marketing materials and utilizing salespeople to sell the inventory of completed units.
Brokerage
A real estate brokerage is a company that employs a team of real estate agents or realtors to help arrange property transactions between buyers and sellers.
Property management
Property management firms aid building owners in renting out their apartments. Their responsibilities include:
Collecting rent

Exhibiting flats

Repairing flaws

Supervising tenants
In addition, property owners are charged a fee — often a percentage of the rent.
Professional services
Here are the following professionals who offer services in the real estate sector and contribute to its success:
Accountants

Attorneys

Interior designers

Stagers

General contractors

Construction workers

Craftsmen
Other real estate agents also handle "legal documentation software for the transaction of properties."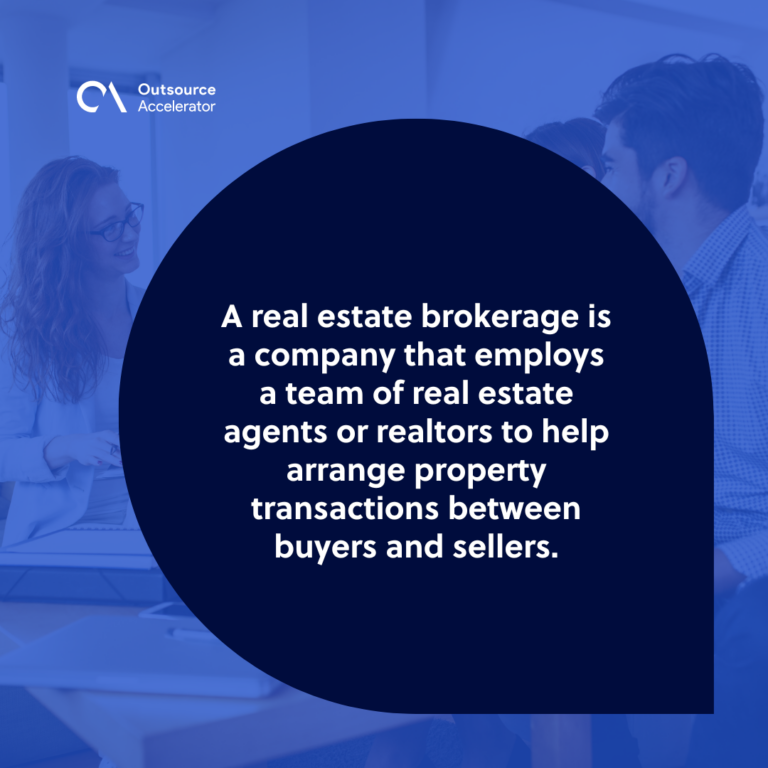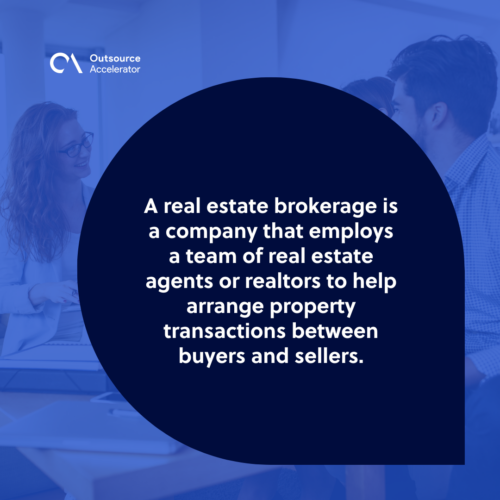 Outsourcing in the real estate industry
Stephen is convinced that outsourcing in the real estate industry is "going to become more and more popular that almost every real estate business will have a global team."
An appropriate approach to company planning and having the right team "[who's] a little more green to the real estate industry itself," will help you get started on the right foot. 
Additionally, keeping your team motivated in building a real estate business can help you reach your life objectives and secure your financial future.
If you want to know more about how starting a real estate business can help you succeed, connect with Stephen Atcheler on LinkedIn.
Or head over to their official website and listen to episode 436 of the OA podcast here.