Quiet constraint: What is it and how it affects workplaces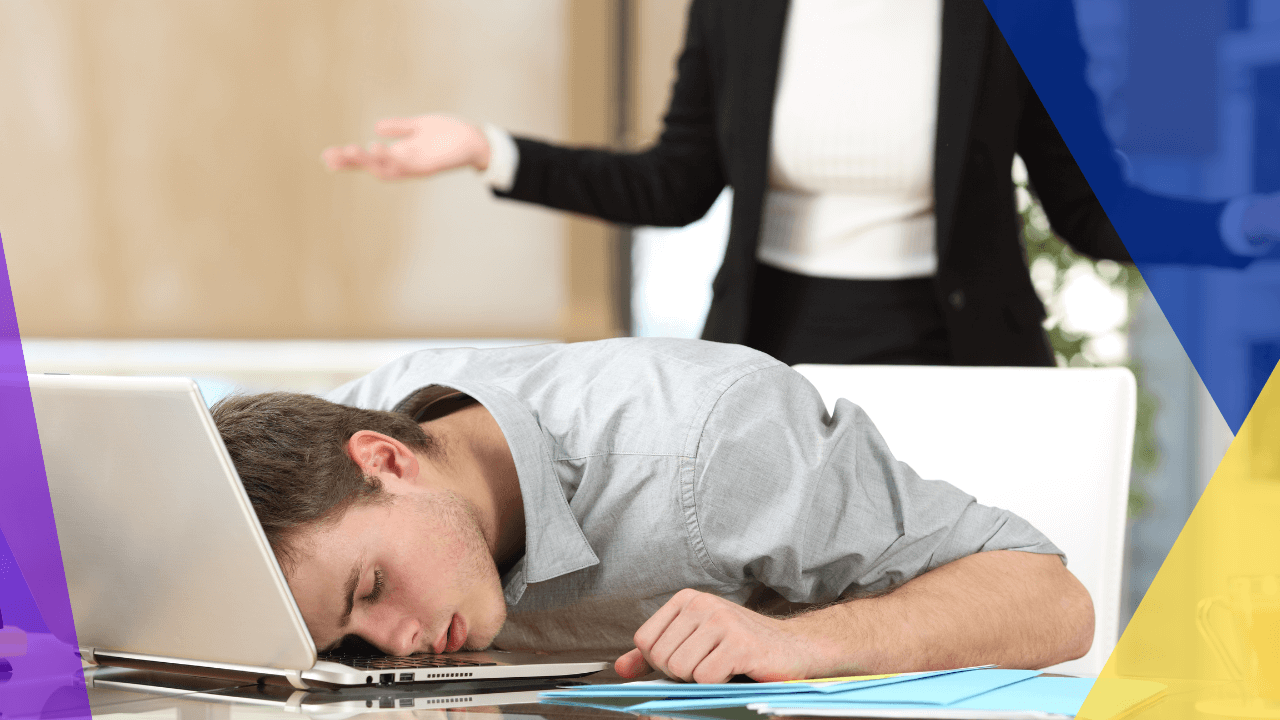 The business world has recently been overtaken by a trend called "quiet quitting," which happens among – particularly, younger employees.
Quiet quitting is a term used to describe employees who do just the bare minimum at their jobs or just enough not to get fired.
Even with the trend still fresh in the minds of managers and employers, yet another one has been identified by researchers.
Quiet constraint.
Like the earlier trend, quiet constraint may have been only recently branded as such, but it's an already existing practice.
Read on below to learn more about this workplace phenomenon, what causes it, and how you can deal with it.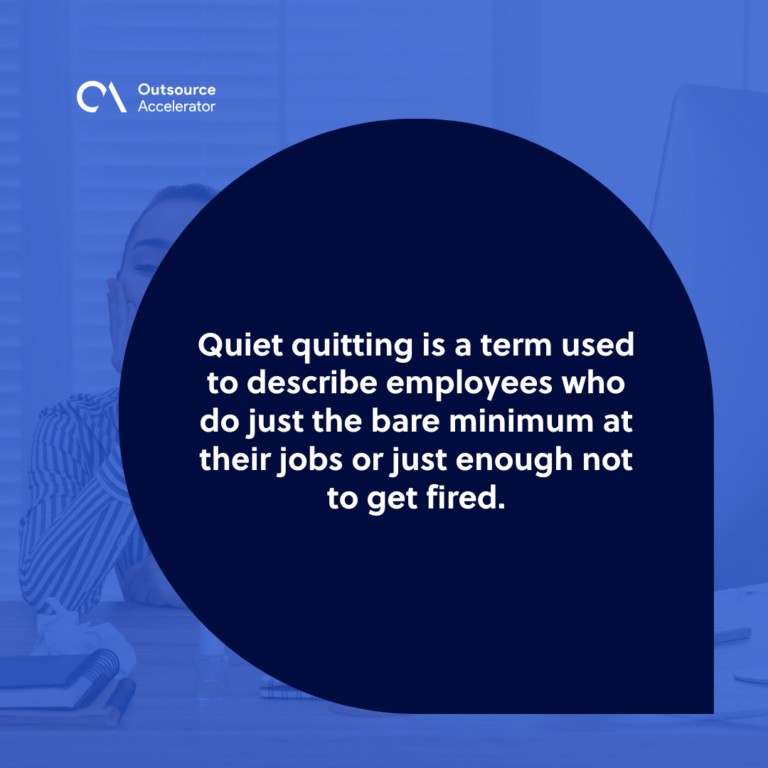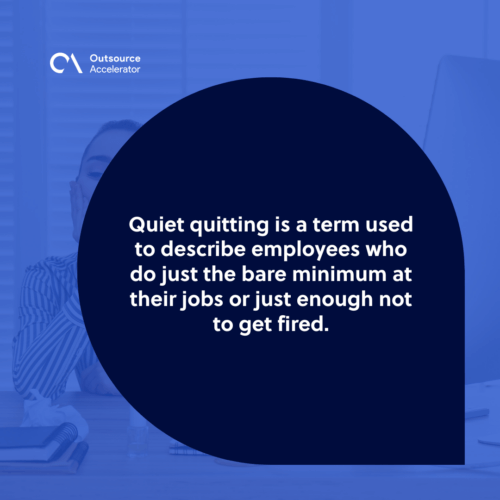 What is quiet constraint?
The term quiet constraint refers to the practice of withholding – potentially – valuable information from coworkers or supervisors.
An example of quiet constraint in the workplace is when an employee refrains from sharing a more efficient way of executing certain tasks from their team.
This behavior is different from employees being naturally introverted or aloof.
With quiet constraint, employees are intentionally not sharing information even if they feel that what they know is valuable or may be beneficial to their work or colleagues.
A study conducted by Kahoot!, a global learning platform company, revealed some interesting statistics about the quiet constraint phenomenon:
Over half of all workers (58%) hold back potentially helpful information in the workplace.

Men are more likely to withhold work-related information than women (63% vs 57%) and are more likely to do it more often (27% vs 16%).

Gen Z workers

[1]

(defined by Pew Research as people born between 1997 to 2012) are the most likely to be guilty of quiet constraint (77%).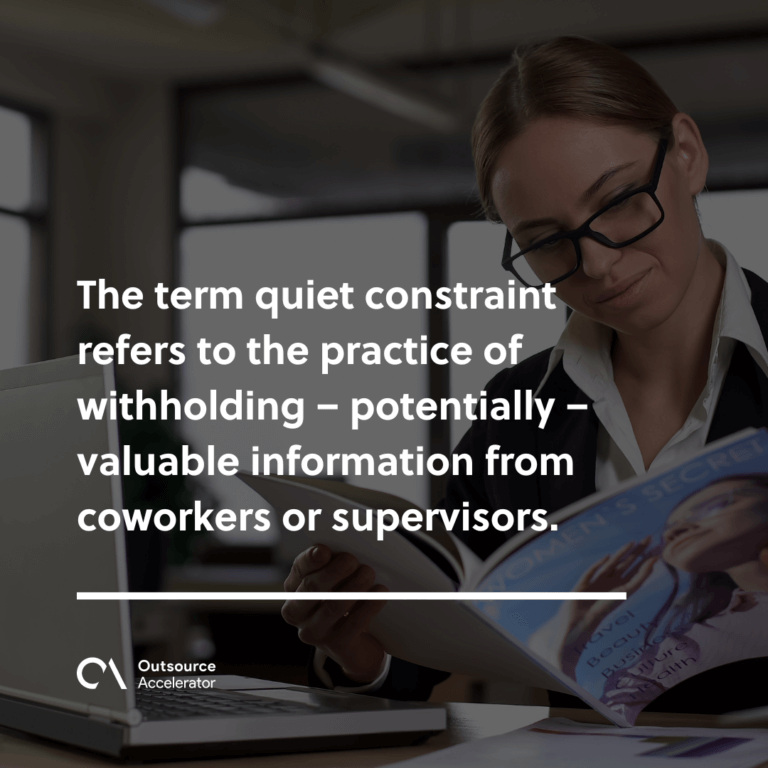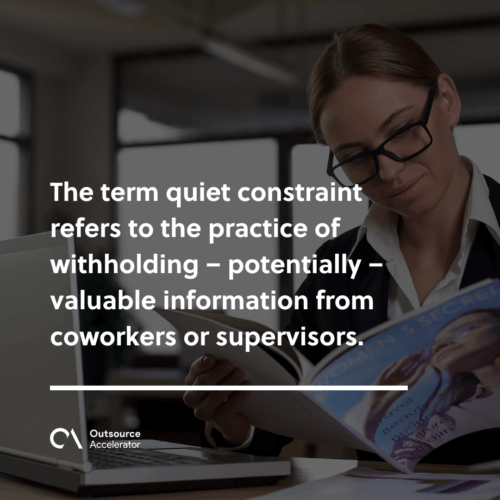 What causes quiet constraint?
There are many reasons why employees may exhibit quiet constraints in their workplace behavior.
Kahoot!'s study was conducted across the US using firms with more than 250 employees. The results reveal that 26% of employees who reported practicing quiet constraint do so because they have no proper channels of communication in the workplace.
The same study shows that, given a proper and engaging way of sharing knowledge, more than three-quarters (76%) of employees will do so.
Some of the reasons may point to problems in two-way communication between employees and management. This is exemplified by 23% of the respondents reporting they don't share knowledge simply because they weren't asked.
Work satisfaction may also play a role in this trend, as 26% of the study's participants feel that their work stifles their talent and self-expression.[2]
Lack of employee engagement – which leads to poor communication – is another factor that contributes to quiet constraint among employees.

Kahoot!'s research showed that a whopping 87% of workers experience boredom at work, mainly due to virtual meetings and online training.
Gen Zs top this list again, with 29% of employees from the age cohort admitting they mentally check out during virtual meetings.
The respondents explained the reason for this is primarily because the meetings are taking too long and they feel disconnected from their coworkers.
How quiet constraint affects the workplace
Quiet constraint can lead to potential complications in the workplace.
John Coleman, a workplace culture expert, remarks that the practice can quickly become "toxic" and "incredibly corrosive" to workplace cultures.
Amy Morin, a Florida-based psychotherapist and host of "The Verywell Mind" podcast, posits that "individuals may start to compete rather than cooperate."
Remote setups, in particular, can be negatively affected by quiet constraints as this type of behavior can sabotage the communication flow of a team.
Productivity and overall efficiency are also put on the line.
When one team member knows a more effective way of executing tasks (e.g., knows a more effective software the team can use) but purposefully neglects to share this information, the entire team is effectively robbed of the opportunity to become more efficient.
Dealing with quiet constraint
Most of the reasons why employees engage in quiet constraint behavior can be chalked up to a lack of work engagement.
As such, improving employee engagement in the workplace can significantly help combat this trend.
Fortunately for employers, this may not present much of a challenge as employees are already willing to re-engage.
In the same report by Kahoot!, 47% of employees shared that they're willing to take a cut in their wages in exchange for more engagement.
In fact, 35% of hybrid employees were willing to give up more than 10% of their salaries for more excitement in their workdays.
Gen Z employees – the generation posed to comprise 27% of the entire workforce by 2025 – listed actions that may help employers regain employee engagement.
59% said that a bit of friendly competition in the workplace would help

51% said that brainstorming with colleagues can foster more engagement and help them be more "present"

38% said bringing in richer and more interactive media is the key
References
[1] Gen Z workers. Gaidhani, S. et al. (2019). "Understanding the attitude of generation z towards workplace." International Journal of Management, Technology, and Engineering. Available at: https://www.researchgate.net/publication/331346456_UNDERSTANDING_THE_ATTITUDE_OF_GENERATION_Z_TOWARDS_WORKPLACE
[2] self-expression. Sklar, M. & DeLong, M. (2012). "Punk dress in the workplace: Aesthetic expression and accommodation." Clothing and Textiles Research Journal, 30(4). https://doi.org/10.1177/0887302X12467848