What does a property management virtual assistant do?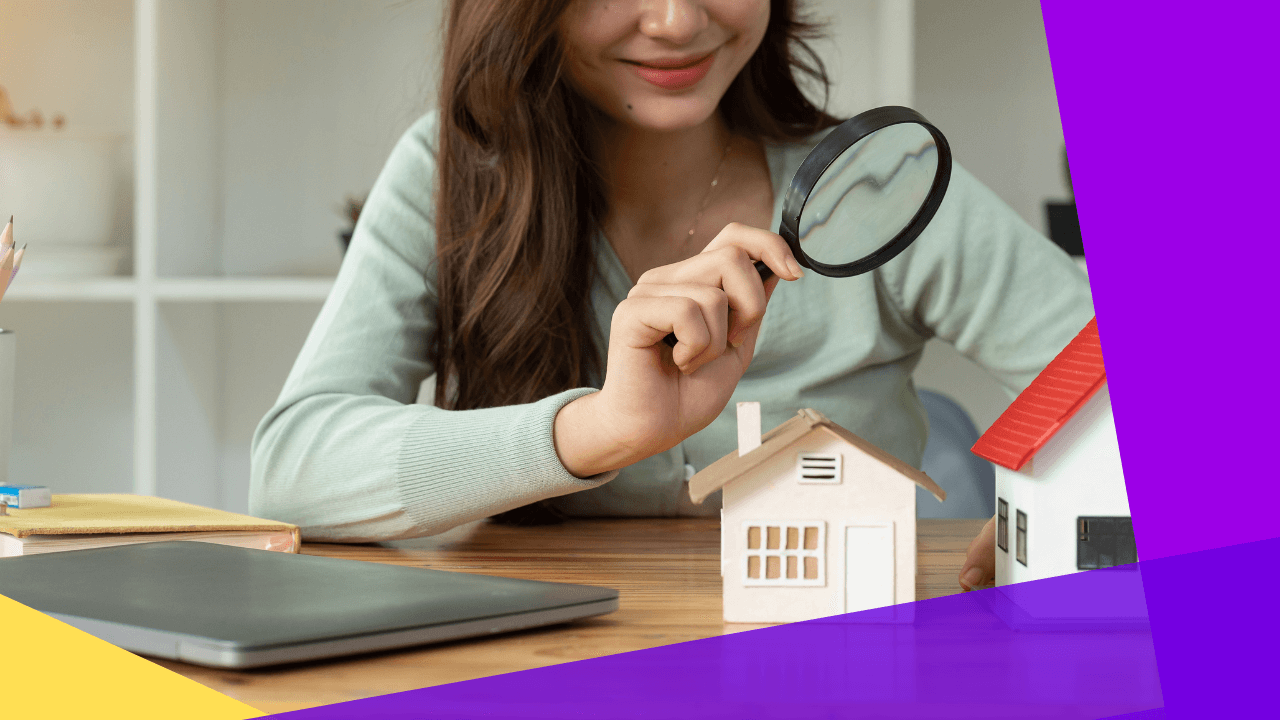 In today's fast-paced environment, property management companies face numerous challenges in managing their day-to-day operations. Tons of tenant requests, maintenance schedules, rent applications, and other aspects make up their tasks.
Bad property management is a costly – and disorganized – reason why most management companies fail. Most firms can't afford to fail in terms of real estate investment.
Property management virtual assistants have emerged as a potential solution to these challenges.
What is a property management virtual assistant?
A property management virtual assistant is a specialized VA providing administrative and operational support to property managers.
Property managers handle multiple types of property, the most common ones being residential and commercial units. A property management virtual assistant's main task is to assist them in handling operations efficiently and effectively so they can focus on higher-level tasks. 
They are trained in functions essential to managing a property on a property manager's behalf. This includes tenant communication, rent collection, lease management, and property maintenance.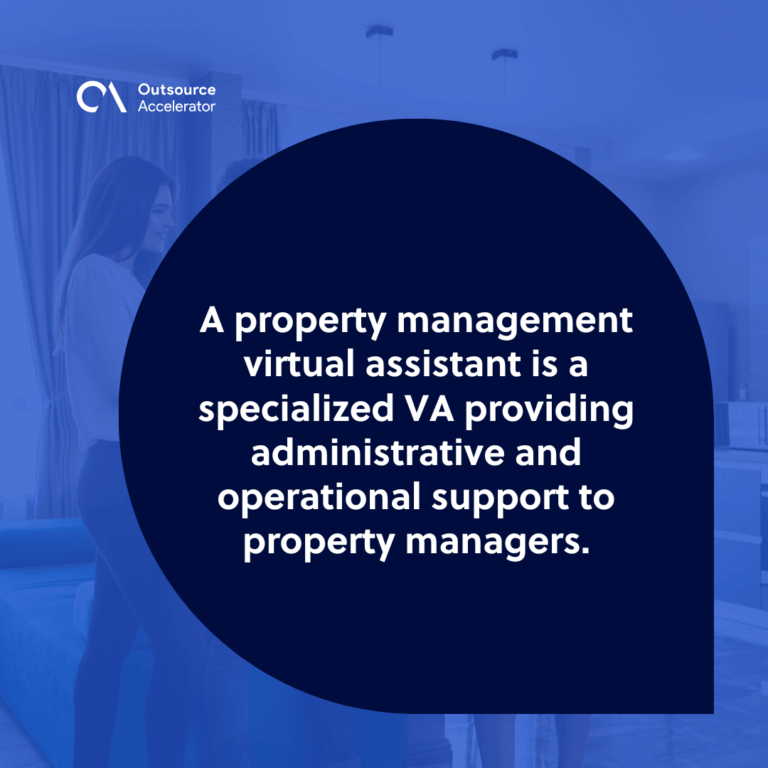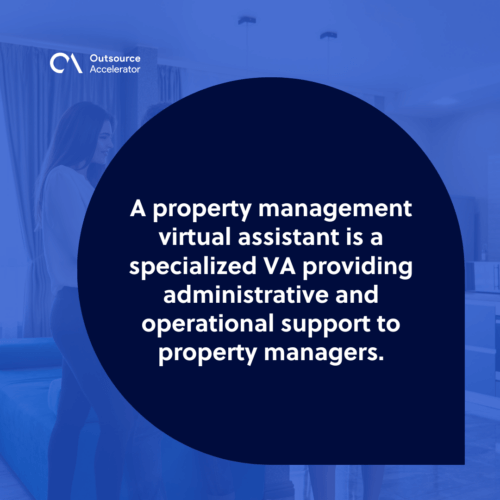 What does a property management virtual assistant do?
A property management VA handles various functions, such as the following:

Processing work orders and requests
It is natural for property managers to handle eviction notices, move-in and move-out documents, and maintenance requests daily. With this, paperwork is a crucial part of maintaining order in the properties they handle.
A property management VA is responsible for creating and receiving these papers. They can be tasked to create the necessary documents for evicting, providing maintenance, or helping tenants get cleared in and out of the units.
Setting appointments
Apart from doing paperwork, property management virtual assistants also set appointments for potential tenants, buyers, and contractors.
They usually set appointments and schedules for pest control, repairs, and utility maintenance and inform tenants about them. At the same time, they make sure the property manager's appointments and arrangements are set beforehand.
Screening tenant applications
Tenant screening is usually practiced in most developed countries, where the property manager screens potential tenants for a unit. It is one way to find the right tenants for a property to maintain its peace and order with other tenants.
The property management VA can do this on behalf of the property manager. They can conduct initial verification of their identity and credit standing and filter those that qualify to the management standards.
Managing property listings
Property management VAs are responsible for creating and managing listings for a specific property. They know how to navigate listing websites and social media platforms to look for tenants for vacant units and arrange everything as possible.
At the same time, they market these listings according to their target markets in a particular location.
Qualifications of a property management virtual assistant
A property management VA should possess specialized knowledge, skills, and experience in line with their role to become effective at work.

Education
At a minimum, a property management VA should possess a Bachelor's degree in business, sales, office administration, and other related fields.
Being a VA in property management does not usually require higher education, including a Master's degree. However, applicants looking to advance their careers in the real estate industry usually get them.
Certifications
Certifications are usually needed for property managers but not for property management virtual assistants. However, getting certified in its related fields is a huge plus for this role.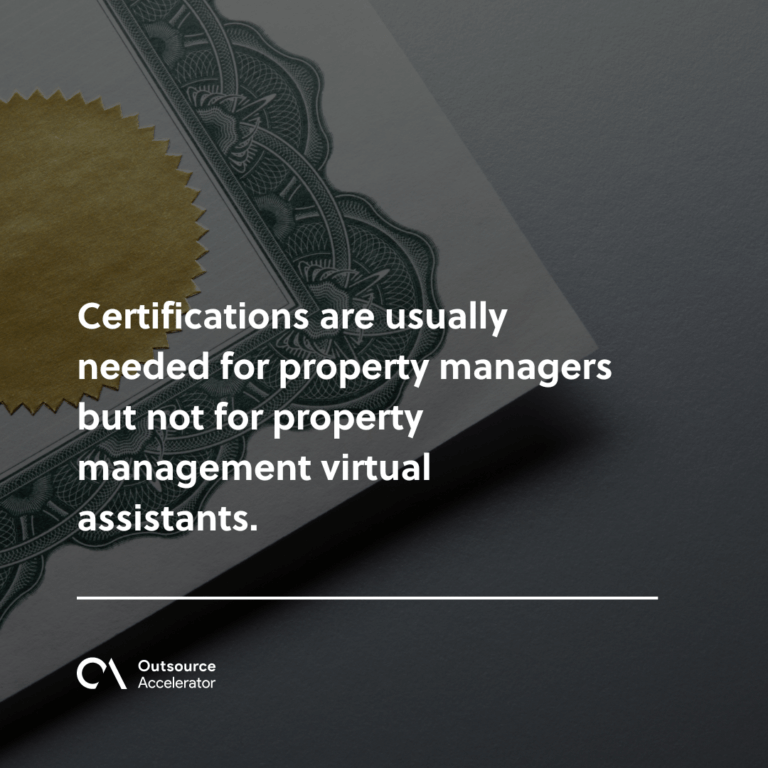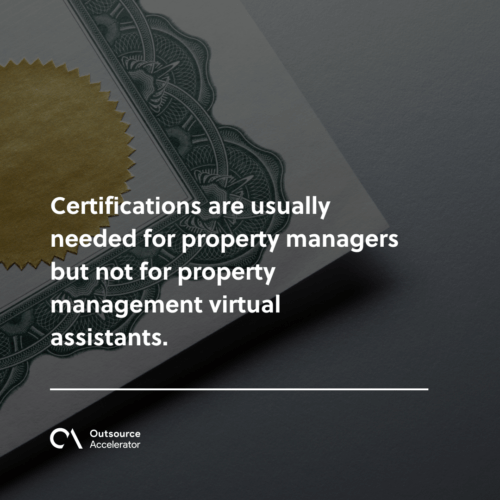 They can take some certifications to their advantage, including the following:
Certified apartment manager (CAM)
A CAM is needed for managers overseeing residential buildings with multiple units. Depending on the location, an applicant usually needs hours of education requirements and three exams to get certified.
Certified residential manager (CRM)
A CRM, meanwhile, is required for property managers overseeing multiple units in residential buildings. Being one of the highest levels of training, a CRM certification prepares them to handle all types of property management roles.
Certified property manager specialist (CPS)
A CPS usually starts with CRM and gets certified with additional education. It requires continuing education according to certification requirements indicated in a particular location.
Skills
A property management VA usually possesses the following skills for their work.
Time management skills

. With the volume of work they have, property management VAs should have excellent time management skills to accomplish their daily tasks.

Knowledge of property management software

. They should know how to navigate property management software to make their work easier.

Communication skills

. Like in other

VA roles

, property management VAs should have excellent communication skills to reach out to tenants, applicants, and their clients.



Work experience
Lastly, a property management VA should at least have a few years of experience in the real estate or property management scene. This is because they need a basic understanding of its workarounds to better assist the property manager.
Reasons to hire a property management virtual assistant
Property management can be a daunting task, especially for managers handling multiple properties in different locations. It takes time to consolidate each tenant's units, buildings, and statuses.
Hiring a property management virtual assistant eases this burden and gradually makes the process smoother in the long run.
Aside from this, here are the reasons to hire a property management VA today:
Quicker response to tenants and applicants
With their hectic workloads, property managers tend to miss out on tenant inquiries, maintenance requests, and tenant applications. 
Property management VAs can handle this, making it easier to manage conversations and paperwork.
Streamline workflows
Property managers working alone can be a recipe for disaster with unconsolidated processes and workflows. Having a VA helps them delegate their tasks and optimize their processes.
Advertise effectively
Through a property management VA, listings and properties are advertised better across multiple channels and platforms.