Brief overview of a property management assistant role
Managing properties like rental units or commercial spaces can be time-consuming and demanding. Property managers must oversee maintenance, repairs, tenant communication, and rent collection. 
If a property manager has multiple units to manage, the workload can quickly become overwhelming. Moreover, keeping track of everything will require significant time and effort.
A property management assistant can help you with everything from managing tenant relations to coordinating repairs and maintenance.
This article provides a brief overview of the duties and qualifications of a property management assistant, including why employing one can be a game-changer for your company.
What is property management?
Property management entails overseeing and managing real estate properties (residential, industrial, and commercial) day-to-day operations. A third-party contractor often performs this function. 
Property managers are responsible for the upkeep, repairs, and other routine tasks needed to maintain properties.  In a real estate setting, there are two types of property managers: 
Those who work directly with owners

Those who work directly with tenants
Property management has a broader scope than simply collecting rent checks and ensuring that renters are satisfied in their space. A property management assistant can be an excellent addition to the team for managers to do their tasks efficiently.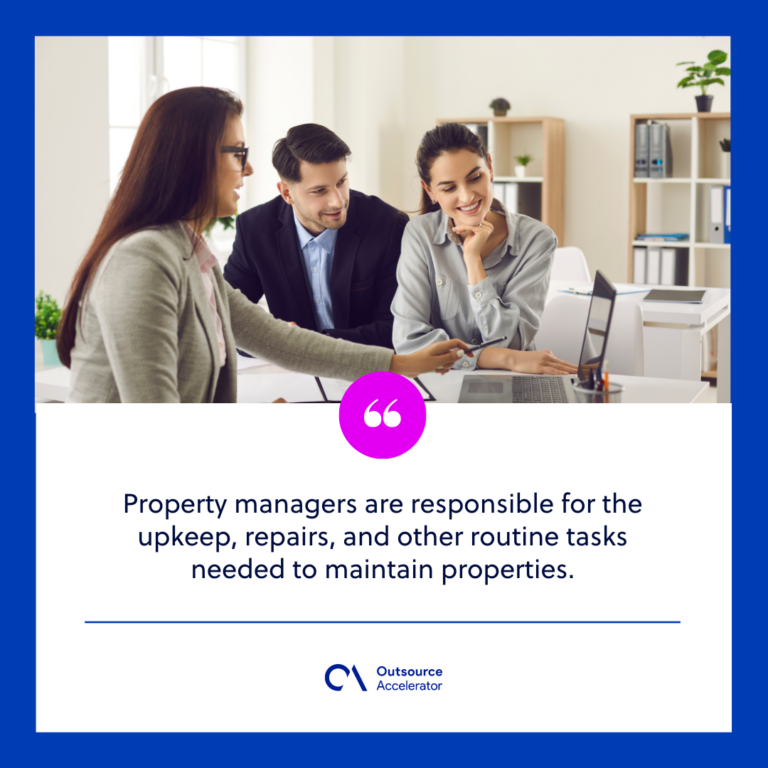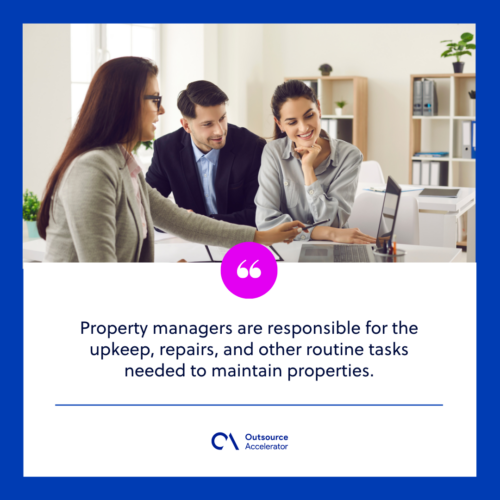 Responsibilities of a property management assistant
Property management assistants are crucial because they help guarantee that property managers are able to do their duties efficiently.
One of their primary roles is ensuring the tenants are pleased with the service they receive from a real estate company.
Below are the roles and responsibilities of a property management assistant: 
Managing tenant relations
Property management assistants set expectations with their clients. They also understand and study tenant rights and responsibilities and know how to handle tenancy issues. 
But most importantly, they ensure to develop positive relationships with tenants.
Handling tenant complaints
Managing tenant complaints is among the most significant tasks that fall within the responsibility of a property management assistant.
This chore can be difficult, but it also presents a chance for you to ensure that your firm offers outstanding customer service and solutions.
Coordinating repairs and maintenance
Coordinating repairs and maintenance are among the significant tasks performed by property management assistants. They see to it that any necessary repairs are carried out in a timely manner so that renters do not have to deal with them.
If there is a problem with the plumbing, for instance, property management assistants should be able to inform tenants about the actions being taken to solve it quickly.
Collecting rent payments
Collecting rent payments from renters falls under the obligation of a property management assistant. This may be accomplished by establishing an efficient payment tracking system.
Property management assistants are also responsible for helping tenants understand when the rent is expected to be paid. They also inform tenants how much advance notice is required if there is a problem with the payment.

Qualifications required for a property management assistant
If you are a landlord or property owner, you know that maintaining a rental property can be gratifying and demanding.
To keep things working correctly and ensure that your renters are satisfied with their stay, you must hire an experienced and qualified property management assistant.
Here are the following qualifications for a property management assistant:
Educational background and experience
The first thing you should do when looking for a skilled property management assistant is to verify that the prospective candidate has the appropriate educational background. Find someone with a business degree or a discipline closely linked to it. 
A property management assistant should understand how to operate a business and can apply their business management abilities to your rental property.
It is also essential that they have a solid understanding of the legal prerequisites for eviction, including:
Providing tenants with notice that they must pay their rent within a specified period of days or vacate the premises and find other accommodations

The act of submitting an affidavit also known as a sworn declaration — in which you outline the reasons why you wish to evict your tenant(s)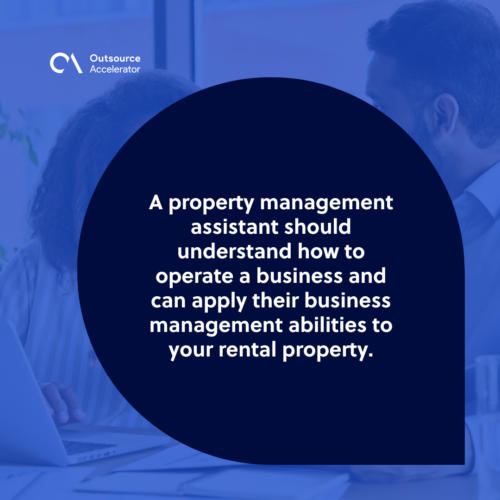 Communication and interpersonal skills
A property management assistant should know how to listen carefully and respond professionally to tenants. Effective communication should be observed when hiring one.
Organizational and time management skills
Aside from prioritizing tasks and working efficiently, a property management assistant should be able to set goals and delegate the following tasks to team members:
Scheduling meetings

Managing paperwork



Why hiring an expert property management assistant is crucial?
As a property manager, hiring an excellent property management assistant can help you increase efficiency and productivity in your rental business.
Overall, having a dedicated assistant means less risk for legal liability because they are trained to handle these rental issues professionally.