Outsourcing real estate marketing? Here's what you need to know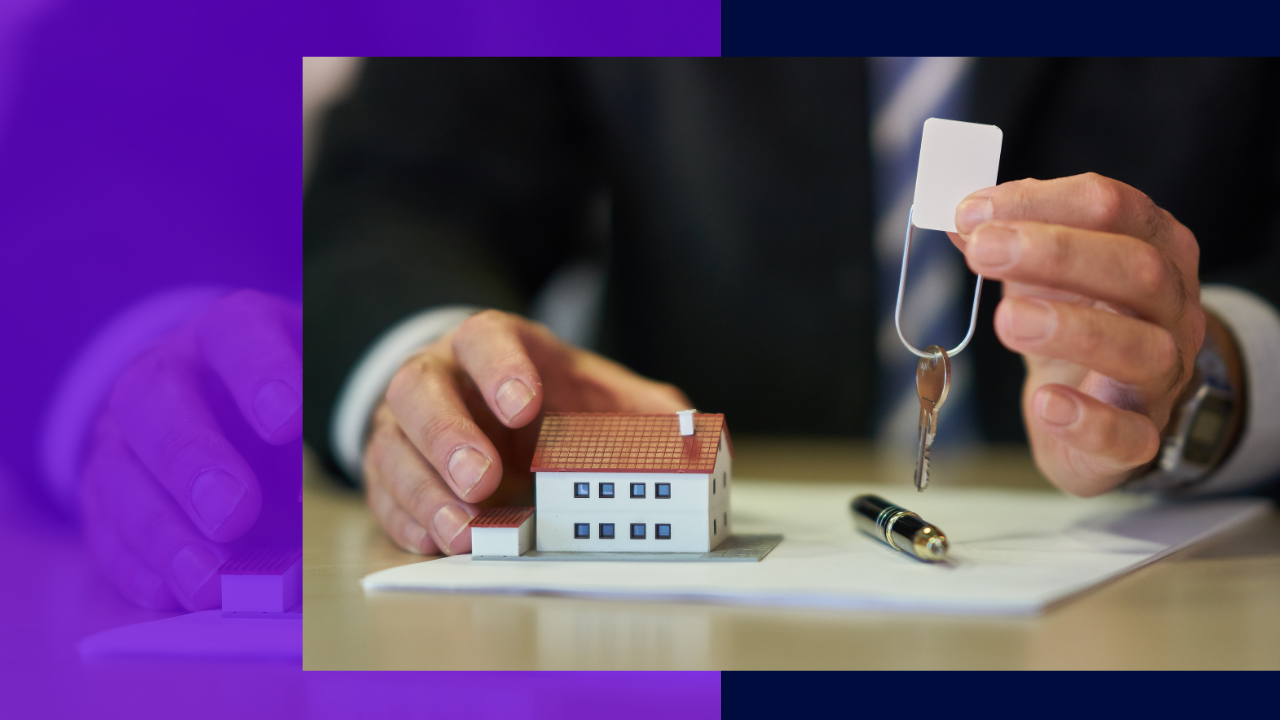 Marketing is an integral part of the real estate industry. In this line of business, not only do realtors need to know the right people – they also need the right people to know them.
In the US alone, the Association of Real Estate License Law Officials (ARELLO) estimates over three million active and licensed real estate agents. Relatedly, statistics published by the US Data Census Bureau showed over 300,000 brokerage firms in the country as early as 2017.
These figures show how tough the competition in the real estate industry is. Outsourcing real estate marketing is one way for realtors to gain an advantage over their competitors.
But how exactly would outsourcing help real estate firms? 
Benefits of outsourcing real estate marketing services
Cost savings
Outsourcing real estate marketing services provides businesses with plenty of cost-cutting opportunities. This practice allows real estate firms to save as much as 70% on employee salaries.
The living costs difference between outsourcers and the country where outsourcing firms operate allows businesses to hire skilled workers at significantly lower rates.
Additionally, firms save on overhead costs. Most business process outsourcing (BPO) companies handle the end-to-end recruitment, onboarding, and training of outsourced employees.
These service providers also have the same access to equipment and software for real estate marketing.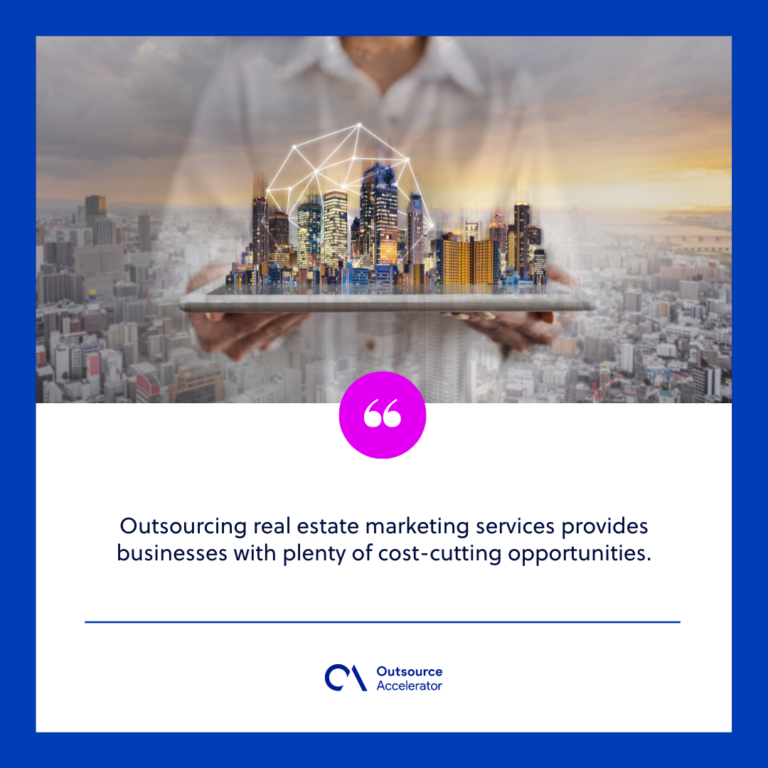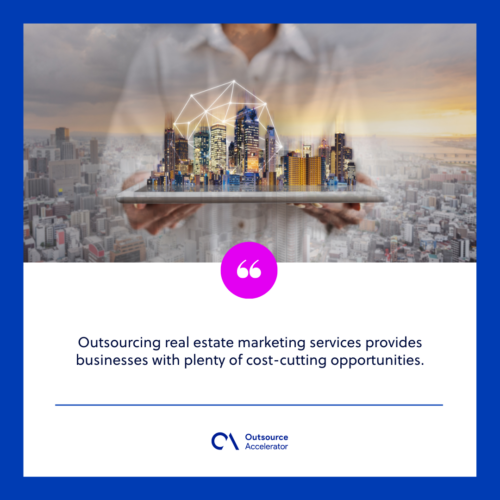 Access to specialized marketing expertise
Most BPO firms have marketing specialists with years of industry experience. Marketing trends are dynamic and fast-changing. Keeping up to date – and becoming proficient – with these trends is time-consuming and capital-intensive.
Outsourcing real estate marketing to these BPO companies businesses access to seasoned specialists for a lower price, saving them time and money.
From search engine optimization (SEO) and email marketing to social media and telemarketing, you can count on outsourced marketing experts to have the skills needed for these.
Improved market targeting and personalization
Another advantage is the access to their technologies. Often, BPO companies have specialized industry tools and software to meet their clients' needs.
In real estate, this means software tools for lead generation (e.g., Bold Leads, Zillow, and REDX), customer relationship management (CRM) software (e.g., Salesforce, Pipedrive, and Monday.com), and market data-gathering software (e.g., JotForm, AreaPulse, and Showcase IDX).
Having access to these technologies helps realtors make more effective targeted marketing. It also allows them to make their pitches more personalized, allowing them to connect with better with their clients.
Improved marketing outcomes
With access to better marketing technologies and specialists who can use these, a better marketing outcome is a foregone conclusion for companies outsourcing real estate marketing.
Through outsourcing, real estate firms will access years of marketing experience BPO companies and their experts have acquired.
They no longer have to experiment with marketing campaigns to know which ones would work – their outsourced real estate assistants already know this.
6 Types of real estate marketing services
As mentioned earlier, outsourcing gives companies access to specialized marketing expertise.
As with other marketing campaigns, investing in only one approach seldom results in success. Effective marketing entails leveraging multiple channels and platforms to reach as many of your target markets as possible.
However, it's also important to remember that more doesn't always mean better. Knowing which marketing channels work best for your company is a good way to ensure you don't waste money on fruitless campaigns.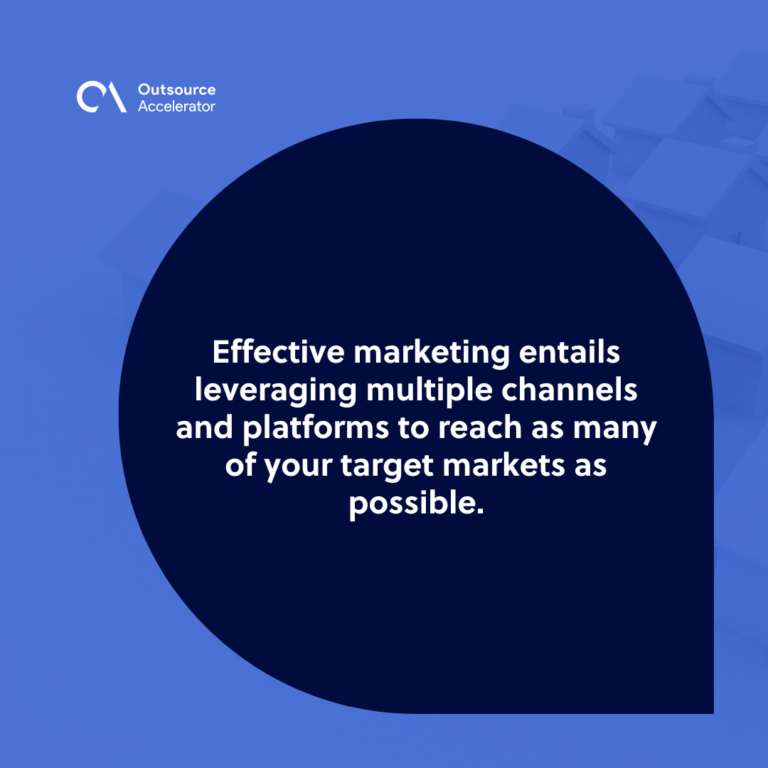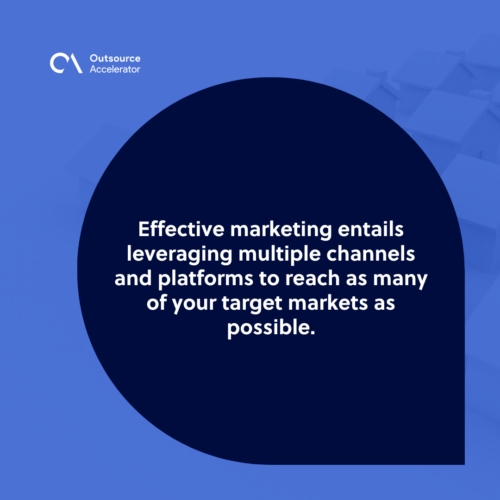 Below are some real estate marketing services companies can outsource.
Social media marketing
These days, almost all businesses have a presence on social media, and for a good reason. Social media platforms are an excellent way to improve your business's visibility.
In social media marketing, your outsourced real estate marketing assistant will run campaigns using your business's social media profile. They'll engage your audiences and reach out to new ones using this profile.
This marketing approach lets you meet your customers where it's most convenient for them – on their social media newsfeeds.
Email marketing
Email marketing remains one of the most popular and effective marketing channels. In this type of marketing, marketers use emails to promote your business to existing customers and potential new ones.
Emails give marketers a powerful tool for direct and highly personalized marketing. Outsourcing real estate marketing to BPO providers with experienced email marketers can help realtors close deals more successfully.
Pay-per-click (PPC) advertising 
Another way of ensuring your business's name pops up when people search for properties to buy is through pay-per-click advertising, or PPC. Examples of PPC are the top results in search engine results pages (SERPs) that display the word "Ad" in bold.
Because PPC works by having your business's website pop up on the top results for specific keywords, using PPC can help net quality leads. As the name suggests, you pay each time users click on your advertisement.
While marketers most commonly use PPC in SERPs (e.g., Google or Bing's), it can also be used in social media advertisements.
However, cost-per-mile (CPM) is more preferred on these platforms.
Search engine optimization (SEO)
Visibility is vital in real estate. After all, you can't sell properties if people don't even know about you in the first place. Search engine optimization, or SEO, can help improve your business's visibility online.
SEO is the process of improving your website's content to help it rank higher in SERPs. Better SERP ranking helps your website reach the first pages of SERPs and make it more visible to your target audience.
Outsourcing real estate marketing to SEO specialists can help give your business an advantage over competitors without websites.
Content marketing
Content marketing means publishing written and visual content online. This marketing strategy enables you to accomplish three things with one move.
One, it helps attract leads to your website or social media profile. Two, it helps boost your online presence through organic content. And lastly, it helps position you as a figure of authority in your field.
The following are examples of content marketing using various media:
Online content marketing.

All content marketing is done online. However, this specifically refers to the materials on your website (e.g., blog articles and how-to guides).

Social media content marketing.

Social media marketing falls under content marketing. As discussed earlier, this means creating and publishing content (e.g., text posts, videos, photos) on social media platforms.

Blog content marketing.

Blog articles are powerful inbound marketing tools. It gives marketers plenty of creative freedom to market content in a way that will resonate with readers. Blogs can also be used to promote other internal and external content.

Podcast content marketing.

Podcasts have gained renewed popularity during the height of the COVID-19 pandemic. It has proven itself an effective channel for sharing insights and building a community of listeners and participants.

Video content marketing.

Video contents are another effective way of hooking potential leads. According to Wyzowl, a company specializing in video production,

91% of businesses

use videos as marketing tools. The same statistics showed that 96% of end-users rely on video content to learn more about products and services, and 89% were convinced by video content to make a purchase.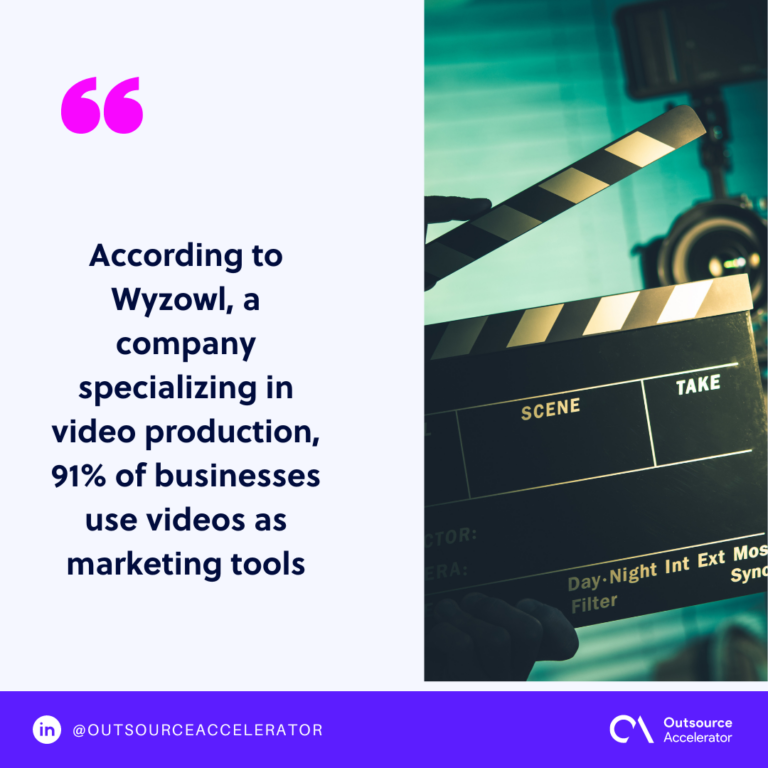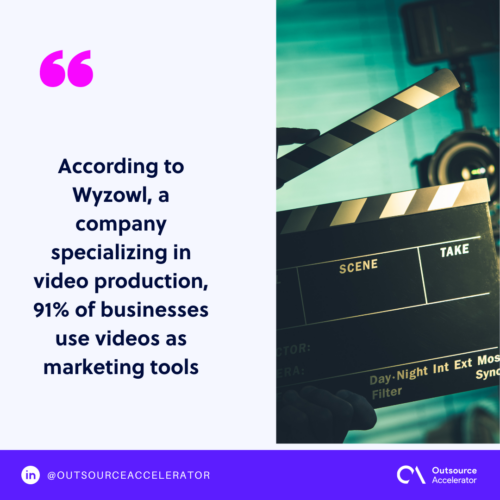 Website design and development
Website design and development refer to how effectively your website captures your target markets.
With the right visual marketing strategy and user-friendly user interface (UI), your landing page can attract the right audience and convert them into buyers.
When designing your website, it's best to consider the following factors:
Aesthetics.

No matter how informative or captivating your website's contents are, an unappealing website design is sure to turn would-be visitors away.

Usability.

A user-friendly website (i.e., easy to navigate) is another way to gain the approval of your website visitors.

Content quality.

After ensuring you have an aesthetically-pleasing and user-friendly webpage, it's time to ensure the same can be said for its contents.

Speed.

Denizens of the interwebs have notoriously short attention spans. A slow-loading web page is a major turnoff.

Mobile-friendliness.

With mobile devices accounting for

over 50% of online traffic

, it's best to make sure your web pages are mobile-friendly.
How to choose an outsourcing company for real estate marketing?
There are many factors you should consider when outsourcing real estate marketing to a BPO company.
Ideally, a good company for outsourcing your real estate marketing needs should have:
A solid reputation for providing quality services

Adequate infrastructures to protect your clients' data

Expertise in different marketing strategies

Transparent services pricing

Similar values and business goals
A good practice before outsourcing real estate marketing to a BPO provider is conducting a physical inspection of their facilities. If not possible, a virtual tour can suffice.
Doing so will help you gauge whether the BPO firm's facilities and equipment meet your expectations and standards.
If you're looking to outsource a real estate marketing assistant, Staffwiz — one of the Philippines' leading providers of remote workers — is a good place to start looking.
For a comprehensive guide on everything you need to know about outsourcing real estate marketing – and the outsourcing industry in general – visit outsourceaccelerator.com. The company lists over 3,000 BPO companies in its directory and has more than 5,000 insightful articles about everything outsourcing.