Ten best examples for setting professional development goals at work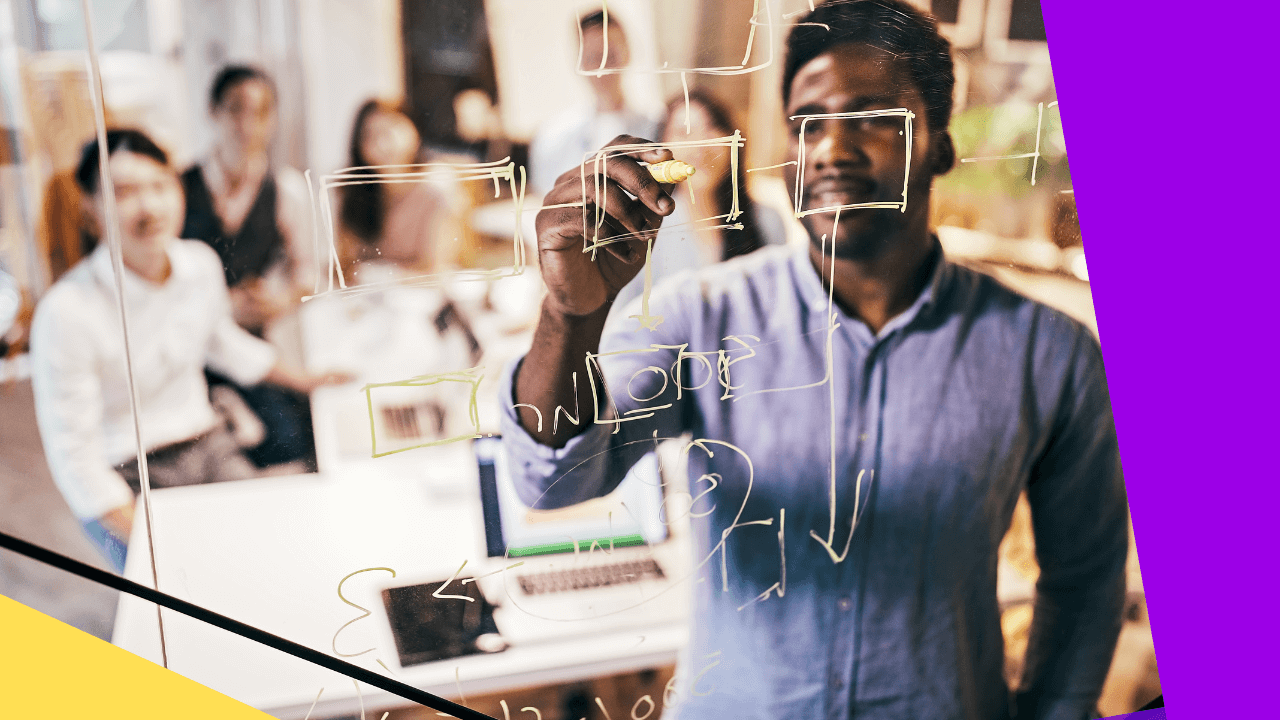 Whether the goal is to be promoted from a position or become a CEO one day, the only way to achieve this is to set realistic and actionable goals.[1] 
That said, professional development goals are vital. These goals are a great way to set yourself up for success in your career.
Some may be wondering how to set professional development goals at work. While it's not always easy to figure out the next step in your career, the first step is creating a plan for your future.
Setting professional development goals at work can help you grow as an employee and contribute more to the company's success. 
In this article, we explain what professional development goals are and the ten best examples of setting professional development goals at work. 
What are professional development goals? 
Professional development goals are long-term career goals[2] that map out the trajectory of a person's career. These are achieved through professional and personal fulfillment by setting both challenging and realistic goals.
These serve as the ultimate purpose of one's career. They help people chart their growth, learn new skills and expand their network.
These goals are about what a person wants to accomplish and learn and how the job will help them get there. 
They're not about a specific task, project, or skill — they're about the overall growth as an employee.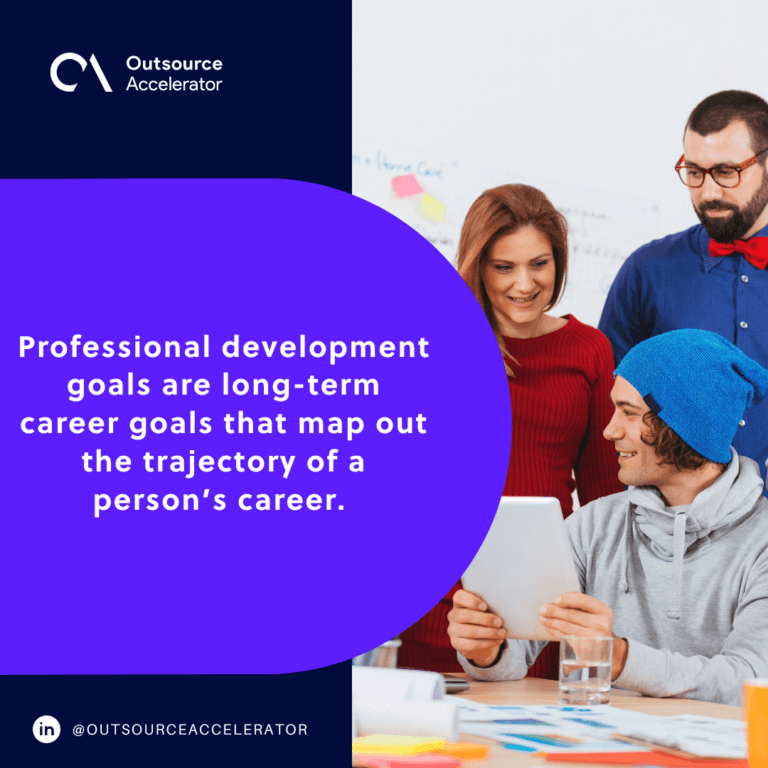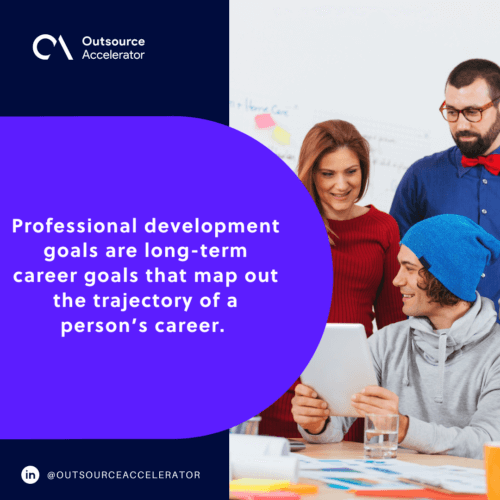 Ten best examples for setting professional development goals at work
Setting professional development goals at work is an important part of career planning. It can help employees get on track, keep from getting off track and give way to measure progress.
Here are the ten best examples of setting professional development goals that can be set at work:
1. Learn new skills or competencies related to work   
Companies use a wide array of skills to move their organization forward. According to The Future of Jobs Report, 94% of business leaders expect employees to pick up new skills on the job. 
Most often, employees want to improve their skill set, whether it is hard skills or soft skills, within their current role or in a different area within the company.
For example, an account manager who wants to become more proficient in sales techniques and processes. 
Thus, this would be an appropriate goal for an account manager's professional development plan because it connects directly to their job responsibilities and future career aspirations.
2. Level-up credentials 
If employees are looking to move up in their field, they'll need to start by boosting their credentials.
Whether this means taking on more classes or certifications or even earning an MBA, having advanced degrees can help set them apart from other candidates. It gives them an edge over other employees.
It's important to consider how much time these endeavors will take before making them part of one's professional development plan.
3. Take professional courses 
Whether they want to learn new skills or simply build on their existing knowledge base, taking classes can help them advance in their career.
A good place to start is by identifying the skills required for a position at work and then looking for classes in those areas. Either through an employer or outside of work, it will help master them.
4. Learn new technologies 
Learning new technology is an excellent way to grow skills and build expertise. It's also a good way to broaden horizons and possibly open up more opportunities at work.
For instance, if an employee wants to master a new programming language, setting a goal to learn something new will help them become more valuable in their role.
5. Take up more leadership responsibilities 
Most of the time, people want a promotion or advancement in their careers. One way to reach this is to take up more leadership roles.
This shows that the employee is ready for more responsibility and willing to take on new challenges. 
They will learn how to manage people and projects, which will help them become an even stronger leader in the future.
6. Read books relevant to your field 
Another important part of setting professional development goals is to read a lot of books. 
Reading books helps keep a person up-to-date on trends in the industry and gives ideas for how to solve problems and approach projects differently than before.
Essentially, this is a great way to expand employees' knowledge base while also learning new skills.
7. Find ways to deepen job satisfaction
If a job isn't giving enough excitement or fulfillment, then try setting some goals around finding ways to deepen job satisfaction.
It may mean learning more about what makes people happy at work or learning new skills that make work more meaningful.
Whatever it is, find something that will make work more meaningful, either through training or personal development — and then set goals around making it happen.
8. Build your professional network 
Professional network is one of the most valuable assets an employee has in their career, so it's important to build and maintain it.
This can include joining groups, attending events and conferences, reaching out to people with similar interests or skill sets, or following industry influencers on social media.
9. Develop a system that improves collaboration with other departments 
Honing collaboration skills with other people is great for anyone who wants to work on their leadership skills or grow as an employee.
If one of the colleagues has an idea for improving the way your department works with another department, take some time to develop a plan for doing so.
This is a chance to demonstrate how thinking outside the box can lead to innovative solutions — and this could also lead to promotions down the line.
10. Improve public speaking 
Public speaking is one of the most common professional development goals.
It's also one of the most difficult. But it's a goal that many people (especially those in sales) need to work on for their careers.
Whether it's giving presentations or simply talking with customers and clients, communicating effectively can make or break your career.
Why are professional development goals important? 
Professional development goals are important as they ensure a person is always growing and learning. Setting these goals indicates that one is always working towards becoming a better version. 
However, setting professional development goals can be tricky. But this is an important aspect of success in the workplace.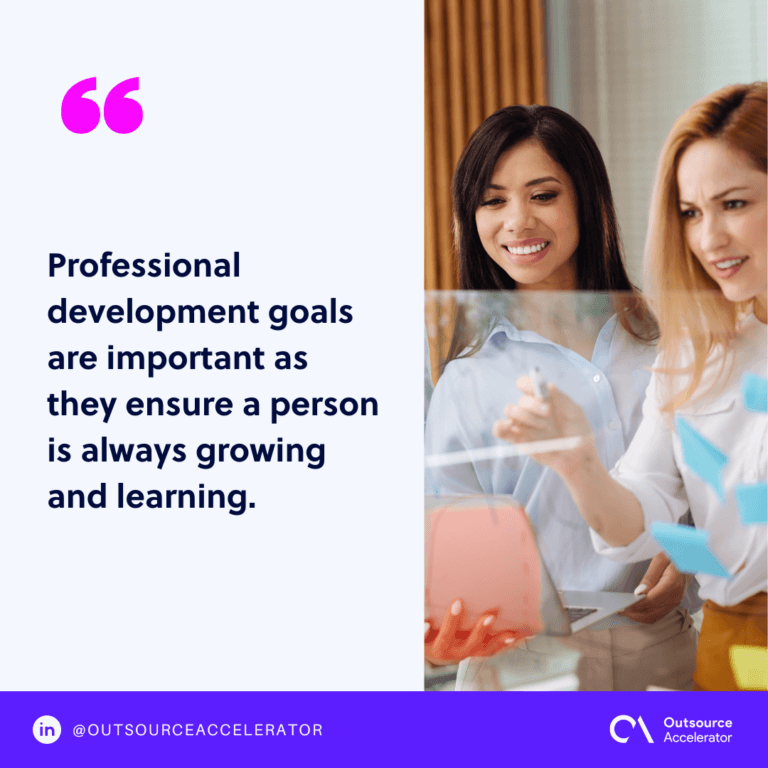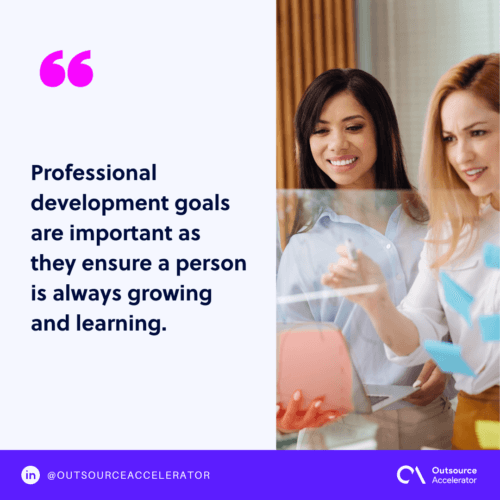 By setting both short and long-term professional development goals, one can improve skills and achieve overall growth as a professional as well as an individual. 
Article References:
[1] Actionable goals. Duke, D.L. (1990). Setting Goals for Professional Development. Educational Leadership, [online] 47(8), pp.71–75. 
[2] Career goals. Roberson, L. (1989). Assessing personal work goals in the organizational setting: Development and evaluation of the work concerns inventory. Organizational Behavior and Human Decision Processes, 44(3), pp.345–367.