Philippines' first unicorn – TaskUs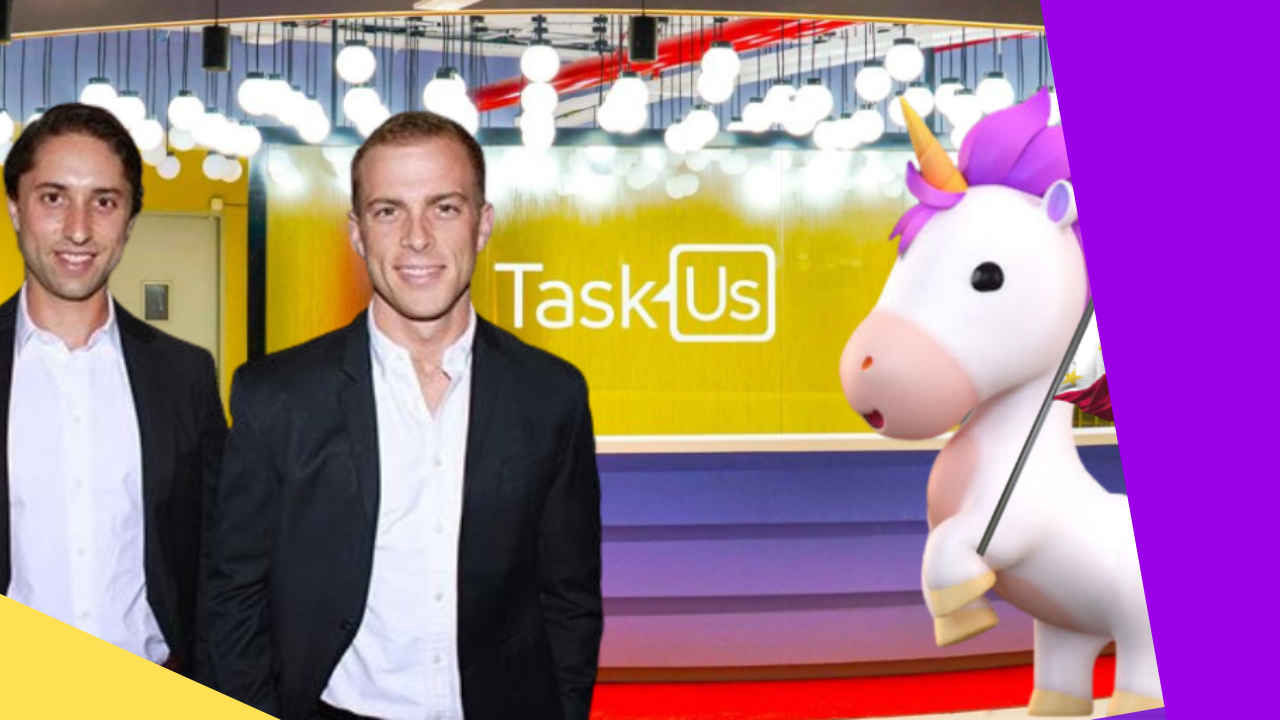 TaskUs, a Philippine-reared BPO debuted on the US Nasdaq last Friday, valuing the company at US$2.8bn.
The Philippines' first real unicorn is born.
The Philippines has long been talking about, and collectively expecting its first startup unicorn.  That fabled mythical Silicon Valley creation referring to a startup reaching a US$1bn valuation.
The startup scene is hot and growing in the Philippines, but its first unicorn remains elusive.  However, this is kinda okay. It's not meant to be easy to become a unicorn – unicorns are meant to be rare.
There was a spurious 'first unicorn' claim back in 2018 – by the marketing-heavy Revolution Precrafted.  Though despite the hype, Revolution never really built or delivered any properties, and now its PR-fanatic founder seems to have gone underground, and the company is all but defunct.  It seems that this unicorn sighting turned out to be just a colorful donkey about as credible as the Loch Ness monster.
Philippines' first unicorn.  First of many?
TaskUs is now a fabled Philippine unicorn, confirmed and underwritten by the Nadaq.  The Philippines' first real unicorn is born, yet, their achievement is met by an eerie silence.  Why is no one celebrating this?  TaskUs has not only triumphed, but it has helped to put the Philippines, and the Philippine outsourcing industry, in the spotlight on the global stage.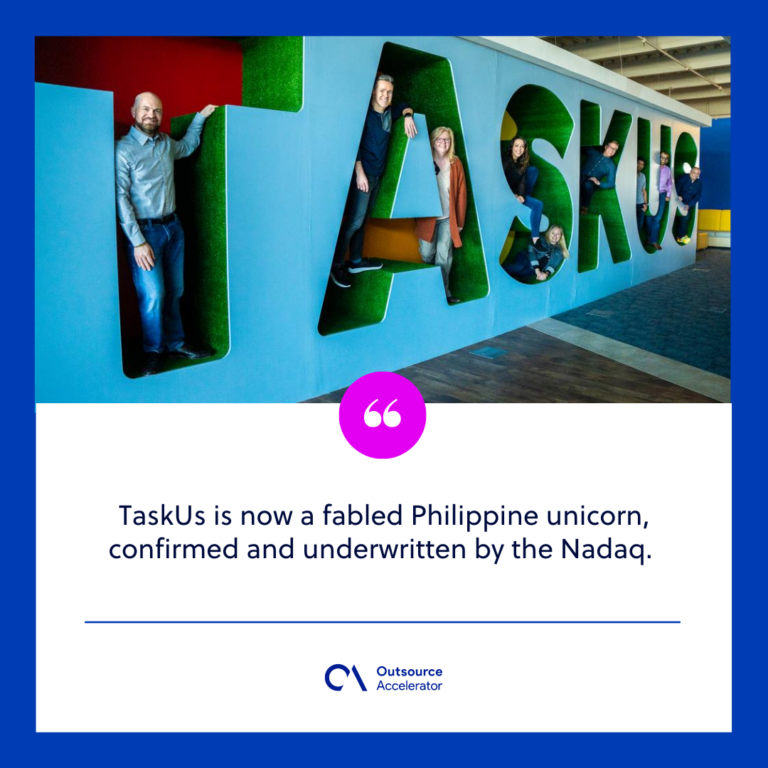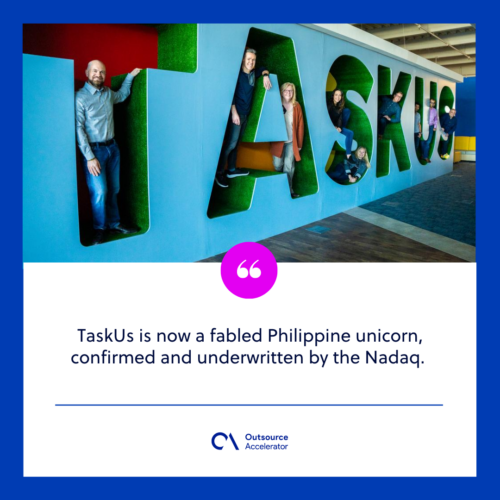 So here we are now, with the Philippines' first unicorn.  I suggest that we celebrate this, and as an entrepreneurial community, seek to follow in its footsteps.  They say that once a record is first broken, it is much easier for others to follow suit.  For example, it was thought for decades that running the '4-minute mile' was an unachievable physical barrier – the Holy Grail of sport.  Then, Roger Bannister finally first broke the record in 1954.  Amazingly, despite the Herculean effort, it took only another 46 days for the next person to break the 4-minute barrier, and then 3 more people followed within the year.  Today, the record sits at 3m43s. 
The Philippines now has its first unicorn – and has many baby-corns-in-waiting…
About the TaskUs unicornification
TaskUs was started in 2008 by childhood friends and co-founders, Bryce Maddock and Jaspar Weir.  In just 13 years, they built the company to 27,500 staff, spanning 8 countries, generating revenues of $500m and a net profit of $34m.  They are well known for providing customer service solutions for the likes of Facebook, Uber and Coinbase.  TaskUs debuted on the Nasdaq on Friday 11 June at an initial price of $23 per share – valuing the company at approximately $2.8bn.
The share price initially jumped up to $29 and is now, 5 days later, tracking at $31.50.  The two founders, Bryce Maddock and Jaspar Weir are now reportedly worth $400m each.
6 reasons why TaskUs is the Philippines' first unicorn 
1. Started in the Philippines
TaskUs – now a world-leading BPO – was started in Makati in the heart of the Philippines, which is the epicenter of the outsourcing world.
2. Philippines-nurtured
Although the founders, Maddock and Weir, are US citizens, they spent considerable time in the Philippines and were strongly supported by the Philippine outsourcing ecosystem.  Although the company now employs 28,000 staff across 8 countries, it started in the Philippines and grew to about 10,000 staff in the country before it expanded elsewhere.  It still has most of its employees in its 'home country'.
3. Traditional startup
Task US followed the well-trodden path of startup growth and funding. Their formative funding was largely Philippines-based, with Navegar investing a landmark $15m round back in 2015. TaskUs still a young startup back then, but had already secured high calibre clients and were managing a high growth trajectory. Usually, though, for a startup, TaskUs was profitable!
Task Us then raised another landmark round of funding in late 2018, when Blackstone – one of the world's leading investment firms, with $440bn AUM – invested $250m at a $500m valuation. It was Blackstone that led TaskUs to their IPO, making a 5x return on their investment in under 3 years.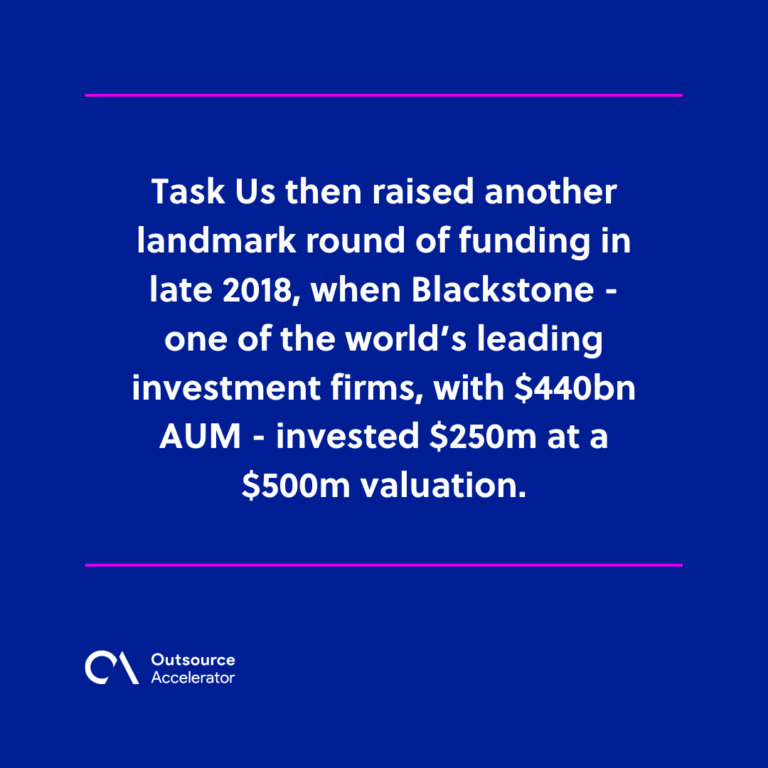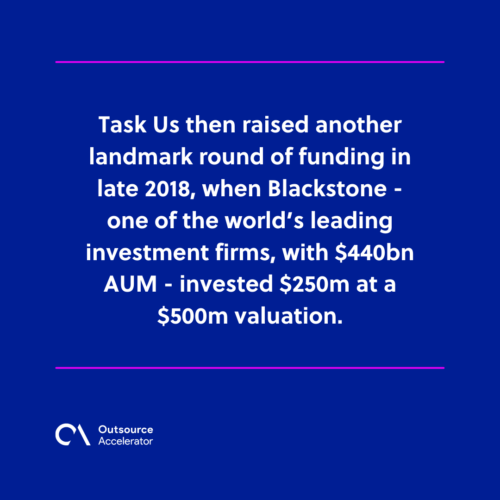 4. Philippines-funded
TaskUs saw heavy growth in the early days after securing some of Silicon Valley's brightest luminaries as clients – Uber, Groupon, Tinder and HotelTonight.
To support that growth, they were funded by Navegar – a Manila-based private equity fund that invests exclusively in companies with exposure to the Philippines. The fund is managed by Nori Poblador and Javier Infante, who are themselves experienced outsourcing veterans.
5. Foreign founders
Sure, Bryce Maddock and Jaspar Weir are not Filipinos. But who cares? It is well known in Silicon Valley that foreigners and immigrants make great founders. In fact, a study found that 55% of America's unicorns had at least one immigrant founder.
Google founder Sergey Brin was born in Russia, and Facebook co-founder Eduardo Saverin is a Brazilian native. Elon Musk is South African, and all of the Paypal founders were non-US foreigners. The Yahoo founder, Jerry Yang is Taiwanese, and Stripe's sibling founders, John and Patrick Collison, are Irish. Uber, WeWork, Slack, Palantir and Calm were all founded by US-based foreigners.
6. Nasdaq IPO and company structure
Sure, TaskUs has gone public on the US technology exchange, and has its headquarters somewhere else – but who can blame it.  The headquarters might not be registered in the Philippines, but these are only technicalities.  Google, Facebook, Apple and Stripe are all ambiguous as to where their home headquarters really are.  That's standard practice for global businesses these days.
TaskUs is the Philippines' first unicorn 
So let's celebrate the incredible achievements of  Maddock and Weir, and rejoice for the jobs and economic opportunity that they have created.  Let's all celebrate that the Philippines outsourcing industry and its high-calibre Filipino outsourcing professionals have once again shone brightly on the global stage.  
Congratulations to TaskUs – the Philippines' first startup unicorn!
Next stop, Palo Alto!