4 payroll strategies to simplify the payroll process and save time
4 payroll strategies to simplify the payroll process and save time
Payroll is, without a doubt, a key organizational function as it guarantees the consistency of compensation payments. Efficient payroll management results in a content and motivated workforce. 
Many people believe that the primary goal of payroll is to pay employees accurately and timely. 
Payroll strategies are also frequently disregarded because they have no significance or value for other business operations. 
However, businesses should reconsider how they view their payroll functions and create payroll strategies that generate value for their companies.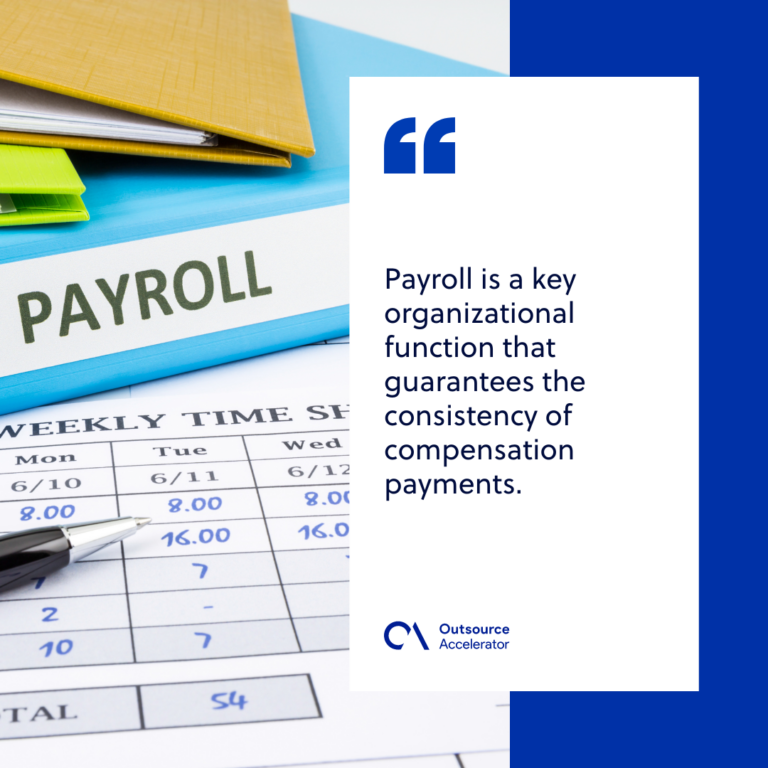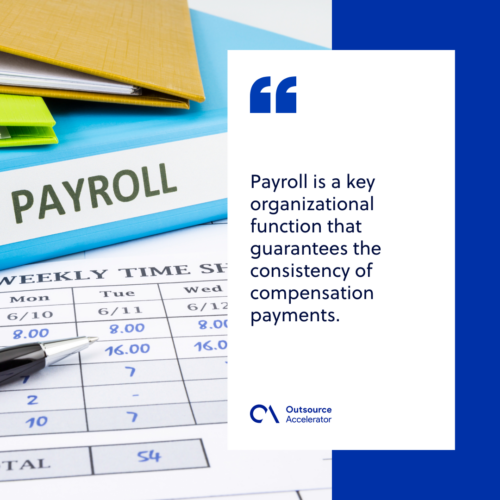 Different types of payroll systems 
Before looking into payroll strategies, it is also imperative to know the different payroll systems. 
Payroll systems organize and process payrolls weekly, bi-weekly, or monthly to ensure employees are paid correctly and the company's legal requirements are met.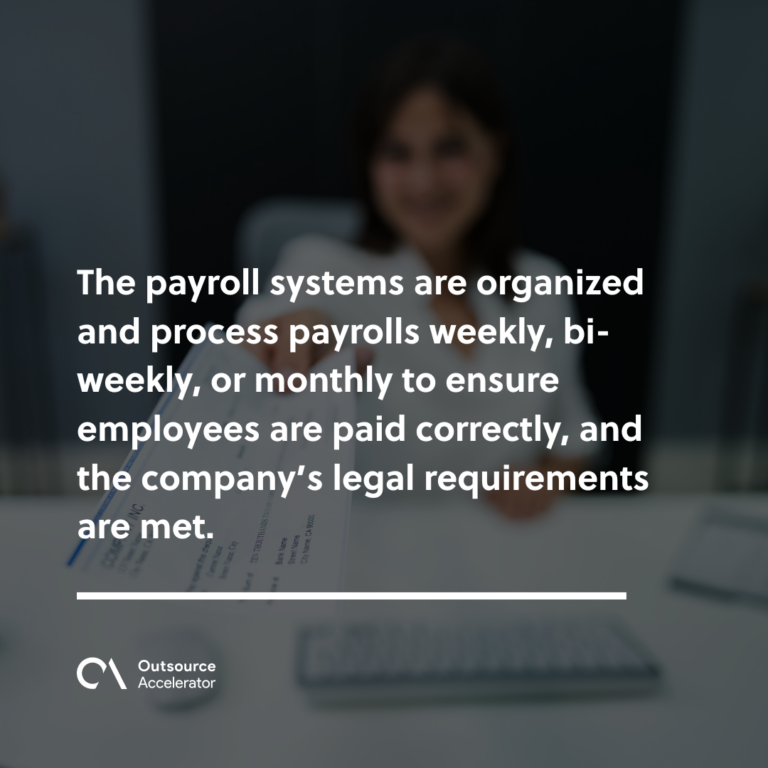 Here are the most common payroll systems:
In-house payroll
In-house payroll refers to when a payroll team within a corporation handles the payroll. This implies that payroll staff within the company handle every stage of the procedure, from planning and verifying remittances to submitting them. 
Internal payroll processing gives teams the autonomy, assurance, and freedom they need to make quick adjustments and informed decisions.
Bookkeepers payroll
Companies often hire a bookkeeper or a CPA to oversee the payroll process.  This happens when their personnel lacks the skills necessary to handle payroll or when their payroll needs surpass the capabilities of their staff.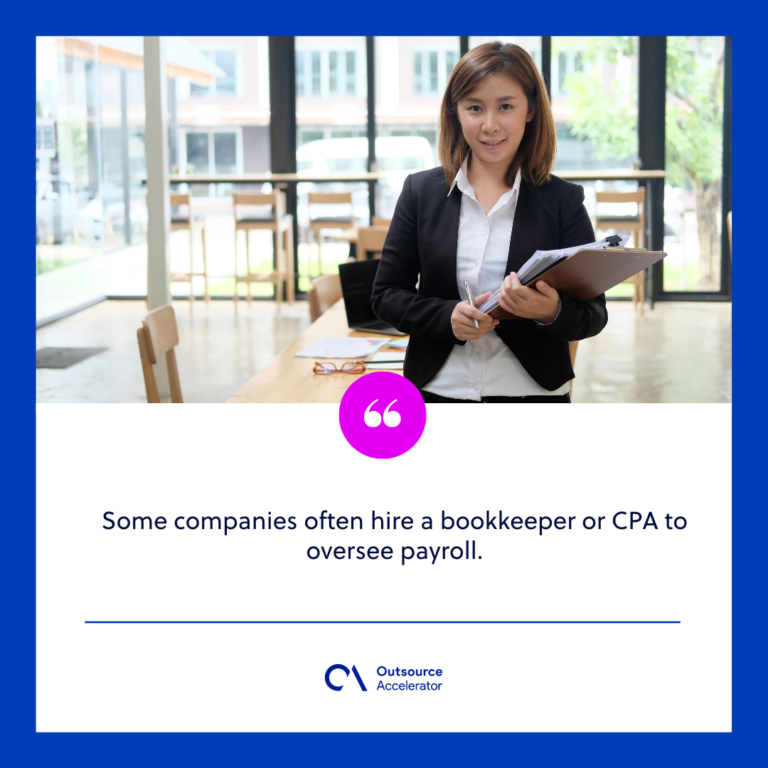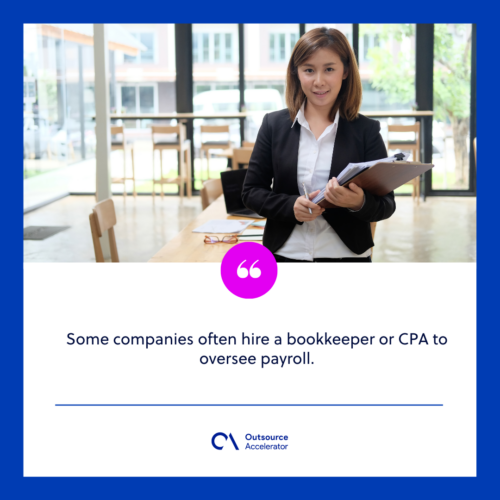 One great advantage of hiring a bookkeeper is that it improves the accounting department's capabilities, as labor laws and payroll tax regulations are always changing. 
Having a staff member focus on payroll guarantees that the business complies with all applicable laws. 
Agency-managed payroll
Agency-managed payroll is basically outsourcing the company's payroll processing and management. 
This allows companies to work with highly-qualified professionals. They handle every aspect of paycheck processing, including bank deposits, deductions, reimbursements, and other relevant admin tasks.
If the business can afford it, agency-managed payroll may cost more than the other options but it guarantees accuracy and reliability.
Software-managed payroll
The implementation of a software-managed solution is a newly developed alternative in payroll management. 
These payroll software systems are becoming more and more popular. Since they are cloud-based, they constantly have the company's information accessible and are automatically updated.
While software-managed payroll has great features like constant availability and automatic calculations, it still requires in-house employees to administer the system.  
4 effective payroll strategies to save time
After taking a closer look at the payroll systems, it is now time to consider payroll strategies. 
These strategies can help simplify the overall payroll process and save a lot of time: 
Internal audit
Before jumping into solutions, companies should identify the problem first. Internal audits can be done by looking at the overall payroll process and evaluating how much time it consumes. 
The payroll system in place must be considered as well. Does the company need additional manpower to expedite the process? Can the problem be solved by switching from one payroll method to another? 
In the end, outsourcing or using a software-based system might be more beneficial. 
Automate when needed
The rise of digital transformation made automation a must. While the analog method is still useful and efficient, it may not work for huge companies with many employees receiving paychecks. 
Automation can quickly simplify the payroll procedure. Companies can have more accurate data entry while reducing processing time through the latest, cutting-edge payroll technologies. 
They just need to keep in mind that computer software won't be able to handle all of their process problems on its own.
Digitalize all the necessary files
The direct effect of more advanced technology is paperless payroll, which can also speed up the payroll processes. 
These days, companies are looking for ways to "go green," save money, and protect their client's data confidentiality. 
A digitalized payroll process can allow them to do all that. Companies may stop using paper pay stubs, tangible paychecks, time cards, or time sheets. 
After all, many employees prefer to receive their check stubs and pay information electronically. Hence, implementing an online portal system for employees will also help the company in removing the majority of the paper it currently uses. 
Everyone benefits when a digitalized payroll process is properly implemented.
Consider using full-featured payroll solutions
Adopting full-featured payroll solutions rather than stand-alone ones will make it much easier to shrink the current payroll process. 
One way of acquiring this solution is by switching to software-managed payroll and using a program that can handle every aspect of payroll. A full-featured payroll consists of T&A tracking, payroll calculations, and distribution.
Another option is to outsource to a professional, full-service payroll management company. This is a viable choice, especially for small businesses that lack enough time and resources to update or develop a new payroll system.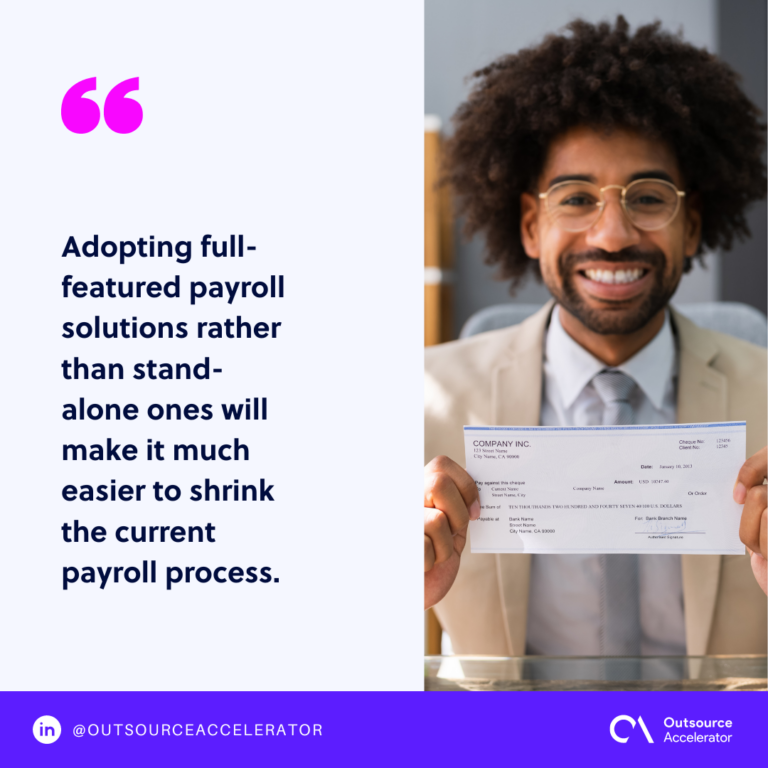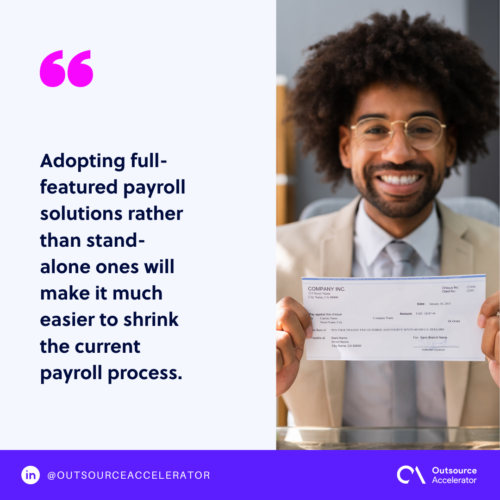 Utilizing payroll strategies make a dynamic payroll process
Streamlining payroll strategies and procedures is one of the key ways to lessen the stress of dealing with all the changing aspects of businesses.
Digitalization and outsourcing are both nice options, depending on the company's payroll requirements. Regardless of the size of the organization, these options can simplify the overall payroll procedures and lay the groundwork for any future expansions.