10 best payroll software to use in 2023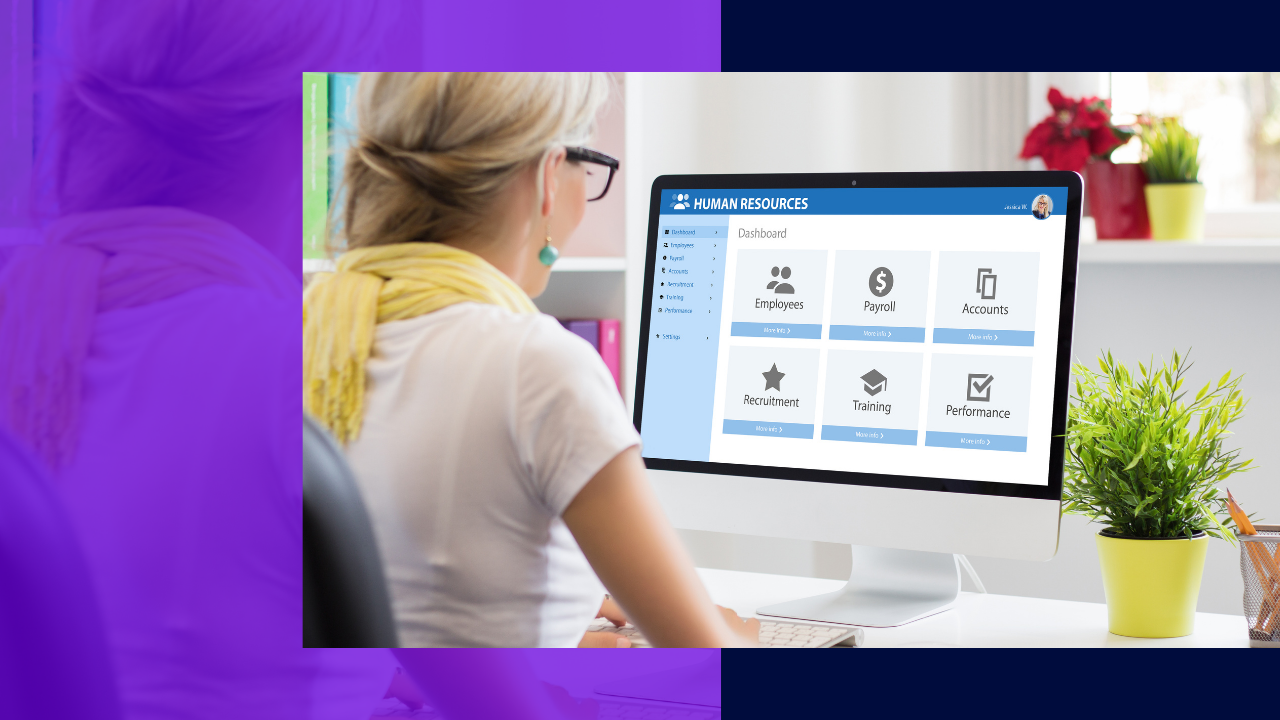 In a digital world, it's important for companies to make their processes streamlined and more efficient. Manually doing functions such as payroll could take the time and focus away from more crucial business strategies.
What's more, manual payroll services are prone to errors and penalties. In the US alone, the Internal Revenue Services assessed more than US$4.9 billion in penalties relating to payroll.
Using payroll software eases this burden as long as you are using the right tool for your company. We've listed the best payroll software you can use in this article.
How payroll software makes processes efficient
A payroll software is a cloud-based platform used to manage, consolidate, and automate employee salaries. It makes the process of paying employees easier by integrating with other business systems to ensure the accuracy and timeliness of their payments.
Also, payroll software ensures that companies are compliant with tax laws and financial regulations. Businesses of all sizes and industries, including outsourced and distributed teams, use this tool the most.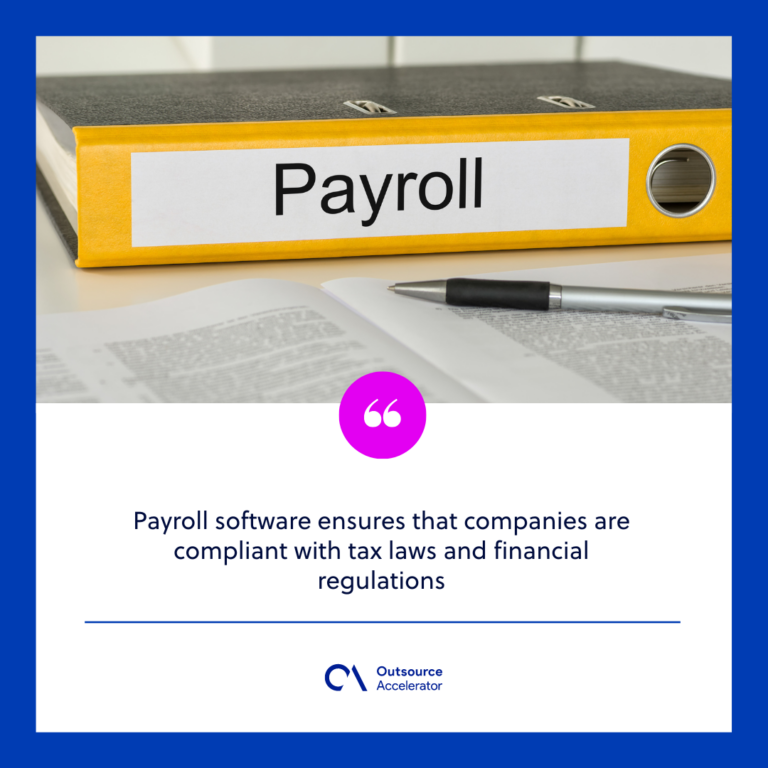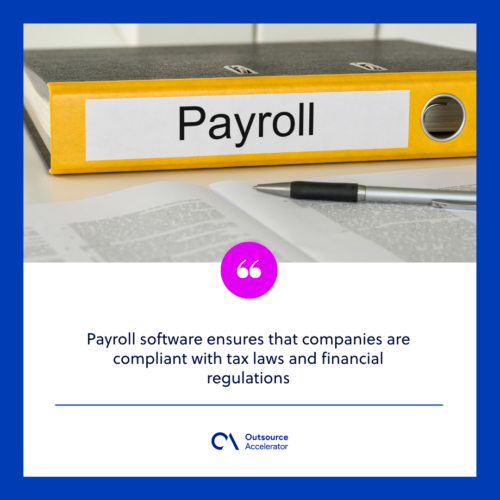 What to look for in payroll software
Each payroll software has specific functions and services for all types of businesses and countries. However, most companies look for the following elements in their preferred platform.
Flexibility
Payroll software solutions nowadays offer flexible access on any device. Employers can access their entire data using a web browser or mobile app whenever they need it.
At the same time, an ideal payroll software supports different types of employment status, whether casual, regular, freelance, or outsourced.
Direct deposit
A good payroll software lets users integrate their books and accounts to perform direct deposits to their employees. As a result, workers can get their salaries easily depending on their mode of payment.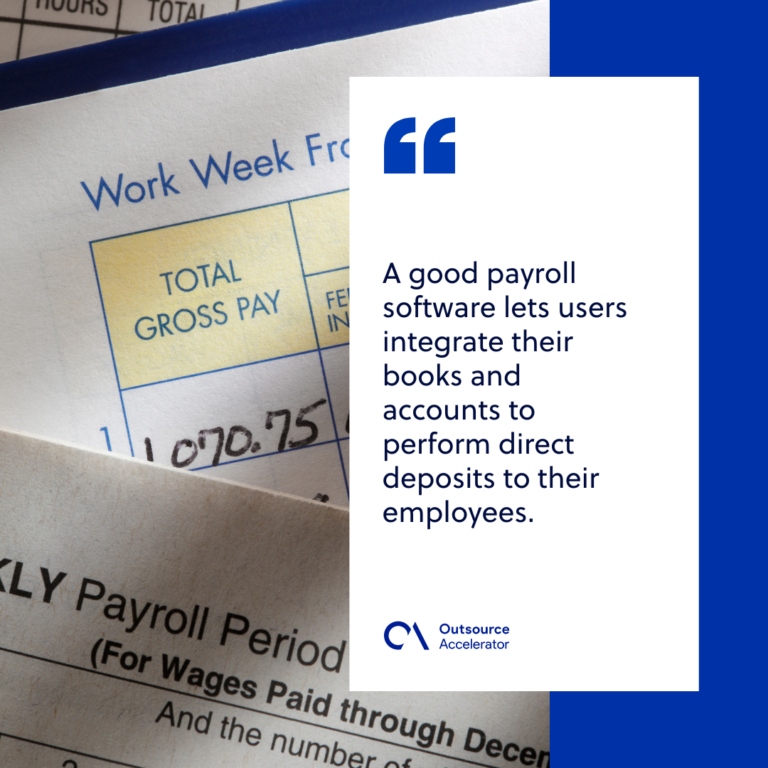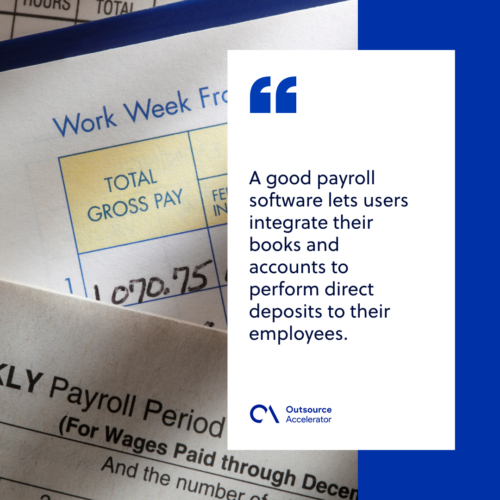 Tax and benefits compliance
Payroll software solutions should also calculate taxes and benefits automatically. They should be able to file tax compliances in both their home countries and outsourcing destinations whenever needed.
Integrations
A payroll software primarily streamlines payroll processes as much as possible. This is why companies should look for payroll solutions that will let them integrate multiple tools such as attendance tracking, human resource management, and accounting.
Data protection
In dealing with payroll, human resource teams have to handle sensitive information from the company and its employees.
Good payroll software provides enhanced data security and protection for its users. Employers should be able to set passwords, have encrypted storage, and limit access as needed.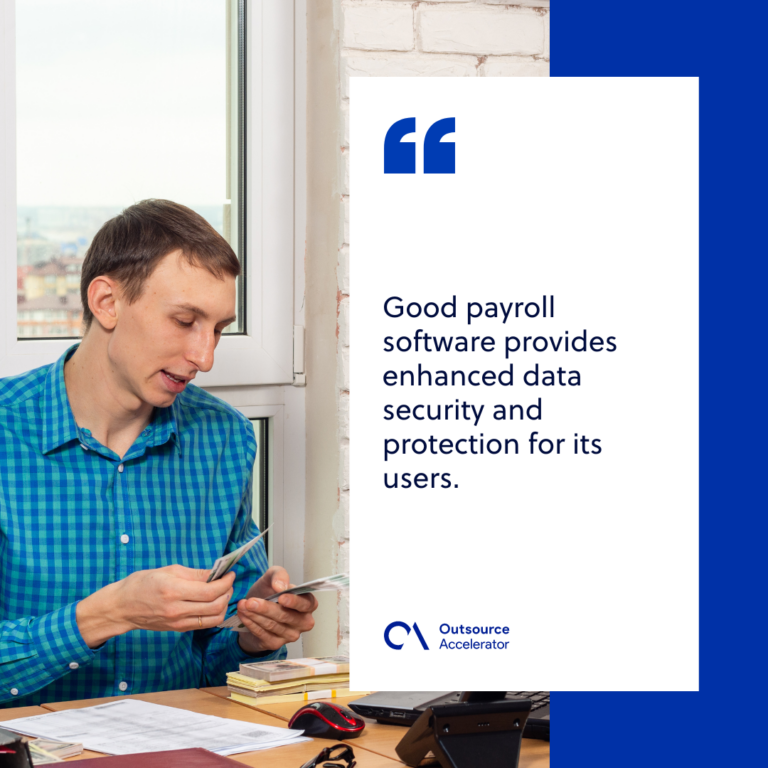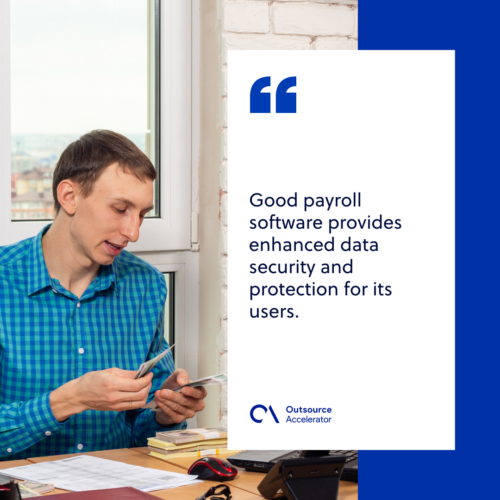 Self-service portal
Lastly, an ideal payroll software gives employees access to its self-service portal to update their information. It even generates payslips automatically, giving workers a detailed account of their pay and deductions. 
Best payroll software for businesses of all sizes
Based on the recommended features above, we have listed the best payroll software to use for all business sizes in 2023.
| | | | | |
| --- | --- | --- | --- | --- |
| | Price (per month) | Free trial? | Direct deposit? | 3rd-party integration? |
| Gusto Payroll | US$39.00 | Yes, 1 month | Yes, for core plan up | Yes |
| Quickbooks Payroll | US$35.00 | Yes, 1 month | Yes | Yes |
| Paychex Flex | US$39.00 | No | Yes | Yes |
| ADP Workforce Now | – | Yes, 3 months | Yes | Yes |
| Patriot | US$10.00 | Yes, 1 month | Yes | Yes |
| OnPay | US$36.00 | Yes, 1 month | Yes | Yes |
| Rippling | US$8.00 | No | Yes | Yes |
| Square Payroll | US$40.00 | Yes, 1 month | Yes | Yes |
| Zenefits Payroll | US$8.00 | Yes | Yes | Yes |
| SurePayroll | – | Yes, 2 months | Yes | Yes |
More than a payroll provider, Gusto Payroll offers a variety of services fulfilling an organization's HR needs. Users can opt for simply payroll services or have a full HR system in their hands, depending on their needs.
Gusto Payroll's plans start at US$39.00/month for a base subscription and an additional US$12.00 per person for its full features.
Whether for new or existing QuickBooks users, Quickbooks Payroll provides a convenient way to handle payroll services.
Most suitable for small businesses, the platform easily integrates with Quickbooks Online for easier accounting. Plans start at US$39.00/month, with additional features users can get as they grow their businesses.
Paychex Flex is a full payroll and HR software used by businesses of all sizes. It is most recommended for remote teams looking for a more scalable and flexible way to manage their payroll anywhere in the world.
Paychex Flex plans start at US$39.00/month with customizable features to suit every business's needs.
ADP Workforce Now is an all-in-one cloud-based HR and payroll solution best for medium and large enterprises.
While allowing third-party integration, users have the option to use ADP's additional tools to manage their workforce. Companies prefer this platform for its easy-to-use interface and better compliance handling. 
Among the tools on the list, Patriot Software is one of the most affordable payroll services available. Its basic plan is most suitable for businesses looking to automate payroll first, with features including direct deposit and payroll setup.
Users have the option to upgrade their plans as they expand and arrange compliances better. Patriot's base plan starts at US$10.00/month plus US$4.00 for each user.
OnPay provides comprehensive payroll solutions for small and large companies. Users can easily create employee profiles, run unlimited payroll, and do time tracking for their workers.
One of the highlights of its services includes easy payment scheduling and tax filing. At the same time, it offers both HR features and integrations to make workforce management more efficient.
Rippling offers payroll capabilities for midrange businesses at an affordable amount. It provides a unique experience in workforce management among the list. Aside from payroll and HR, users can easily manage the IT networks of their workers through the platform.
Once they create an employee profile, it automatically sets up other accounts, including work computers, communications such as Slack and Skype, and Office 365. Plans start at US$8.00/month.
Square Payroll fits mostly small businesses. Compared to other payroll software, it provides support for both regular and hourly employees, giving users the option to get a contractor-only plan or a full-feature plan for teams. 
What's more, Square Payroll allows employees to have flexible payment options. For instance, workers can get a part of their salaries in advance.
Zenefits Payroll helps companies do payroll "smoothly, easily, and efficiently." It automatically connects payroll to the company HR to save time and effort.
This is best for organizations planning to use the platform's HR system. However, it does not currently support startups or other businesses with less than five employees. Plans start at US$8.00/month per user.
Lastly, SurePayroll gives one of the most flexible payroll services in the market. Aside from small businesses, the platform supports payroll provided to nannies and other household employees.
Providing payroll services for over 20 years, SurePayroll has been one of the most reliable tools for businesses and contractors alike.
Choosing the right payroll software for your business
Payroll software solutions can save you time and effort in processing employee salaries. However, not all payroll solutions are created equal. 
While you can get a system for free or at an affordable price, its total cost of ownership (TCO) could be more expensive than getting an average-priced one. This is why you should ask the following questions when getting the right payroll solutions for your business.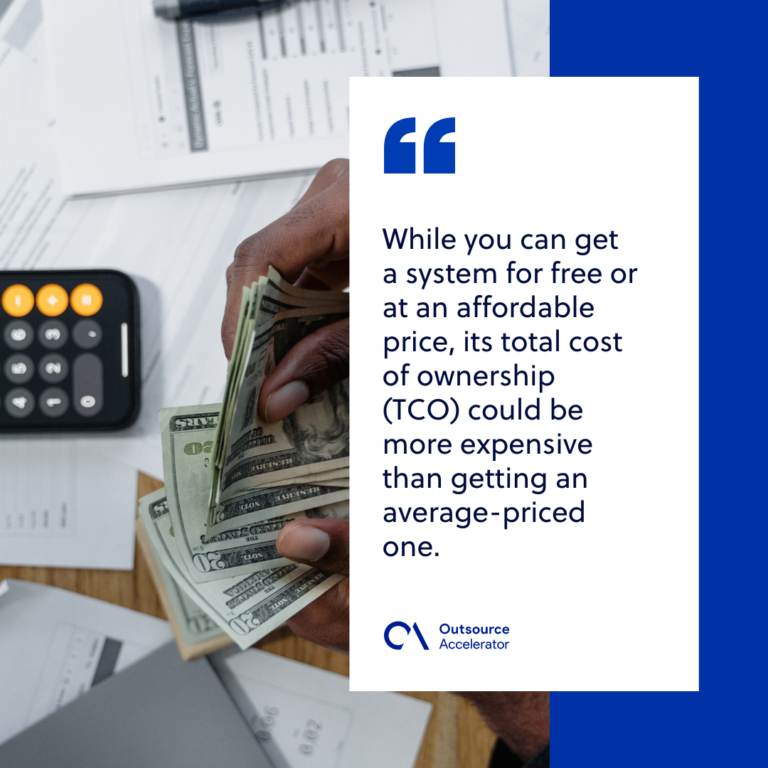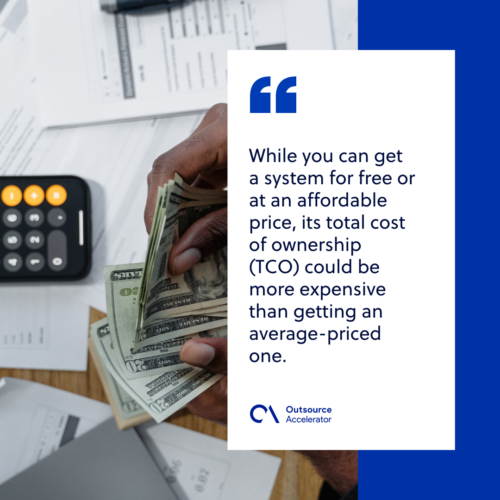 What types of employees do I handle?

Many payroll tools in the market only support regular employees with fixed payments. If you want to manage salaries for your casual, freelance, and outsourced employees, look for more flexible software that can support them.

What features do I need?

Usually, free and affordable payroll tools would exclude tax filing and compliance handling. If you can handle compliances on your own or are just starting to automate payroll, you can start with these limited features first.

Can I transfer my existing records easily?

Transferring your existing payroll records in some software could cost you extra or require you to get a bigger plan. Luckily, you can still consider manual input of your records if you can.