9 undeniable benefits of outsourcing transcription services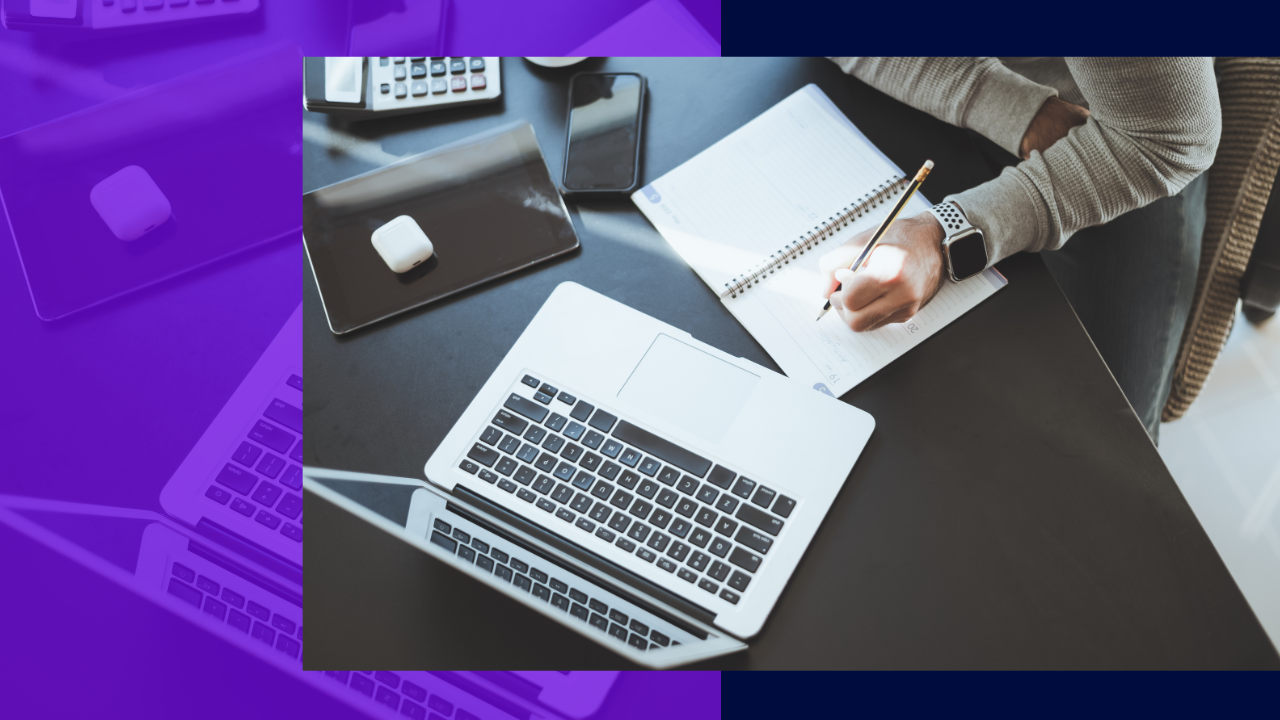 9 undeniable benefits of outsourcing transcription services
Many businesses across various industries have been transcribing internal meetings, webinars, and press conferences. 
They adopt this practice to maintain text records and offer transcripts of corporate communications to stakeholders when needed. The transcribed information is vital to streamline business operations. 
However, manually converting audio to text is challenging and time-consuming for internal employees. That is why businesses have been outsourcing transcription services to save resources and improve the company's bottom line. 
What is outsourcing transcription?
One common misconception about converting audio-visual content to texts is anyone can do it. While you can delegate this task to in-house employees, looking for outsourced transcription service providers can do wonders for your company. 
They employ professional transcribers who listen to audio-visual content repeatedly and convert it to a text format. After transcribing the information, the third-party service provider will forward the final transcript to the client. 
Businesses use the transcript for legal documentation, medical reports, media production, and academic research.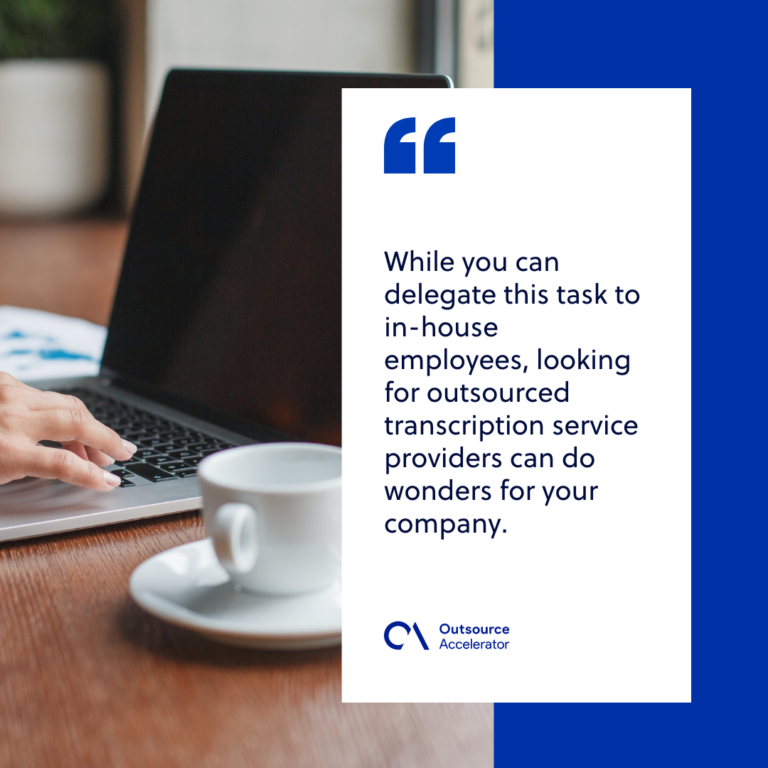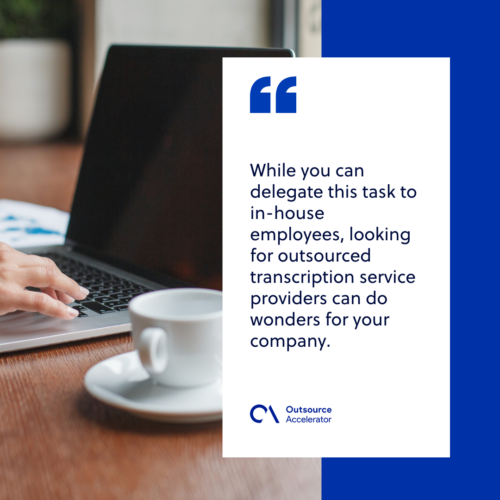 How outsourcing transcription transforms businesses
While it might seem like an extra cost and inefficient process, it is better to outsource transcription projects to a professional transcription provider. 
Take a look at the nine benefits of outsourcing transcription services instead of transcribing audio to text in-house:
1. Lower overhead cost
Having in-house staff for your transcription needs can be costly. You must pay their fixed salaries, office space, benefits, and other miscellaneous expenses. To lower these operational costs, you can outsource transcription services. 
But remember that some transcription service providers charge clients per audio minute. The total expenditure on transcription will depend on the files' length. 
2. Quick turnaround
Manual transcription of a one-hour audio recording takes approximately 4-6 hours for a skilled transcriptionist. 
What if a non-specialized transcriber needs to transcribe two recent conferences? Despite the workload, your business must outsource a dedicated transcriptionist who can deliver what you need. 
You can share the information with your clients or the press while the data is timely. Waiting for the transcribed document for a week can become outdated, wasting your employee's effort. 
3. High-quality transcripts
Outsourcing transcription services to professionals ensures accurate and readable transcripts. The accuracy rate can decline if you ask in-house employees to convert audio to text on top of their regular tasks. 
Outsourcing transcription tasks to third-party service firms gives you access to advanced technology and a human touch, resulting in a nearly 100% accurate transcription.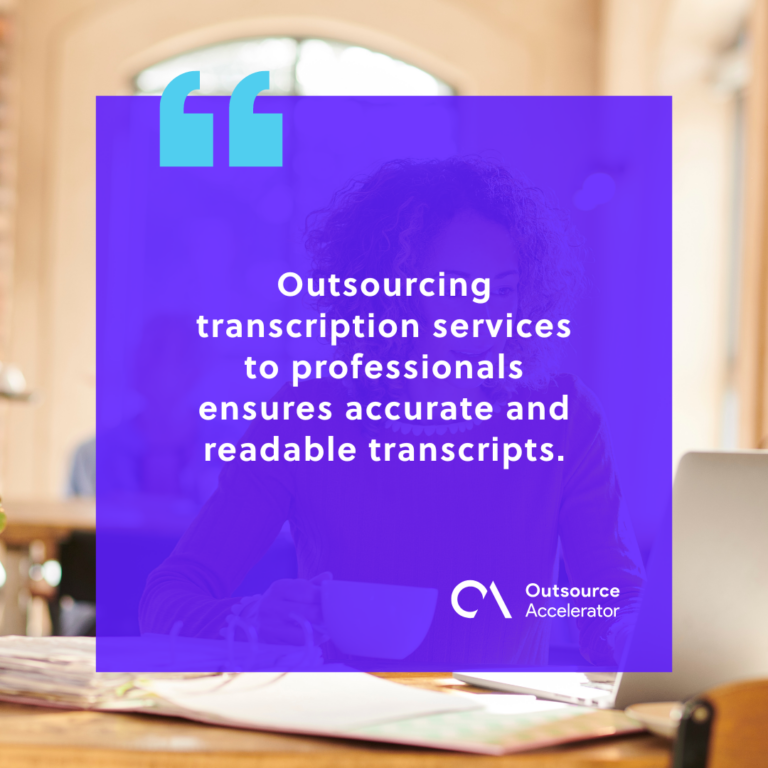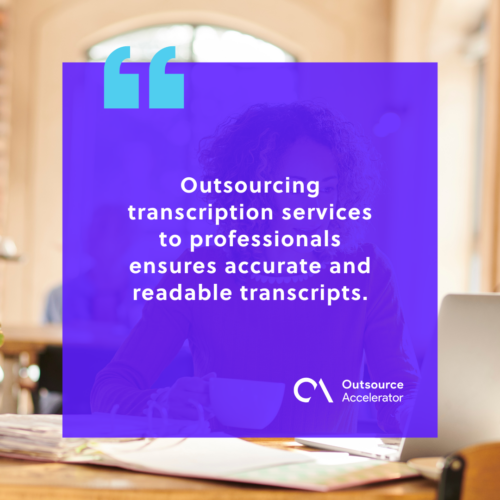 4. Secured confidential information
Businesses use audio-to-text transcription to record internal meetings, which often contain confidential information. Automated transcription service providers maintain discretion by encrypting all data and complying with the latest data privacy requirements.

Thus, if the transcribed content is confidential, you can expect it will be in good hands with an outsourced transcription service firm. 
5. Reduced HR headaches
The Human Resources (HR) department already has much on its plate. It supervises the whole company, trains employees, and undergoes hiring. 
Delegating the transcription tasks to an in-house team means the HR department has to look for, recruit, and manage transcriptionists. Companies can take the burden on HR by outsourcing transcription services, allowing the department to focus on core activities. 
6. Experienced staff
Outsourcing transcription services means working with skilled transcriptionists using the right tools and equipment. They have experience working with clients in various fields, consistently delivering outputs. 
Meanwhile, assigning transcription tasks to a less experienced in-house staff can result in inaccurate and delayed outputs. 
7. Flexible workforce
The volume of transcription tasks is inconsistent. If you outsource the service to an external company, you can expect them to have enough resources to deal with the unexpected influx of work without sacrificing the transcription's quality. 
This flexibility can help businesses meet deadlines and save resources. 
8. Enhanced core value proposition
Outsourcing transcription services enables in-house employees to focus on their core competencies. 
Instead of transcribing content, these individuals can fulfill their tasks without hampering their daily productivity. This move can result in more satisfied clients, improving competitiveness and performance. 
9. Engaged employees
Businesses should find a way to streamline their communication across all platforms. A study found that 22% of American workers are expected to work remotely by the end of 2025. This is where transcripts can serve one out of their many purposes. 
Outsourcing transcription services does not only benefit business owners; it helps employees too. If they have spotty internet or poor audio quality, well-transcribed content can help.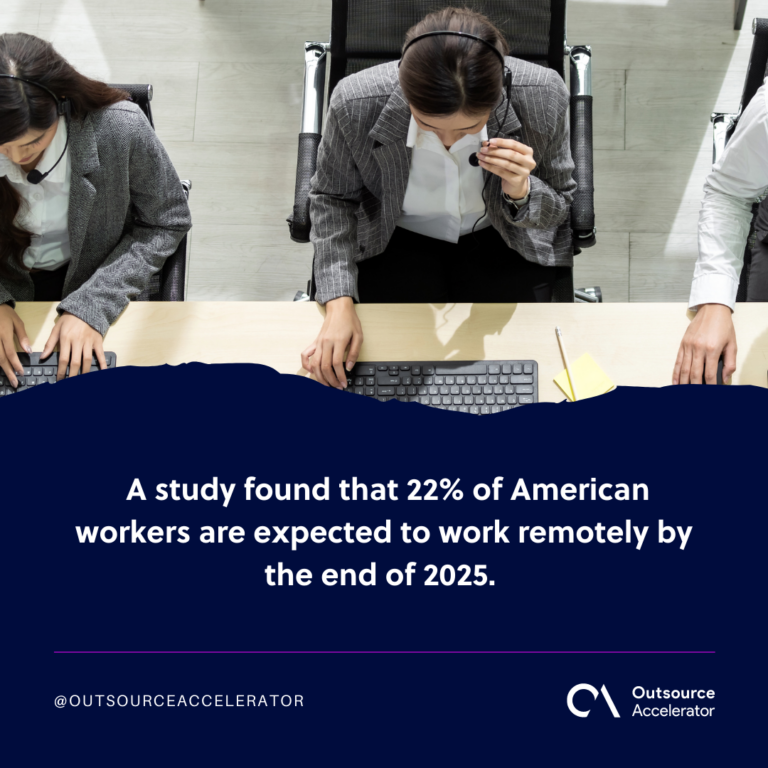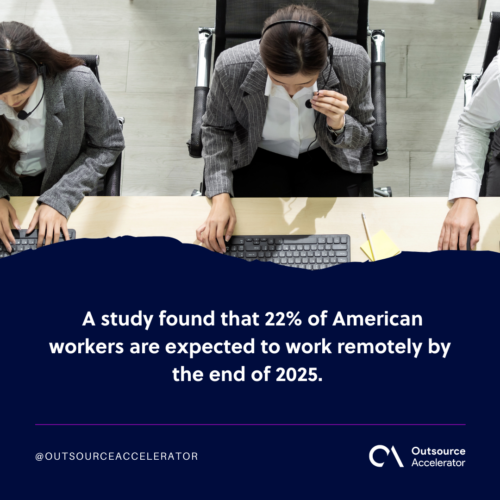 Are you ready to outsource your transcription needs?
Recording internal meetings and documenting events should be part of every business's processes. As business operations evolve, professional communications must remain accessible to everyone. 
Outsourcing transcription services enables enterprises to scale their efforts without stretching their in-house staff thin. Rather than asking an existing employee to do it, companies can choose to work with professional transcribers. 
However, transcribing audio to texts takes specialized training and skill. Businesses should partner with a trusted transcription service provider to make corporate communication more accessible, inclusive, and engaging.