Setting up a cost-efficient transcribing equipment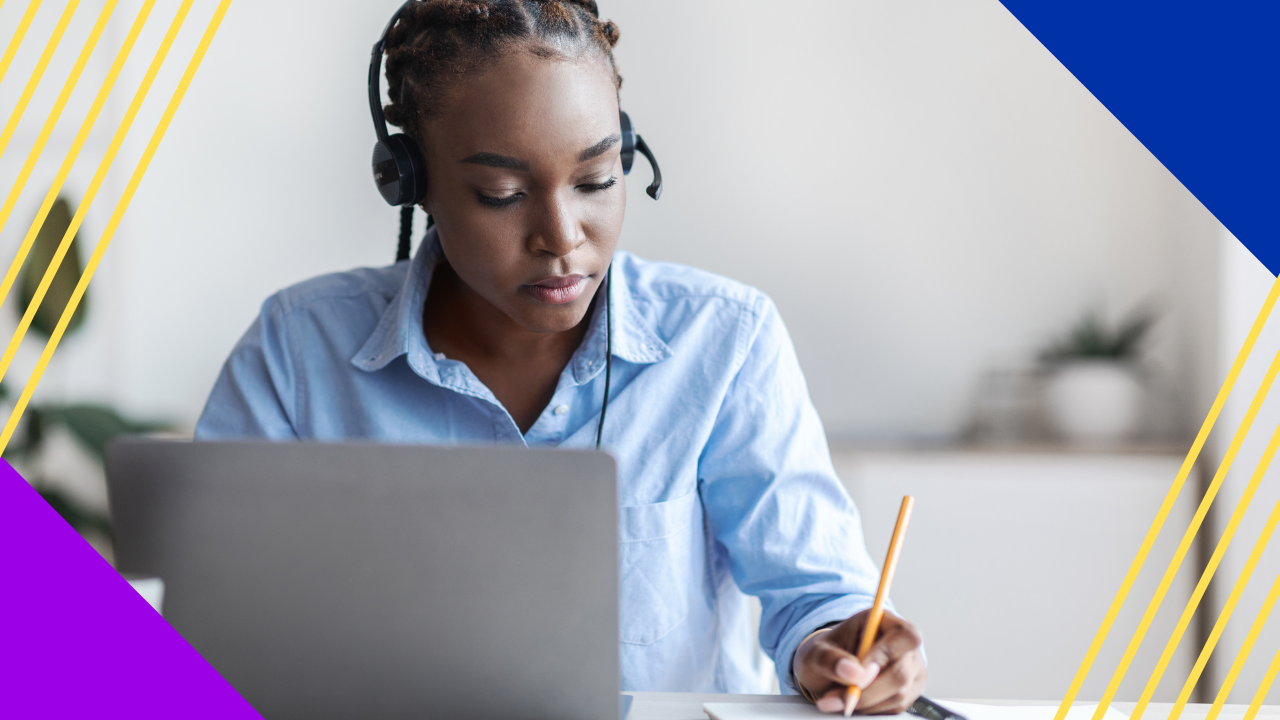 Transcribing equipment doesn't have to be expensive or make a large dent in your budget.
For the basics, you will need three pieces of equipment: a computer, high-quality headphones, and reliable transcription software. 
Whether you're starting as an independent transcriber or you're a part of a larger team, having equipment to help you transcribe efficiently is important.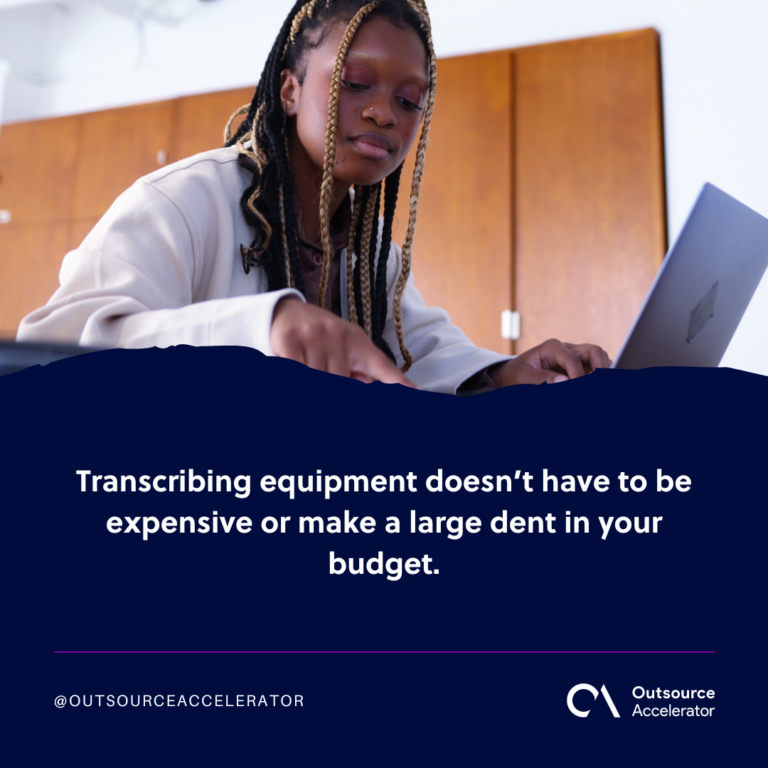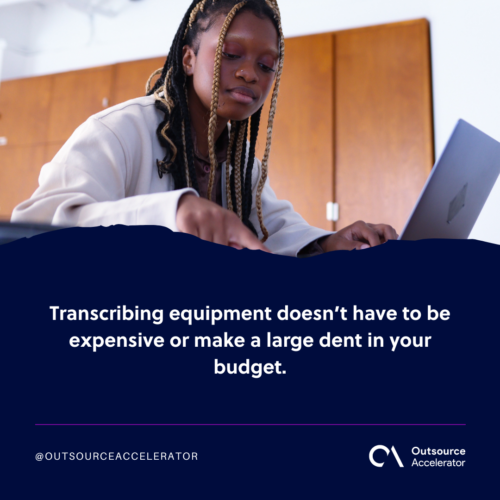 Why online transcribing is in demand right now
Online transcription services have been in demand for years now. Every industry has its fleet of professional and rookie transcribers. 
Not to mention that transcription is a straightforward task. It's easy to learn and to execute, even if you don't have fancy transcribing equipment.
Most freelance transcribers start small and work their way up to a more sophisticated build.
In the medical field
Medical transcriptionists focus on organizing and reformatting files of patients, along with doctors' notes and recordings.
In this line of work, transcriptionists exercise their skills in working effectively with sensitive information and being attentive to details.
Medical transcriptionists and transcribers are typically in outsourcing agencies. They have at least a degree in the medical field.
In the legal sector
Legal transcribers handle case files, reports, and court files needed for the paperwork.
From an outsider's standpoint, legal paperwork is one of the most intensive things requiring a legal firm's detailed work. It's no doubt that lawyers, paralegals, and other legal professionals are used to dealing with this kind of workload.
The basics of setting up transcribing equipment
Setting up equipment for a transcription service doesn't have to be expensive. Most transcribers didn't need fancy computers or peripherals when they started. It's easy to upgrade once you get the hang of the profession.
Computer
Any transcriptionist will need to operate a computer. Most modern builds can run programs you'll need for this line of work.
Some people are more comfortable with a desktop, and some are more at ease with a laptop. It's up to you whether to settle with the former or the latter. What's important is that the computer's processor can simultaneously run these programs without a hitch.
macOS versus Windows
These two operating systems are undoubtedly the crowd's favorite. Aside from Linux and other OS, Apple's macOS and Microsoft's Windows can run any programs and applications in their respective environments.
A recent study shows that creative professionals usually lean towards the Mac environment instead of its Windows counterpart. On the other hand, most employees are familiar with Windows and its different versions.
High-quality headphones
If you're going to splurge on one thing, make sure you get the highest quality headphones you can afford.
The most successful transcribers have clear and crisp audio that helps them understand what they're listening to. It's so much easier to transcribe when you're not going back and forth on the same timestamps because the audio is garbled.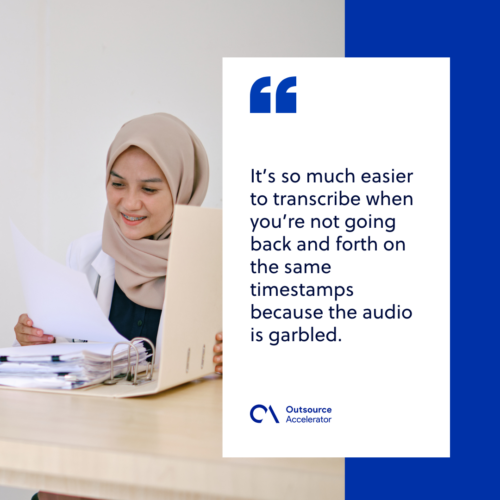 Transcription software
Are you just starting out as a freelance transcriber? There are many free transcribing equipment software for you to try.
OTranscribe
OTranscribe is a web application accessible straight from your browser. You don't need to download or install any programs for it to work.
The developers made sure that OTranscribe is a user-friendly environment. Users can control everything with the keyboard, the shortcuts programmed to respond to each key.
The FTW Transcriber
The FTW Transcriber is a downloadable software that runs on Windows and is now available on Android devices.
It's a simple and lightweight program that runs side-by-side with applications you have open. At first glance, it's a small orange window that displays your controls and more. 
Optional: Foot pedal
If you're upgrading your setup to a more professional one, consider getting a foot pedal that can control your software. Medical and legal transcribers use foot pedals to make their workload easier to manage.
Using this will give your hands the freedom to navigate and type without using the pause button on your keyboard often.
The simplest version of this transcribing equipment has two buttons, one for play and one for pause. A more complex one has three pedals, used by more experienced transcribers.
Optional: Text expander
Text expanders work somewhat similar to autocorrect on most modern phones and tablets. When you're transcribing, errors and grammatical mistakes are inevitable. Using a text expander will help you eliminate spelling mistakes while you work.
Starting out as a transcriber
When you're starting as a transcriber, chances are it's sometimes hard to work and find projects. Maybe the audio quality is too poor to comprehend, or perhaps the workload is too intensive. 
Keep in mind that there are bound to be some learning curves in every career path out there.