Basic overview of legal transcription services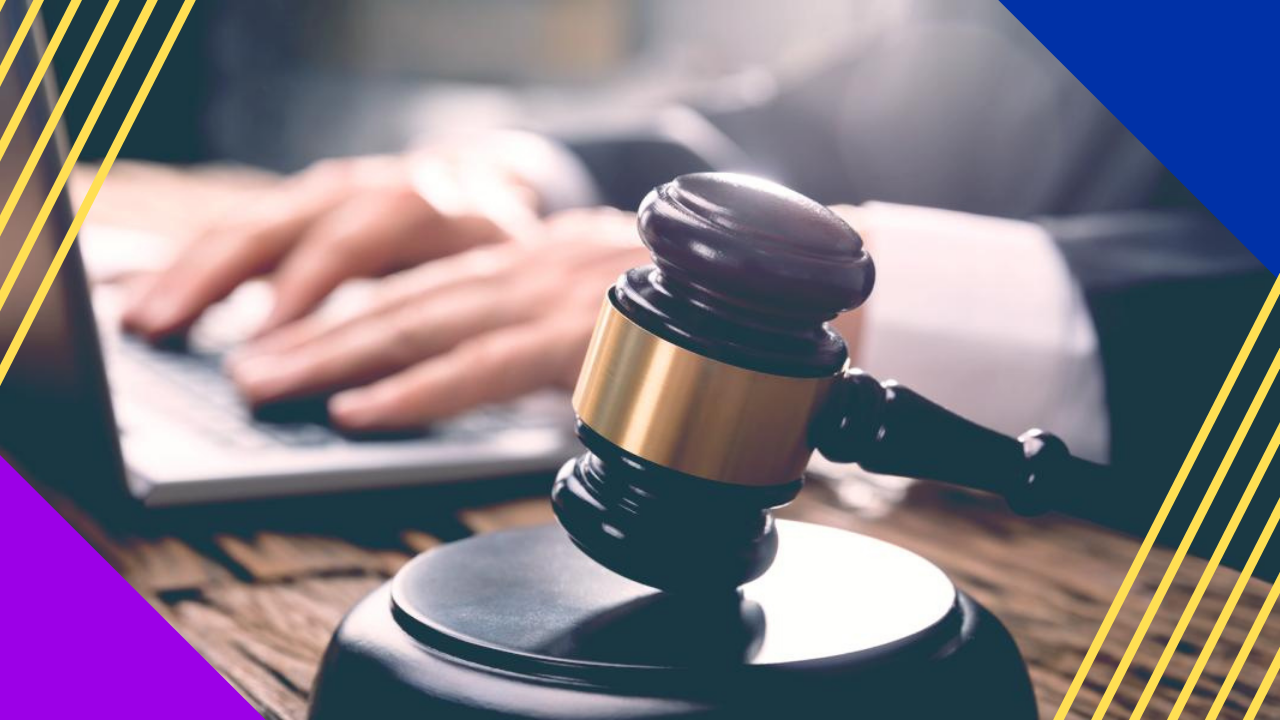 Lawyers have very busy day-to-day jobs. And because they have a lot going on their plates, they tend to work longer hours. This means that outside of their law firms and offices, they may not have a lot of time to manage other activities.
From reviewing documents and attending court hearings to going over important interviews and court recordings, lawyers are preoccupied with loads of tasks relevant to their cases. Fortunately, there are plenty of ways to streamline their daily work. 
Lawyers now make use of legal transcription services to help ease their workload. This frees up more of their time to take on additional clients, scale their services, and even catch up on significant life events.  
What is legal transcription?
Legal transcription refers to the process of creating a written legal document from a recorded video or audio file. 
The role of a legal transcriptionist is to watch or listen to the video or audio files. From there, they will create a written text by accurately transcribing all spoken words in a properly formatted legal document. 
Transcribed documents help lawyers find the specific information they need as they are straightforward, easy to read, and fast to scan. 
Legal transcriptionists sometimes specialize in different fields of law. This makes them more effective in transcribing precise legal documents. 
Legal transcription services have become increasingly on-demand over the last couple of years. It has evolved from court hearings to interrogations, depositions, testimonies, legal briefs, client letters, and general correspondence.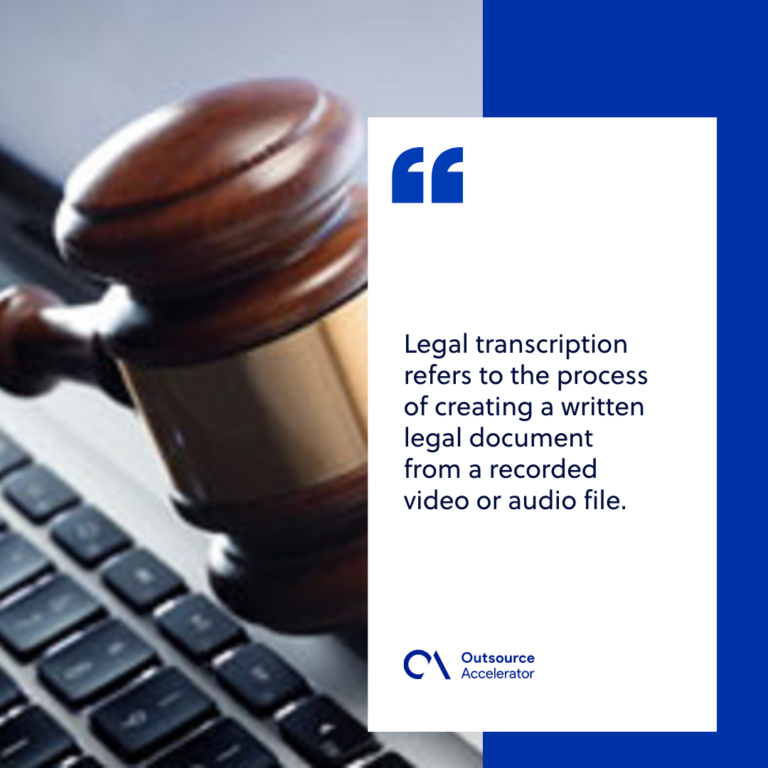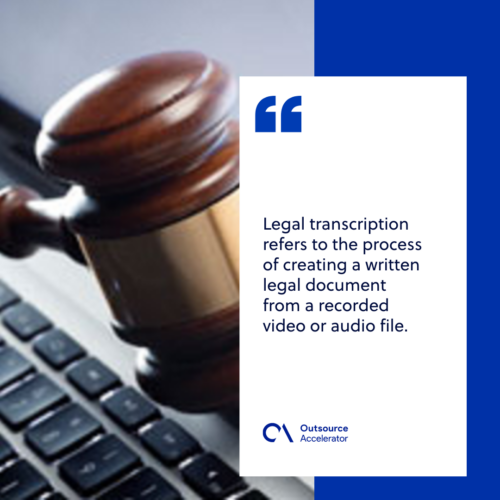 Difference between legal transcriptionists and court reporters
Court reporters or stenographers are licensed workers who are also present during court proceedings. They produce documentation of what has occurred in the court session, in real-time and rapid pace.
Stenographers type in through notes, which they will, later on, transform into full sentences and words. Afterward, stenographers will then proofread the document and once finalized, will be sent to courts and attorneys. 
Legal transcriptionists, on the other hand, are entirely remote and do not attend court hearings physically. There are transcriptionists who are not qualified to authenticate transcripts. More so, they do not have the capability to swear in someone. 
How legal transcription works
Legal transcription involves a simple process that is usually divided into three steps: 
Receiving and transcribing the audio file
The first step is when the client sends over the video or audio file to their chosen legal transcription provider. Firms offering this service usually accept various types of files.
During this step, clients need to be up-front about the turn-around time.
Once the files and instructions are received, transcriptionists will then carefully listen to the source material and produce a formatted document verbatim. 
If the file is of a court proceeding or interrogation, grammatical errors and speech nuances will be carried on the document. If it is a document or letter, correct wordings and phrasing will be used. This includes the correction of grammar and syntax. 
Reviewing and proofreading
After the transcription process, the document will then be reviewed and proofread by at least one other person. This will ensure the accuracy of the output and that it is free from grammatical errors. 
Sending the final document to the client
Once the document is double-checked and all client standards are met, the legal transcription will be sent back to the client. Clients may also request to have their documents in different digital file formats. 
The entire process for legal documents usually takes 24 to 48 hours. However, larger projects may require a longer turn-around time. It depends on the overall volume and the required resources for transcription.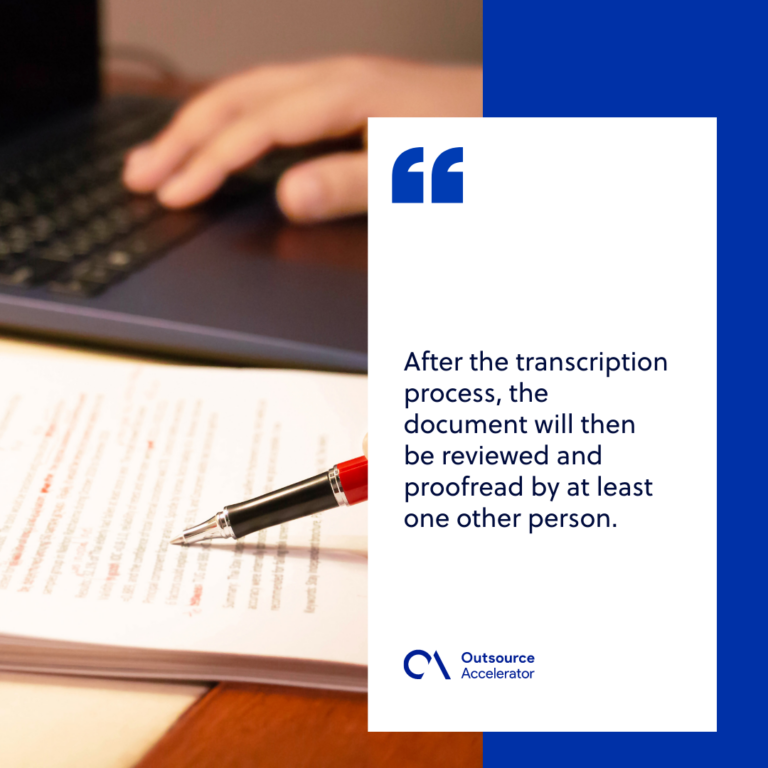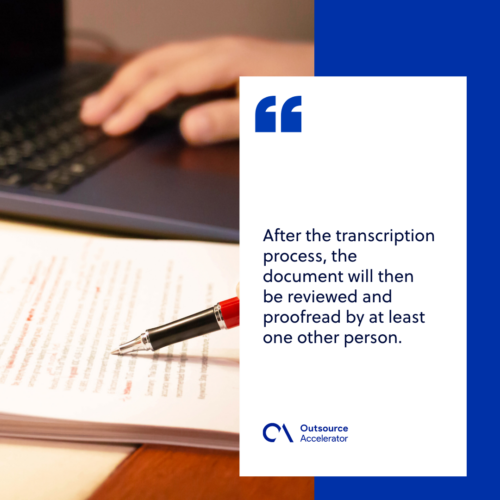 Tips in  finding the right legal transcription provider
Since this process involves legal documents and sensitive information, it is crucial to choose a reliable firm for legal transcription. 
For clients looking for a legal transcriptionist, here are some of the things to consider in choosing the right provider: 
Guaranteed accuracy
Look for an agency that has a high accuracy rate. Legal transcription providers that have a 99% accuracy rate are good options. 
Reasonable turnaround time
Ensure that they will provide a turnaround time that will work for you. In most cases, you do not want to receive your legal transcription document two days after or maybe even more. 
Clear contracts
Check if the firm has policies on cyber liability and general liability insurance. Go over their contract and see the scope of their work, as well as what is to be expected from both parties. A good firm has insurance that protects both ends. 
Follows security standards
Choose a provider that is compliant with the Criminal Justice Information Services (CJIS). Another thing to consider is to ask about their security procedures, data privacy, and encryption policies. 
It is also essential to check the reviews and testimonials of their previous clients to see how they work and how long they have been in the industry. 
Check our trustworthy outsourcing partners to find the best legal transcription service provider for your needs.