7 reasons why international businesses are outsourcing to Rwanda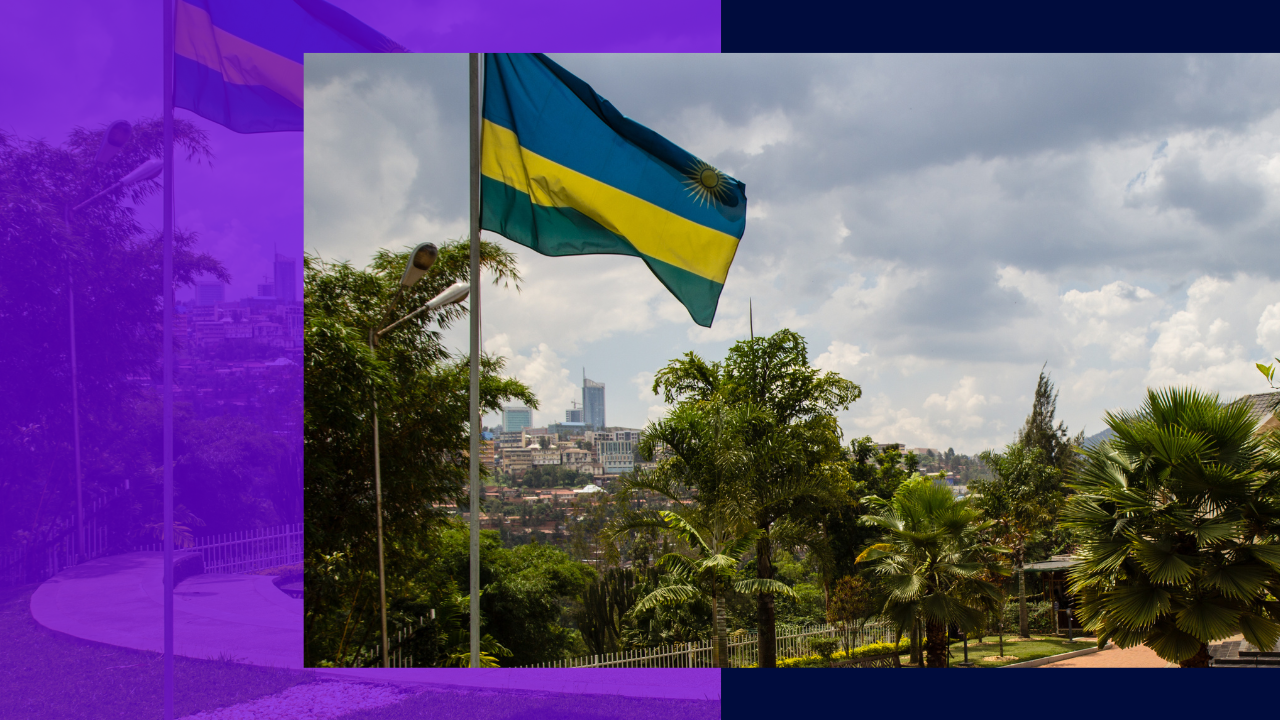 Many companies rely on outsourcing to stay on top of the game. The go-to outsourcing destinations have always been Latin America, Asia, and the Middle East. 
However, the growing population in these regions makes it expensive for businesses looking for cost-effective remote staff.
Rwanda has been slowly positioning itself as a contender in the outsourcing sector. Is outsourcing to Rwanda worth it? This article will discuss why this small country in East Africa is slowly becoming a go-to outsourcing destination. 
Understanding Rwanda's BPO sector 
Do you know why Rwanda's BPO sector is the next big thing? 
Rwanda's BPO sector flourished because the government and business organizations joined forces. This growth created thousands of jobs that transformed the lives of the Rwandan community. 
Rwanda is a global hub for the Global Business Services (GBS) industry. Outsourcing services to global companies fall into this sector. Fourteen companies invested in Rwanda's GBS sector since 2021, creating 500 jobs and employing a thousand people.
The government focuses on Business Process Outsourcing (BPO) and improving Information and Communication Technology (ICT) infrastructure to boost economic growth. It also aims to create more employment opportunities.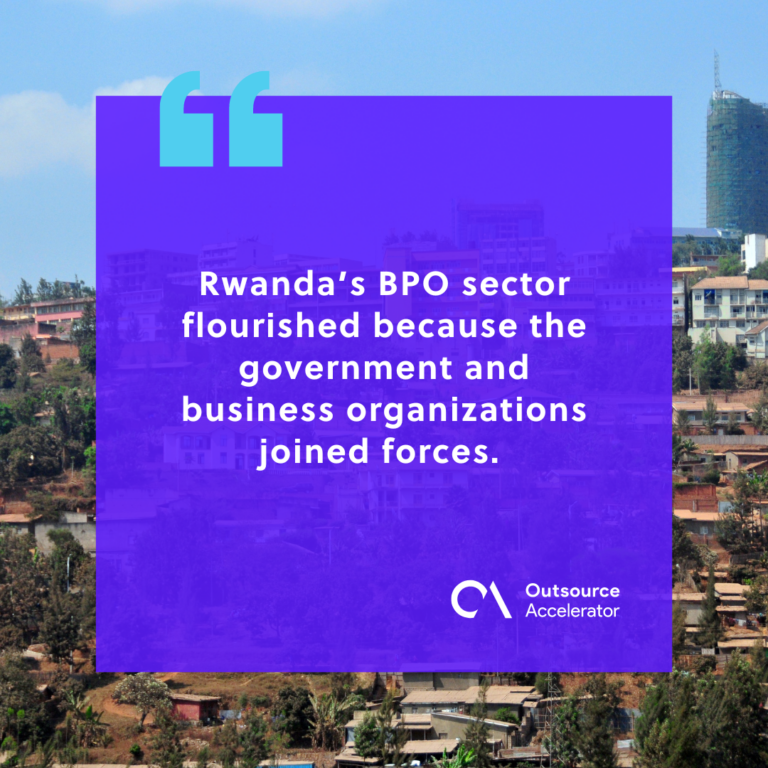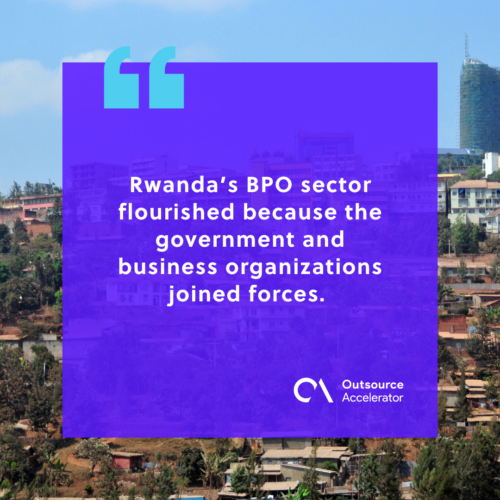 Why outsourcing to Rwanda is the next big thing
Like any other developing country, Rwanda has put much effort into strengthening its service sector. 
Here are seven reasons why Rwanda is the new face of market outsourcing: 
1. Growing talent pool
Rwanda has an undiscovered workforce with huge potential. World Bank reported that the country's labor force was 4.56 million in 2022, with an unemployment rate of 24.4% in November 2022. 
These figures offer a pool of potential employees eager to work on a stable job. Given income-generating activities, they are ready for it.
In the age of talent mobility, businesses should maximize the benefits an untapped talent pool can bring. These workers of Rwanda hold promise for the future of growth. You cannot afford to neglect the sources of potential outsourced staff as the industry remains competitive. 
2. Strong government support
You can attribute the development of the BPO and IT sectors in Rwanda to partners and the strong support from its government. 
The Ministry of  ICT & Innovation partnered with Harambee and GIZ. Both organizations help in solving unemployment. Although much of the support growth of the sectors is from these partnerships, the Rwandan government backs up these efforts. 
For instance, they offer targeted incentives like exemption from import duty, VAT, and corporate income tax. 
Moreover, the government provides a support scheme if necessary. They provide additional work permits for businesses to bring their training and managerial expertise.  
3. Reduced labor cost
Having in-house employees mean more costs for companies. For instance, the recruitment process is costly and time-consuming, from prospecting to hiring until onboarding. 
Moreover, the business spends more resources on employee training and development. What if the employee resigned after? Then all these efforts become meaningless. 
Outsourcing can reduce these costs. The low labor cost in Rwanda is why companies want to outsource to the country. Although it depends on several factors, the minimum wage is lower than in some developed countries. 
4. Proximity to European countries
Europe and Africa lie along the same latitudes, making Rwanda's time zone convenient for European countries. There is no time difference between Rwanda, France, Belgium, and Italy. 
Meanwhile, it is an hour ahead of the United Kingdom and Ireland. 
Time zone differences pose challenges and advantages in offshoring. In the case of Rwanda, its proximity to some European countries allows easier collaboration and communication.   
5. World-class infrastructure
Rwanda is a well-known tech hub in Africa, attracting investors and start-up entrepreneurs. With its growing infrastructure, this country has become a hot spot for offshore outsourcing destinations. 
The significant investment in the ICT infrastructure has also shaped the business practices in the country. Rwanda has experienced a technological shift in economic productivity. 
Exploring technical solutions is a good opportunity for forward-looking businesses to become a part of the innovative ecosystem of Rwanda.  
6. Meaningful impact sourcing
Impact sourcing has been transforming communities in ways you cannot imagine. It is a "socially responsible outsourcing." Simply, businesses provide stable employment opportunities to individuals facing hardships in job placement. 
Engaging in impact sourcing is like hitting two birds with one stone. You can fulfill your business needs while contributing to social and economic development. 
Rwanda's Ministry of ICT & Innovation Secretary has not yet exploited the massive opportunity for impact sourcing. However, its growth model–equal opportunity and green growth–has gained the support of global industry leaders. The future is bright for the people of Rwanda.  
7. Bilingual workforce
Africa is a diverse and culturally abundant continent. In Rwanda, most BPO and IT industry people speak English. Although other languages, including French, Swahili, and its mother tongue, Kinyarwanda, are spoken.
A bilingual workforce attracts foreign direct investment and official development assistance from other countries. Moreover, it benefits businesses that want to outsource call centers and sales services.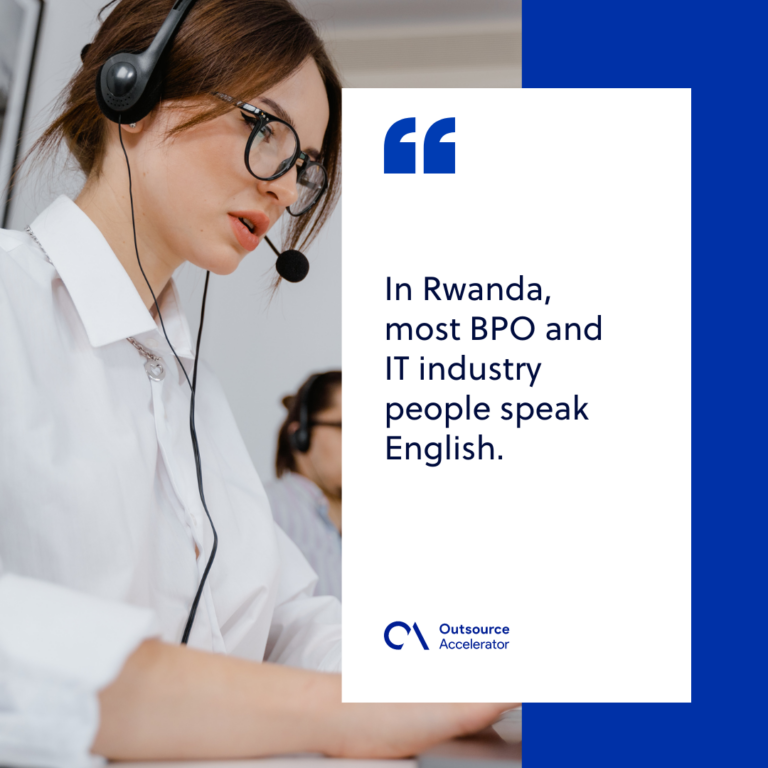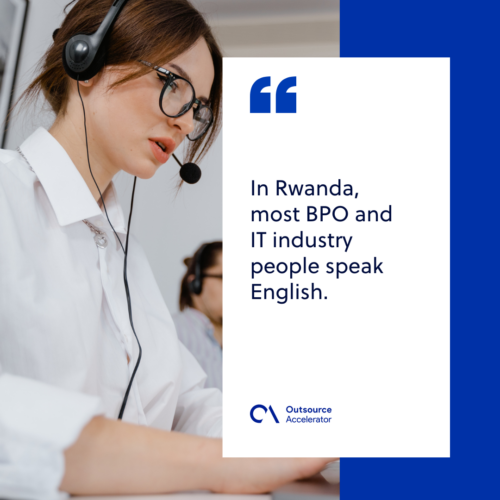 List of services outsourced to Rwanda
Businesses can outsource many services in Rwanda. By partnering with an outsourcing company in the country, you can maximize the benefits of the following services to grow your business: 
Call center services
Call center companies in Rwanda understand that customer satisfaction is key to growing a business. They act as the frontline of companies, the first point of contact for customer complaints or inquiries. 
The country's call centers build customer relationships through exceptional customer service and efficient communication solutions. 
These solutions ensure that customers do not have to wait for several minutes or hours to get answers to their inquiries. The route and processing times across multiple channels are quick. 
Some cost-effective services include inbound and outbound calls, Interactive Voice Response (IVR), telemarketing, voice email ordering, and messaging.  
Software development
Rwanda is home to several IT firms specializing in software development. These companies want to bridge the digital divide, or the gap between people with access to the Internet and those without. 
To do this, they connect with businesses to understand their goals and then partner with them to tackle the opportunities of using information technology.  
Moreover, Rwanda is a breeding ground for skilled software developers. Development services include mobile applications, e-commerce, games, blockchain, and CMS. 
Customized services like Salesforce solutions, Artificial Intelligence (AI), and the Internet of Things (IoT) are also on the list. 
IT outsourcing
The global markets have matured, making IT outsourcing destinations more expensive and competitive.
 ICT played a vital role in Rwanda's road to digital transformation. Rwanda provides several avenues for growth, including e-services, e-commerce, mobile technologies, automation, and application development. 
The regional hub for training ICT professionals and conducting research is also available. If the ICT industry is thriving, the potential is endless. It can improve economic growth, create jobs, and attract entrepreneurs.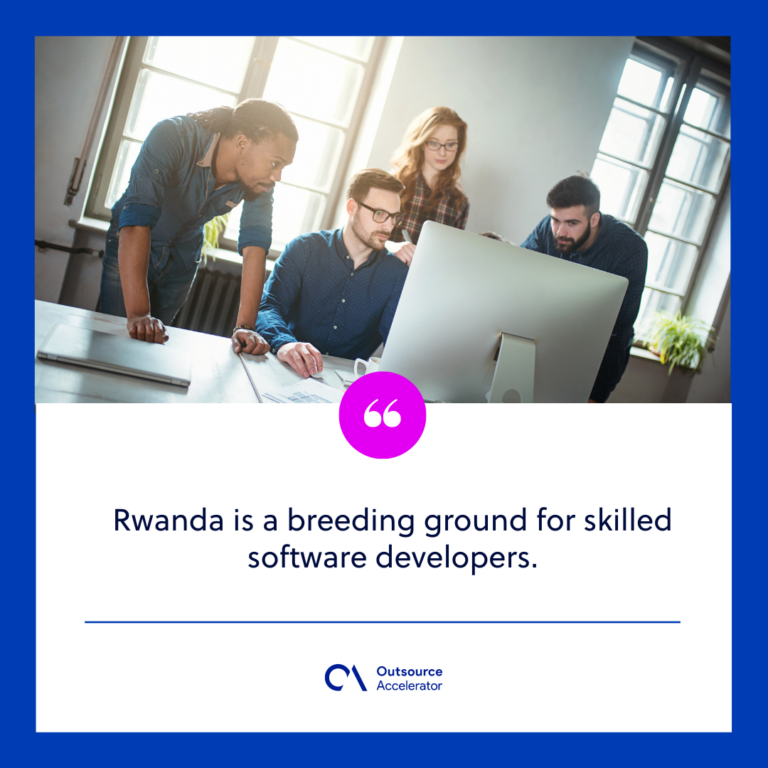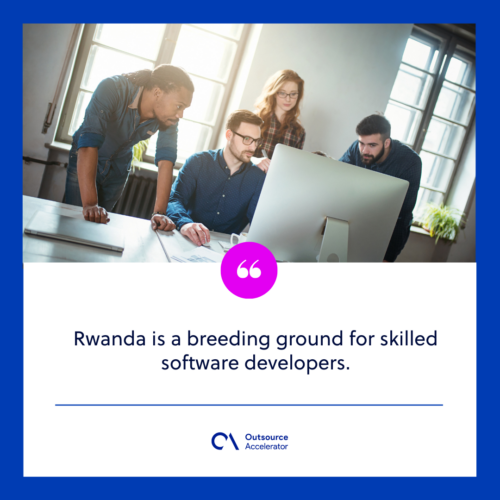 Exploring the benefits of Rwanda's outsourcing scene
Rwanda can reshape the global business processes in ways you cannot imagine. With government support and planned investments in the coming months or years, the country will undoubtedly become a prime destination for business services investors.  
Moreover, outsourcing in Rwanda can boost your business' growth and gain confidence in your capacity. It will lead to more companies discovering the opportunities and values that Rwanda delivers.