Outsourcing to Colombia vs. The Philippines: A quick comparison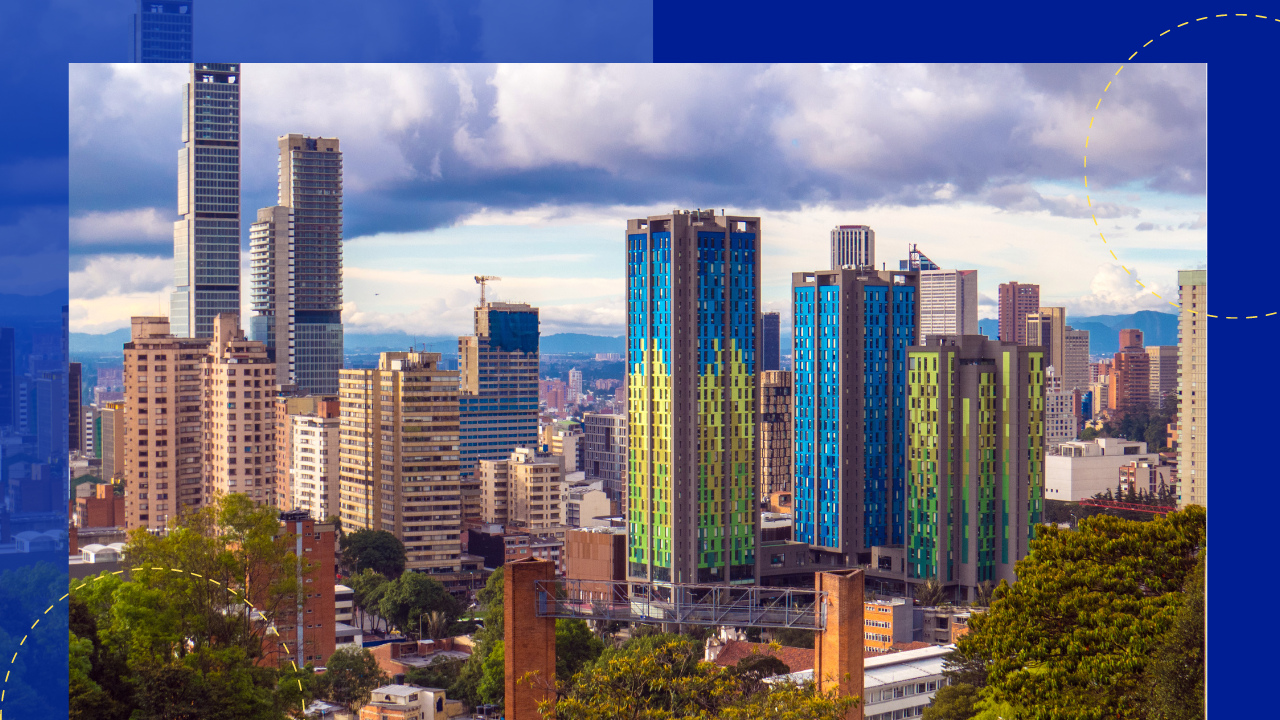 South America has been a budding destination for outsourcing services for years. With more than 20 years of growth, they became a go-to option for companies looking to delegate their functions at a nearby destination.
Colombia is one of the most popular destinations in the region. Its viable infrastructure and the vast amount of graduates joining the workforce yearly are some of the factors that make the destination attractive to US clients.
In fact, service providers such as Booth and Partners have taken the move to set up operations in the country.
Chris Mueller, head of sales at Booth and Partners, tackles the quick comparison between outsourcing to Colombia and the Philippines in episode 439 of the OA podcast.
Colombia as the new Philippines for nearshoring
Colombia is said to be the new Philippines when it comes to nearshoring services.
Ranking 13th in Kearney's 2021 Global Services Location Index, the outsourcing industry in the country receives an outpouring of support from its government.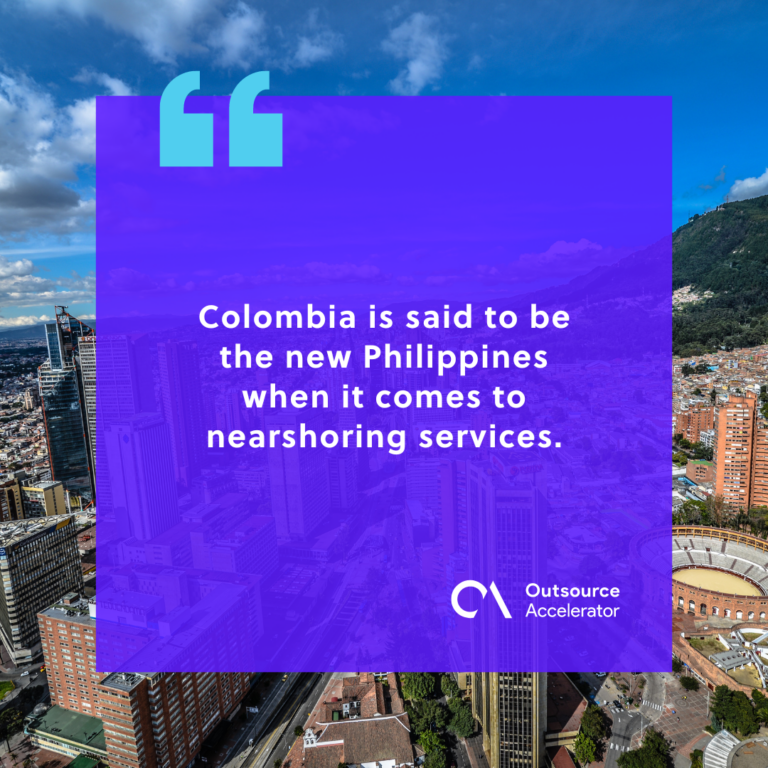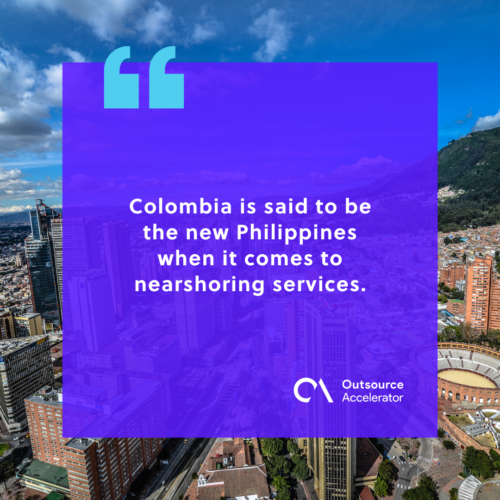 Some of the factors that make them viable for nearshoring include the following.
IT infrastructure readiness

. The country's IT infrastructure continues to develop and improve, though it has reached significant milestones with more than 65% connectivity.
Workforce availability

. Per Chris, the country produces around 13,000 university graduates annually.
Ease of doing business

. The

World Bank

recognizes Colombia as one of the countries with the best business environments to invest in.
Timezone convenience

. By outsourcing to Colombia, US clients get the convenience of having a few-hour difference from their nearshore team, making collaboration easier.
Outsourcing to Colombia vs. the Philippines: How the two countries fare
Chris shared that choosing the Colombian market was natural for them, given that many service providers are also settling in the country.
He mentioned that Colombia "is very well set up" in terms of doing business, with "quasi-governmental authorities promoting the country and helping companies set up [shop]."
Apart from this, the two countries have distinct qualities that make them both attractive for companies looking to outsource. 
Popular roles
While companies are attracted to the Philippines for support-related services, Colombia has become the rising leader for higher-developed goods and services.
Per Chris, Booth and Partners "wanted to be where there was a growing tech market." With thousands of workers developing their tech skills alone, he mentioned that "the industry is becoming much more well known as part of [its economy]."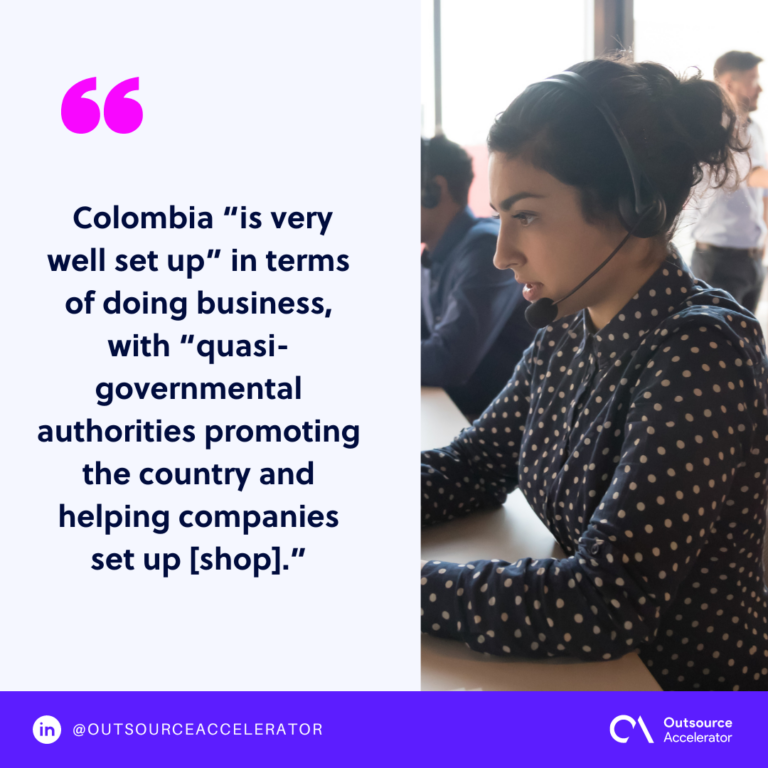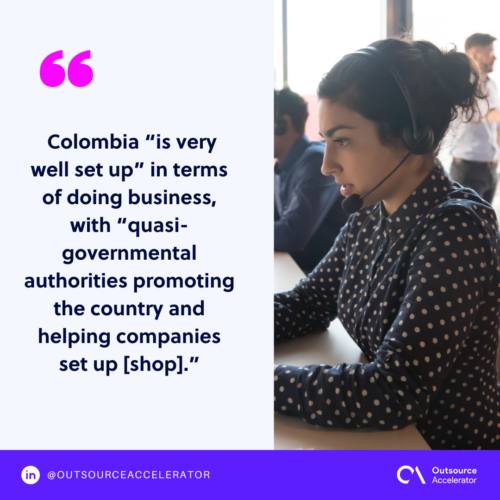 Cultural alignment
Chris also mentioned that the client's choice for nearshoring comes from different reasons, including cultural aspects.
According to him, one of the reasons Booth has set up shop in Colombia is to "get people to have the opportunity to [offer] Spanish-English bilingual services [with the] same timezone alignment."
Admittedly, the Philippines has a strong education and cultural alignment with the US with its historical ties. Though when it comes to better affinity and convenience with collaboration, Colombia is a better option. 
Costs
Per Chris, the cost difference between the Philippines and Colombia "[is not] so notable." Depending on the role, clients can still look for quality tech functions at a fraction of the cost of local hires.
Popular remote work platforms
One glaring difference Chris noticed is the platforms used by nearshore staff in the country. According to him, many software platforms "are more common in Colombia than they are in the Philippines."
For instance, Colombian teams are more aware of using Monday.com compared to the Philippines.
The future of global outsourcing
Chris agrees that different countries have specific strengths in certain roles. For instance, the US market benefits from hiring Filipino staff with their Americanized accents, while Britain is more comfortable working with India due to British English.
Chris emphasizes that as the world becomes smaller and more connected, outsourcing will become easier.
Per Chris, Booth and Partners focuses on their clients rather than specific industries or roles. They aim to make it easy for companies to outsource with them, beginning with one employee and gradually expanding their teams.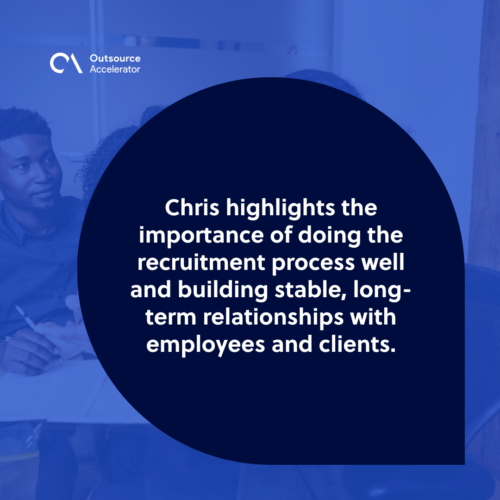 They can provide various roles as long as they can find suitable candidates in the local talent market. Chris highlights the importance of doing the recruitment process well and building stable, long-term relationships with employees and clients.
Stability and workforce continuity are seen as more significant than initial cost savings in the outsourcing evaluation process.
Contact Booth and Partners through their website.