Outsourcing revenue cycle management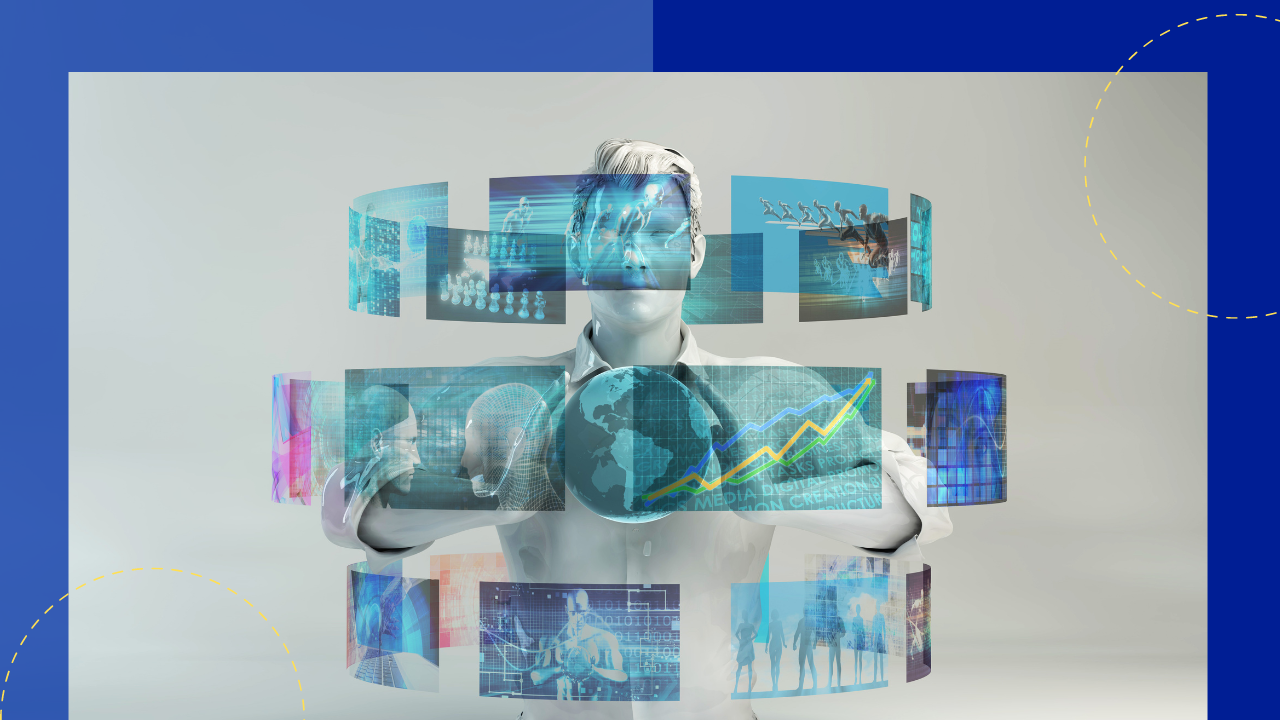 Delivering quality healthcare is easier said than done. Doctors, nurses, and other medical professionals would love to spend most of their time speaking with patients or in the lab or emergency room.
Alas, the chains of running a business get in the way. Too much time is spent filling out administrative documents. And while there are efforts to reduce this,[1] there's another solution, 
Outsourcing revenue cycle management (RCM) is being seen as a powerful answer to improving health care. The RCM process is necessary but can be too much of a hassle.
Outsourcing those processes can only be good for everyone.
What is revenue cycle management in healthcare? 
Revenue cycle management (RCM) is a term in the healthcare industry that describes aspects of the revenue cycle, such as patient payments.
All processes that take place from patient admission to their discharge are considered for financial aspects. Hospital bills must be very specific[2] so patients know they're getting their worth, and the RCM should address that. 
Here are some of the other activities done when you outsource revenue cycle management:
Patient collections
Claims processing
Medical record management
Budgeting and forecasting
Revenue cycle management ensures that medical providers receive payment for their services. Good RCM aims to increase cash flow, reduce bad debt, and improve the quality of care.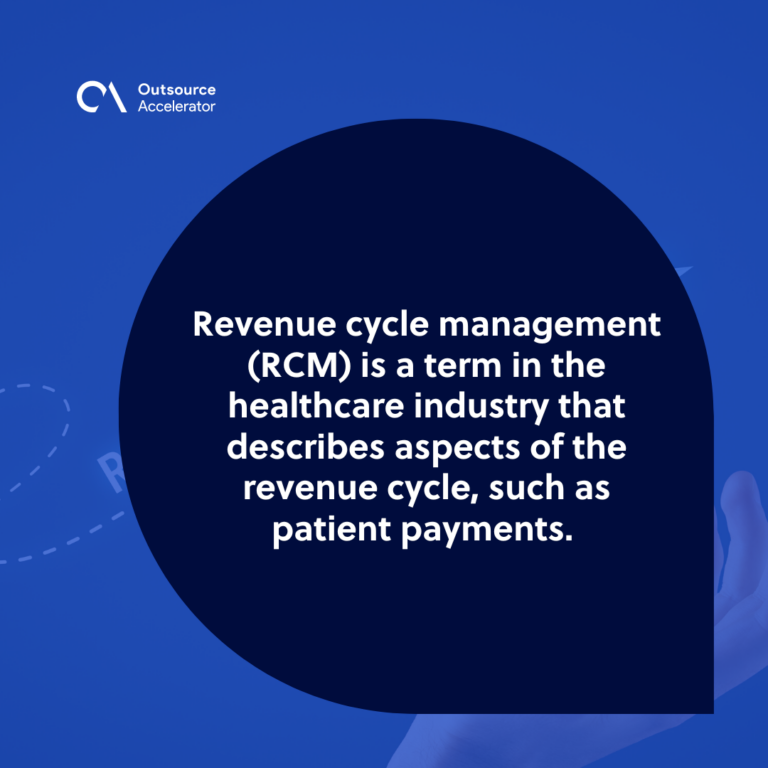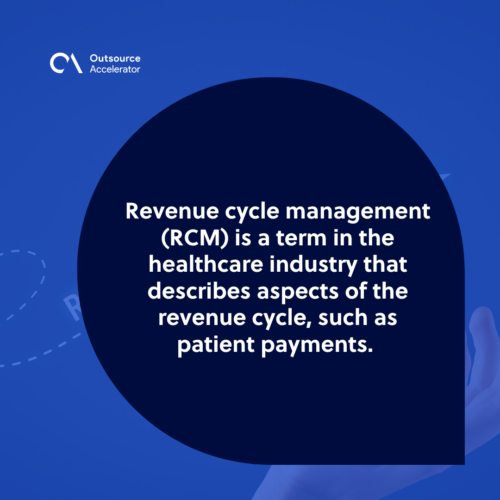 Outsourced revenue cycle management industry 
Outsourcing revenue cycle management is a growing segment of the healthcare industry. As more health systems and physicians seek to reduce costs and improve quality, this sector is only expected to expand.
Market Research Future reveals that the healthcare outsourcing industry is foreseen to reach nearly $490 billion worldwide by 2027. This trend is driven by several factors, including:
The overwhelming complexity of the US healthcare system
The need for specialized expertise in navigating it
New challenges presented by the growth of ambulatory care and outpatient services
The demand for more effective management of clinical documentation and coding
The market for outsourcing revenue cycle management is thriving. More and more healthcare providers see it as a reasonable solution for administrative burdens and costs.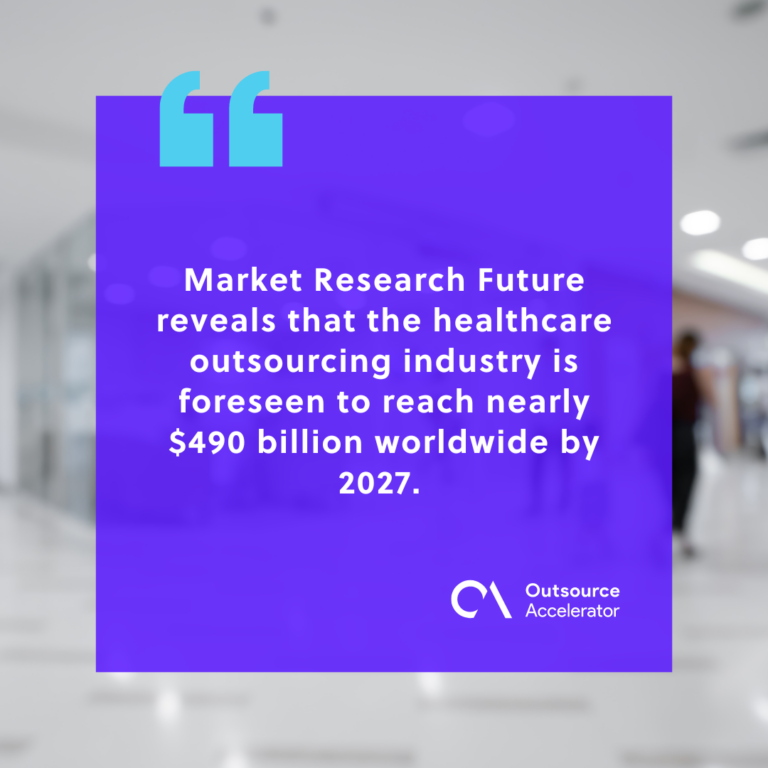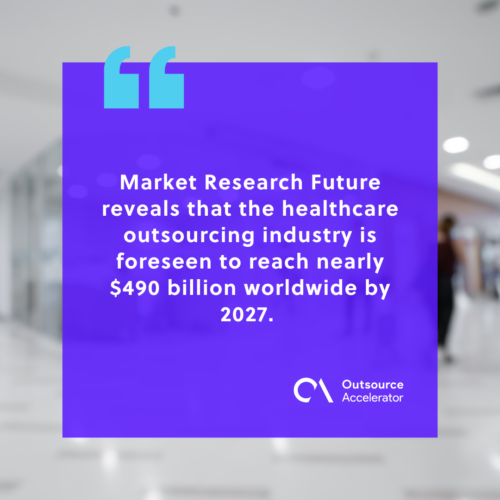 Benefits of outsourcing revenue cycle management
Here are some ways outsourcing revenue cycle management has benefitted healthcare facilities:
Increased efficiency
Outsourcing revenue cycle management increases efficiency in several ways.
Firstly, it allows the hospital or clinic to focus on the parts of the process where they have actual expertise. More time can be given to patient care, freeing staff to work on other areas.
Outsourcing revenue cycle management companies can handle multiple aspects. This includes medical billing, collections, and reporting, so you don't need different vendors for each service.
Another way outsourcing revenue cycle management improves efficiency is by bringing consistent results across all departments and locations within a health system.
When one vendor handles all financial aspects, it provides harmony in all areas of an operation. Every transaction is ensured to follow specific guidelines to produce good results.
Improved patient care
Increased efficiency leads to an overall improved quality of patient care, resulting in enhanced patient satisfaction. Outsourcing revenue cycle management allows health systems to provide better outcomes for patients by managing their bills more effectively.
Doctors and nurses shouldn't worry about how their clinic will pay for medical procedures. They should focus on patient care, and outsourcing RCM solutions will help.
The amount of time on paperwork done by medical professionals is frankly too high. There are more essential tasks requiring their attention.
More affordable costs
Outsourcing revenue cycle management costs can be divided into two categories: the costs of staff and technology.
Technology costs are often variable. As your business grows, you spend more on technology to support your needs.
Through outsourcing, however, you only pay for what you need. If you require anything additional, you just need to request it from your outsourcing provider without worrying about new software purchases.
Domestic staffing costs tend to be fixed, but even these can be gotten at lower rates through outsourcing revenue cycle management. It's not a sweatshop either, as you'll be paying the equivalent rates.
Enhanced transparency and consistency
Firms for outsourcing revenue cycle management typically have access to data on every aspect of your health system's billing. This lets them quickly identify any errors before they become problems.
Outsourcing firms use standardized protocols, meaning they have higher levels of transparency and consistency than an in-house team. This streamlines processes and allows for easier communication between staff.
Access to skilled and dedicated personnel
The RCM field is highly specialized. Outsourcing grants access to experts trained in all aspects and dedicated to your account.
This means they understand every nuance of your processes. Their sole job is to work on your accounts, meaning you won't need someone else to multi-task with other health duties.
No need for constant retraining
A common challenge of healthcare organizations is recruiting and retaining skilled employees.
However, your outsourced revenue cycle management staff will already have been trained. New hires and training cost money, but outsourcing eliminates the risk that inexperienced employees could cause later.
Better workflow
Streamlined workflows aren't new to outsourcing practices. Save time and money by hiring an outsourced team.
An outsourced revenue cycle management team makes sure that everything runs smoothly. This is a positive for customers that want their reimbursement as quickly as possible.
Things to consider before outsourcing revenue cycle management
If you're considering outsourcing revenue cycle management, here are some questions to ask yourself before deciding:
1. What are your goals? 
Why are you looking at outsourcing revenue cycle management? Outsourcing can reduce costs, increase cash flow, and improve quality, but it may not always be the right choice for organizations depending on the situation.
2. What does your current RCM program look like? 
Outsourcing makes sense if there are areas in your revenue cycle management processes that can be improved.
For example, resolving a high volume of claims takes a long time. An experienced RCM provider can smoothen that process for you.
3. Do you have enough resources for internal RCM? 
Outsourcing revenue cycle management is a better option because it allows you to focus on your business priorities without sacrificing the quality of care.
References: 
Efforts to reduce this.

Kocher, R.P., 2021. Reducing administrative waste in the US health care system. JAMA, 325(5), pp.427-428.