Outsourcing is a business model that allows companies to hire incredible offshore staff at an enormous discount.  You basically treat the staff as your own standard employees, but all of the legal, back-office, and infrastructure is taken care of for you. Businesses have been doing this in its modern form as far back as the 1960s.
How outsourcing transforms businesses
Outsourcing transforms businesses by changing the foundation of employment norms. The word itself can be interchanged with — offshoring, distributed workforce, call centers, staff leasing, and remote working. 
Firms get easy, flexible access to high-quality staff, plus processes get streamlined, workflow gets shorter and more precise, and outcomes are improved.
When venturing into outsourcing, you must know one thing: you and your team will be working with talented experts that are dedicated to their careers and are experts in process improvement.
The things you need to know about outsourcing
Outsourcing is such a game changer.  It's important to know and understand how it works, even if you choose not to adopt it for your company.
As Singapore's late Prime Minister and founding father said, "If you deprive yourself of outsourcing and your competitors do not, you're putting yourself out of business.".
So here are some of the basics.
It saves a lot of money.
One of the most obvious reasons for outsourcing is to save money!
While outsourcing isn't the most inexpensive business model out there, it could help companies and organizations save up to 70% on their all-in staffing costs. 
Not only is outsourcing 70% cheaper, but they also remove all of the complexities and costs of employment – legals, recruitment, compliance, taxation, healthcare, and office management – to name a few.  Outsourcing offers a supremely flexible approach to employment. 
Access millions of high-quality candidates
Offshore staffing means that you can access hundreds of millions of prospective employees.  Accessing great staff is a challenge for all businesses, so why limit your chances of finding that perfect candidate to your local geography or market?  When you look at employment from a global perspective, it opens up incredible employment opportunities.
Normally the recruitment process is cumbersome and expensive for businesses.  When you are outsourcing, the outsourcing company will generally take care of this for you, including screening, hiring, and onboarding.  Easy!
Double your workforce
Outsourcing isn't just about saving money.  Imagine what you would be able to do, and how you could outcompete your market if you could double – or triple – your workforce – for the same cost! That's possible with outsourcing.
Doubling your workforce means that you've got the double resources to grow, develop, sell, research, and service your company, clients, and product beyond limitations.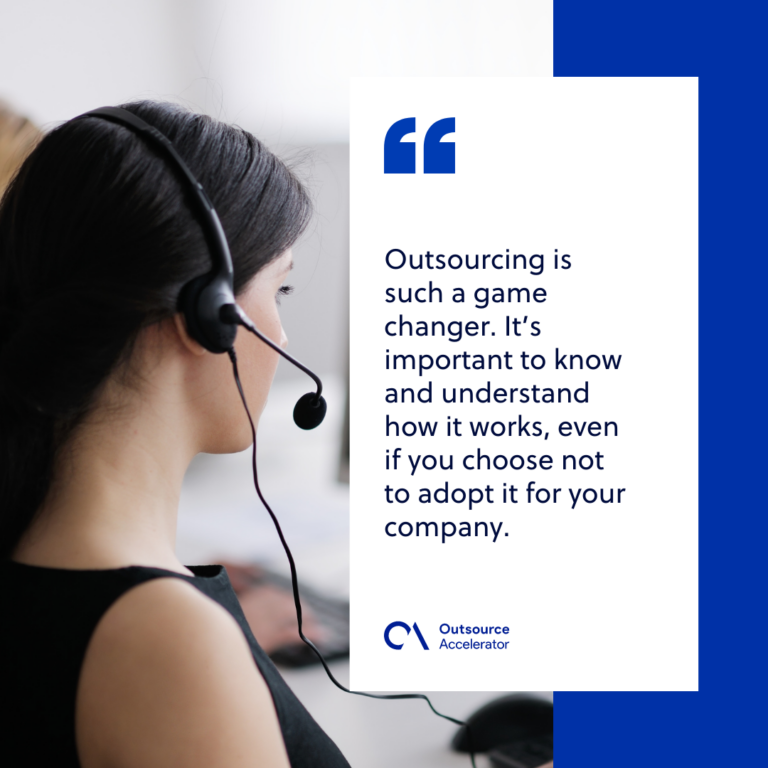 Outsourcing changes lives – and businesses
The BPO industry doesn't only transform businesses; it also changes lives.
For businesses, outsourcing generates more growth, higher margins, increased profitability, and the opportunity to concentrate on core activities and expand! 
For onshore employees, contrary to misconceptions, outsourcing can offer more security and more opportunity to thrive.  Outsourcing can increase profitability and resources.  This means that the onshore employees have more secure employment, and they can generally focus more on core tasks and roles of higher value-add to the company.
For offshore outsourced employees, outsourcing is an economic boon.  The salaries might look low compared to the Western counterparts, but they are relatively highly paid jobs for that country and offer enjoyable, safe, and engaging careers.
Not only does the industry provide job opportunities for all, but it also serves as an avenue for connecting different nationalities across the globe.
The best time to outsource is today.
Outsourcing can be a complex skill to master – just like running a business can take a lifetime to perfect. So, as they say, the best time to start outsourcing was yesterday; the second-best time is now".
In truth, outsourcing can take a while to explore, learn and engage with.  It can take a while to find the right outsourcing partner and build a comprehensive team. But it is a great skill to build, and having an offshore team is a very powerful asset for your company.
Outsourcing can work for 99% of businesses across 99% of sectors. However, it might not be right for you and your business at this time. But it wouldn't hurt to study and research about it. On the other hand, if you do want to dive deeper into outsourcing, you can start today.
There's no time like the present.
For more information, read the ultimate guide to outsourcing and offshore staffing.