Outsourcing options for your business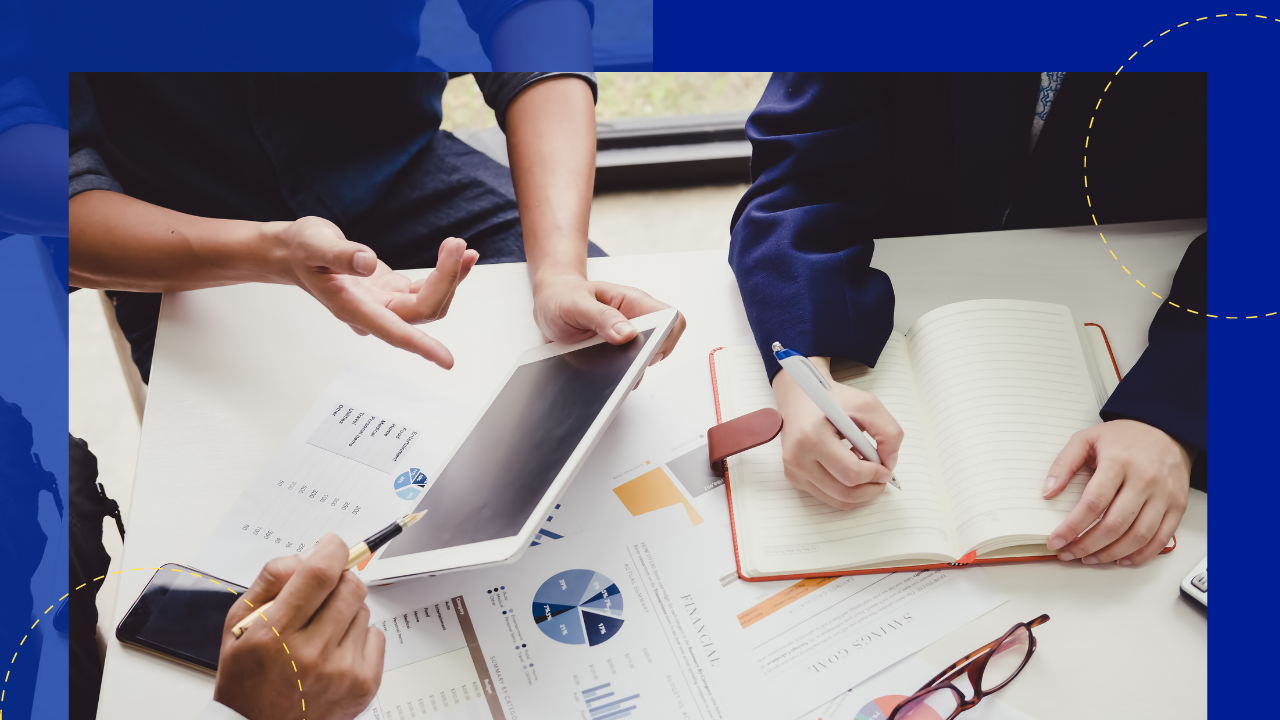 Outsourcing has been a rising business practice that allows companies to contract certain tasks and processes out to external vendors.
The outsourcing agency arranges for its employees or systems to provide services to their clients, usually at their premises. Companies looking to scale or get seasonal help can outsource several tasks to service providers. 
Since the industry has been growing for the past years, there are now several outsourcing options for organizations to keep their operations running smoothly.
Why outsource?
For most businesses, hiring several employees to cover different tasks can be tiring and expensive — especially if teams require a multitude of skills and expertise. 
Outsourcing widens the company's hiring pool and attracts talent from different locations. This means that companies can hire individuals with varied knowledge and diverse backgrounds.
This makes acquiring staff in different fields easy, particularly in these times when industries are struggling with skill shortages.
Additionally, outsourcing enables business leaders to explore new strategies without investing so much money. Fresh ideas and approaches can now be facilitated without establishing new infrastructure or resources through service providers.
Aside from these reasons, outsourcing also offers multiple benefits including the following:
Increased efficiency and productivity

Access to up-to-date technology and infrastructure

Time to focus on your core tasks and develop the company further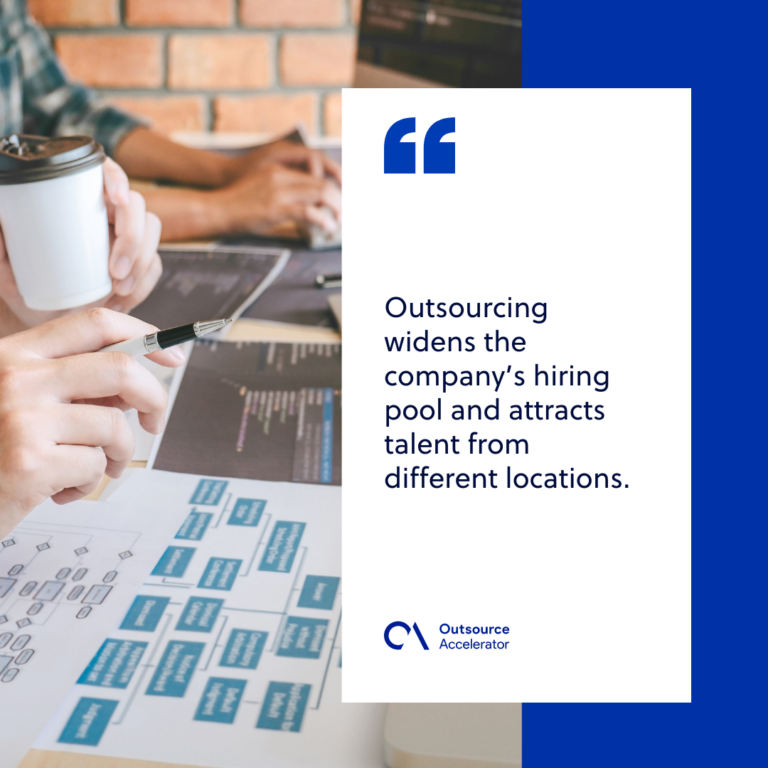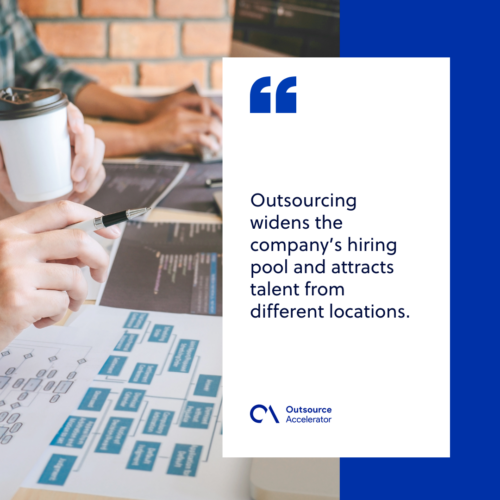 Outsourcing options for your company
There are various outsourcing options that your business can acquire. To decide which to consider, we listed some of them below:
Managed services
Managed services occur when a company hires a service provider to be their local staffing partner. The third-party organization will then be responsible for building an offshore team that will perform a specific business process. 
With this solution, you can transfer an entire function to another company to ensure work efficiency and performance. Hiring a managed service provider will allow you to have more time for vital business processes that need your attention.
Managed service providers (MSPs) are responsible for managing the team, meaning that they will be the client's support arm for continuous operations. 
Staff leasing
Staff leasing, or employee leasing, happens when a company hires another organization to look for its workforce. Under this arrangement, the client company and leasing firm will share the responsibility of managing the employees.
The client will still be the official employer and maintain full control over their outsourced workers. Meanwhile, the staff leasing firm will be in charge of recruitment, onboarding, payroll, benefits and insurance, compliance, employee engagement, and acquiring the tech and resources needed
This arrangement is beneficial for start-ups and small companies that cannot afford to hire new in-house employees to finish their workloads.
Employer of record (EOR)
An employer of record (EOR) handles the employment responsibilities of companies that want to expand their services overseas. They help organizations legally engage with offshore employees without setting up a local entity in their chosen country. 
EORs act as intermediaries between employers and employees. They will be registered as the employer on paper but will not have a supervisory or management role in the worker's position.
Apart from recruitment, hiring an EOR is an ideal outsourcing option for businesses that want their tax compliance, payroll, and other HR management-related tasks covered.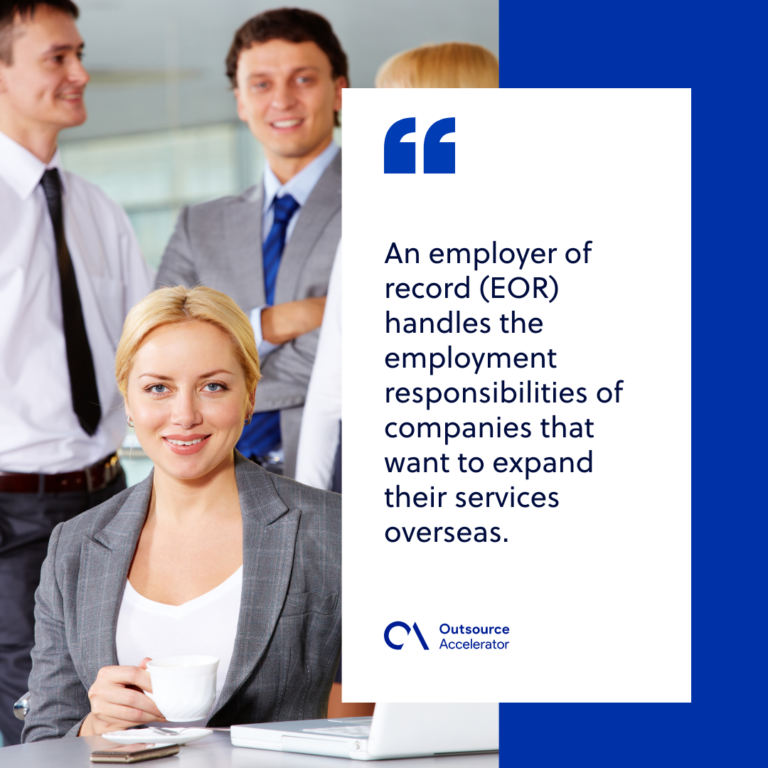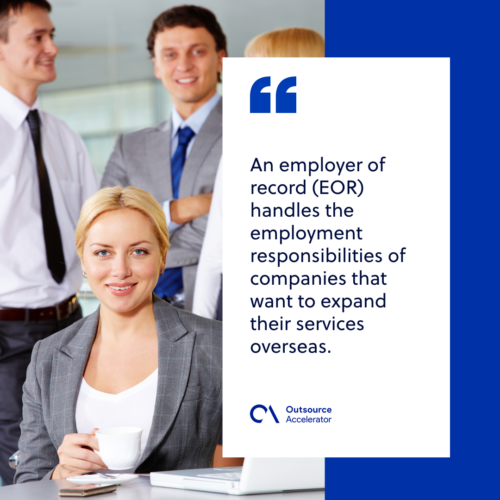 Knowledge process outsourcing (KPO)
Another outsourcing option that companies can obtain is knowledge process outsourcing (KPO). This approach involves contracting out work to individuals with advanced degrees or expertise in a specialized area. 
Ideally, companies recruit KPO providers to acquire a highly skilled workforce at a lower cost. Through this strategy, a business can access field experts to boost competitiveness and accomplish short-term projects.
Multisourcing
Multisourcing entertains the concept of working with multiple service providers. This allows an organization to divide a significant volume of work among various contractors.
By hiring several providers to finish a task or service, this outsourcing option maximizes the effectiveness of a business function, lowers security risks, and ensures operational stability.
This practice is commonly suitable for large companies that want to outsource a variety of their operations to different vendors. 
How Booth and Partners provides various outsourcing options
Now that you know the different outsourcing options you can get, it is time to find the right service provider for your business.
It is crucial to recruit an outsourcing company that can seamlessly integrate into your business without any difficulties. Booth and Partners (B&P) can provide this and more. 
Booth & Partners works as a true extension of your team and has built full-time, first-rate offshore teams for 60+ companies of all sizes, across the world. They deliver top-quality and tailored solutions for businesses to grow and thrive in any sector.
Through their smart, tailored outsourcing and HR solutions, finding and retaining skilled professionals is made easier and simpler. Furthermore, they have vast outsourcing experience across various industries. 
Discover the most ideal outsourcing solution for your business needs with Booth & Partners.