How EOR and PEO services can help your business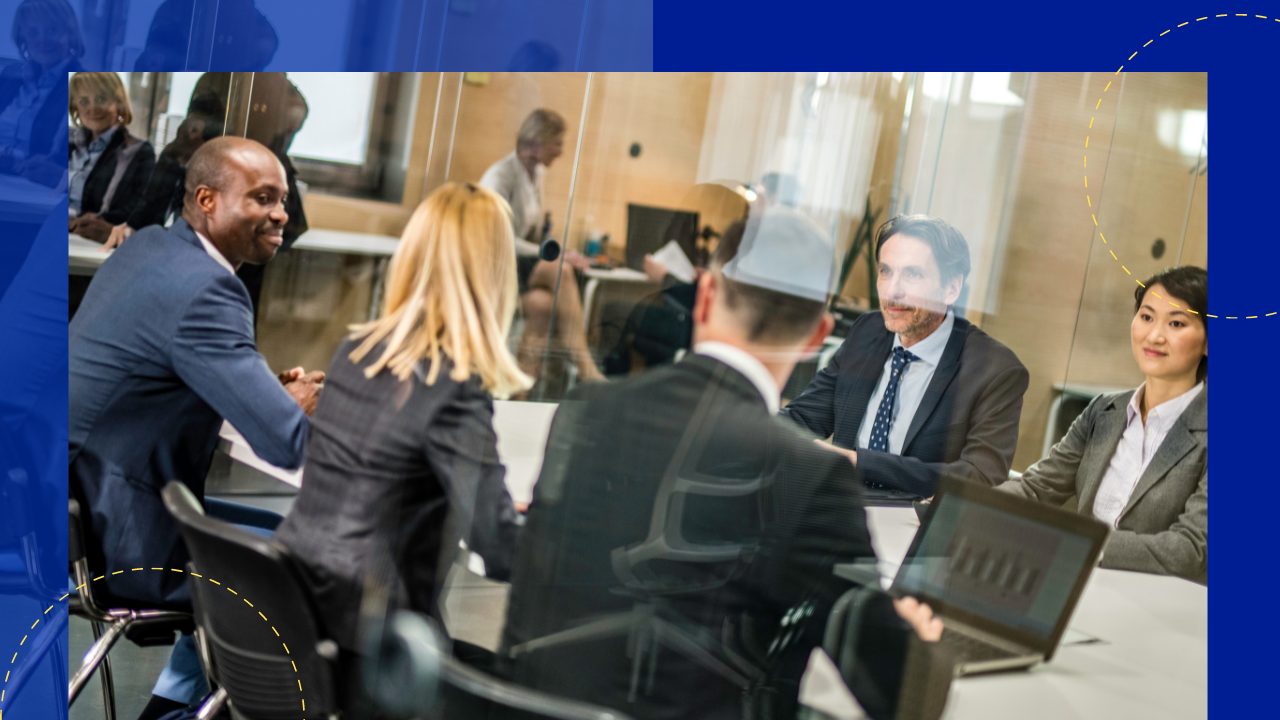 Human resources are the backbone of any business. An EOR and PEO provider can give access to a deep pool of talent and help a company navigate the complexities of hiring and recruiting an offshore team.
With their help, the goal of achieving a global presence can be done quickly, with only a few roadblocks to encounter.
But first, what are EOR and PEO? What are the benefits that they can bring to an organization? 
What is EOR?
An Employer Of Record, or EOR, is an organization that handles human resources (HR) and labor relations services. They serve as the employer for tax purposes while the employee performs work at a different company. 
The EOR takes on the responsibility of traditional employment tasks and liabilities such as payrolls, insurance, administering benefits, keeping records, and client support.
Partnering with an Employer of Record is a cost-effective way to outsource HR tasks. This enables businesses to explore new opportunities in other locations without setting up a local entity.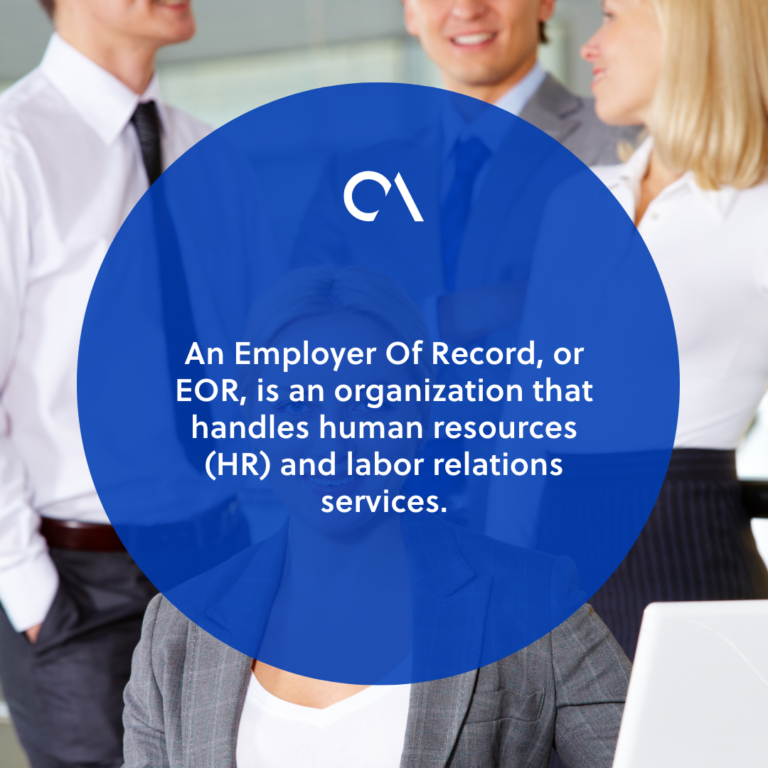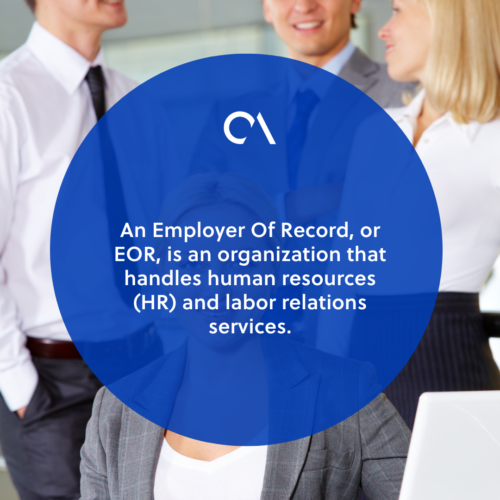 What is PEO?
A Professional Employer Organization, or PEO, is an HR company that is recruited by businesses — primarily small companies or start-ups — to handle administrative functions like payroll, taxes, and employee benefits. 
The PEO operates as a co-employer, becoming the legal and tax-related employer of the workers of their client companies. 
This strategy allows them to negotiate the employees' benefits, compensation, and insurance while offering top-notch services to their clients.
The average client of a PEO is an organization with over 16 to 80 professionals. Pricing for PEO services is usually based on a percentage of total payroll or the number of employees.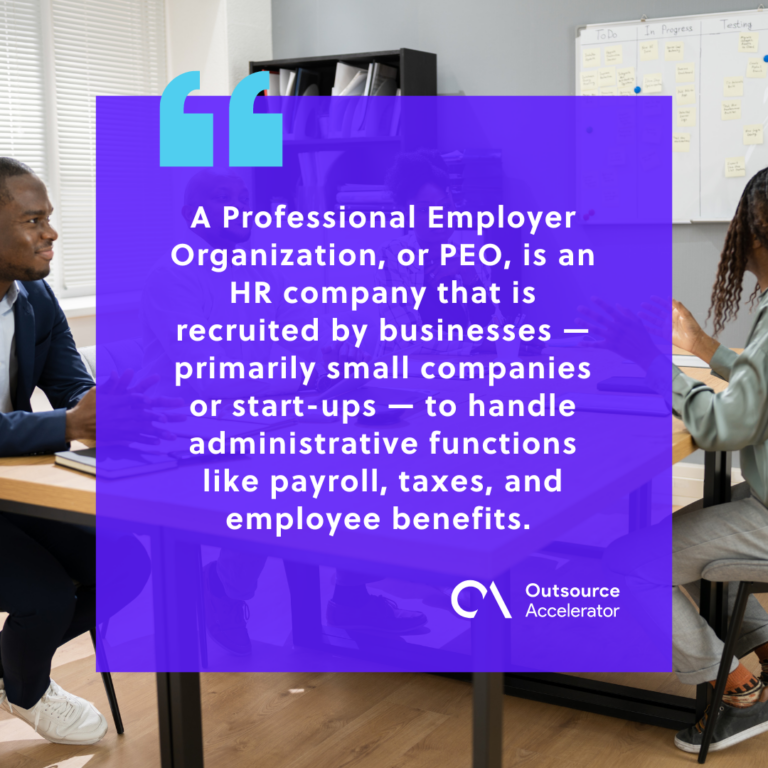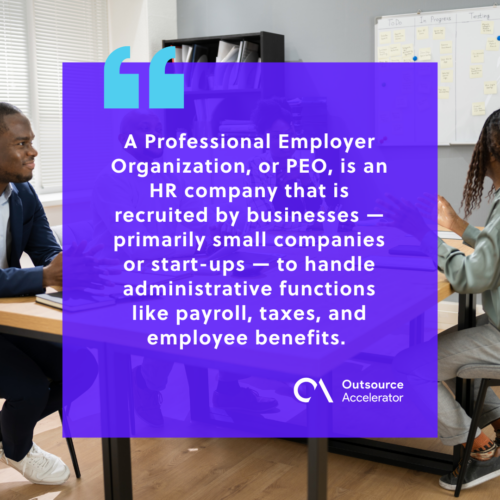 EOR vs PEO
While both EOR and PEO are related to HR outsourcing and sound the same on the surface level, there are still some differences in how they conduct their operations.
The following are the most common distinctions between these two concepts.
Management.

An EOR manages every HR function — from legal liabilities to social taxes — while a PEO runs on a co-employment model. This means that they share the workload and responsibilities with their clients.

Control.

  A PEO gives its customers more control and the opportunity to make the final decisions. Meanwhile, an EOR makes all the administrative decisions for the companies they work with.

Insurance.

PEOs do not provide insurance for employees, especially if the business is in an industry where accidents are common. EORs provide insurance and take on the full liability of their client's employees.

Setting up a new office.

EORs are registered in the places that they operate. This means that they can stand as a local office or branch of an organization.

Legal compliance.

An EOR can take care of legal compliance on their client's behalf, while a PEO lets their partner companies handle the legalities independently.
The benefits of EOR and PEO in your business
Business expansions, especially offshore, can take a lot of time and effort. EOR and PEO providers are the perfect cost-effective and time-saving options to enter a new market seamlessly.
There are several benefits that an EOR and PEO can bring to your organization. The following are some of them.
Reduced costs
Establishing your own legal & compliance resources to support your offshore team can be expensive.  An EOR and PEO can help reduce your hiring and overhead expenses.
Additionally, because you do not need to go through the traditional process of establishing a local office or branch anymore, you significantly reduce the money and resources required to enter the global market.
Risk minimization
Expanding to a new location can be risky. If your product or service does not go well with the local audience, you may have to withdraw your investment.
EOR and PEO providers can help you test the waters without making a large financial commitment. They also handle all paperwork, minimizing the time needed to establish a presence in another country.
Compliance
Every country has different labor laws. A professional EOR and PEO vendor will ensure you are fully compliant with local protocols. 
Established providers can also help your organization keep up with the new and updated employment laws and payroll system rules so you do not have to pay penalties for non-compliance.
Negate potential liabilities
Building an extension of your company offshore can be quite challenging when it comes to potential liabilities. An EOR and PEO provide the benefit of not needing to worry about these issues. 
They will work on sorting out all the necessary details to reduce your liability overseas and ensure your employees are compensated. With their help, you can retain your talents for as long as you need.
Payroll assistance
Some EOR and PEO providers also have payroll services. That means that you can automate your payroll processing and accounting services.
This can take mundane HR tasks from your in-house team's shoulders, allowing them to prioritize their main tasks and the business's core services.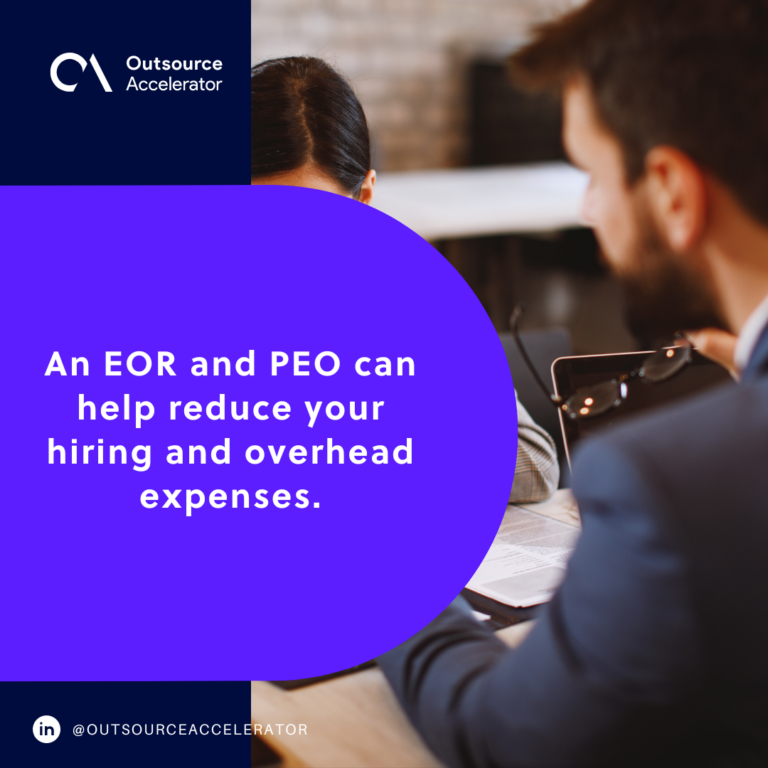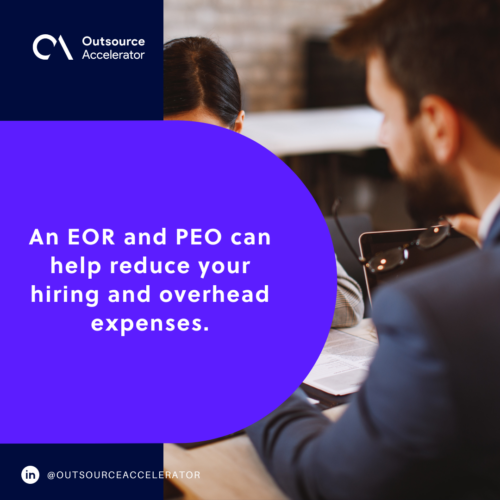 Connect with Booth & Partners' EOR service
Because you are handing your HR functions to EOR and PEO providers, it is crucial to find the best outsourcing company to handle these responsibilities easily.
Booth & Partners can be the right outsourcing partner for your business. Their EOR Service lets you offload your HR and payroll functions for your offshore employees.
Aside from handling HR and payroll, B&P provides exceptional client support services that can be tailor-made according to your needs. 
With their help, your offshore business operations can run efficiently, just like how you manage your main office.
Visit Booth & Partners' website now to know more about their services.