Outsourcing for small businesses: All you need to know
Posted on December 29, 2022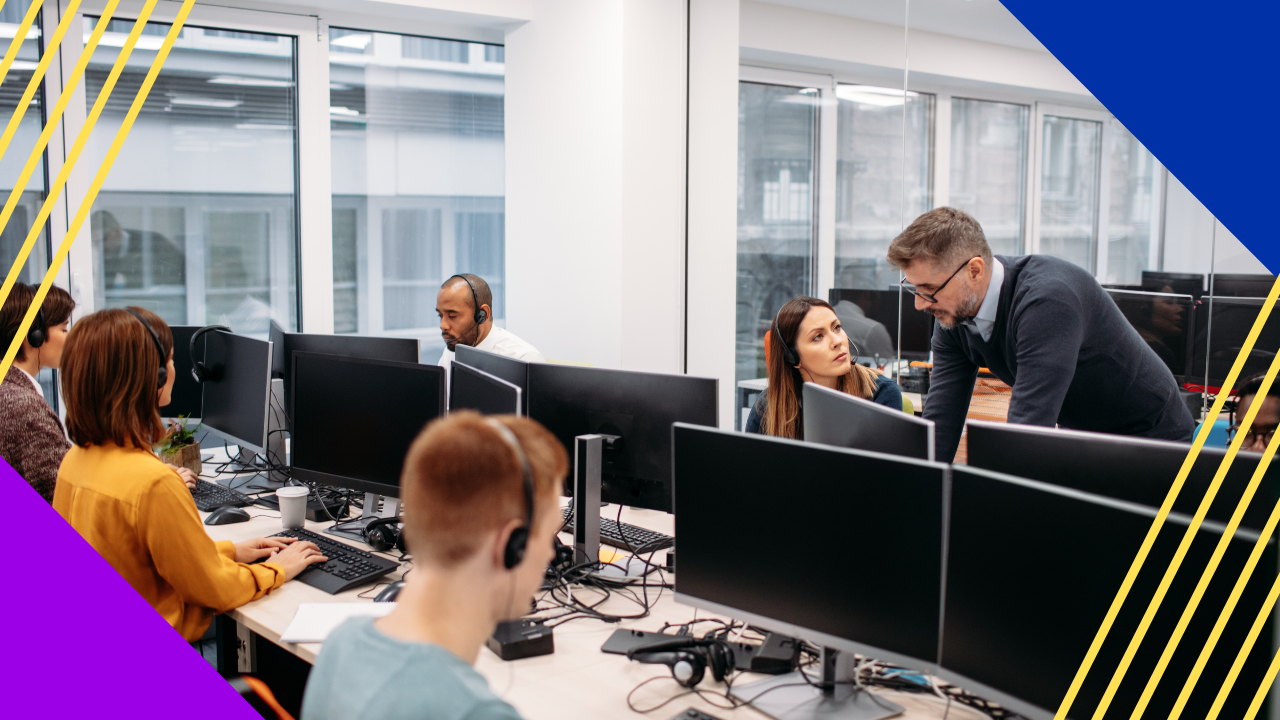 Outsourcing is no longer a business solution only available to large enterprises.
With the abundance of business process outsourcing (BPO) firms offering various outsourcing solutions, even micro, small, and medium enterprises (MSMEs) can now benefit from their services.
Outsourcing lets small businesses leverage the expertise of specialists typically working for larger corporations. Even better, they can do this for a fraction of the cost that it takes to hire in-house workers.
Despite the advantages of outsourcing for small businesses, many are still hesitant to entrust their processes to BPO firms.
This article will explain why small businesses should be open to outsourcing and the advantages they could gain from it.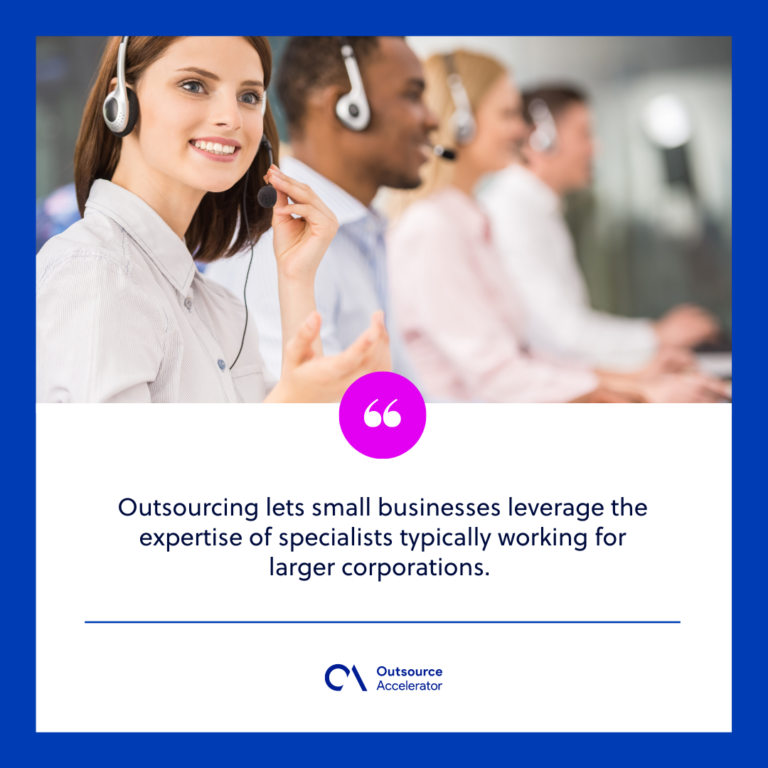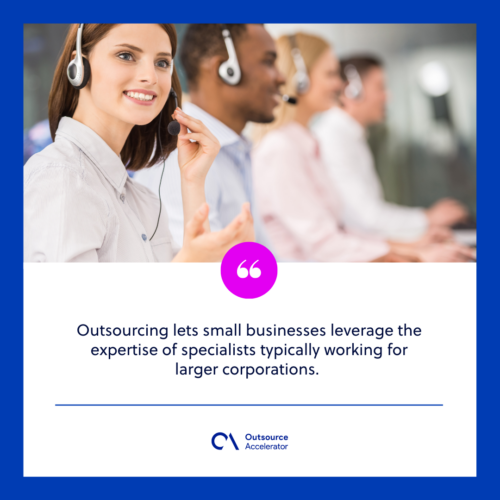 What roles are worth outsourcing for small businesses?
Regardless of their industry, small businesses have a wide range of roles they can outsource.
From administrative back-office tasks to more specialized positions (e.g., graphic designers and web copywriters), there's no shortage of options when it comes to outsourcing for small businesses.
Below are just some of the roles small businesses can outsource:
Accounting and bookkeeping
Accounting and bookkeeping involve recording, classifying, and summarizing transactions and events and communicating this information in financial statements.
These services include preparing and representing financial statements, such as profit and loss statements, balance sheets, and cash flow statements.
Accountants compile reports on a company's finances and interpret results to make decisions regarding future business operations.
Digital marketing
Digital marketing is a combination of digital technologies with marketing practices. It is a channel for creating, managing, delivering, and optimizing digital experiences.
There are six core disciplines within digital marketing: search engine marketing (SEM), search engine optimization (SEO), social media, content marketing, paid search advertising, and mobile advertising.
Digital marketing is among the most effective methods for small businesses to improve their brand awareness and reach more customers.
Content writing
Web content writing is the process by which information is prepared, published, and maintained on a website.
These contents may include product reviews, descriptions, how-to guides, and other blog articles. It can also include instructions or advice provided by experts on particular topics.
Effective organic content drives the online visibility of business websites, which can lead to more leads and conversions.
Graphic design
Graphic design is the process of using visual communication to help businesses get their message across better.
It involves typography, photography, computer graphics, and other image-making elements and cultural influences.
Skilled graphic designers often use premium photo and video editing software, such as Adobe Photoshop, Adobe Lightroom, and PhotoDirector 365.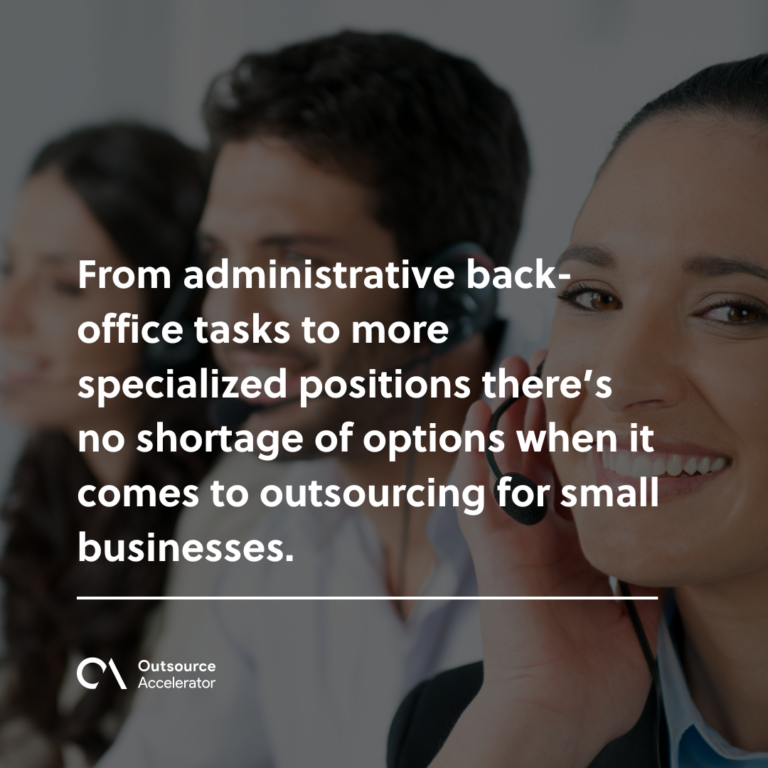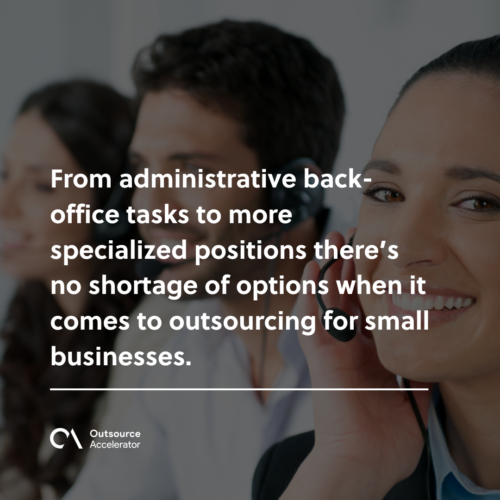 Benefits of outsourcing for small businesses
As mentioned earlier, outsourcing for small businesses can bring companies plenty of advantages.
Here are just a few of these benefits
Reduced operational and overhead costs
Outsourcing for small businesses significantly reduces the total cost of their overall expenses.
Small businesses can save as much as 70% on salary costs through outsourcing. In addition, it also spares them from overhead expenses for recruitment, training, and equipment, which BPOs typically shoulder.
Sourcing talents from top offshoring destinations make these cost reductions possible without sacrificing the quality of work.
Improved output
Outsourcing for small businesses means better output and enhanced process efficiency.
When small businesses outsource, they get introduced to the tried-and-tested methods used by BPOs for various business processes.
They also gain access to these BPO firms' proprietary tools and platforms.
Small companies can also focus more on the revenue-generating parts of their business, further adding to their bottom lines.

Outsourcing small businesses roles through Sourcefit
Sourcefit is a U.S.-based company with operations in the Philippines and the Dominican Republic.
The company offers a unique approach that is geared toward the needs of small businesses.  Unlike many firms, the company does not charge any up-front fees or deposits and there are no locked-in contracts.
In addition, Sourcefit maintains a dedicated onboarding team with years of experience helping smaller companies outsourcing for the first time to train and manage their remote workers, ensure productivity, and navigate any cultural differences that may arise.  
Contact Sourcefit today to find out just how easy it is to get started.