How to approach outsourcing when you are a small business
When you're a small business there's one enemy you're forever fighting: time. Without the staff and budget of a large corporation, you need to work efficiently and focus your energies on the tasks only you can do. Outsourcing is your weapon against time and by approaching outsourcing in the right way, you'll make your small business a lot bigger.
You make outsourcing the final stage of your streamlining process
Outsourcing is the ideal way to give you back time, letting you focus your energy on the tasks that can't be farmed out.
To leverage outsourcing successfully, your approach to using it must be right, and that means making it the final stage of your streamlining process. Essentially: don't run before you can walk.
You can break down the process of streamlining your business into five steps:
Analyze: You need to record where your time is being spent to find out the holes. Using the software, such as TMetric, to track your time lets you find the wastage.
Eliminate: Establish the parts of your business pipeline that don't need to be there – maybe there is a two-stage review process in certain areas – then eliminate them.
Optimize: Get the most out of the essential cogs in your company machine by matching tasks to your employee's skill sets and giving them software to make their lives easier. For example, moving to cloud software, such as Google Sheets, lets people work on projects more fluidly.
Automate: Find the right tools to complete tasks that can be taken away from you and your workers. You can use news aggregators to save you from searching for blog content, email marketing software to automate your mailing and social media tools to streamline your content strategy.
Outsource: Hand out any tasks that can be completed more cheaply by outside sources. You can outsource to people or bots – whichever is cheapest to complete your work to the standards you demand
Businesses of all shapes and sizes use outsourcing to take back time. By approaching outsourcing as the logical conclusion to a holistic streamlining process, you can make sure you use outsourcing in the most cost-effective way.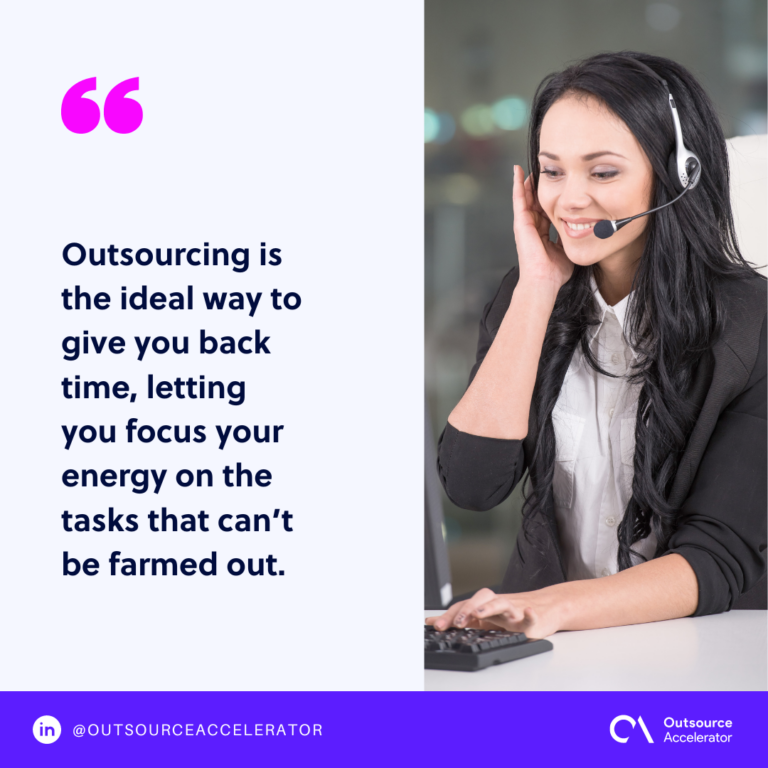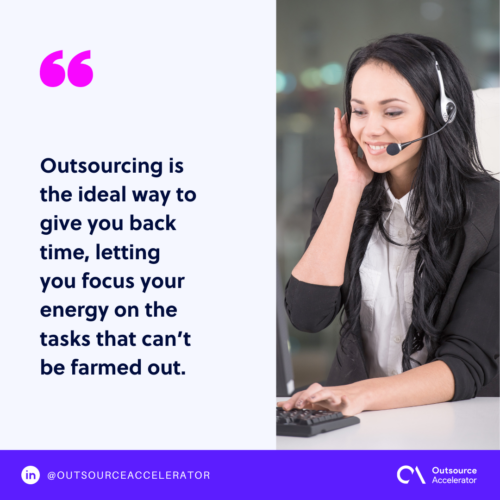 You decide whether to use an organization, freelancer, or both.
Even the largest institutions live and die by their success in outsourcing work. Nike uses a variety of overseas manufacturers to create its goods, while many of Apple's products are made by the Chinese company Foxconn. Success in outsourcing comes from picking the right outlet, and for your business, that means a choice between an organization, freelancer, or bot.
How you approach the decision of which outlet to use for your small business depends on your needs:
Organizations: For larger-scale and longer-term operations, you may need a collective workforce to deliver your objectives. Examples of where an organization is necessary for outsourcing include things like order fulfillment for an eCommerce business or building works for a big construction project (something that often happens with government contracts).
Freelancer: Where you have time to maneuver or there are fewer immediate dangers to your business, it can make sense to use one individual. Cases when using a freelancer makes sense are things such as creating a marketing infographic or writing content for a new website you're setting up. Remember — freelancer costs are tied to the market. For example, when using popular store builders, you can access a ready group of expert designers and developers who can customize your site for a small fee, whereas proprietary software will be more expensive to tweak as the talent pool is a lot smaller.
Botsourcing: While bots are sophisticated to pick up many outsourcing tasks, trusting your business' work to something without independent thought needs to be approached with caution. Simplistic and generic tasks are perfect for bots, while industrial-scale information collation is also ideal. Some of the best work to outsource to bots includes customer service, and data mining.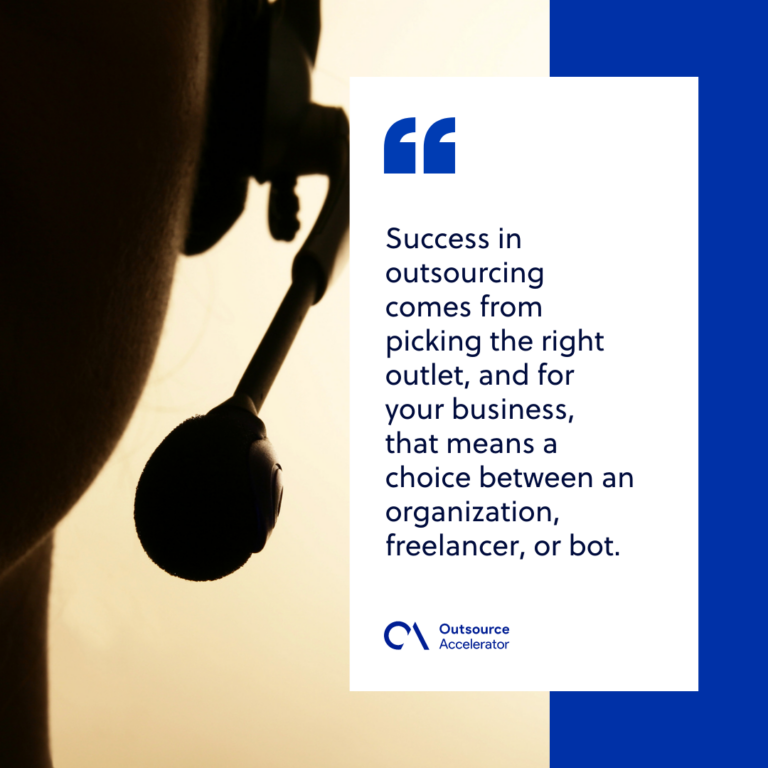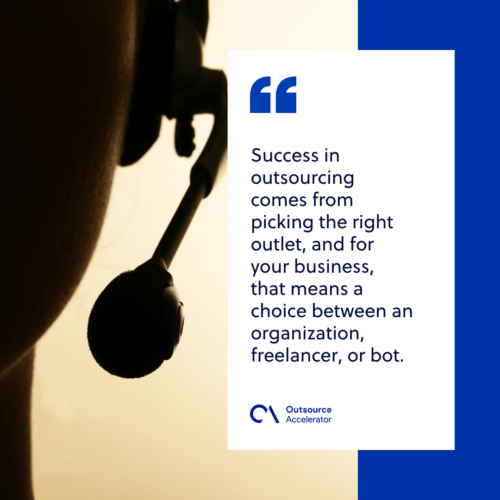 You treat your outsourced team the same as your in-house one
As a small business, you have fewer bodies on the ground and lower capital to play with than larger businesses.
Outsourcing is an excellent way to approach bridging the gap between your company and larger ones, so long as you retain control over the review process.
How you approach this is simple – treat your outsourced workers in the same way as your in-house employees.
Keeping in control of your outsourced team combines self-protection, a clear channel of authority, and an awareness of your workers – all things you have in place with your own staff:
Self-protection: Set out clear payment terms for your outsource provider, making it plain how and when you will pay, along with conditions for non-payment. Signing a contract with your outsource operative is essential, as this provides you and them with legal security.
Channel of authority: One of the risks of using an outsourced team is that the persons you expect to be completing the working farm it out. Setting in place a channel of authority to keep your outsourcing team in check is a must to avoid this. Safeguarding against the outsourcing of your outsourced work isn't the only purpose of a channel of authority. Having a defined representative that your workers answer to allows you to keep on top of the quality, quantity, and accuracy of the projects. I recommend having a regular review with your offsite team, one that feeds back to the responsibilities in their contract.
Awareness of your workers: While it sounds obvious, your offsite team is like your onsite team – employees with their own quirks and concerns. Knowing who you are working with and what makes get the best (professionally and personally) from them will deliver the best results for your small business. So when you're hiring, look at the company and national culture while also considering factors like time differences.
Life as a small business owner is a constant battle against time – you never have enough to complete everything you want to, making your life a series of spinning plates. Outsourcing is the perfect way to fight back against the limits of time – approach it in the right way and you can reach the outer edges of your business' potential; approach it in the wrong way and you'll throw away time and money.