Top pros and cons of outsourcing for small businesses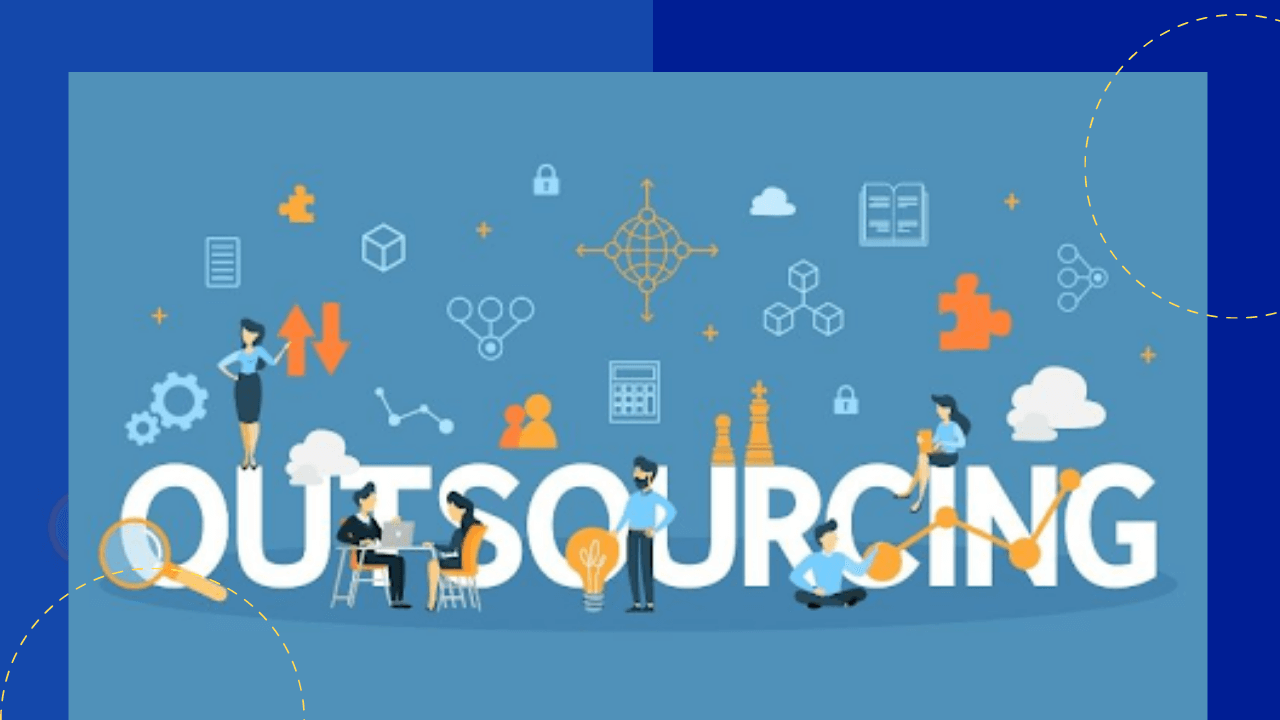 In recent years, the outsourcing of business functions has become increasingly popular among small businesses. There are several reasons for this trend, including access to specialized expertise and the opportunity to save on labor costs. 
Small businesses are jumping on the bandwagon in record numbers, learning how to outsource their technology and IT needs to experts who can perform these duties more quickly and cheaply than they could do on their own.
However, with all the pros, you need to be aware of some cons of outsourcing IT services before deciding whether or not to let someone else take care of your business needs.
It is vital for small companies to carefully weigh the pros and cons of outsourcing to ensure that they will benefit their company in both the short term and long term.
This guide will overview what outsourcing means and some of its most important benefits and downsides. By following these tips, you will be able to determine whether or not it is a viable option for your small business.
Let's get started with our first question. 
What does outsourcing mean?
Outsourcing is the process of hiring a company or individual to perform a task or function that employees would otherwise perform within your own company. The purpose of outsourcing is to reduce costs and improve efficiency. 
For example, a company might outsource its customer service department to a third-party call center to save money on salaries and benefits. 
Or, a company might outsource its IT department to an IT services provider to take advantage of its expertise and economies of scale. 
In both these cases, a company contracts with another company to perform a specific function that the contracting company does not have the resources or expertise to do in-house.
There are many reasons why a company might choose to outsource certain functions. It could be because the process is not a core competency of the company or because it is more cost-effective to contract out the work than hiring and training employees to do it in-house. 
Outsourcing can also be used to free up internal resources to be devoted to more strategic tasks of an organization.
The pros of outsourcing for small businesses
The benefits of outsourcing include lower costs, access to expertise and technology, freedom from day-to-day operations, and focus on core competencies.
Let's take a look at some pros of outsourcing for your small business.
1. Cost-saving
Hiring and training employees can be costly. Plus, you have to account for their benefit packages and time off. By outsourcing your business needs to an outsourcing company like 123Employee, your business will no longer be burdened with these expenses.
In addition, you'll have more time to focus on growing your business, which is undoubtedly more beneficial than micromanaging work that could quickly be done by someone else.
Hiring an outsourcing company to take care of tasks like website management or maintenance can free up your time concentrating on other business areas. 
Because there are people who are experts in their field handling these jobs, your reputation and traffic will only increase without any extra effort from you, allowing you to focus on growing your profits with less stress and cost.
2. Time-saving
If you spend too much time on administrative tasks, it's likely to limit your ability to grow your business.
Rather, you can outsource small tasks and save time. You can outsource bookkeeping, editing, online research, data entry, IT operations, etc. This frees up your time to focus on other aspects of your business that need more attention. 
3. Access to specialized skills
When you outsource a function, you get access to employees who have specialized skills in that area. 
For example, an outsourced accounting agency can do your company's bookkeeping more efficiently than you could with your limited time and resources. This is one of outsourcing's most significant benefits. You don't need to hire someone or spend money on training; you just pay for their services when you need them.
Moreover, you can leverage their expertise in a way that saves you time. For example, if you're not a great writer, don't have time to manage your social media marketing, or aren't able to create compelling content, you can outsource these tasks to an agency that specializes in them. 
4. Focus on core business
Outsourcing can free up time and resources so that you can focus on your core business. For example, if you're a small-business owner who's good at marketing but not so great at bookkeeping, outsourcing your bookkeeping to an accountant could allow you to spend more time on essential activities. 
This is especially true if it frees up a significant amount of time, say, an hour or two per week, which you can utilize in enhancing your marketing strategies and plans. 
The key here is to ensure that you're spending your time doing what matters most for your business rather than focusing on tasks that could be outsourced for better results.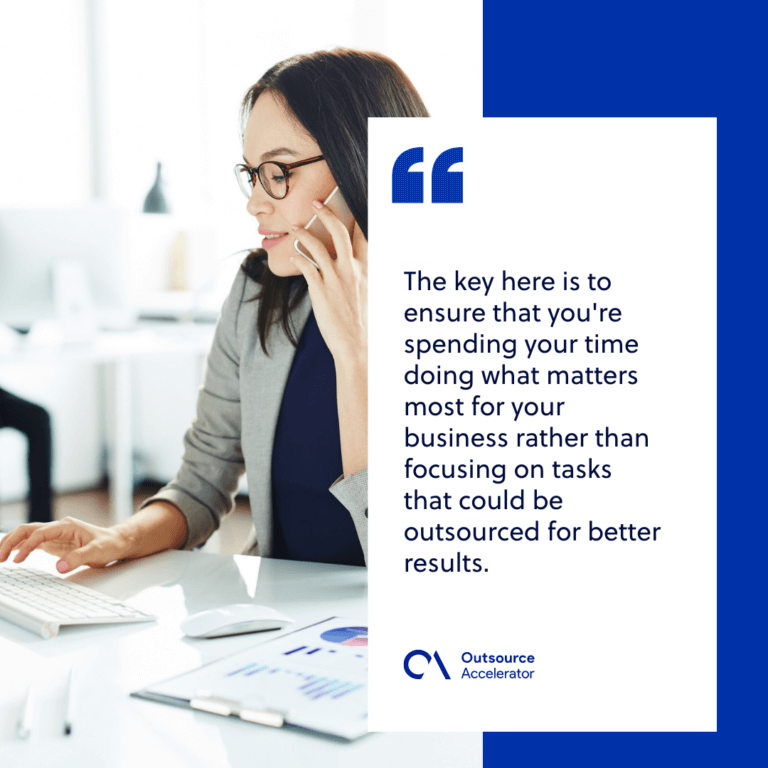 The cons of outsourcing for small businesses
Let's now understand the cons of outsourcing for small businesses.
1. Loss of control 
When you outsource key parts of your business operation, you give up some control over those areas. This can be a problem if issues arise or things don't go according to plan. 
You may not have as much insight into what's going on with certain aspects of your business. You may also not have as much opportunity to learn from mistakes that occur in these areas.
This loss of control can be a big problem if you're not careful. Choosing your outsourcing partners wisely is even more critical, as they are now part of your business operation. 
If you don't have confidence in them, it may be better to handle these aspects in-house rather than risk losing control over your business.
2. Quality issues
There's always a risk that the quality of work will be lower when it's outsourced. This is because you're relying on someone else to do your job, so if they don't do it well, you may look bad to your customers or clients. 
This will damage your reputation and make things harder for your business. If you outsource, you need to find suitable freelancers or assistance providers who can produce high-quality work consistently. 
It can take time to find people who are reliable and have experience in your industry, but once you do, it'll save time and money in the long run. It will also help you meet deadlines and provide a quality product or service to your customers.
3. Communication can be difficult
Outsourcing projects often involve working with people in different time zones or who speak other languages. This can make communication difficult, leading to misunderstandings and delays in getting your project completed. 
Moreover, you may not be able to communicate directly with your outsourced team, which can make it challenging to get feedback or ask questions. This is especially true if you're working with a large company with several different departments and teams. You might need to go through an intermediary to get questions answered. 
To avoid this, you should opt for outsourcing partners with whom you can talk directly to understand the work better. This will help you get more done in less time.
4. Finding a suitable outsourcing partner can be challenging
Finding a reliable service provider can be challenging, especially when starting. It can take a lot of time to find an outsourcing partner who's on time with deliverables, follows instructions, has good communication skills, and doesn't charge too much. 
Once you've found a good partner you can trust, it's essential to stick with them. Outsourcing firms are often small businesses as well, so they may have limited availability or be unable to take on new clients due to time constraints. 
Make sure your provider is willing to work with you in a long-term relationship before signing any contracts. You don't want to find yourself suddenly without a partner when things get busy.
The main point is that you should consider outsourcing for your small business if you want to grow fast without hiring more employees or purchasing expensive equipment. Outsourcing can help you reach your goals faster and easier than ever before.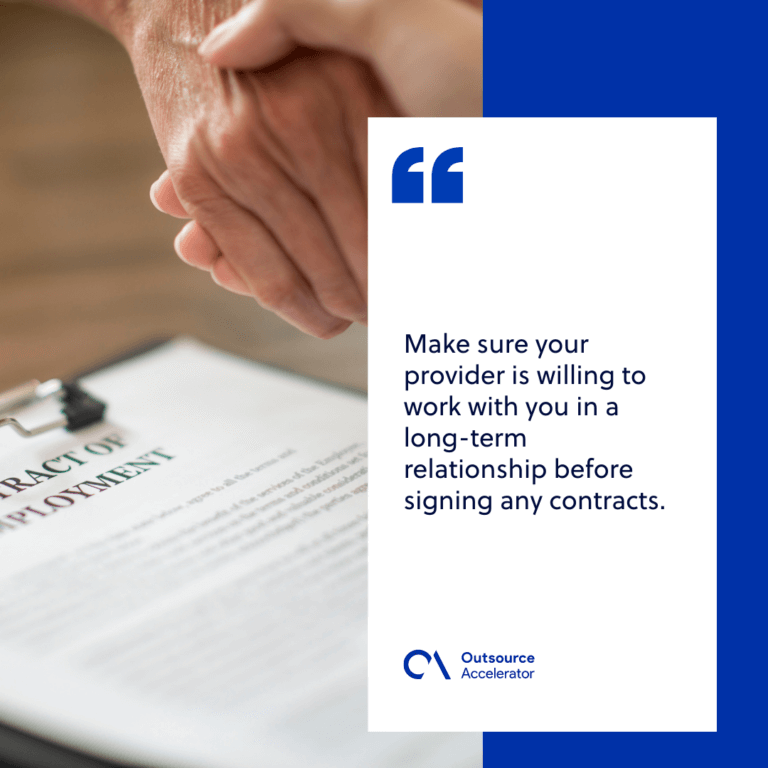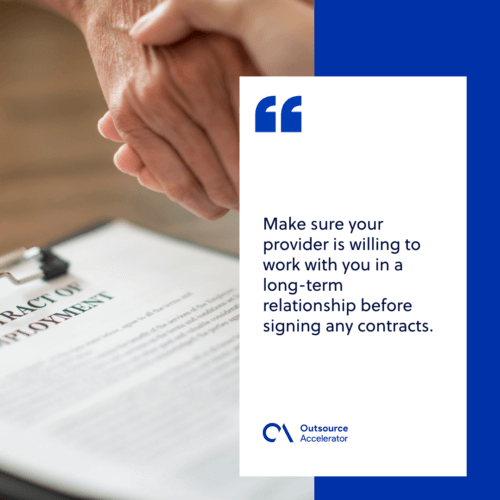 Outsourcing for small businesses done right
Outsourcing for small businesses can be a great way to get things done without hiring full-time employees. By outsourcing, you can find an expert IT outsourcing company in specific areas that can help you with your project without the commitment of hiring someone for the long term. 
However, there are some risks associated with IT outsourcing trends that should be considered before deciding. If you're looking into outsourcing for your business, it's essential to think about these factors to make an informed decision.