Outsourcing development work for startup travel agencies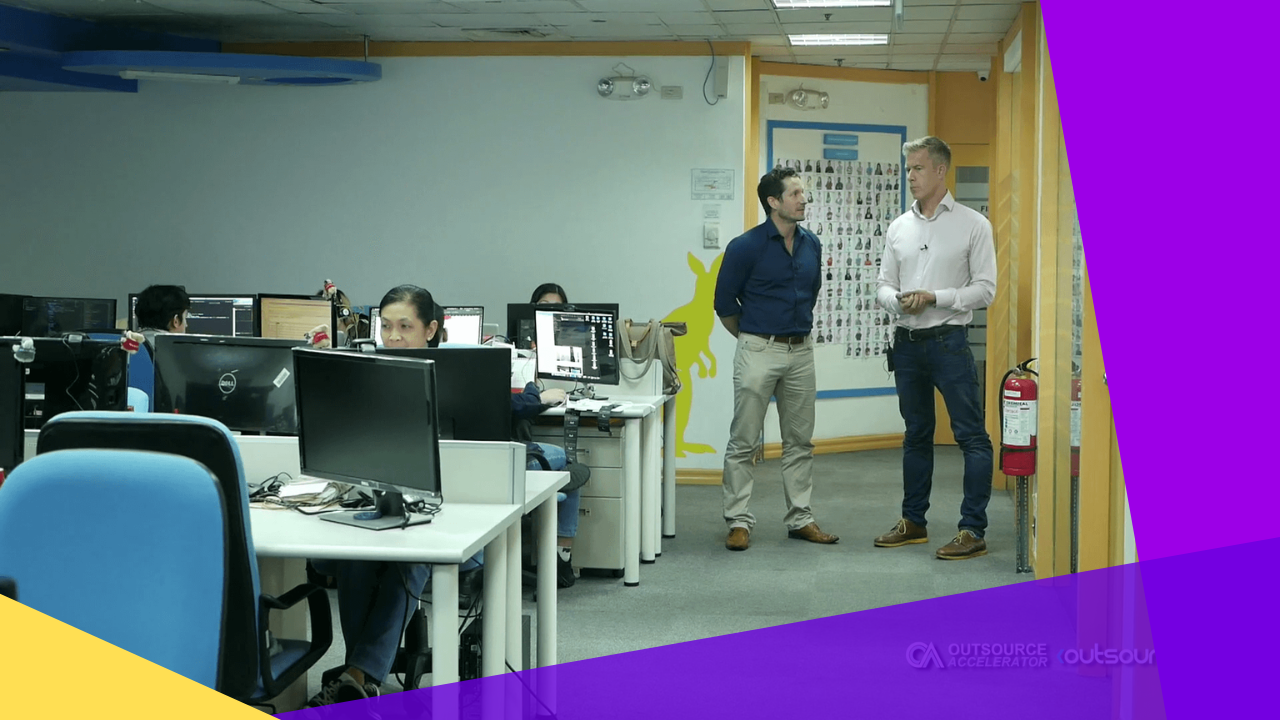 The human requirement to travel makes start-up travel agencies a highly feasible business venture. And if you are interested in set-up this type of enterprise, you are on the right track since there is always a demand for assistance when it comes to traveling to another location.
Information technology may not be your specialization as a professional. Therefore, you will need to resort to outsourcing development work for your start-up travel company. This will include software IT outsourcing because you will be needing the help of professionals knowledgeable in implementing the appropriate software for your business.
Why do startup travel agencies need software outsourcing?
According to Google Consumer Insights, in 2018, more than 70 percent of American travelers agree that when traveling, they always use their smartphones. This is up from 41 percent in 2015.
These adventure-seekers most often use their digital devices when researching attractions and activities, finding exciting dining places and shopping centers, and looking up the directions for their vacation destination.
Apparently, statistics indicate the high demand of today's travelers for online assistance. If you are a start-up travel agency owner, you may reckon it as a daunting and taxing task.
However, you should not worry at all because help is always within reach through the existence of software outsourcing services. These service providers function as adjunct firms, helping fledgling companies that are faced with the following operational concerns: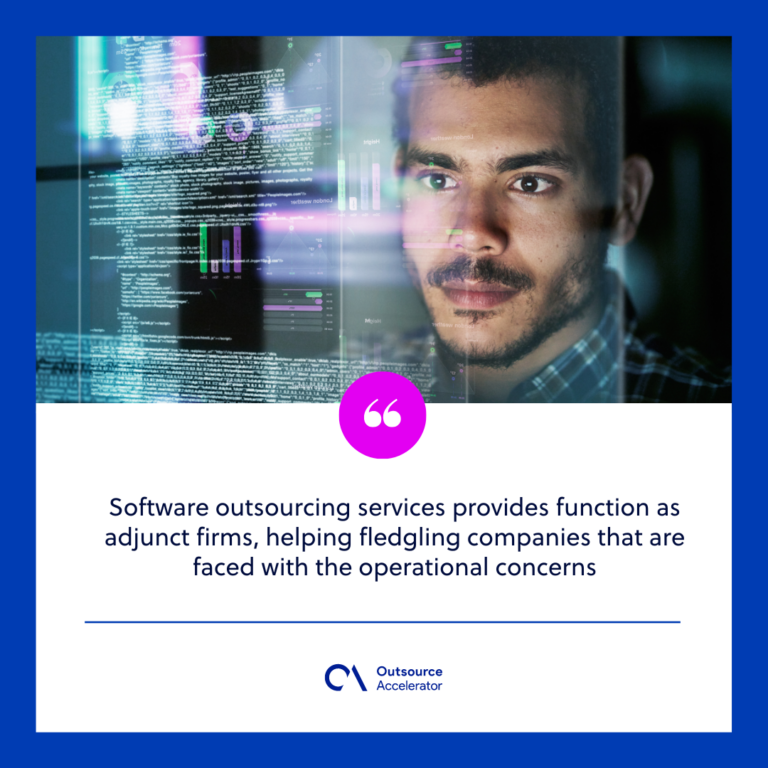 A. Limited Budget
If you are a start-up travel agency, you may be operating through borrowed capital. Hence, your budget is constricted for now.
Paying for the services of software outsourcing firms is cost-effective because you are merely paying for a specific and bespoke service.
This is better than employing in-house personnel since you have to shoulder more overhead costs like their salary, employee benefits, the necessary equipment, and so many other costly factors.
B. Wants to launch a booking system or application faster
Since time is money, you definitely want to make profits at the soonest possible time as a business owner.
Through outsourcing software projects, this is possible since the skilled personnel is readily available and will work as soon as you have availed their service. These outsourced staff can create an application that is accessible both through the computer and on mobile devices.
C. Lack of market experience
Software development outsourcing involves professionally trained software development experts.
You can expect optimal results when you pay for their service because these personnel are fully informed about the current demands in the start-up travel agency business.
These outsourced professionals perform market research and are well aware of the types of software that is relevant and helps travel agencies boost their sales. Plus, they may also know the type of web and mobile applications which today's travelers widely use.
Scalable software outsourcing services for startups
Start-up travel agencies can benefit from the scalable software outsourcing offerings of a myriad of software development outsourcing service providers.
They offer bespoke Internet-based software that will facilitate the automation of your sales, operations, finances, and marketing units, among others. Well-known firms specializing in outsourcing software projects usually cover the whole business process of travel agencies.
In addition, they help in the growth of their client firms and enhance their efficiency. Hence, their client companies become capable of generating more sales.
Software outsourcing service providers assist through various areas of a travel business such as the following:
flight booking
customer database
itinerary creation
quote management
payment processing and,
marketing management
Also, outsourcing development work  will help your start-up travel agency by having the service provider assist you in online travel agency or global distribution system integration.
The services of software IT outsourcing companies are scalable which means you can select and pay for only the particular service that you require.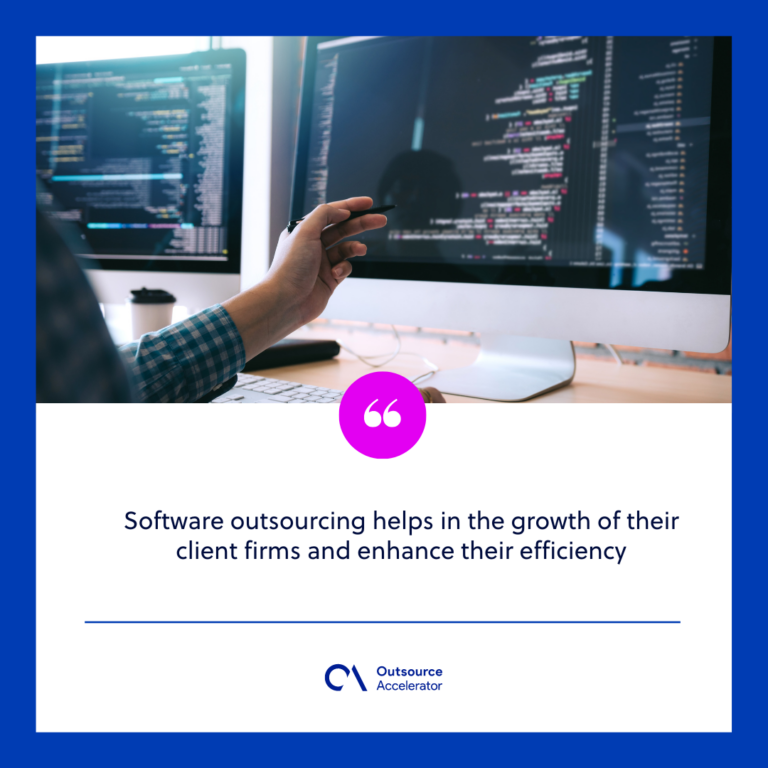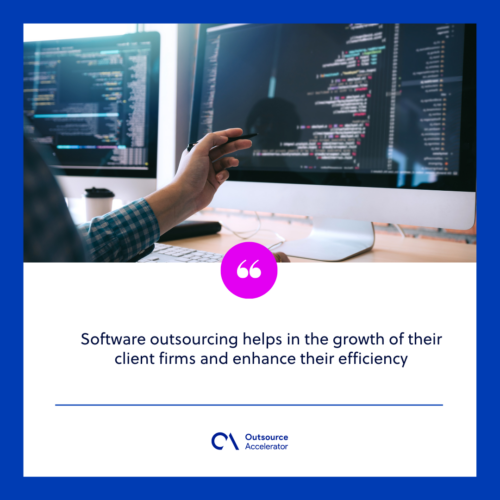 Complete outsourcing software projects for travel agencies
As a start-up travel agency, it is advisable that you engage in outsourcing software projects.
This activity is a type of business delegation that can help you save money, time, and energy and use them instead of growing your business, your team, and providing satisfying experiences to your customers.
There are plenty of outsourcing software projects that service providers can help you with. Among them are application maintenance, application modernization, mobile application development.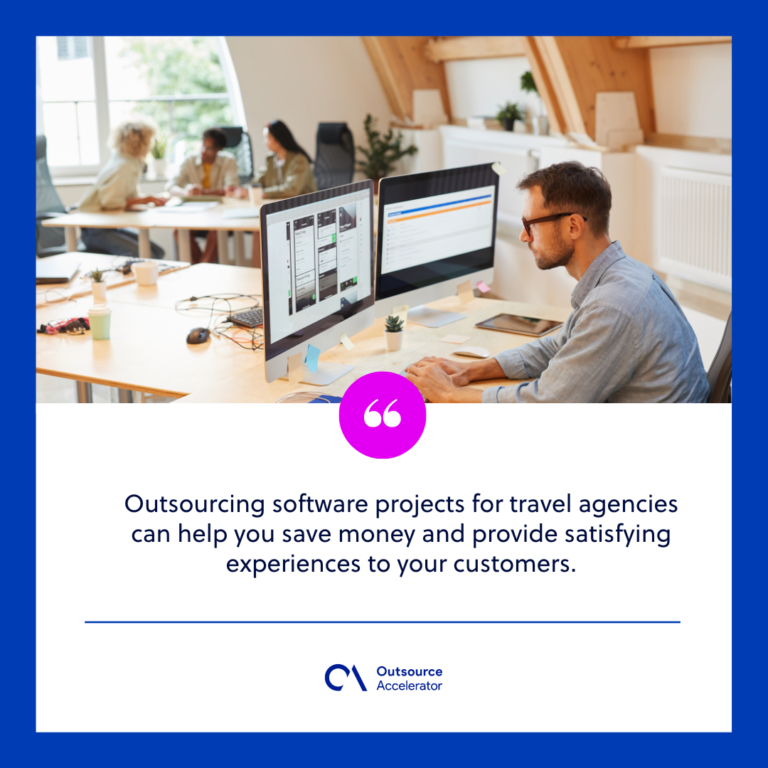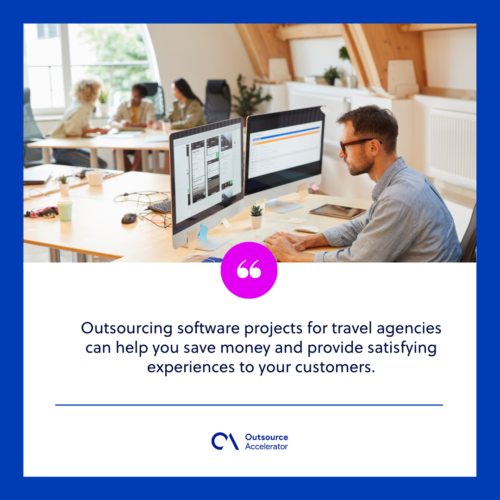 Access to tried and tested software IT outsourcing methodology and systems
When you decide to engage in outsourcing software projects, you will have no problem in delivering incredible travel business value.
Outsourced software IT outsourcing development teams usually are highly adept with all the most up-to-date software and technologies.
They possess the core knowledge of the different new and established software IT platforms. Among them are PHP: Hypertext Preprocessor (PHP), e-Commerce, and Content Management System.
Furthermore, they also assist in applying other software technologies like JavaScript and Microsoft.
You will feel assured as you can reduce the maintenance outlay since these software outsourcing developers build secure software that is scalable and definitely cost-effective.
Reasons to outsource in the Philippines
If you are considering outsourcing software projects for your start-up travel firm, you may as well consider availing the service of software developers from the Philippines.
The Philippines is a popular destination for software outsourcing services. It is steadily increasing its competitive advantage with India.
Filipino software programmers, technical support engineers, and system and network engineers are usually well-experienced.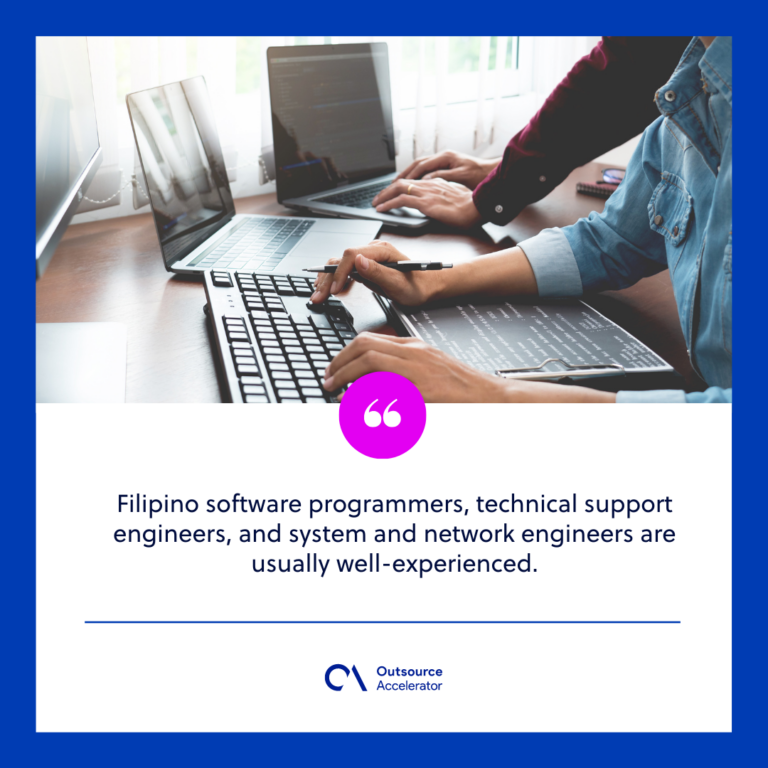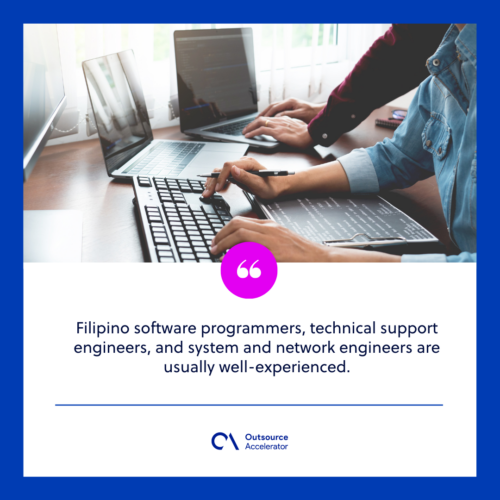 As the outsourced staff of foreign software outsourcing services firms, they usually have worked with UK, US, and Australian software and applications development establishments.
Proficient in developing Internet and mobile applications, Filipino software IT outsourcing workers can deliver unprecedented service in terms of web, software, and mobile application development.
The cost of their service is typically more affordable than their Western counterparts, too. Plus, they are skilled and comfortable in communicating in English.
Outsourcing development work helps start-up travel agencies in building and delivering high-quality software development services for both the Internet and mobile platforms.
Supported by state-of-the-art technology complemented with artificial intelligence, you will certainly not regret this option because it diminishes the turnaround time and definitely enhances your business efficiency.