Expand your travel agency with outsource virtual office solutions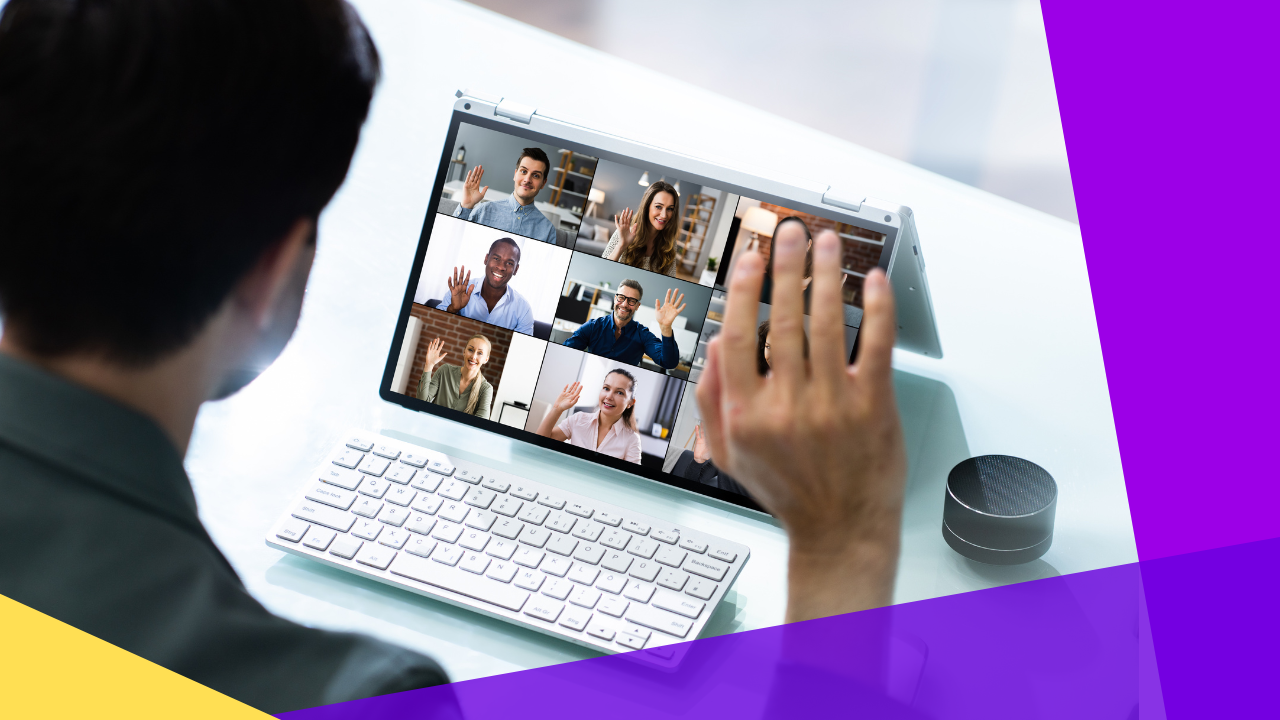 Expand your travel agency with outsource virtual office solutions
Being an entrepreneur is difficult. It comes with a lot of challenges, and if you are the one operating in the travel and tourism industry, you pretty well know how hard it is to focus on your primary tasks. A lot of time of you and your staff is spent in dealing with administrative duties. It is definitely at the expense of your core business functions.
Outsourcing support services can be your best alternative.
Virtual outsourcing solutions for travel agencies
Outsourcing a virtual office offers you numerous benefits and ensures that your travel agency remains globally competitive. Virtual outsourcing solutions come in varied forms. Find out the right fit for your travel agency.
Cross-country customer support
The topmost benefit of outsourcing administrative work is that you can provide cross-country support to your customers – bridging the barriers of time zones, languages, and other cross-cultural aspects. Timely customer support brings your travel agency to par with global travel firms. You are also able to provide world-class customer care service to your clients.
Offshore travel agency staff in every country
All that you need to find out is the geographical regions from where you get the maximum business as well the countries that you find has good business potential. Once that is done at your end, your outsourcing partner is now capable enough to allocate resources and human resources specific to the geographic locations earmarked by you.
Business registration assistance
The laws in different countries require you to register your business in their land as per their regulations. For a travel agency catering to numerous countries, it can be a daunting task. However, you need not worry as your outsourcing partner will assist you in business registration as per the local legal formalities.
Personalized travel itineraries
For you to remain competitive in the travel and tourism business, customization holds the key. You can draft personalized travel itineraries for your customers with vital help and inputs from your outsourcing partner. Admin outsourcing means that you can avail the country-specific travel-related knowledge of the outsourcing agency for your business benefit.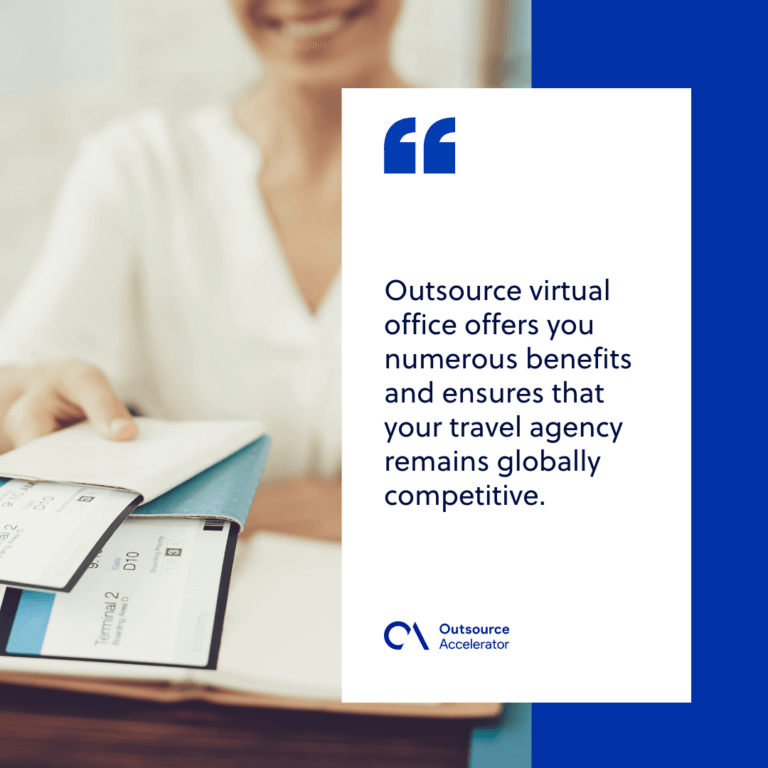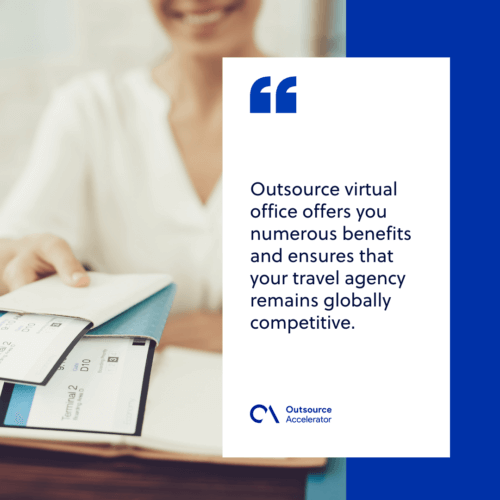 Benefits of outsourcing administrative services
For most organizations, administrative tasks can be considered as a distraction from the core functions. When you opt for outsourcing administrative services, you leverage the numerous benefits associated with it.
24/7 customer support
The idea of travel for leisure purposes is exciting for your customers, and when people plan a trip for business-related assignments, they want it to be immaculate in all aspects. You can provide seamless customer support at any time with outsourcing services without bothering yourself with the mundane issues involved.  24/7 customer support by competent customer care professionals ensures your client's satisfaction in all regards.
Data management with data analytics
Data is vital for all businesses, and it applies to the travel industry even more. Managing data and providing accurate analytic services is the forte of your outsourcing partner. With information readily available, you can make informed decisions and provide your customers with the best travel solutions.
Data analytics also aids your business at the macro level. It makes you swift enough to forecast and understand the emerging trends in your industry. Your functioning becomes proactive, and it is one vital element of business that can make you go miles ahead of your competitors.
Personalized consultation services
These are times when businesses are facing competition as was never before. The customers' expectations have, and companies are making all efforts to ensure that it not only meets those expectations, but also surpasses it whenever possible.
Personalized consultation services are one major benefit that you get when you outsource virtual office. The emphasis is to understand the customers' latent and specified needs to deliver a travel solution instead of a mere product to your customers.
Outsourcing support services provider: what to look for?
By now, you have well understood the benefits associated with outsourcing administrative services. However, it does not end here. Your success with your outsourcing initiatives is solely dependent on the competency level of the support services provider.
You need a diligent approach before finalizing your outsourcing partner. There are numerous features that you need to scrutinize before selecting your partner. Domain-specific experience and feedback from the existing clients can give you vital clues.
Also, the experience level of the staff and industry-specific skills sets are other vital things to consider. The clientele of the support service provider is another important clue that you can look out for.