Why effective outsourcing communication is crucial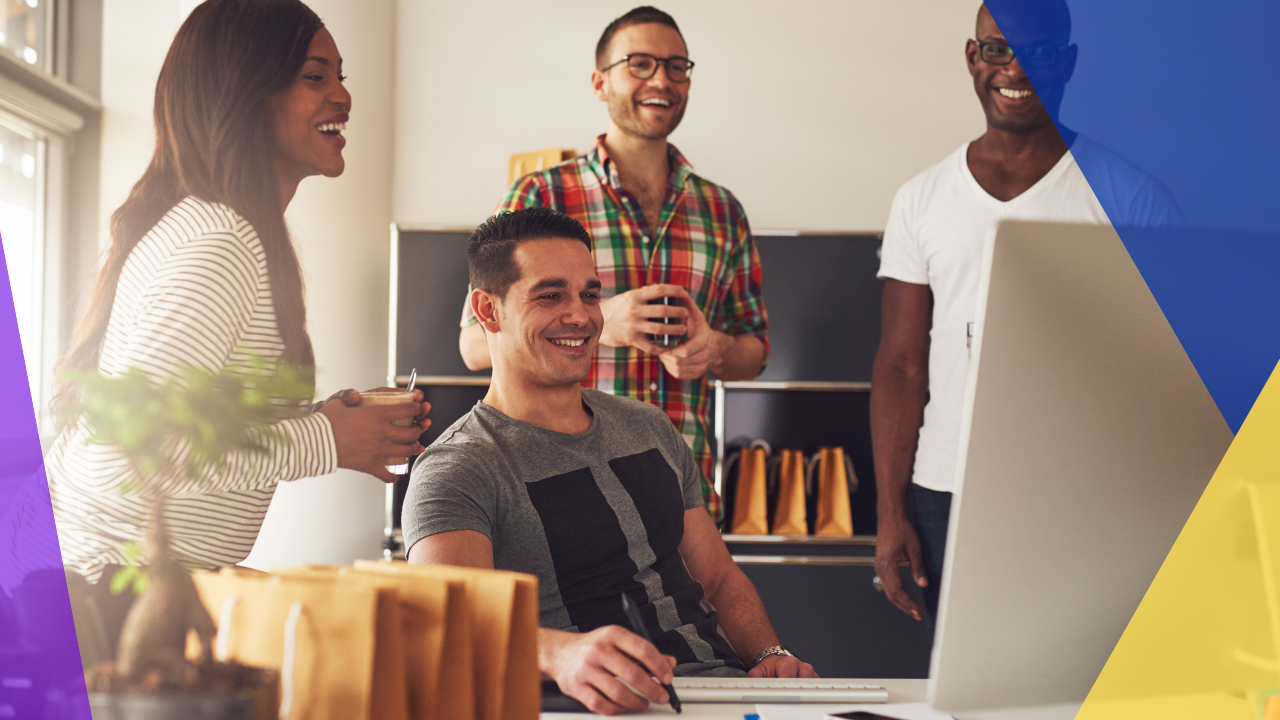 Outsourcing has become a cornerstone of modern business strategies. It allowed companies to tap into specialized expertise and cost efficiencies beyond their internal capabilities.
However, the success of outsourcing doesn't solely depend on selecting the right vendor or negotiating favorable terms.
An often underestimated aspect of outsourcing is communication – the glue that holds the relationship together.
On the 453rd episode of the Outsource Accelerator podcast, Gene Bohensky, CEO of Archers Contact Solutions, emphasized why outsourcing communication is important.
Gene commented, "One of the things I learned early on working with anybody that you're going to outsource to is that you have to be very good at communicating the requirements for the job that you give them."
Importance of outsourcing communication
Clear and consistent outsourcing communication is the lifeblood of any successful offshoring or onshoring endeavor. 
When outsourcing, you're essentially extending your team across geographic boundaries or to third-party service providers.
Without proper communication, misunderstandings can breed, timelines can be missed, and the quality of work can suffer. 
On the podcast, Gene noted, "I think [outsourcing communication] is a huge area where it falls short."
"I can tell you the instances where business owners fail not only with outsourcing but also working with their own employees… [It's because of their] inability to communicate properly."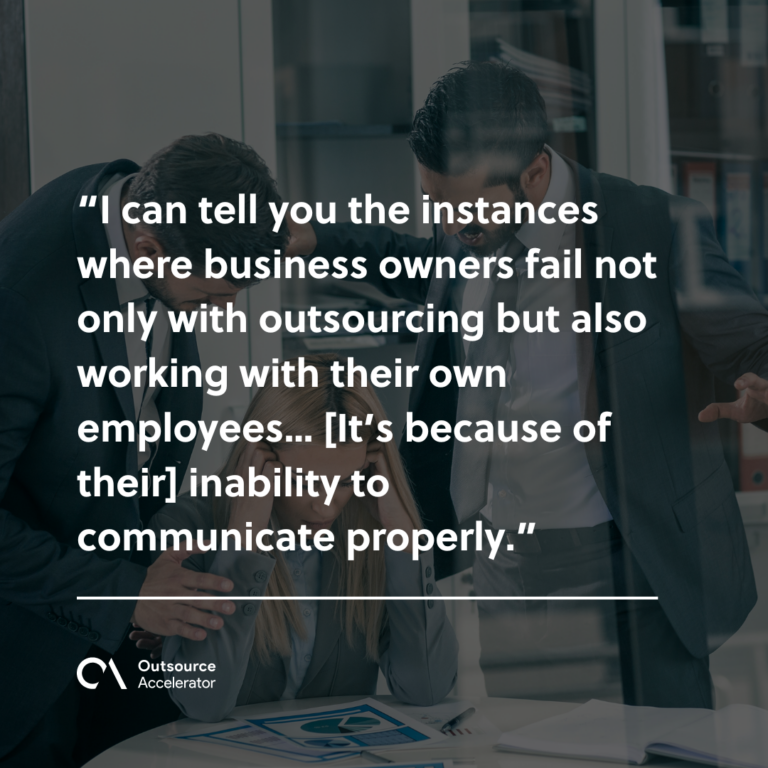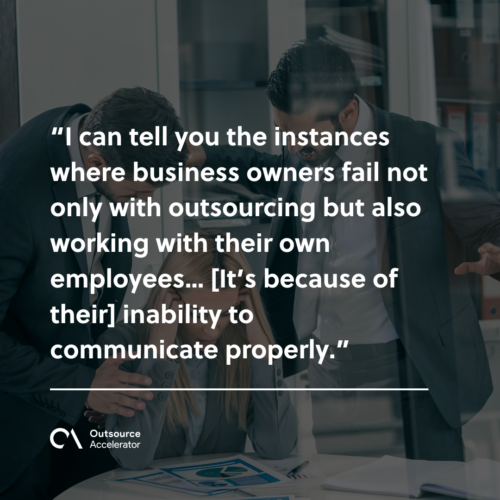 Consider a scenario where a company outsources its customer service operations.
Without open lines of communication, an outsourced team might struggle to grasp the company's brand voice and values fully. This would lead to customer dissatisfaction.
On the flip side, effective outsourcing communication ensures that the service provider aligns with your business goals, understands expectations, and maintains consistent quality.
Common problems in outsourcing communication
Navigating the outsourcing landscape comes with its fair share of challenges, particularly in communication. 
The CEO shared on the podcast, "Clients made [an outsourced project] fail because they were totally unable to communicate.
They had expectations that weren't realistic, they didn't have their own processes down, and they expected the people to just learn by themselves.
And these are the same reasons business owners fail at running businesses."
Let's delve into more common outsourcing communication problems that businesses encounter:
Misalignment of expectations

. As mentioned, failing to set clear expectations and goals at the outset can lead to misalignment between your company and the outsourcing provider. This can result in different interpretations of project requirements and deliverables.

Language and cultural barriers

. Many BPO arrangements involve teams from different linguistic and cultural backgrounds. Misinterpretations and miscommunications can arise due to language nuances and cultural differences.

Lack of regular updates

. Inadequate project progress and milestones updates can create uncertainty and hinder effective decision-making. This lack of visibility can undermine trust between both parties.
How to ensure effective outsourcing communication
As businesses increasingly turn to outsourcing for enhanced efficiency and expertise, ensuring effective communication becomes a linchpin for success.
According to Gene, business owners need to learn to be less egocentric and be more like servant leaders.
"As business owners mature, they should focus on ways on how can they enable staff."
Here are more practical strategies to foster seamless outsourcing communication with your partners:
Establish robust communication channels

. Choose communication platforms that suit the needs of your outsourcing relationship. Regular video calls, emails, project management software, and collaboration tools can facilitate seamless interactions.

Define communication protocols

. Set clear guidelines for how often you'll touch base, the preferred mode of communication, and the expected response time. This minimizes ambiguity and ensures prompt replies.

Cultural sensitivity

. Foster an environment that respects and values diverse cultures. Understand the cultural nuances of your outsourcing partner's location to prevent misunderstandings.
Tips for effective outsourcing communication
Mastering the art of outsourcing communication requires a blend of strategy and interpersonal skills.
Consider these tips to cultivate an environment of productive and effective communication:
Openness and transparency

. Be transparent about your company's objectives, values, and expectations. This establishes a foundation of trust and facilitates smoother collaboration.

Regular updates

. Keep your outsourcing partner in the loop about your organization's changes, updates, and developments. This helps them align their work with your evolving business goals.

Active listening

. Effective communication is a two-way street. Pay attention to your outsourcing partner's feedback, concerns, and suggestions. This encourages a sense of mutual respect.

Timely conflict resolution

. If conflicts arise, address them promptly and professionally. Open dialogues can lead to better solutions and strengthen the partnership.

Performance metrics

. Establish KPIs and reporting mechanisms. This ensures both parties are on track and can address any deviations in a timely manner.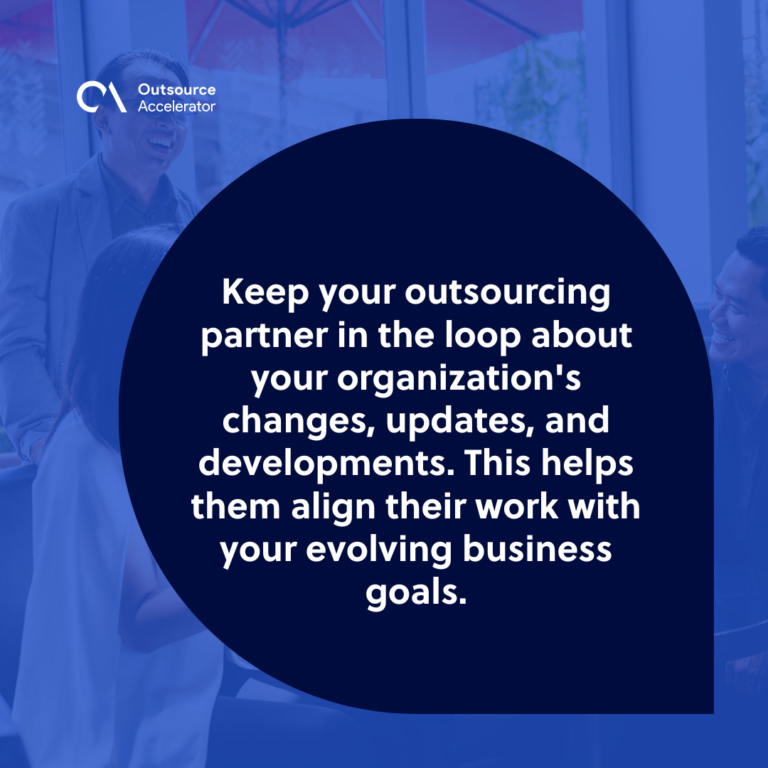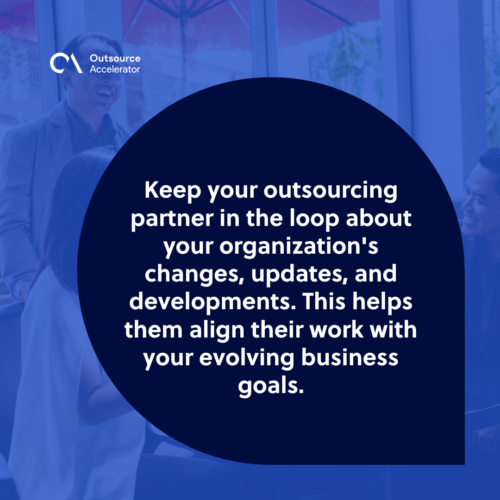 In a globalized business landscape, mastering outsourcing communication is no longer optional – it's a necessity.
By recognizing its importance, acknowledging potential pitfalls, and implementing effective strategies, businesses can maximize the benefits of outsourcing while building strong, enduring partnerships.
As Gene said, "Communication is key to make sure there's good management of your outsourced team."